Hysteroscopes Market
Hysteroscopes Market (Product - Rigid Hysteroscopes and Flexible Hysteroscopes; Application - Surgical and Diagnosis; End-user - Hospitals, Ambulatory Surgery Centers, and Gynecology Clinics) - Global Industry Analysis, Size, Share, Growth, Trends, and Forecast 2017 - 2025
Category :

Healthcare

Format :
Global Hysteroscopes Market: Snapshot
The main USP of hysteroscopes – gynecological procedures – are their minimally invasive nature. As a result they require smaller incisions, inflict less pain and scars, bring down post-operation complications, bring about swifter recoveries, and hence reduce the duration of hospital stays. They also serve to lessen the cost of treatment. Rising knowledge of such benefits are at the forefront of driving the market for hysteroscopy worldwide.
Apart from that, rising thrust on product innovation by astute players in the market is also having a positive bearing on the global demand for hysteroscopes. Manufacturers are coming up with HD optical lenses with better resolution and built from special sapphire glass for imprived visualization. They are also coming up with hysteroscopes with semi-flexible shaft to entice more customers. Competitive pricing and carefully-considered collaborations are other popular strategies employed by them to grow their market shares.
A report by Transparency Market Research predicts the global hysteroscopes market to rise at a CAGR of 6.0% during the period between 2017 and 2025 to become worth US$3.55 bn by 2025-end.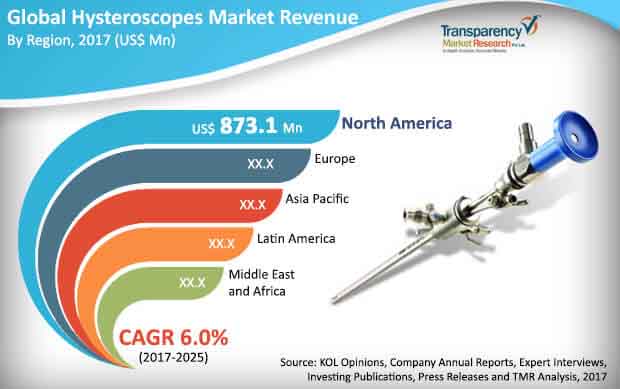 Hospitals Stoke Market Growth Because of the Low Cost Treatment they Offer
Product-wise, the global hysteroscopes market can be classified into flexible hysteroscopes and rigid hysteroscopes. Application-wise again, the market has been divided into diagnostic hysteroscopy and surgical hysteroscopy. Diagnostic hysteroscopy can be again segmented into abnormal bleeding, intrauterine foreign body, infertility and pregnancy wastage, abnormal hysterosalpingogram, etc. The surgical hysteroscopy segment, similarly, is further divided into endometrial ablation, polypectomy, myomectomy, etc.
Hospitals, ambulatory surgical centers, and gynecology clinics, among others are some of the key end use segments in the global hysteroscopes market. Of them, the segment of hospitals pulled in maximum revenue in 2016 and will continue doing so in the near future as well. The soaring popularity of hospitals has been on account of their ability to provide treatments at affordable costs. Further, the rising instances of hospitalization for fixing gynecological issues and availability of various equipment and able physicians in them is also boosting demand.
Superior Healthcare Infrastructure Propels North America Market
North America currently accounts for a leading share in the global hysteroscope market because of a superior healthcare infrastructure and strong emphasis of generating awareness about women's health. Government aid in the healthcare sector too is benefitting the market. Numbers bear it out. In 2016, over 24000 operative hysteroscopy were performed in the U.S., as per the findings of the U.S. National Survey of Ambulatory Surgery. Currently, the overall North America market is worth US$873.1 mn and by 2015, it is expected to attain a value of US$1.40 bn by clocking a CAGR of 6.1%.
Europe trails North America in terms of market share. The market for hysteroscope in the region is being bolstered by the presence of well-entrenched players who are launching various technologically superior products every now and then for better results. Asia Pacific is another key region too watch out for. It is being powered primarily by Japan and China – nations with advanced health care infrastructure, greater spends on per capita healthcare, and numerous insurance companies and insurance buyers. The market in the region is forecasted to become worth US$766.0 mn by the end of 2025 as per the report by TMR.
Some of the prominent global participants in the global hysteroscopes market are MEDTRONIC, Olympus Corporation, Stryker, B. Braun Melsungen AG, and MedGyn Products, Inc. There are also many companies that have considerable presence in regional markets. Some of them are Richard Wolf Group, WISAP Medical Technology GmbH, LocaMed Limited, KARL STORZ GmbH & Co. KG, Maxer Medizintechnik GmbH, COMEG Medical Technologies (SOPRO-COMEG GmbH), and Optomic.
Hysteroscopes Market to Offer Stakeholders Value-Grab Opportunity in Ambulatory Setting
Hysteroscopes have become a popular minimally invasive for diagnosis and treatment of wide range of conditions in uterine pathology. Advances made in the uterine pathology have propelled strides in the hysteroscopes market. Over the years, especially in countries with developed medical care, the use of these in gathering medical data as well plan interventions for intrauterine and endocervical problems has increased. In recent times, researchers and the medical fraternity might be tempted to use technologies in the hysteroscopes market for infertility study processes. In large part of the target population, diagnostic-therapeutically measures were successful with the use of hysteroscopes. The growing women patients with abnormal uterine bleeding is a key trend propelling the demand in the hysteroscopes market. The growing acceptance of hysteroscopy in range of obstetrical and gynecological conditions has boosted technological advancements in the market.
The growing popularity of in-patient hysteroscopy has been a prominent trend shaping the growth avenues in the hysteroscopes market. However, due to design and technique advancements, hysteroscopes have also moved to the realm of ambulatory settings or outpatient settings in a significant way. There also have reduction of events arising out of complications. In recent years, the hysteroscopes market has garnered a good demand due to the growing adoption of these in infertility, abortion, and abnormal uterine bleeding. In the recent months of Covid-19-led restrictions on movement on the general populace, there has unarguably been decline in the demand for inpatient procedures. This has also to an extent restrained the application of hysteroscopes. However, outpatient hysteroscopy has been a new way to explore an attractive value proposition for manufacturers and vendors in the hysteroscopes market. Also, there has been a rise in demand for better hysteroscopes for women with infertility in routine care settings. The combination of hysteroscopy with other diagnostic-therapeutic approaches is also boosting the prospects for players in the hysteroscopes market over the past few months.
Global Hysteroscopes Market: Overview
Hysteroscopes are essential part of gynecological procedures which allow the diagnosis of intrauterine infections and serve as devices for surgical interventions. These devices revolutionized surgeries due to their accuracy, convenience, and low cost. Hysteroscopy is a minimally invasive procedure to treat primarily dysfunctional bleeding, painful fibroids, and other problems of women. In some cases woman can go home same day. Hysteroscopy can be done in shorter time with a local anesthetic. Currently hysteroscopy accounted as gold standard treatment for uterine intracavitary diseases. The product differentiating innovations related to therapeutic use of hysteroscopes are projected to propel the growth of the global hysteroscopes market.
Patients' and physicians' preference for hysteroscopy procedures instead of performing traditional surgeries is continuously increasing due to benefits such as exceptional image brightness, ease of use, and greater stability. There are no incisions required with the use of hysteroscopes in surgical procedures and there is less post-operative discomfort. These factors have led to increasing market demand for hysteroscopes by gynecologists. The rising awareness about the advantages of hysteroscope such as reduced hospital stay, faster recovery due to low blood loss, and reduced risk of serious pathologies such as surgical site infections or blood transfusion risks are anticipated to drive the growth of the market during the forecast period. However, side effects associated with hysteroscopy procedure and complications related to proper entry route during surgical interventions are projected to restrain the market growth during the forecast period.
Global Hysteroscopes Market: Segmentation
The global hysteroscopes market has been categorized on the basis of product type, application, end-user, and region. In terms of product type, the market has been segmented into rigid hysteroscopes and flexible hysteroscopes. In terms of application, the market has been segmented into diagnostic hysteroscopy and surgical hysteroscopy. The diagnostic hysteroscopy segment is further divided into abnormal bleeding, infertility & pregnancy wastage, intrauterine foreign body, abnormal hysterosalpingogram and others. The surgical hysteroscopy segment is further divided into polypectomy, endometrial ablation, myomectomy and others. In terms of end-user, the market is classified into hospitals, gynecology clinics, ambulatory surgical centers and others. Hospitals segment dominate the hysteroscopes market during forecast period due to increasing hysteroscopy procedure.
Geographically, the global hysteroscopes market is segmented into five regions: North America, Europe, Asia Pacific, Latin America and Middle East & Africa. These regions have been further segmented by countries, products and application. North America dominated the market and is anticipated to gain more market share by the end of 2025. The market in Europe is expanding rapidly, due to increase in the number of hysteroscopy cases, especially in UK, Germany, Italy and France, Moreover, the market in Latin America and Middle East & Africa projected to expand slowly in the near future due to high medical treatment cost and lack of awareness compare to North America . Brazil, South Africa, Turkey and Mexico are accounted in top ten hysteroscopes market in term of revenue in Latin America and Middle East & Africa. Increasing healthcare infrastructure and international medical stranded drive the hysteroscopes market in Asia Pacific with significant growth.
Global Hysteroscopes Market: Competitive Dynamics
The competition matrix section included in the report is likely to assist the existing players to increase their market shares and new company to establish their presence in hysteroscopes market. The report also profiles major players in the market based on various attributes such as company overview, financial overview, SWOT analysis, key business strategies, product portfolio, and recent developments. Key players operating in the hysteroscopes market are MEDTRONIC, B. Braun Melsungen AG, Stryker, Olympus Corporation, Richard Wolf Group, KARL STORZ GmbH & Co. KG, Hologic Inc. and Ethicon, Inc.
The global hysteroscope market has been segmented as follows:
Product Type

Rigid Hysteroscopes
Flexible Hysteroscopes

Application

Surgical

Polypectomy
Endometrial ablation
Myomectomy
Others

Diagnosis

Abnormal Bleeding
Infertility & Pregnancy wastage
Intrauterine Foreign Body
Abnormal Hysterosalpingogram
Others

End-User

Hospitals
Ambulatory surgery centers
Gynecology clinics
Others

Geography

North America
Europe

U.K.
Germany
Spain
France
Italy
Rest of Europe

Asia Pacific

China
India
Japan
Australia & New Zealand
Rest of Asia Pacific

Latin America

Brazil
Mexico
Rest of LATAM

Middle East and Africa

GCC Countries
South Africa
Israel
Rest of MEA
Custom Market Research Services
TMR offers custom market research services that help clients to get information on their business scenario required where syndicated solutions are not enough.
REQUEST CUSTOMIZATION