Hydrocortisone Market
Hydrocortisone Market (Indication: Adrenocortical Insufficiency, Adrenergic Syndrome, High Blood Calcium, Thyroiditis, Rheumatoid Arthritis, Dermatitis, Asthma and Chronic Obstructive Pulmonary Disease [COPD], and Others; Route of Administration: Parenteral, Oral, Topical, and Rectal; and Distribution Channel: Hospital Pharmacies, Retail Pharmacies, and Online Pharmacies) - Global Industry Analysis, Size, Share, Growth, Trends, and Forecast, 2020 - 2028
Category :

Pharmaceutical

Format :
WHO Advises Against Use of Hydrocortisone and Corticosteroids for COVID-19 Patients
Worldwide the COVID-19 (coronavirus) outbreak has created major challenges for clinicians. Lack of proven pharmacological therapies for the treatment of COVID-19 has resulted in increased mortality rates. Corticosteroids were extensively used during outbreaks of Severe Acute Respiratory Syndrome (SARS)-CoV as well as the Middle East Respiratory Syndrome (MERS)-CoV. This technique has led to the application of corticosteroids for COVID-19 patient, in combination with other therapeutic agents. However, the WHO (World Health Organization) advises against the use of corticosteroids due to the lack of reliable clinical evidence. Thus, companies in the hydrocortisone market are unable to capitalize on the needs of COVID-19 patients when actually there is an unprecedented demand for drugs that fight off the infection.
Companies in the hydrocortisone market are increasing efforts to identify the harm and benefits caused by corticosteroids for the treatment of coronavirus.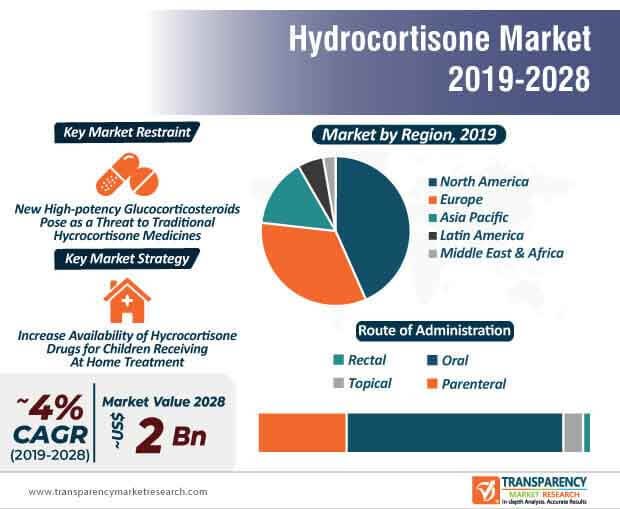 To know the scope of our report Get a Sample on Hydrocortisone Market
Home Treatment for Children Sparks Innovations in Intramuscular Preparations of Hydrocortisone
Several children are prone to the risks of adrenal insufficiency, since they are unable to mount an endogenous cortisol response to stress. Such children usually receive treatment at home by seeking telephone advices from doctors. Thus, companies in the hydrocortisone market should tap into opportunities in child care to broaden their revenue streams. As such, adrenocortical insufficiency is one of the key medical indications that demand hydrocortisone drugs and the market is predicted to reach a value of ~US$ 2 Bn by the end of 2028.
Get a glimpse of the in-depth analysis through our Report Brochure
Many children are administered oral corticosteroids such as hydrocortisone, dexamethasone, and prednisolone on a daily basis since adrenocortical insufficiency is potentially life threatening. Problems arising from such medical conditions have fueled the demand for steroid medicines that are generally administered intramuscularly or intravenously, depending on the severity of the clinical situation. Companies in the hydrocortisone market are increasing the availability of hydrocortisone sodium succinate and hydrocortisone sodium phosphate for treatment of children that require extra steroids.
Dual Release Hydrocortisone Dosage Boosts Metabolism in Hypoadrenalism Patients
Companies in the hydrocortisone market are introducing medicines that do not require a prescription. For instance, in May 2019, Aflofarm— a supplier of Over the Counter drugs (OTC) and medical devices, announced the launch of Maxicortan, a medicine with double dose of hydrocortisone that can be applied locally on skin inflammations and caters to individuals with atopic dermatitis. As such, dermatitis is one the key medical indications that is creating incremental opportunities for companies in the hydrocortisone market. Therapeutic indications such as allergic contact dermatitis, urticarial, and skin reactions after insect bites are also creating revenue streams for pharmaceutical companies.
On the other hand, dual release hydrocortisone is becoming popular as a metabolism improver agent for patients with adrenal insufficiency. Healthcare professionals are recommending once daily dual release hydrocortisone to provide adequate cortisol exposure time. Since conventional GC (Glucocorticoid) therapy is associated with increased morbidity and mortality, gradual increase in the dosage of dual release hydrocortisone has helped to improve hypoadrenalism patient quality of life.
Need for Clinical Trails Validate Lowest Doses of Hydrocortisone for Shock Reversal
Septic shock is a life-threatening condition that has led to high mortality rates. Hence, clinicians recommend corticosteroids such as hydrocortisone to reduce the severity of trauma caused in patients. As such, hydrocortisone medicines are subject to intensive investigation in several clinical trials. Currently, low-dose hydrocortisone is being highly publicized for shock reversal, resulting in lesser adverse events among patients. This has led to better clinical outcomes as compared to placebo.
Although hydrocortisone aids in faster resolution of shock than placebo, the optimal dosage for hemodynamic support during septic shock is still unclear. This explains why the hydrocortisone market is progressing at a modest CAGR of ~4% during the forecast period, due to lack of reliable clinical evidence. However, growing awareness about the lowest initial dose of hydrocortisone in adults is helping to revive growth for the hydrocortisone market. This awareness is increasing as a result of the rise in the number of randomized clinical trials.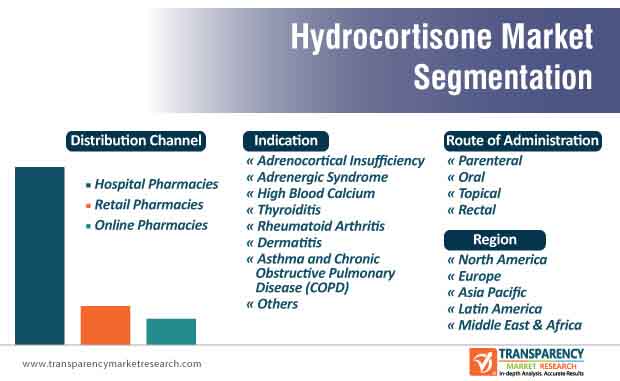 Expanding operations in future? To get the perfect launch ask for a custom report
Analysts' Viewpoint
The evidences of harm and benefits of corticosteroids have gained prime importance for companies in the hydrocortisone market amidst the coronavirus outbreak. Hydrocortisone medicines are being increasingly used as adjunctive treatment to septic shock.

The glucocorticoid treatment is being combined with hydrocortisone or cortisone acetate for the treatment of adrenal insufficiency (AI) patients. However, this combination treatment has led to overexposure toward GCs, resulting in metabolic dysfunction. Hence, companies should increase awareness of once daily dual release hydrocortisone dose that gradually increases dosage content among AI patients. Companies should gain efficacy in no prescription medicines to increase product uptake among individuals with therapeutic indications such as dermatitis.
Hydrocortisone Market: Overview
According to Transparency Market Research's latest report on the global hydrocortisone market for the historical period 2018–2019 and forecast period 2020–2028, rise in cases of adrenocortical insufficiency and increase in investment in research & development are projected to drive the global hydrocortisone market during the forecast period
According to the report, the global hydrocortisone market was valued at US$ 1.25 Bn in 2019 and is anticipated to expand at a CAGR of ~4% from 2020 to 2028
Rise in Cases of Adrenocortical Insufficiency: Key Drivers
Adrenal insufficiency is a serious pathologic condition characterized by decreased production or action of glucocorticoids and/or mineralocorticoids and adrenal androgens
Prevalence of chronic primary adrenal insufficiency in Europe has been doubled from 40 to 70 cases per million population in the 1960s to 93 to 144 cases per million population by the end of 2017
The incidence of the most frequent cause in adults, auto-immune adrenal insufficiency, is estimated at 4.4 to 6.0 per million each year in Europe
As per data published in the Military Health System article in 2017, incidence rate of adrenal deficiency from 2014 to 2017 was around 6 per 100,000 per year. This incidence was approximately 5 per 100,000 per year during the time period of 2010 to 2013.
Symptoms of ACTH deficiency most often occur in adults, but the disorder may also be diagnosed in infancy
However, cortisone or glucocorticoid-induced secondary adrenal insufficiency is the most frequent cause of ACTH insufficiency. The prevalence is almost twice as high as that of primary adrenal deficiency cases, which is around 150 to 280 per million in 2017 and is more common in women than men.
Thus, rise in prevalence and incidence of ACTH deficiency cases boost the hydrocortisone market
Increasing Prevalence of Several Acute and Chronic Disorders Worldwide Boost Market Growth
The number of patients affected with chronic diseases is rising consistently across the world. The root cause of a number of these diseases can be traced to a lack of healthy lifestyle and dietary habits that leads to deficiency of various essential vitamins and minerals. Rise in number of these diseases propels the demand for vitamins and other nutrient supplements.
Cardiovascular and respiratory diseases have affected a large number of individuals, globally, and are the leading cause of death among the global population. Cardiovascular diseases cause majority of deaths worldwide. According to the World Health Organization (WHO), an estimated 17.9 million people die each year due to cardiovascular disorders (CVD).
Increase in incidence of chronic diseases of liver, heart, kidneys, and pancreas; and blood disorders, have augmented the demand for glucocorticoids such as hydrocortisone
Therefore, a rise in the incidence of chronic diseases and an increase in the geriatric population across the globe is fueling the hydrocortisone market
Side Effects Associated with Hydrocortisone Use to Hamper Market
Glucocorticoids may sound like miracle drugs, but they do have side effects. Some of them are critical and very damaging. This is why these drugs are not prescribed for long-term use.
Common side effects of hydrocortisone include diarrhea, nausea, difficulty in sleeping, sweating, and restlessness. Furthermore, these type of drugs generate few serious side effects such as muscle pain, signs of a severe allergic reaction, severe vomiting, and seizures.
Various side effects associated with the use of hydrocortisone may hamper the market growth
Hydrocortisone Market: Competition Landscape
This report profiles major players in the global hydrocortisone market based on various attributes such as company overview, financial overview, product portfolio, business strategies, and recent developments
The global hydrocortisone market is highly fragmented, with the presence of many multinational and small regional players in the market
The major players operating in the global hydrocortisone market are

Pfizer, Inc.
Novartis AG
Mylan N.V.,
Hikma Pharmaceuticals Plc
GlaxoSmithKline plc,
Cipla Inc.
Sun Pharmaceutical Industries Ltd.
Abbott Laboratories
Bayer AG
Hydrocortisone Market: Key Developments
In July 2019, Mylan and Upjohn (a division of Pfizer) entered into a definitive agreement to combine Mylan with Upjohn, to create a new global pharmaceutical company
The report on the global hydrocortisone market discussed individual strategies, followed by company profile of manufacturer of hydrocortisone. The competition landscape section has been included in the report to provide readers with a dashboard view and a company market share analysis of key players operating in the global hydrocortisone market.
Hydrocortisone Market - Scope of the Report
TMR's report on the global hydrocortisone market studies past as well as current growth trends and opportunities to gain valuable insights of these indicators for the market during the forecast period from 2020 to 2028. The report provides the revenue of the global hydrocortisone market for the period 2018–2028, considering 2019 as the base year and 2028 as the forecast year. The report also provides the compound annual growth rate (CAGR) of the global hydrocortisone market during the forecast period.
The report has been prepared after an extensive primary and secondary research. Primary research involved bulk of research efforts, wherein analysts carried out interviews with industry leaders and opinion makers. Extensive secondary research involved referring to key players' product literature, annual reports, press releases, and relevant documents to understand the global hydrocortisone market.
Secondary research also included internet sources, statistical data from government agencies, websites, and trade associations. Analysts employed a combination of top-down and bottom-up approaches to study various phenomenon in the global hydrocortisone market.
The report includes an elaborate executive summary, along with a snapshot of the growth behavior of various segments included in the scope of the study. Furthermore, the report sheds light on changing competitive dynamics in the global hydrocortisone market. These indices serve as valuable tools for existing market players as well as for entities interested in entering the global hydrocortisone market.
The report delves into the competitive landscape of the global hydrocortisone market. Key players operating in the global hydrocortisone market have been identified, and each one of these has been profiled for distinguishing business attributes. Company overview, financial standings, recent developments, and SWOT are some of the attributes of players in the global hydrocortisone market that have been profiled in this report.
Key Questions Answered in Hydrocortisone Market Report
What is the scope of growth of companies in the global hydrocortisone market?
What will be the Y-o-Y growth of the global hydrocortisone market between 2020 and 2028?
What is the influence of changing trends in technologies on the global hydrocortisone market?
Will North America continue to be the most profitable market for hydrocortisone providers?
Which factors will hamper the growth of the global hydrocortisone market during the forecast period?
Which are the leading companies in the global hydrocortisone market?
Research Methodology
A unique research methodology has been utilized by TMR to conduct a comprehensive research on the growth of the global hydrocortisone market and arrive at conclusions on the growth prospects of the market. This research methodology is a combination of primary and secondary research, which helps analysts warrant the accuracy and reliability of the drawn conclusions.
Secondary sources referred to by analysts during the production of the global hydrocortisone market report include statistics from company annual reports, SEC filings, company websites, World Bank database, investor presentations, regulatory databases, government publications, and industry white papers. Analysts have also interviewed senior managers, product portfolio managers, CEOs, VPs, and market intelligence managers, who have contributed to the production of TMR's study on the hydrocortisone market as primary sources.
These primary and secondary sources have provided exclusive information during interviews, which serves as a validation from hydrocortisone market leaders. Access to extensive internal repository and external proprietary databases allows this report to address specific details and questions about the global hydrocortisone market with accuracy. The study also uses the top-down approach to assess the revenue numbers for each segment and the bottom-up approach to counter-validate them. This has helped in reaching TMR's estimates on future prospects of the global hydrocortisone market more reliably and accurately.
Hydrocortisone Market - Segmentation
Indication

Adrenocortical Insufficiency

Adrenergic Syndrome

High Blood Calcium

Thyroiditis

Rheumatoid Arthritis

Dermatitis

Asthma and Chronic Obstructive Pulmonary Disease (COPD)

Others

Route of Administration

Parenteral

Oral

Topical

Distribution Channel

Hospital Pharmacies

Retail Pharmacies

Online Pharmacies

Region

North America

Europe

Asia Pacific

Latin America

Middle East & Africa
Custom Market Research Services
TMR offers custom market research services that help clients to get information on their business scenario required where syndicated solutions are not enough.
REQUEST CUSTOMIZATION