HVAC Motor Market
HVAC Motor Market (Type: Permanent Split Capacitor (PSC) Motors, Split Phase Motors, and Shaded-pole Motors; Speed: Low-speed Motors (Less than 1,000 rpm), Medium-speed Motors (1,001-25,000 rpm), and High-speed Motors (25,001-75,000 rpm); Distribution Channel: Direct Sales (OEM) and Indirect Sales; and Industry: Automotive, Food & Beverages, Oil & Gas, Petrochemical, Agriculture, Marine, Manufacturing Plant, Aerospace & Transportation, and Others) - Global Industry Analysis, Size, Share, Growth, Trends, and Forecast, 2019 - 2027
Category :

Heavy Engineering Equipment

Format :
Climate-friendly Refrigeration Technologies Bolster Credibility of Manufacturers in HVAC Motor Market
HVAC motors are witnessing innovation in adaptive liquid management solutions. For instance, Danfoss-a provider of energy efficient technologies, won the AHR Expo 2020 Innovation Award for developing the Danfoss CO2 Adaptive Liquid Management (CALM) solution for cold rooms. Companies in the HVAC motor market are increasing R&D to combine liquid ejector with adaptive liquid control case controller algorithm to efficiently utilize the evaporator surface in display cases.
The HVAC motor market is estimated to grow exponentially and reach a revenue of ~US$ 19.8 Bn by the end of 2027. This is evident since manufacturers are aiming toward greater energy efficiency and energy savings in CO2 refrigeration. Manufacturers are bolstering their credibility in the market for HVAC motors by assisting customers to turn toward climate-friendly refrigerants to ensure system reliability and food safety. Adaptive liquid management is growing popular as the next-gen energy savings technology.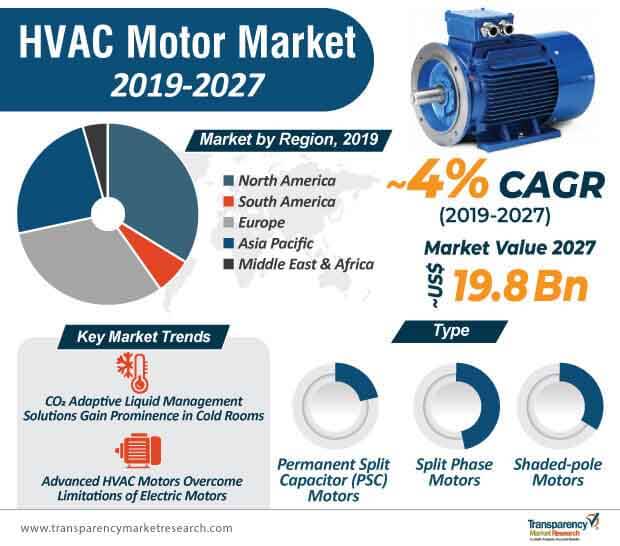 Request a sample to get extensive insights into the HVAC Motor Market?
Cutting-edge HVAC Motors Gain Prominence in Enhanced IoT Connectivity
Companies in the HVAC motor market are increasing research to manufacture smaller and quieter motors. Ultra-high efficiency motors are generating incremental opportunities for manufacturers. As such, the HVAC motor market is expected to reach a production of ~10,100 units by 2027. Thus, ultra-high efficiency motors are being highly publicized, since these novel motors offer energy saving to customers. Lightweight HVAC motor is another key driver contributing to the growth of the HVAC motor market.
Manufacturers are introducing circuit board stator in HVAC motors so that motors offer superior durability and improved performance in IoT implementations. They are increasing R&D to transform the size and weight of HVAC motors. On the other hand, startups are tapping opportunities in the electric motor technology that has promising potential in HVAC applications. Since automotive industry is anticipated to dominate the HVAC motor market, in terms of value and volume, startups are gaining expertise to reduce the complexity and size of electric powertrains.
VR in 3D Simulation Courses Creates Availability of Industry-ready HVAC Professionals
The HVAC motor market indicates positive growth in terms of volume, since the market is anticipated to progress at a volume CAGR of ~6% during the forecast period. Since companies want to revolutionize the weight and size of HVAC motors, there is a need for trained professionals in the highly competitive automotive, petrochemical, and agricultural sectors. Hence, companies are introducing online course catalogs to increase the availability of trained professionals. For instance, Interplay Learning - a company that offers online 3D simulation courses revealed their SkillMill™ Skilled Trades Course Catalog that gives HVAC professionals the accessibility to learn technical concepts on their mobile devices.
To understand how our report can bring difference to your business strategy, Ask for a brochure
Virtual reality (VR) is creating quite a stir in the HVAC motor market with the introduction of on-demand training course catalogs. Thus, companies can gain competitive edge over other companies by onboarding trained HVAC professionals. Individuals are gaining worksite skills with the help of these online courses.
Product Safety Standards and Building Codes Imply Safe Use of Low-GWP Refrigerants
The HVAC motor market is largely consolidated with leading players accounting for ~25%-35% of the total market share. This indicates that prominent and emerging players can pose as a tough competition to major players. However, manufactures need to tackle regulatory challenges to advance in the HVAC motor market.
For instance, North America is projected to dictate the highest value and volume in the market for HVAC motors. The U.S., being one of the major countries in North America has the potential to offer revenue opportunities to HVAC equipment companies. However, lower-GWP (Global Warming Potential) refrigerants possess risks of inflammation, which is likely to slow down market growth. Hence, companies in the U.S. are increasing awareness about streamlining product safety standards and building codes to ensure safe use of refrigerants that are introduced in the market. Analysts of Transparency Market Research (TMR) opine that strong sales are creating revenue streams for manufacturers, owing to unpredictable warm weather and favorable economic conditions.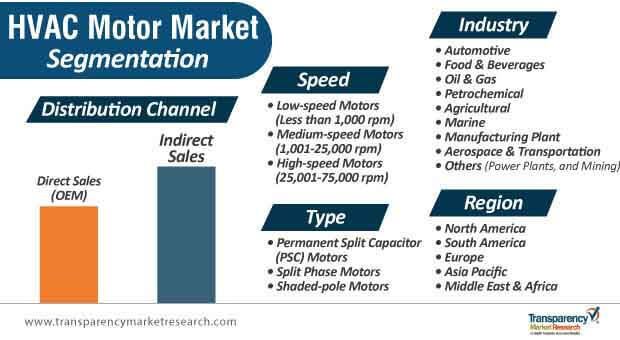 Stuck in a neck-to-neck competition with other brands? Request a custom report on HVAC Motor Market
Analysts' Viewpoint
OEMs in the HVAC motor market are increasing production to develop energy-efficient HVAC systems. Several drivers such as high consumer confidence and low unemployment levels, owing to the introduction of 3D simulations courses are contributing toward market growth.

Heat pump sales are predicted to experience increased growth during the forecast period. However, limitations in the battery technology pose as a challenge for manufacturers. Hence, manufacturers should innovate in high-performance heat pumps that operate on solar electricity. Moreover, the booming construction sector has created a demand for hyper-heating products. Although manufacturers need to assess risks before tapping into the construction market since analysts of TMR anticipate a potential rise in construction costs in the coming years.
HVAC Motor Market: Overview
The global HVAC motor market is expected to register a CAGR of ~6% (volume) between 2019 and 2027. The market is projected to be driven by growing demand for HVAC motors in industries.
Not only automotive, petrochemical, agriculture, and food & beverages, other end users such as power plants, mining, manufacturing, and marine are also expected to boost the HVAC motor market in the near future
The global HVAC motor market is expected to reach ~US$ 19.8 Bn by 2027 from ~US$ 13.9 Bn in 2019
North America holds major share of the HVAC motor market in terms of volume and is anticipated to dominate the HVAC motor market during the forecast period, followed by Europe
North America remains the leading region in the HVAC motor market, with revenues in 2019 estimated at US$ 4,969.2 Mn
The HVAC motor market in Middle East & Africa and South America are also expected to show moderate growth during the forecast period.
Asia Pacific is projected to expand significantly in terms of share in the global HVAC motor market during the forecast period. This is due to increasing awareness about energy conservation, improving industrial infrastructure, and rising acceptance of electric vehicles, which are enhancing the demand for HVAC motors in the Asia Pacific region. Furthermore, the HVAC motor market is expected to expand at a significant rate due to growing HVAC industry, and strict regulations pertaining to power & energy consumption across the APAC region.
HVAC Motor Market: Definition
The HVAC motor market report provides analysis of the global HVAC motor market for the period 2017 – 2027, wherein 2018 is the base year and 2019 to 2027 is the forecast period. Data for 2017 has been included as historical information.
The study on the HVAC motor market would help clients in understanding the adoption analysis of HVAC motors among different industries.
HVAC motors are designed to ensure noiseless and smooth operation of HVAC units within HVAC systems. HVAC motors are commonly utilized in roof ventilators, air coolers, air circulators, and condensing units. Moreover, HVAC motors are utilized to cater to the requirements of residential heating, ventilation, air conditioning, and commercial building air conditioners. Other than providing people with comfort, they also help improve the indoor air quality.
North America HVAC Motor Market: Snapshot
North America is a developed region and hence innovation and new technologies are expected to be trends witnessed in the North America region in the next few years. North America held a prominent share of the global HVAC motor market in 2018. For the same reason, North America is expected to see highest opportunity addition in the HVAC motor market globally, with Europe and Asia Pacific being the next closest regions.
Key Growth Drivers of HVAC Motor Market
Rising production of automobiles
The surge in demand for efficient machine control in the automotive industry, due to the extensive adoption of efficient HVAC motors is one of the important factors accelerating the demand for HVAC motors across the globe. Additionally, HVAC motors are widely used in automobiles to support HVAC systems in a vehicle, such as for defrosting the windows, regulation of internal temperature, as well as engine cooling which are main elements of automobiles. Furthermore, growing advancement and increasing production of passenger cars across the world is fueling the demand for HVAC motors, as these motors are used in automobiles in some common applications such as air conditioning blowers and fan motors.
Increasing usage of HVAC motors in wide range of applications
Increasing usage of HVAC motors is seen in a wide range of applications such as motor vehicles; industrial machinery; heating, ventilating, and cooling equipment (HVAC); aerospace & transportation; household appliances; and other commercial applications, to ensure ideal atmospheric conditions in industrial set ups or operations where temperature fluctuations can result in significant performance shortfalls.
HVAC motors are mainly designed for wet, and high humidity environments that can meet the needs of common applications i.e. belted or drive shaft chiller /cooling towers, which further minimizes friction during operation and increases efficiency. HVAC motors are used in these applications to generate strain, substantial vibration, and heating during their performance, which could possibly have significant influence on electronic components.
Key Challenge for HVAC Motor Market Players
High initial cost of energy efficient HVAC motors is a major restraint to the HVAC motor market
HVAC Motor Market: Competition Landscape
In July 2018, Nidec Corporation acquired 100% equity shares of an Italian company CIMA S.p.A. ("CIMA"), from its main shareholders for cash of US$ 21.95 Mn. CIMA manufactures, designs, and sells commercial motors. Through this acquisition, a subsidiary of Nidec i.e. FIR Elettromeccanica S.r.l., expanded its product portfolio of motors.
In April 2018, Regal-Beloit Corporation acquired Nicotra Gebhardt S.p.A for approximately US$ 154 Mn, in order to provide energy efficient system solutions to its customers.
HVAC Motor Market: Company Profile Snapshot
Siemens AG: Established in 1847, Siemens AG is a technology company providing solutions in the field of electrification, automation, and digitalization. The company primarily operates through nine business segments that include Power & Gas, Mobility, Building Technologies, Digital Factory, Healthineers, Process Industries & Drives, Siemens Gamesa Renewable Energy, Energy Management, and Financial Services (SFS). The company offers HVAC motors with a comprehensive product portfolio, under the Digital Factory business segment.
General Electric: Incorporated in 1892, General Electric is a supplier of automation and control technology and services for power generation, and related applications. The company was established in 1892 and operates under seven business segments: Aviation, Power, Renewable Energy, Healthcare, Transportation, Oil & Gas, and Energy Connections & Lighting. General Electric has presence in approximately 120 countries across the world and is engaged in designing HVAC motors.
Panasonic Corporation: Incorporated in 1918, Panasonic Corporation develops electronic and electrical products with its subsidies globally under the Panasonic brand name. The company produces home appliances, car navigation systems, computer peripherals, telecommunication equipment, industrial equipment, digital devices, and electronic parts. It offers landline phone services under the appliance business segment. The company is engaged in designing HVAC motors to meet the needs of residential heating, ventilation, air conditioning, and large building air conditioners.
Other major players operating in the global HVAC motor market and profiled in the report include

ABB
Rockwell Automation Incorporation
Nidec Corporation
Regal-Beloit Corporation
Johnson Electric Holdings Limited
Emerson Electric Corporation
W.W. Grainger, Inc.
HVAC Motor Market - Scope of the Report
A latest study collated and published by Transparency Market Research (TMR) analyzes the historical and present-day scenario of the global HVAC motor market, to accurately gauge its potential future development. The study presents detailed information about the important growth factors, restraints, and key trends that are creating the landscape for the future growth of the HVAC motor market, to identify the opportunistic avenues of the business potential for stakeholders. The report also provides insightful information about how the HVAC motor market will progress during the forecast period 2019-2027.
The report offers intricate dynamics about the different aspects of the HVAC motor market, which aids companies operating in the market in making strategic development decisions. TMR's study also elaborates on the significant changes that are highly anticipated to configure the growth of the HVAC motor market, during the forecast period. It also includes a key indicator assessment to highlight the growth prospects of the HVAC motor market and estimate statistics related to the market progress in terms of value (US$ Mn) and volume (Thousand Units).

The study covers a detailed segmentation of the HVAC motor market, along with key information and a competitive outlook. The report mentions the company profiles of key players currently dominating the HVAC motor market, wherein various developments, expansion, and winning strategies practiced and executed by leading players have been presented in detail. Furthermore, the report also mentions the import and export data of HVAC motors of top countries with industrial production index.
Key Questions Answered in TMR's Report on the HVAC Motor Market
The report provides detailed information about the HVAC motor market on the basis of comprehensive research on various factors that play a key role in accelerating the growth potential of the market. Information mentioned in the report answers path-breaking questions for companies that are currently functioning in the market and are looking for innovative ways to create a unique benchmark in the HVAC motor industry, so as to help them formulate successful strategies and take target-driven decisions.
How are key market players successfully earning revenue out of the advantages of HVAC motors?
What will be the Y-o-Y growth of the HVAC motor market between 2019 and 2027?
What are the winning imperatives of market frontrunners in the HVAC motor market?
Which industry is expected to undertake maximum adoption of HVAC motors during the forecast period?
What is the import and export analysis of top countries for HVAC motors across the globe?
Research Methodology – HVAC Motor Market
The research methodology adopted by analysts to compile the HVAC motor market report is based on detailed primary as well as secondary research. With the help of in-depth insights of industry-affiliated information that is obtained and legitimated by market-admissible resources, analysts have offered riveting observations and authentic forecasts of the HVAC motor market.
During the primary research phase, analysts interviewed industry stakeholders, investors, brand managers, vice presidents, and sales and marketing managers. On the basis of data obtained through the interviews of genuine resources, analysts have emphasized the changing scenario of the HVAC motor market.
For secondary research, analysts scrutinized numerous annual report publications, white papers, and import and export data of major countries of the world, industrial production index, industry association publications, and company websites to obtain the necessary understanding of the HVAC motor market.
HVAC Motor Market - Segmentation
TMR's research study assesses the HVAC motor market on the basis of type, speed, distribution channel, industry, and region. The report presents the extensive market dynamics and progressive trends associated with different segments, and how they influence the growth prospects of the HVAC motor market.
Type

Permanent Split Capacitor (PSC) Motors

Split Phase Motors

Shaded-pole Motors

Speed

Low-speed Motors (Less than 1,000 rpm)

Medium-speed Motors (1,001-25,000 rpm)

High-speed Motors (25,001-75,000 rpm)

Distribution Channel

Direct Sales (OEM)

Indirect Sales

Industry

Automotive

Food & Beverages

Oil & Gas

Petrochemical

Agriculture

Marine

Manufacturing Plant

Aerospace & Transportation

Others (Power Plants and Mining)

Region

North America

South America

Europe

Asia Pacific

Middle East & Africa
Custom Market Research Services
TMR offers custom market research services that help clients to get information on their business scenario required where syndicated solutions are not enough.
REQUEST CUSTOMIZATION