Global Hip Replacement Implant Market: Overview
The global market for hip replacement implant is poised for steadfast growth in the coming years. The surging demand for hip replacement surgeries coupled with rising clinical awareness among patients is fuelling the hip replacement implant market. Increasing adoption of fitness regimes subject to serious injuries is stoking demand for hip replacement implants. As reported, 600,000 hip replacement procedures are carried out each year globally among individuals of 40 to 50 years of age.
Contracts of product manufacturers with government bodies and other medical device manufacturers to develop cost effective products is further aiding this market's growth. On the downside, high cost of hip implants and high cost of hip replacement procedure are bottlenecks to the growth of this market.
Considering these factors, the global market for hip replacement implant is predicted to clock 3.9% CAGR from 2017 to 2024.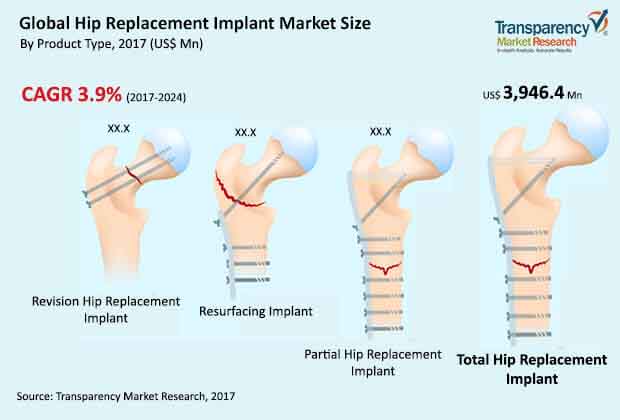 Hospitals End-use Segment to Continue to Remain at Fore
The hip replacement implant market is segregated depending upon product type, material, end user, and geography. By product type, partial hip replacement, total hip replacement implant, implant, revision hip replacement, and resurfacing implant are the segments into which the hip replacement implant market is divided. Among them, total hip replacement implant is the most lucrative segment driven by the rising prevalence of osteoarthritis and osteonecrosis. Going ahead, the segment is anticipated to account for prominent share in the overall market. The total hip replacement segment is sub-segmented into fixed bearing and mobile bearing. Of the two, fixed bearing accounted for the leading 73.1% share of total hip replacement implant segment in 2015.
Depending upon material, the hip replacement implant market has been segregated into metal-on-metal, metal-on-polyethylene, ceramic-on-polyethylene, ceramic-on-metal, and ceramic-on-ceramic. Metal-on-polyethylene, among them, held the leading share vis-à-vis revenue in 2015; going ahead, the segment is anticipated to hold prominent share driven by increasing prevalence of joint disorders and technological advances. However, ceramic-on-polyethylene material segment is anticipated to surpass other segments in terms of growth rate in the years ahead.
Depending upon end user, hospitals, ambulatory surgical centers, orthopedic clinics, and others are the key segments into which the hip replacement implant market is divided. Hospitals stood as the leading end user holding 64.5% market share in 2015. Hospitals have specialty units for orthopedic surgeries and are equipped with various facilities for pre-operative, post-operative care and for emergencies.
Orthopedic clinics currently hold the second-leading share in the hip replacement implant market. However, the segment is anticipated to display declined share until the end of 2024 due to increasing preference for hospitals as they are equipped with facilities for emergency situations. The others end-use segment comprises community clinics, student health facilities, long term care center, geriatric care center, sports care center, etc.
Vis-à-vis Growth Rate Asia Pacific to Surpass Key Regions
Geography-wise, the report takes stock of the potential of demand of hip replacement implants in North America, Europe, Asia Pacific, Latin America, and the Middle East and Africa. In terms of sales, North America and Europe held 52% and 20.5% respectively of the overall market in 2015. The high incidence of osteoarthritis and osteonecrosis are key factors behind the prominence of the two regions.
On the other hand, Asia Pacific is predicted to emerge as an attractive market for hip replacement implants due to modernization of healthcare infrastructure in emerging economies and alliances and partnership practices among players to strengthen technical expertise.
Prominent companies in the global market for hip replacement implant include Zimmer Biomet Holdings Inc., MicroPort Scientific Corporation, Exactech Inc., OMNIlife Science Inc., Stryker Corporation, B. Braun Melsungen AG, and DJO Global Inc.
Global Hip Replacement Implant Market: Overview
The research study analyzes the market for hip replacement implant in terms of revenue (US$ Mn). For the research, 2016 has been considered as the base year, while have forecasts have been provided from 2017 to 2024. The global hip replacement implants market has been broadly segmented in terms of product type, material, end user, and geography. The report also looks into key market dynamics such as demand drivers, challenges, and opportunities influencing the growth trajectory of hip replacement implant market for the 2017-2024 forecast timeframe.
The primary objective of the market study is to provide revenue projections and market attractiveness analysis for hip replacement implant market between 2017 and 2024, utilizing 2016 as the base year and 2015 as the historic year. In addition, the secondary objectives of the study include analyzing growth trends, technological advances, and competitive hierarchy.
The executive summery section outlines terms and terminologies, conventions, and notations that are relevant in the context of medical devices industry. Industry statutes and industry policies that market vendors need to adhere to have been appended in the end of this section. The analysis of hip replacement implant market presented in the report is based on industry-best analytical tools such as SWOT analysis and Porter's Five Forces analysis. Not only this, key segments under each category have been analyzed and market share estimations for the 2017-2024 period provided herein.
Extensive Research Methodologies Add Credibility to Market Analysis
The making of the report involved both primary and secondary research phase, with the former comprising the bulk of research effort. Analysts reached out to industry experts and opinion leaders to receive valuable insights about growth trends and market dynamics. The research process commences with an extensive secondary research phase wherein internal and external sources are being tapped to source qualitative and quantitave information relevant to this market. Secondary sources typically referred to but are not limited to annual reports, company websites, financial reports, investor presentations, SEC filings, and broker reports. Industry trade journals, scientific journals, technical literature, relevant patent and regulatory databases, statistical databases, national government documents, market reports, procedure registries, news articles, press releases, and webcasts specific to market are other secondary sources tapped into for information collection.
The report employs multi-dimensional approach in order to evaluate embryonic growth of key regional markets. This helps for a know-how of key growth trends in the hip replacement implant market. The report estimations provided in the report can help market stakeholders assess growth opportunities to make the best bet.
In-depth Competitive Analysis Leads to Useful Insights
The report comprises a section dedicated to the competitive landscape. This includes identifying the key vendors operating in the hip replacement implant market along with a detailed competitive profile of each of them. Business strategy, financial standing, product portfolio, recent developments, and SWOTs are the parameters based on which these companies are profiled. The market share estimates and corresponding market hierarchy of each of the key players is a distinguishing feature of the report.