Heart Pumps Market
Heart Pumps Market (Product: Intra-aortic Balloon Pumps, Ventricular Assist Devices [Left Ventricle Assist Devices {LVAD}, Right Ventricle Assist Devices {RVAD}, Biventricular Assist Devices {BVAD}, and Others], and Total Artificial Heart; Flow Regime: Centrifugal Flow Pump {CFP}, Axial Flow Pump {AFP}, and Mixed Flow Pump {MFP}; Therapy: Bridge-to-Candidacy {BTC}, Bridge-to-Transplant {BTT}, Destination Therapy {DT}, and Other Therapies; Location: Implantable Heart Pump Devices and Extracorporeal Heart Pump Devices; and End User: Hospitals, Ambulatory Surgical Centers, Specialty Clinics, and Others) - Global Industry Analysis, Size, Share, Growth, Trends, and Forecast, 2019 - 2027
Category :

Healthcare

Format :
Mechanical Heart Pump Technology Helps Create Devices that Mimic Performance of Heart Transplants
Due to the limited availability of hearts for transplant, there is a growing demand for heart pump devices in order to improve survival rate. Hence, healthcare companies are increasing the availability of ventricular assist devices (VADs) for heart failure patients. For instance, in June 2019, medical devices company Abbott Laboratories revealed the HeartMate 3 left ventricular assist device (LVAD) nearly mimics the performance of a heart transplant. This is evident since VAD product segment of the heart pumps market is anticipated for exponential market during the forecast period. The global heart pumps market is expected to reach a value of ~US$ 4.3 Bn by the end of 2027.
Companies in the heart pumps market are increasing R&D in the mechanical heart pump technology to improve patient outcome. Since heart transplants are associated with complications in patients, healthcare providers are recommending adoption of heart pump systems.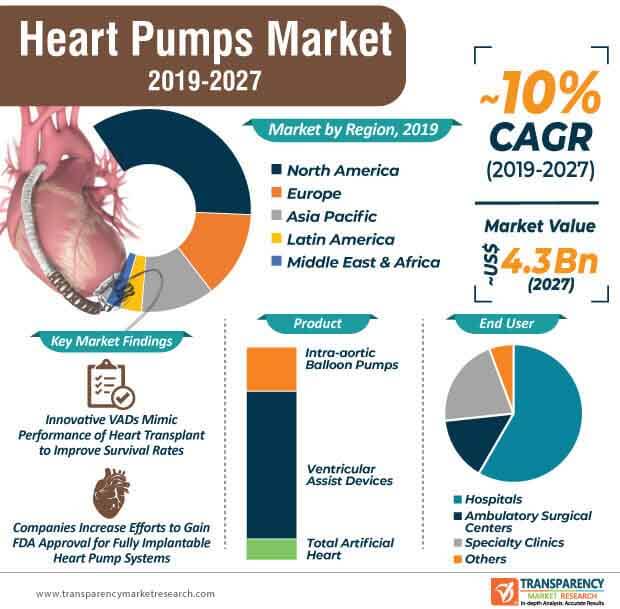 To know the scope of our report Get a Sample on Heart Pumps Market
Surgeries Using Lateral Thoracotomy Technique Improve Patient Outcomes
The FDA approval for surgical techniques using heart pumps is creating incremental opportunities for healthcare companies. Heart failure patients can now opt for device-assisted surgeries to avoid open-heart surgeries. This novel approach has benefitted healthcare professionals with the option to provide surgeries using the LVAD. Thus, FDA approval for alternative surgical techniques is contributing to the growth of the heart pumps market.
High prevalence of heart failure patients in the U.S. has triggered the demand for novel heart pump devices. This is justified since the heart pumps market in North America is predicted for aggressive growth during the forecast period. Hence, companies are mainly focusing on North America by increasing research in lateral thoracotomy. Advantages of lateral thoracotomy such as less bleeding during surgery and shorter recovery time for patients are catching the attention of companies in the heart pumps market.
Get a glimpse of the in-depth analysis through our Report Brochure
Medical and Space Research Leads to Development of Safe and Compact LVADs
Innovative approaches such as the combination of medical and space research are broadening the scope of developments in the heart pumps market. For instance, in September 2019, Leicester University, England, revealed that associate professor Dr. David Adlam collaborated with Piyal Samara-Ratna of the Mechanical Engineer in the Space Research Centre to develop an LVAD to help patients that have suffered heart failures. As such, LVAD is being pervasively used as an interim support for individuals that have undergone heart failure and are under consideration for a transplant.
LVADs are gaining popularity as safe devices for implantation in the heart pumps market. Thus, companies in the market for heart pumps should partner with researchers to develop new devices that are small and safe to implant. Healthcare practitioners are creating a demand for smaller heart pump devices, since it is challenging for surgeons to successfully complete implants without any complications. Hence, companies in the heart pumps market are developing compact heart pumps that can potentially withstand challenging environments by increasing their efficacy in space engineering.
Computational Fluid Dynamic Modeling Offers Useful Insights on Flow Regimes
LVADs can potentially alter flow dynamics resulting in complications such as stroke, bleeding, pump thrombosis, and the likes, that may endanger the life of patients. Hence, companies in the heart pumps market are focusing on innovative modeling techniques and 3D printing to carefully understand flow dynamics. This is evident, as healthcare companies are gaining expertise in centrifugal flow pump (CFP) since CFP flow regime segment is predicted for exponential growth in the heart pumps market.
The computational fluid dynamic (CFD) modeling is based on computer simulation, and is helping stakeholders to gain an understanding of fluid characteristics such as pressure, shear stress, and velocity. Innovative modeling techniques are helping healthcare providers to mitigate future LVAD-related problems. These modeling techniques are being coupled with 3D printing for patients opting for patient-specific device implants. With an increased focus on computational fluid dynamics, analysts of Transparency Market Research opine that specialized software will gain prominence in the coming years.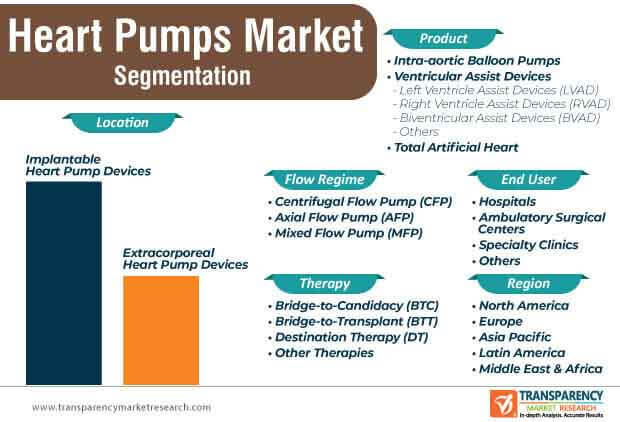 Expanding operations in future? To get the perfect launch ask for a custom report
Analysts' Viewpoint
The heart pumps market is estimated to expand at a CAGR of ~10% during the forecast period. Emergence of innovative LVADs has helped boost clinical numbers. FDA approval for device-assisted surgeries is one of the key drivers contributing to market growth.

Advanced LVADs have reduced the incidences of high thrombosis and valve failures in patients. However, traditional modeling techniques such as echocardiography has limitations in providing insights on flow dynamics, thus leading to thrombotic and bleeding complications. Hence, companies should increase research in computational fluid dynamic modeling to gain useful insights on flow regimes helpful in conducting successful surgeries.
Heart Pumps Market: Overview
According to Transparency Market Research's latest report on the global heart pumps market for the historical period 2017–2018 and forecast period 2019–2027, rise in prevalence of cardiac disorders, aging population, entry of new players, technological advancements, and increase in access to healthcare are projected to drive the global heart pumps market
According to the report, the global heart pumps market was valued at ~US$ 1.8 Bn in 2018 and is projected to expand at a CAGR of ~10% from 2019 to 2027
Rise in Prevalence of Chronic Disorders and Technological Developments to Drive Heart Pumps Market: Key Drivers
Geriatric population and number of people suffering from cardiac disorders are expected to increase at a rapid pace in the next few years. Based on the United Nations Report 2017, the geriatric population aged 62 years and above is expected to double by 2050. The number is anticipated to increase from 965 million in 2017 to roughly 2.2 billion by 2050. Increasing geriatric population is anticipated to propel the heart pumps market.
Heart failure affects more than 11 million people in the U.S. and Europe, with an incidence of 1.1 million per year. Growing demand for heart transplant cannot meet, owing to the lack of donor organs. Hence, mechanical circulatory support devices or ventricular assist devices (VADs) have become an important treatment tool for severe chronic and acute chronic heart failure, which is expected to drive the heart pumps market.
According to an article published by the Journal of Thoracic Disease, 2016, a constant decline of heart transplantations is observed worldwide. In the last 15 years, the number of patients awaiting heart transplantation doubled while the available donor organs dropped by more than 30%. In 2015, 790 patients in Germany were listed for heart transplantation, out of which only 286 received transplantation. Due to lack of donor organs, people are employed VADs as bridge to transplant therapy, which has significantly fueled the heart pumps market.
Moreover, the geriatric patient pool in developing regions such as Latin America, Asia, and Africa is likely to increase rapidly. Population in developed countries such as the U.S., Germany, and Japan is aging rapidly. According to the U.S. Census Board, people older than the age 65 represented around 15% of the total population of the U.S. in 2010 and the number is expected to increase by about 25% by 2030. Geriatric population is highly susceptible to heart failure. This scenario is expected to drive the heart pumps market in the next few years.
Focus on Technological Developments
Companies in the global heart pumps market are undergoing strategic acquisitions, which enable product distribution in various regions as well as strengthen their global presence. Rise in demand for technology-driven solutions, economic growth, and increase in awareness about chronic disorders present significant opportunities for players operating in the global heart pumps market.
In October 2018, Abbott's HeartMate 3, Left Ventricular Assist Device (LVAD) received U.S. FDA approval as a destination therapy for people living with advanced heart failure and not eligible for a heart transplant. The HeartMate 3 pump utilizes technology known as Full MagLev (fully magnetically-levitated) Flow, which reduces trauma to the blood passing through the pump while improving flow. Introduction of novel devices has boosted the uptake of heart pumps.
High Cost of Heart Pump Devices and Implantation Procedures to Hamper Market
VAD therapy remains a very expensive treatment option for end stage heart failure patients. The average cost of LVAD device accounts to US$ 85,000 to US$ 90,000 per device. The high cost of device makes it unaffordable for patient to undergo implantation, which is likely to hamper the heart pumps market.
According to a registry analysis published in June in the Journal of the American Heart Association, the average hospital stay for pediatric patients requiring a ventricular assist device (VAD) spans nearly three months and costs US$ 750,00. Device prices need to reduce substantially to make it a widely acceptable and cost effective treatment option.
Heart Pumps Market: Competition Landscape
This report profiles major players in the global heart pumps market based on various attributes such as company overview, financial overview, product portfolio, business strategies, and recent developments
The global heart pumps market is fragmented, with the presence of a number of international as well as regional players
Various players operating in the global heart pumps market include Calon Cardio, Jarvik Heart, Inc., Berlin Heart, Abiomed, SynCardia Systems, LLC, Abbott Laboratories, Teleflex Incorporated, Getinge AB, and Medtronic plc which account for more than 70% share of the heart pumps market
Heart Pumps Market: Key Developments
Key players in the global heart pumps market are engaged in regulatory approvals, technologically advanced products, launch of new products, and acquisition & collaborative agreements with other companies. These strategies of key players are likely to fuel the growth of the global heart pumps market. A few expansion strategies adopted by players operating in the global heart pumps market are:

On June 28, 2016, Medtronic announced the acquisition of Heartware International for US$ 1.1 Bn. This acquisition provided Medtronic plc with Heartware's flagship product, HVAD system, which is the world's smallest ventricular assist device.
In June 2017, Calon announced that it had successfully closed a US$ 3.23 Mn Series C financing round. The new funds enabled Calon to progress the pre-clinical assessment of the MiniVAD featuring the novel passive maglev bearing design and to conduct initial verification activities. This would permit the company to further develop its novel series of laboratory based blood damage assays.
In April 2018, Abiomed received FDA approval for Impella CP SmartAssist platform. The SmartAssist platform includes optical sensor technology for improved positioning.

The report on the global heart pumps market discussed individual strategies, followed by company profiles of manufacturers of heart pumps. The competition landscape section has been included in the report to provide readers with a dashboard view and a company market share analysis of key players operating in the global heart pumps market.
Heart Pumps Market - Scope of Report
TMR's report on the global heart pumps market studies the past as well as current growth trends and opportunities to gain valuable insights of these indicators of the market during the forecast period from 2019 to 2027. The report provides revenue of the global heart pumps market for the period 2017–2027, considering 2018 as the base year and 2027 as the forecast year. The report also provides the compound annual growth rate (CAGR) of the global heart pumps market during the forecast period.
The report has been prepared after an extensive primary and secondary research. Primary research involved bulk of research efforts, wherein analysts carried out interviews with industry leaders and opinion makers. Extensive secondary research involved referring to key players' product literature, annual reports, press releases, and relevant documents to understand the global heart pumps market.
Secondary research also included Internet sources, statistical data from government agencies, websites, companies' presentations, sales data, and trade associations. Analysts have employed a combination of top-down and bottom-up approaches to study various phenomenon in the global Heart pumps market.
The report includes an elaborate executive summary, along with a snapshot of the growth behavior of various segments included in the scope of the study. Furthermore, the report sheds light on the changing competitive dynamics in the global heart pumps market. These indices serve as valuable tools for existing market players as well as for entities interested in entering the global heart pumps market.
The report delves into the competitive landscape of the global heart pumps market. Key players operating in the global heart pumps market have been identified, and each one of these has been profiled for distinguishing business attributes. Company overview, financial standings, recent developments, and SWOT are some of the attributes of players in the global heart pumps market that have been profiled in this report.
Key Questions Answered in Heart Pumps Market Report
What is the scope of growth of product companies in the global heart pumps market?
What will be the Y-o-Y growth of the global heart pumps market between 2019 and 2027?
What is the influence of changing trends in technologies on the global heart pumps market?
Will North America continue to be the most profitable market for heart pumps providers?
Which factors are anticipated to hamper the growth of the global heart pumps market during the forecast period?
Which are the leading companies in the global heart pumps market?
Research Methodology
A unique research methodology has been utilized by TMR to conduct comprehensive research on the growth of the global heart pumps market and arrive at conclusions on its growth prospects. This research methodology is a combination of primary and secondary research, which helps analysts warrant the accuracy and reliability of the drawn conclusions.
Secondary sources referred to by analysts during the production of the global heart pumps market report include statistics from company annual reports, SEC filings, company websites, investor presentations, regulatory databases, government publications, and industry white papers. Analysts have also interviewed senior managers, product portfolio managers, CEOs, VPs, and market intelligence managers, who contributed to the production of TMR's study on the heart pumps market as primary methods.
These primary and secondary sources have provided exclusive information during interviews, which serve as a validation from the heart pumps market leaders. Access to an extensive internal repository and external proprietary databases enabled this report to address specific details and questions about the global heart pumps market with accuracy. The study also uses the top-down approach to assess the revenues for each segment and the bottom-up approach to counter-validate them. This has helped in reaching TMR's estimates on future prospects of the global heart pumps market more reliably and accurately.
Heart Pumps Market – Segmentation
Product

Intra-aortic Balloon Pumps

Ventricular Assist Devices

Left Ventricle Assist Devices (LVAD)
Right Ventricle Assist Devices (RVAD)
Biventricular Assist Devices (BVAD)
Others

Total Artificial Heart

Flow Regime

Centrifugal Flow Pump (CFP)

Axial Flow Pump (AFP)

Mixed Flow Pump (MFP)

Therapy

Bridge-to-Candidacy (BTC)

Bridge-to-Transplant (BTT)

Location

Implantable Heart Pump Devices

Extracorporeal Heart Pump Devices

End User

Hospitals

Ambulatory Surgical Centers

Region

North America

Europe

Asia Pacific

Latin America

Middle East & Africa
Custom Market Research Services
TMR offers custom market research services that help clients to get information on their business scenario required where syndicated solutions are not enough.
REQUEST CUSTOMIZATION

Heart Pump Devices Market