Hair Dryer Market
Hair Dryer Market (Product Type: Wired and Wireless; Price Range: Less than US$ 50, US$ 50 - US$ 100, and More than US$ 100; End Use: Individual and Commercial; and Distribution Channel: Online [e–Commerce Websites and Company-owned Websites] and Offline [Hypermarkets & Supermarkets, Departmental Stores, and Others]) - Global Industry Analysis, Size, Share, Growth, Trends, and Forecast, 2020 - 2030
Category :

Consumer Goods & Services

Format :
Hair Dryers under Scrutiny for Spreading Coronavirus
There is a myth surrounding the use of hair dryers to kill coronavirus (COVID-19) pathogens. It is being highly argued whether hair dryers kill the COVID-19 virus. Popular news outlets reveal that hair dryers are not completely effective in killing the COVID-19 pathogens, and can result in thermal burns and dryness of the face due to the exposure to heat of hair dryers. On the other hand, hair dryers are under scrutiny for spreading the novel coronavirus in salon and clinical settings. Hence, companies in the hair dryer market should educate salon employees and patrons alike about various preventive measures to contain the spread of the coronavirus.
The spread of COVID-19 is high, if a sick individual enters the salon or clinical premises and can be further aggravated with the use of hair dryers. Hair dryers have the potential to spread the virus but with preventive measures such as thermal scanning of individuals, employees can significantly contain the spread of the virus. This could affect the growth of the hair dryer market.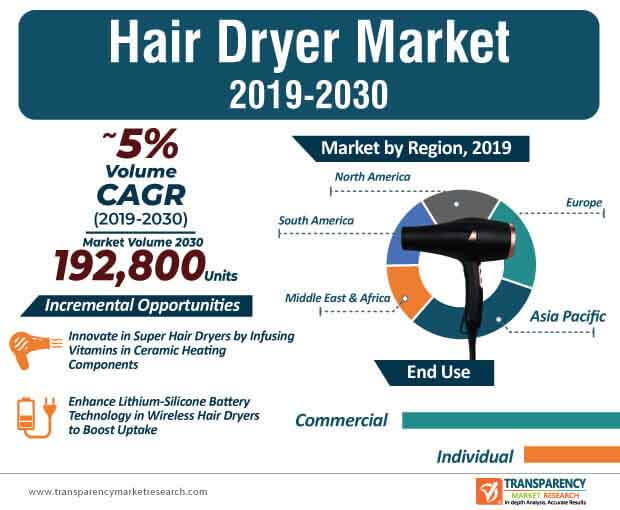 Request a sample to get extensive insights into the Hair Dryer Market
Next-gen Innovations in Hair Dryers Involve Smart Drying Experience to Prevent Hair Damage
Smart hair dryers are bringing about a significant change in the hair dryer market. In order to illustrate, Tineco - a global innovator specializing in creating intelligent technologies, has announced the launch of MODA ONE™- a next-gen smart hair dryer that uses smart sensors to detect hair moisture whilst automatically adjusting heat. Next-gen smart hair dryers are paving the way for new innovations in the hair dryer market where automation is playing a key role in adjusting air speed and heat in order to prevent hair damage.
Manufacturers are increasing their R&D muscle to develop hair dryers with intelligent humidity and proximity sensors that work to optimize the amount of heat delivered to hair for achieving healthy and shiny results for customers. Thus, the smart drying experience is increasingly becoming a trend for innovations in the market landscape.
Proprietary Technologies in Hair Dryers Creating Incremental Opportunities for Companies
Various online portals showcase reviews about the best hair dryer products in the market. Thus, positive reviews help boost the credibility credentials of companies in the hair dryer market. As such, the Andis Pro Dry Elite 1875-Watt Tourmaline Ionic Hair Dryer is gaining increased popularity, owing to its quick seal features that help seal the cuticle layers of the hair and breaks up water molecules to provide quick drying.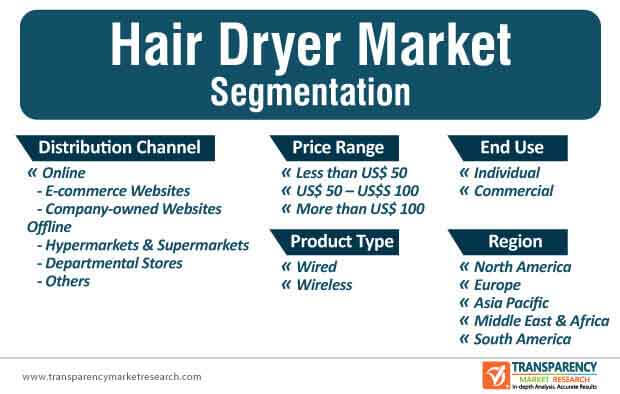 To understand how our report can bring difference to your business strategy, Ask for a brochure
Convenient heat and speed settings in devices are boosting product sales for companies in the hair dryer market. Innovative hair dryers are using proprietary mineral complex that add moisture to the hair strands and seal the cuticles. The demand for lightweight hair dryers is surging in the market. The innovative infrared technology is being highly talked about by companies.
Professional-grade Hair Dryers Provide Fast Hair Drying without Extreme Heat
Breakthrough innovations in hair dryers are generating value-grab opportunities for manufacturers. Likewise, the Dyson Supersonic Hair Dryer has been a revelation in the hair industry, as British innovator James Dyson forayed into the beauty sector for the first time. However, companies in the hair dryer market find that many of their inventions do not fit the regular salon environments. Hence, companies are making minor tweaks in the technology of hair dryers to make them commercially viable in salon environments. They are investing in research spending to launch professional versions of hair dryers.
The hair dryer market is expected to reach US$ 12.4 Bn by 2030, as manufacturers are integrating robust filters and professional concentrate nozzles in hair dryers for better coverage and a more focused air flow. Fast hair drying without extreme heat has become an important focus point for manufacturers.
Lithium–Silicone Batteries Leverage Technology in Cordless Hair Dryers
Wireless and portable hair dryers are meeting convenience needs of on-the-go individuals. Cordless and rechargeable AER dryers are posing stiff competition to companies such as Philips in the wireless hair dryers segment. Thus, research spending is playing a key role in improving the sensor technology of wireless hair dryers. Companies in the hair dryer market are using lithium–silicone batteries to innovate in portable dryers. Wireless products have been an upgrade in the hair dryer domain since smart sensors analyze air quality and humidity around to automatically modify heat settings.
Moreover, companies in the hair dryer market are boosting their production activities to develop wireless products with detachable cords that come handy when batteries are out of power. As such, the bulky size of wireless hair dryers due to their batteries tend to outweigh the advantages of the same.
Affordability Influences Buyers' Decision for Super Hair Dryer Products
The concept of super hair dryers is encouraging manufacturers to constantly innovate in products. Likewise, the Airshot from Cloud Nine has vitamins infused to its ceramic heating components that nourish the hair. The demand for quick hair drying is fueling innovations in smart hair dryers. Convenient heating options in hair dryers are being highly preferred by customers to quickly and effectively dry the hair. On the other hand, companies in the hair dryer market are innovating in compact designs for products.
Manufacturers in the hair dryer market are aiming to develop products that fall in the range of US$ 50 - US$ 100 to meet affordability of customers, whilst not compromising on the output of the product.
Stuck in a neck-to-neck competition with other brands? Request a custom report on Hair Dryer Market
Analysts' Viewpoint
Companies in the hair dryer market should educate salons and clinicians about thermal scanning and rescheduling of appointments, if they find an individual is potentially sick with COVID-19 symptoms. Opting for cheap alternatives can be potentially risky but not for BaByliss 2100 Salon Light, which is a cheap and cheerful dryer that works efficiently at a pocket-friendly price. However, it is challenging for emerging market players to strike the right balance between heat temperatures and lithium batteries, while developing wireless hair dryers. Hence, companies should use lithium–silicone batteries that are placed far from the heating coil to keep temperatures under control. Compact hair dryers are highly preferred by customers.
Hair Dryer Market: Overview
Hair dryer, also known as blow dryer, is an electromechanical tool that blows hot or cool air over damp or wet hair, in order to speed up the water evaporation particles and dry the hair. A hair dryer helps to improve the control on style and shape of hair, by controlling and accelerating the formation of temporary hydrogen bonds inside each strand. A hair dryer also helps to create hairstyles with supporting hair accessories to add more attractiveness to the hair.
Globally, Asia Pacific held the largest share in the hair dryer market in 2019. Adoption and usage of hair dryers such as wired and wireless hair dryers is expected to increase across the globe during the forecast period. The hair dryer market in Europe has reached the targeted growth phase, owing to a strong product pipeline and well-established portfolio management approach.
The hair dryer market in North America and South America has significant growth potential due to the demand for personal grooming and early technology adoption. However, the market in MEA is still in the growing phase due to lower adoption and insufficient innovations in the mass market product range.
Hair Dryer: Market Trends
Consumers increasingly demand products, which are easy to use, customizable, and meets their lifestyle requirements. Many consumers are demanding technologically advanced products, which means they are looking for innovative features that are meaningful and helpful in their lives.
The rising demand for wired hair dryers has resulted in increasing focus on development of technology to ensure healthy hair that are not damaged by heat
Hair Dryer Market: Drivers and Opportunities
The increasing adoption of western lifestyle has supported the growth of the hair dryer market globally. Rapid urbanization and changing lifestyles are the major factors impacting the hair dryer market. Moreover, the expansion of e-Commerce and availability of a wide range of products are the other factors fueling the hair dryer market.
Adoption of artificial intelligence technology is rising rapidly globally. Hair dryer manufacturers are using the artificial intelligence technology to make their hair dryers advanced and are targeting the younger generation to buy technologically advanced hair dryers. This is expected to create new opportunity for the overall market during the forecast years.
Hair Dryer Market: Key Segments
The global hair dryer market has been segmented based on product type, price range, end use, distribution channel, and region
In terms of product type, the global hair dryer market has been divided into wired and wireless
On the basis of price range, the market has been classified into less than US$ 50, US$ 50 – US$ 100, and more than US$ 100
Based on end use, the market has been classified into individual and commercial
In terms of distribution channel, the hair dryer market has been split into online and offline. The online distribution channel is further divided into e-Commerce websites and company-owned websites. The offline distribution channel is categorized into hypermarkets & supermarkets, departmental stores, and others (electronics retail stores, brand stores, etc.).
Based on region, the global hair dryer market has been divided into North America (U.S., Canada, and Rest of North America), Europe (U.K., France, Germany, and Rest of Europe), Asia Pacific (China, Japan, India, and Rest of Asia Pacific), Middle East & Africa (GCC Countries, South Africa, and Rest of Middle East & Africa), and South America (Brazil and Rest of South America)
Hair Dryer Market: Competition Landscape
Presence of major players in the hair dryer market leads to competition among companies. Players are concentrating on product technology that would offer extra hair care and smoothness to separate their products from competitors. Furthermore, a large number of manufacturers are engaging with local manufacturers and distributors to increase their presence and reach in different parts of the globe.
Some of the key players operating in the hair dryer market are

Panasonic Corporation
Dyson Limited
Procter & Gamble (Braun)
Groupe SEB
Conair Corporation
Koninklijke Philips N.V.
Spectrum Brands, Inc.
Helen of Troy
Jemella Ltd (GHD)
Ikonic (SSIZ INTERNATIONAL)
Hair Dryer Market – Scope of the Report
Transparency Market Research's recent report on the hair dryer market, with the help of a comprehensive outlook, provides readers with an assessment of the global market landscape. This study on the hair dryer market analyzes the scenario for the period 2020 - 2030, wherein 2019 is the base year and 2018 is historical data. The report enables readers to make important decisions with regard to their business, through a wealth of information enclosed in the study.
This TMR study on the hair dryer market provides data on the developments undertaken by important players and stakeholders in the market, along with a competitive analysis. The report also provides an understanding of strengths, weaknesses, threats, and opportunities, along with trends and restraints in the landscape. Presented in a clear sanctioned manner, the report on the global hair dryer market gives readers an individual understanding of the market.
The study discusses the underlying trends and impact of various factors that drive the global hair dryer market, along with their influence on the evolution of the market.
The study also offers Porter's Five Force Analysis, value chain analysis, key trend analysis, SWOT analysis, COVID-19 impact analysis, and technology overview of the global hair dryer market in order to highlight the crucial growth tactics and opportunities for market players.
Key Questions Answered in This Report on Hair Dryer Market
How much revenue will the hair dryer market generate by the end of the forecast period?
What application of hair dryers is likely to gain the maximum market share by 2030?
What regions currently contribute the maximum share to the overall hair dryer market?
What are the indicators expected to drive the global hair dryer market?
Which region is likely to be a lucrative market during the forecast period?
What are the essential strategies incorporated by key stakeholders in the global hair dryer market to expand their geographical presence?
What are the major advancements witnessed in the global hair dryer market?
The report answers these questions and more about the global hair dryer market, aiding major stakeholders and key players in making the right decisions and strategizing for the advancement of their business.
Hair Dryer Market – Research Methodology
TMR report's on the global hair dryer market is based on a complete and comprehensive evaluation of the market backed by secondary and primary sources. The competitive scenario of the global hair dryer market is supported by an assessment of different factors that influence the market on a minute and granular level. By thoroughly analyzing the historical data and current trends, researchers of the global hair dryer market arrive at predictions and estimations, and calculate the forecast for the market.
The report uses an analytical triangulation method to estimate the numbers and figures of the global hair dryer market with both bottom-up and top-down approaches.
The detailed assessment of the global hair dryer market, along with an overview of the landscape is provided based on a careful examination of the avenues related to this market. Analysts' conclusions on how the global hair dryer market is set to grow are based on carefully vetted primary and secondary sources.
Hair Dryer Market – Segmentation
The report on the global hair dryer market provides information on the basis of product type, price range, end use, distribution channel, and region.
Product Type

Price Range

Less than US$ 50
US$ 50 - US$ 100
More than US$ 100

End Use

Distribution Channel

Online

e-Commerce Websites
Company-owned Websites

Offline

Hypermarkets & Supermarkets
Departmental Stores
Others

Region

North America
Europe
Asia Pacific
Middle East & Africa
South America
Custom Market Research Services
TMR offers custom market research services that help clients to get information on their business scenario required where syndicated solutions are not enough.
REQUEST CUSTOMIZATION