Durable Geosynthetics Market: Overview
The drive for geosynthetics stems from the need for cost-effective civil engineering solutions in infrastructural projects all over the world. There is substantial demand for geosynthetics as novel engineering materials in a range of construction works, most notably in railway stations, dams, airports, roads, and bridges. The unique functional and performance benefits garnered from the use of geotextiles, geogrids, and geocomposites in infrastructures is a key factor accentuating the global demand for geosynthetics in end-use applications. The rising scope of geosynthetics in modern construction projects is catalyzing the steady expansion of the market. The global geosynthetics market has gained momentum in recent years from the rising focus on environmental protection strategies. They are extensively applied in making barriers and reinforcements for various natural landscapes. The use of geosynthetics has helped in combating soil erosion. However, the rapid fluctuations in the prices of raw materials may cripple the expansion of the geosynthetics market.
The global geosynthetics market estimated revenue worth was US$11.30 bn by 2016 end and is anticipated to touch a valuation of US$20.80 bn by the end of 2023. The global market is projected to rise at an impressive CAGR of 9.1%, vis-à-vis revenue during 2015–2023.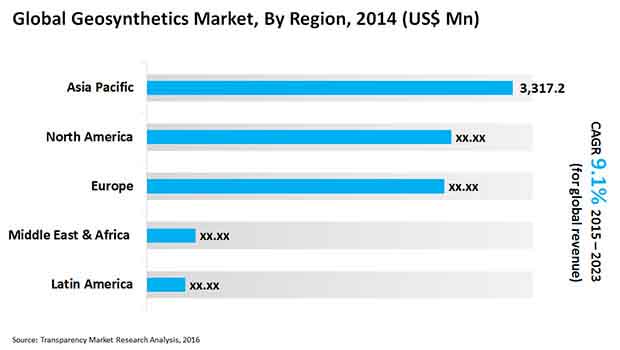 Geotextiles and Geogrids emerging as Potentially Attractive Product Segments
The various types of geosynthetics are geotextiles, geogrids, drainage composites, and Geomembranes. Of all the product types, the demand for geotextiles and geogrids is expected to rise at potentially high pace over the assessment period. Of the two, the geotextiles segment currently holds a major share in the overall market. The segment is expected to continue holding a major share throughout the forecast period. The vast attractiveness of the segment is on the account of the substantial uptake of this type of geosynthetics in the construction industry world over. The rising use of geotextiles is attributed to their porous and flexible nature. The versatility of the use in construction projects is bolstering their application in the end-use industry.
Another lucrative product segment is geomembranes. They are extensively used in several high-performance lining applications such as tank and landfill liners. Their preference is attributed to the cost-effectiveness of their use in channelizing stored fluids.
Substantially Rising Demand in End-use Industries makes Asia Pacific Leading Regional Market
The key regional markets for geosynthetics are North America, Latin America, Asia Pacific, the Middle East and Africa (MEA), and Europe. Of these, Asia Pacific is expected to be the leading contributor of growth to the global market at least till 2023. The regional market is estimated to acquire a share of 40.2% by 2023 end. The major chunk of demand comes from China, which is home to thriving manufacturing of geosynthetics. Overall, the regional market is presenting potentially lucrative opportunities owing to the burgeoning demand for geosynthetics in the construction industry in several of its economies.
Meanwhile, two other lucrative regional markets for geosynthetics are the ASEAN and the GCC. This is attributed to the rapid pace of infrastructural developments and construction projects in these regions. Other promising regions for the demand for geosynthetics are Japan, Brazil, and countries across the MEA. On the other hand, the rise in demand for geosynthetics in North America are Europe is modest.
The applications of geosynthetics are separation, drainage, barriers, reinforcement, erosion control, containment, and protection. A large part of the use of geosynthetics in these applications are expected to come from developing economies.
Some of the prominent players operating in the global geosynthetics market are NAUE Gmbh & Co. KG., Low & Bonar PLC., TenCate Geosynthetics, GSE Environmental, Inc., and Officine Maccaferri S.p.A.
This report analyzes and forecasts the market for geosynthetics at the global and regional level. The market has been forecast based on volume (Mn Square Meters) and revenue (US$ Mn) from 2015 to 2023. The study includes drivers and restraints of the global geosynthetics market. It also covers the impact of these drivers and restraints on demand for geosynthetics during the forecast period. The report also highlights the opportunities in the geosynthetics market at the global and regional level.
The report includes a detailed value chain analysis, which provides a comprehensive view of the global geosynthetics market. Porter's Five Forces Model for the geosynthetics market has also been included to help understand the competitive landscape in the market. The study encompasses market attractiveness analysis, wherein products are benchmarked based on their market size, growth rate, and general attractiveness.
The study provides a decisive view of the global geosynthetics market by segmenting it in terms of products and functions. These segments have been analyzed based on present and future trends. Regional segmentation includes current and forecast demand for North America, Europe, Asia Pacific, Latin America, and Middle East & Africa. The report also covers demand for individual products and end-user segments in all regions.
The study includes profiles of major companies operating in the global geosynthetics market. Key players profiled in the report include Low & Bonar PLC, AVINTIV Inc., Officine Maccaferri S.p.A., NAUE GmbH & Co. KG, Agru America, Inc., Propex Operating Company, LLC, TenCate Geosynthetics, GSE Environmental, Inc., Tenax Corporation, Tensar International Corporation. Market players are profiled in terms of attributes such as company overview, financial overview, business strategies, and recent developments.
The report provides the estimated market size of geosynthetics for 2015 and forecast for the next eight years. The global market size of geosynthetics is provided in terms of both volume and revenue. Market volume is defined in Mn Square Meters, while market revenue is in US$ Mn. Market numbers are estimated based on key product segments and end-user segments of geosynthetics. Market size and forecast for each major product and end-user is provided in terms of global and regional markets.
In order to compile the research report, we conducted in-depth interviews and discussions with a number of key industry participants and opinion leaders. Primary research represents the bulk of research efforts, supplemented by extensive secondary research. We reviewed key players' product literature, annual reports, press releases, and relevant documents for competitive analysis and market understanding. Secondary research includes a search of recent trade, technical writing, Internet sources, and statistical data from government websites, trade associations, and agencies. This has proven to be the most reliable, effective, and successful approach for obtaining precise market data, capturing industry participants' insights, and recognizing business opportunities.
Secondary research sources that are typically referred to include, but are not limited to company websites, annual reports, financial reports, broker reports, investor presentations, SEC filings, Plastemart magazine, TPE magazine, internal and external proprietary databases, and relevant patent and regulatory databases such as ICIS, Hoover's, oneSOURCE, Factiva, and Bloomberg, national government documents, statistical databases, trade journals, market reports, news articles, press releases, and webcasts specific to companies operating in the market.
Primary research involves e-mail interactions, telephonic interviews, and face-to-face interviews for each market, category, segment, and sub-segment across geographies. We conduct primary interviews on an ongoing basis with industry participants and commentators in order to validate the data and analysis. Primary interviews provide firsthand information on market size, market trends, growth trends, competitive landscape, outlook, etc. These help validate and strengthen secondary research findings. These also help develop the analysis team's expertise and market understanding.
The report segments the global geosynthetics market as follows:
Geosynthetics Market – Product Segment Analysis
Geotextiles
Geomembranes
Geogrids
Drainage Composites
Others (Geosynthetic Clay Liners, etc.)
Geosynthetics Market - Function Analysis
Containment
Reinforcement
Filtration and Drainage
Others (Separation, etc.)
Geosynthetics Market - Regional Analysis
North America

U.S.
Rest of North America

Europe

France
U.K.
Spain
Germany
Italy
Rest of Europe

Asia Pacific

China
Japan
ASEAN
Rest of Asia Pacific

Latin America

Brazil
Rest of Latin America

Middle East & Africa (MEA)

GCC
South Africa
Rest of MEA