2,5-Furandicarboxylic Acid (FDCA) Market
2,5-Furandicarboxylic Acid (FDCA) Market (Application - Polyesters, Polyamides, Polycarbonates, Plasticizers) - Global Industry Analysis, Size, Share, Growth, Trends, and Forecast 2016 - 2025
Category :

Chemicals & Materials

Format :
Global 2,5-Furandicarboxylic Acid (FDCA) Market: Snapshot
2,5-Furandicarboxylic acid (FDCA) has garnered worldwide commercial interest as a bio-based, renewable monomer for the production of polymers and resins. The monomer has emerged as potentially promising for chemicals manufacturers for the production of bio-based plastics, for it can replace terephthalic acid (TPA) and various other petrochemicals for the production of plastics, such as PET. FDCA has been frequently been considered as an intermediate for the production of polyethylene furanoate (PEF) polymers and PET plastic bottles. A substantial thrust for the demand for FDCA comes from the packaging industry for the production of bio-based plastics and from beverages industry for the production of carbonated soft drinks. Intense industry search for environmental-friendly plastics, supported by large regulatory thrusts in several countries, has been imparting constant momentum to the growth of the FDCA market.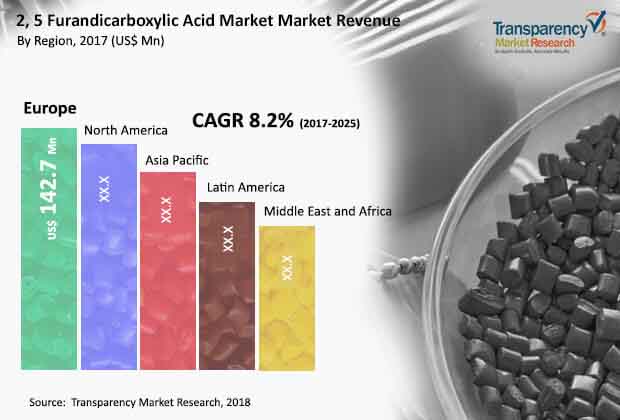 The global 2,5-Furandicarboxylic acid market stood at nearly US$300.0 million in 2016 and is projected to expand at 8.2% CAGR during the forecast period of 2017–2025. Rapid expansion of production capacities by chemicals companies, world over, is contributing to the attractive expansion of the market. Ceaseless research and development activities on leveraging the bio-based properties of FDCA are likely to create lucrative avenues for these companies.
The various applications of 2,5-furandicarboxylic acid can be categorized as polyamides, polyesters, plasticizers, polycarbonates, and the others segment. Of these, polyesters is anticipated to lead the pack throughout the assessment period. The vast application of FDCA is attributed to its demand in the synthesis of renewably-sourced polyesters as the monomer replaces TPA. The properties of biocompatibility and biodegradability makes FDCA as the material of choice for making polyesters such as PET and polybutyleneterephthalate (PBT).
The promising application of FDCA in the production of bio-based plastics has made the compound of immense commercial value in the packaging industries, world over. The application is bolstered by growing shifts of governments in several nations toward bio-based plastics to combat the burgeoning problem caused by plastics pollution. To this end, governments have also been active in providing incentives, notably offering tax rebates, to chemical companies for the production of green packaging.
Growing consumer awareness about the mounting concern of inadequate disposal of bioplastics has also been a potential force driving the applications of FDCA in the production of environmental-friendly plastics. The rising demand for bio-based and sustainable packaging in various parts of the world is fueling the use of FDCA in various bio-based applications. Furthermore, frequent fluctuations in the prices of petrochemical used in the plastics manufacturing industry has also substantial prospects in the FDCA market.
Elevated Levels of Environmental Awareness reinforcing demand for FDCA in Europe
The various regional markets for 2,5-Furandicarboxylic acid are North America, Europe, Asia Pacific, the Middle East and Africa, and Latin America. Of these, both North America and Europe held substantial shares in the global FDCA market in 2016. Reiterating focus of the regulatory agencies in the European Union on bio-based or green procurement policies in the chemicals industries has been a crucial factor reinforcing the demand for FDCA. Coupled with this, widespread consumer awareness about environmental friendly products in various developed nations of Europe is supporting the attractive expansion trajectory of the Europe market for FDCA.
Developing Regions Potentially Emerging Markets for FDCA
The demand for FDCA is rapidly rising in Asia Pacific and the regional market contributed a promising revenue share in the global market. The burgeoning demand is supported by the swift pace of industrialization in several of its economies. Moreover, changing consumer patterns are tilting toward bio-based alternatives in the chemical manufacturing industries across the region are spurring the demand for FDCA. A case in point is the burgeoning demand for FDCA in China. The usage of bio-sourced PET products in the packaging industries in the country is contributing substantial revenues in the regional market.
Meanwhile, the Middle East and Africa (MEA) and Latin American are projected to rise at a rapid pace during the assessment period.
Prominent companies in the 2,5-Furandicarboxylic acid market include V & V Pharma Industries, AVALON Industries AG, Chemsky (Shanghai) International Company Limited, Novamont SpA, AstaTech Inc., Synvina, Alfa Aesar GmbH & Co KG, Toronto Research Chemicals Inc, and Corbion NV.
This report analyzes and forecasts the market for hollow fiber ceramic membranes at the global and regional level. The market has been forecast based on revenue (US$ Mn) and volume (thousand square meter) from 2016 to 2025. The study includes drivers and restraints of the global 2,5-furandicarboxylic acid market. It also covers the impact of these drivers and restraints on demand for 2, 5 furandicarboxylic acid during the forecast period. The report also highlights opportunities in the 2,5-furandicarboxylic acid market at the global level.
The report comprises a detailed value chain analysis, which provides a comprehensive view of the global 2,5-furandicarboxylic acid market. Porter's Five Forces model for the 2,5-furandicarboxylic acid market has also been included to help understand the competitive landscape in the market. The study encompasses market attractiveness analysis, wherein applications are benchmarked based on their market size, growth rate, and general attractiveness.
The study provides a decisive view of the global, 2,5-furandicarboxylic acid market by segmenting it in terms of application. The segments have been analyzed based on present and future trends. Regional segmentation includes the current and forecasted demand for 2,5-furandicarboxylic acid in North America, Europe, Asia Pacific, Latin America, and Middle East & Africa. The report also covers demand for individual application segments in all the regions.
The study includes profiles of major companies operating in the global, 2,5-furandicarboxylic acid market. Key players profiled in the 2,5-furandicarboxylic acid market include Avantium Holding BV, Corbion NV , Toronto Research Chemicals Inc, Alfa Aesar GmbH & Co KG, Synvina, Asta Tech Inc, Novamont SpA, Chemsky (Shanghai) International Company Limited, . AVALON Industries AG, and V & V Pharma Industries. Market players have been profiled in terms of attributes such as company overview, financial overview, business strategies, and recent developments.
The report provides the estimated market size of 2,5-furandicarboxylic acid for 2016 and forecast for the next nine years. The global market size of 2,5-furandicarboxylic acid has been provided in terms of revenue and kilo tons. Market numbers have been estimated based on applications of 2,5-furandicarboxylic acid. Market size and forecast for each major application have been provided in terms of the global and regional market.
In order to compile the research report, we conducted in-depth interviews and discussions with a number of key industry participants and opinion leaders. Primary research represents the bulk of research efforts, supplemented by extensive secondary research. We reviewed key players operating in various end-use industries, annual reports, press releases, and relevant documents for competitive analysis and market understanding. Secondary research also includes a search of recent trade, technical writing, internet sources, and statistical data from government websites, trade associations, and agencies. This has proven to be the most reliable, effective, and successful approach for obtaining precise market data, capturing industry participants' insights, and recognizing business opportunities.
Secondary research sources that are typically referred to include, but are not limited to company websites, annual reports, financial reports, broker reports, investor presentations, SEC filings, internal and external proprietary databases, relevant patent and regulatory databases, national government documents, statistical databases, market reports, news articles, press releases, and webcasts specific to companies operating in the market.
Primary research involves e-mail interactions, telephonic interviews, and face-to-face interviews for each market, category, segment, and sub-segment across geographies. We conduct primary interviews on an ongoing basis with industry participants and commentators in order to validate the data and analysis. Primary interviews provide firsthand information on market size, market trends, growth trends, competitive landscape, and outlook, etc. These help validate and strengthen secondary research findings. They also help develop the analysis team's expertise and market understanding.
Key Takeaways
An extensive analysis of the 2,5-furandicarboxylic acid market trends and shares from 2016 to 2025 to identify the market opportunities and analyze industry development
Production output by region and of Avantium Holding BV company
A list of key developments in the 2,5-furandicarboxylic acid market made by key players
A list of key factors responsible for building the upcoming opportunistic roadmap for the 2,5-furandicarboxylic acid market at a global, regional, and country level
Comprehensive analysis with respect to investments and price trends that impact the outlook of the global 2,5-furandicarboxylic acid market between 2016 and 2025
The report provides insights into market opportunities for various stakeholders in the value chain and a detailed competition landscape for key players dominating the industry to understand competition level
Porters' Five Forces highlight the potency of buyers and suppliers and enable stakeholders to make profit-oriented business decisions. They analyze the strengths and weaknesses to gain strategic position in the market.
Custom Market Research Services
TMR offers custom market research services that help clients to get information on their business scenario required where syndicated solutions are not enough.
REQUEST CUSTOMIZATION

Furandicarboxylic Acid Market