Fungicides Market
Fungicides Market (Product: Mancozeb, Chlorothalonil, Triazoles, Strobilurin, and Others; Crop: Fruits & Vegetables, Cereals & Grains, Oilseeds, and Others) - Global Industry Analysis, Size, Share, Growth, Trends, and Forecast 2019 - 2027
Chemicals & Materials
TMRGL7241
2019-09-24
269

Pages
Weather-based Decision Spray Models Benefit Stakeholders in Agricultural Value Chain
Manufacturers in the fungicides market are developing weather-based decision spray models that help farmers and other stakeholders in the agricultural landscape to combat soil-borne diseases. These decision-based models assist crop growers in deciding when to use fungicides, depending on the weather condition. This model is best used to prevent the growth activity of late blight disease in potatoes. The model's efficiency, cost effectiveness, and environmental-friendly attributes are increasingly gaining the attention of crop growers.
Late blight disease has serious consequences on crops, both on field and in storage spaces. Due to the growth of late blight due to certain weather conditions, crop growers suffer huge production losses. Thus, manufacturers can develop innovative forecast models, as crop growers are willing to invest in high-performance models to avoid production losses. A lot of farmers are adopting these forecast models to gain insights about the humidity and weather conditions over a period of 3-7 days. Thus, weather-based decision spray models help consumers spray-controlled dosages of fungicides, thereby decreasing costs and reducing environmental footprint.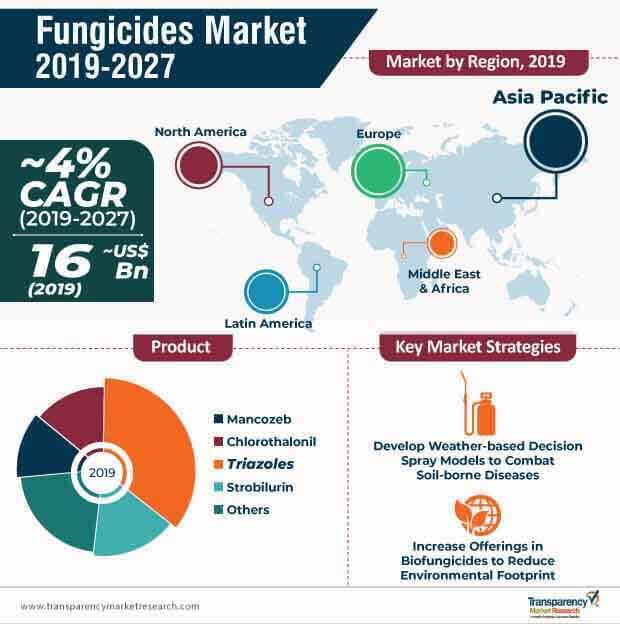 To gauge the scope of customization in our reports Ask for a Sample
Cereal Growers Catalyze Demand for High-technology Fungicides
There is growing demand from cereal farmers for the innovation of tailored solutions that are overlooked by market players in the fungicides ecosystem. These challenges include limited natural resources, fluctuating yield of crops, and the risk of soil-borne diseases while catering to the growing world population with increasing demand for high-quality cereals. Since the fungicides market is anticipated to grow from ~US$ 15.3 Bn in 2018 to ~US$ 22.3 Bn in 2027, market players are adopting strategic measures to facilitate cereal farmers with innovative fungicide offerings.
Manufacturers are developing high-technology fungicides to deliver exceptional disease control that results in higher-yielding and healthy-looking cereal crops. The use of high-technology fungicides supports high grain quality, long-lasting protection against fungal activity, and surplus production for the growing population. This sustainable solution is adding greater cost value to cereal growers, and also helping market players sustain their business of fungicides in the long run. For instance, Bayer AG - a leading German multinational pharmaceutical company, announced the launch of iblon™ technology based on active ingredient isoflucypram, to control fungal activity in cereals.
Get an idea about the offerings of our report from Report Brochure
High Adoption of Bio fungicides Gives Rise to Multiple Modes of Action
The fungicides market is moderately consolidated, thus allowing the entry of new players in the market. However, emerging market players need to innovate on offerings that are sustainable and reduce environmental load.
Fungicides are used to protect crops from fungal diseases. However, certain species of fungi develop resistance to fungicides after prolonged usage. Certain synthetic fungicides can also kill the crops and plants if not handled skilfully, as they contain highly toxic elements such as phytotoxicity. This is why crop growers are adopting biofungicides made from organic formulations that aid in the management of crop diseases. Biofungicides also help reduce environmental footprint when compared to chemical/synthetic fungicides. Thus, manufacturers need to harness the power of plant micro biomes to develop effective biofungicides with multiple modes of action.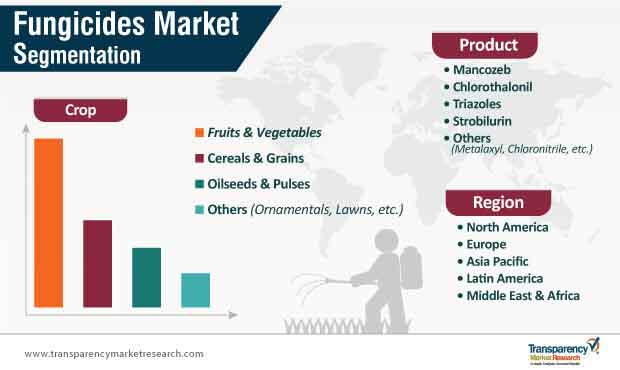 Looking for Regional Analysis or Competitive Landscape in Fungicides Market, ask for a customized report
Analysts' Viewpoint
The production of fungicides for fruits and vegetables is expected to reach a benchmark of ~403 kilotons by the year 2027. Hence, manufacturers are increasing production capacities to cater to the needs of fruit and vegetable growers. For instance, BASF SE - a leading German chemical company, announced the launch of two new fungicides - Acrobat® Complete and Sercadis® Plus, which contribute to the growth of high-quality grapes that can stay free from diseases. The use of synthetic fungicides leads to complications in crop health, and increases harmful emissions to the environment. Thus, manufacturers should increase offerings in biofungicides, and tap into the available incremental opportunities in Asia Pacific and Europe.
Fungicides: Increase in Area Harvested for Fruits & Vegetables to Drive Market
Fungicides are applied to kill or inhibit the growth of fungi and their spores in order to control the fungi that can cause damage to crops. Most fungicides harm the fungal cell membranes or interfere with energy production in the fungal cell.
A majority of fungicides are applied as sprays or dust. Seed fungicides are applied as protective coverings.
Fruits and vegetables are delicate types of crops that are prone to fungal attacks. Thus, in terms of consumption, the fruits & vegetables segment accounts for a major share of the fungicides market. Around one-third share of the overall consumption of fungicides is utilized for fruits & vegetables.
The demand for fruits and vegetables has increased significantly due to the shift in dietary patterns of end users. Rise in awareness about the health benefits of fruits has boosted their consumption, primarily in developing countries. Thus, the area being harvested for fruits and vegetables has increased across the globe. This is anticipated to drive the demand for fungicides during the forecast period.
Global Fungicides Market: Highlights
In terms of value, the global fungicides market is anticipated to expand at a CAGR of ~4% during the forecast period, to reach ~US$ 22.3 Bn by 2027.
Based on product, the triazole segment held a major share of the global fungicides market in terms of value in 2018. Effective action on various fungi and the ability of triazole to mix with other fungicides are the key factors driving the segment.
The shift in harvest from cereals crops to cash crops is being experienced in various countries, primarily China and India. Significant increase in the number of food storage and transportation facilities are fuelling the demand for fungicides in these countries. Thus, rise in the adoption of fungicides among end users is estimated to fuel their demand in Asia Pacific.
Increasing demand for crop yield due to the growing demand for food has augmented the use of pesticides across the globe. However, excessive use of pesticides can damage the environment. Thus, eco-friendly substitutes of agrochemicals such as biopesticides are gradually replacing synthetic agrochemicals.
Excessive and untimely use of fungicides may lead to fungicide resistance in fungi.
Demand for Triazole Fungicides Likely to Increase
In terms of product, the triazoles segment dominates the global fungicides market due to its excellent performance on a variety of crops such as field crops, fruit trees, small fruits, vegetables, and turf. However, the mancozeb segment is projected to expand at a significant pace during the forecast period.
The triazole segment includes a large number of fungicides such as cyproconazole flusilazole, flutriafol, metconazole, myclobutanil, propiconazole, prothioconazole, tebuconazole, and tetraconazole. These fungicides function efficiently against various fungal diseases in terms of inhibition of spore production and growth of the fungus.
Thus, rise in the awareness about efficient fungicides such as triazole on a broad range of crops and governmental support of their application methods are likely to fuel the demand for triazole during the forecast period.
Asia Pacific Market to Grow Rapidly
In terms of value, Asia Pacific constituted a prominent share of the global fungicides market in 2018. The market in Asia Pacific is expected to expand at a rapid pace during the forecast period.
The increasing use of pesticides, including fungicides, in Asia Pacific, can be ascribed to the significant increase in demand for food and decrease in arable land.
Agriculture-based economies such as China, India, and Australia are located in Asia Pacific. The overall growth in the agriculture industry in these countries has resulted in an increase in awareness regarding the benefits of fungicides among farmers.
Increase in the demand for food crops, primarily fruits and vegetables, due to the ever-growing population, and rise in the popularity of processed food in emerging economies, are driving the demand for efficient agrochemicals in Asia Pacific. This, in turn, is anticipated to positively impact the demand for fungicides, considering the large-scale consumption of fungicides in the cultivation of these delicate crops.
Global Fungicides Market: Competition Landscape
The report comprises detailed profiles of the major players operating in the global fungicides market. The report also consists of a comparison matrix of the top four players operating in the global market, along with their market share analysis and product-application mapping for 2018.
Prominent players operating in the global fungicides market are

Sumitomo Chemical Co., Ltd.
PI Industries
FMC Corporation
ADAMA Ltd.
BASF SE
UPL
Corteva Agriscience
Nufarm Ltd.
Quimetal Industrial S.A.
Bayer AG.

The global fungicides market is consolidated among key market players. The top four players account for ~55% share of the global fungicides market.
Fungicides Market: Scope of the Report
A new study on the global fungicides market was published by Transparency Market Research (TMR). It presents a wealth of information on key market dynamics, including the drivers, market trends, and challenges, as well as the structure of the fungicides market. TMR's study offers valuable information about the fungicides market to illustrate how growth will discern during the forecast period of 2019–2027.
Key indicators of market growth, which include value chain as well as supply chain analysis, and Compound Annual Growth Rate (CAGR), are elucidated in TMR's study in a comprehensive manner. This data can help readers interpret the quantitative growth aspects of the fungicides market during the forecast period.
An extensive analysis on leading market players' business strategies is also featured in TMR's study on the fungicides market. This can help readers understand principal factors to foresee growth in the fungicides market. In this study, readers can also find specific data on the qualitative and quantitative growth avenues of the fungicides market, which will guide market players in making apt decisions in the future.
Key Questions Answered in TMR's Fungicides Market Study
What is the scope of growth for fungicide companies in the agricultural sector?
What will be the Y-o-Y growth of the fungicides market during the period of 2019 to 2027?
What is the influence of the changing trends in technologies on the fungicides market?
Will Asia Pacific continue to remain the most profitable regional market for fungicide providers?
Which factors will impede the growth of the fungicides market during the forecast period of 2019 to 2027?
Which are the leading companies operating at present in the global fungicides market?
Fungicides Market: Research Methodology
A unique research methodology is utilized by TMR to conduct comprehensive research on the growth of the fungicides market, and arrive at conclusions on the future growth prospects of the said market. This research methodology is a combination of primary and secondary research, which helps analysts warrant the accuracy and reliability of the drawn conclusions.
Secondary resources referred to by analysts during the production of the fungicides market report include statistics from company annual reports, SEC filings, company websites, World Bank database, investor presentations, regulatory databases, government publications, and industry white papers. Analysts have also interviewed senior managers, product portfolio managers, CEOs, VPs, and market intelligence managers, all of whom contributed to the production of TMR's study on the fungicides market, as a primary resource.
These primary and secondary resources provided exclusive information during these interviews, which serves as a validation from fungicides industry leaders. Access to an extensive internal repository and external proprietary databases allows for this report to address specific details and questions about the fungicides market with accuracy. The study also uses a top-down approach to assess the numbers for each segment, and a bottom-up approach to counter-validate them. This has helped in making TMR's estimates on the future prospects of the fungicides market more reliable and accurate.
Fungicides Market: Segmentation
TMR's study on the fungicides market includes information segregated into three sections ? product, crop, and region. This has been done to provide detailed and specific forecasts for the global fungicides market for the forecast period. Changing industry trends and other crucial market dynamics associated with these sections of the fungicides market have been discussed in detail. Below is a table depicting the segmentation of the global fungicides market.
Product

Mancozeb

Chlorothalonil

Triazoles

Strobilurin

Others (including Metalaxyl and Chloronitrile)

Crop

Fruits & Vegetables

Cereals & Grains

Oilseeds & Pulses

Others (Ornamentals, Lawns, etc.)

Region

North America

Europe

Asia Pacific

Latin America

Middle East & Africa
Custom Market Research Services
TMR offers custom market research services that help clients to get information on their business scenario required where syndicated solutions are not enough.
REQUEST CUSTOMIZATION