Biofungicides Market
Biofungicides Market (Source - Microbial, Biochemical, Plant-incorporated Protectants; Formulation - Dry, Liquid; Application - Cereals and Grains, Oilseeds and Pulses, Fruits and Vegetables) - Global Industry Analysis, Size, Share, Growth, Trends, and Forecast 2019 - 2027
Category :

Chemicals & Materials

Format :
Biofungicides: A Credible 'Residue-free' Pesticide
The impact of 'organic', 'clean label', and 'residue-free'-- consumer preferences that have induced tectonic shifts across a range of sectors—is noticeable in the agriculture sector as well. It has influenced farmers around the world to incorporate sustainable products and services. Ranging from growing adoption of traditional seeds to biological crop protection methods, sustainable farming has become a key focus area for the agriculture sector. The onus has also shifted to using naturally-derived pest-control materials, creating increased demand for biofungicides and bioinsecticides.
The developments influencing better crop production to sustain the needs of a growing populace, and the biofungicides market in particular, warrant an in-depth understanding and unbiased analysis of this market. Transparency Market Research, in its new research study, unveils compelling insights to assist key stakeholders in the biofungicides market with value-creation and data-driven decision-making.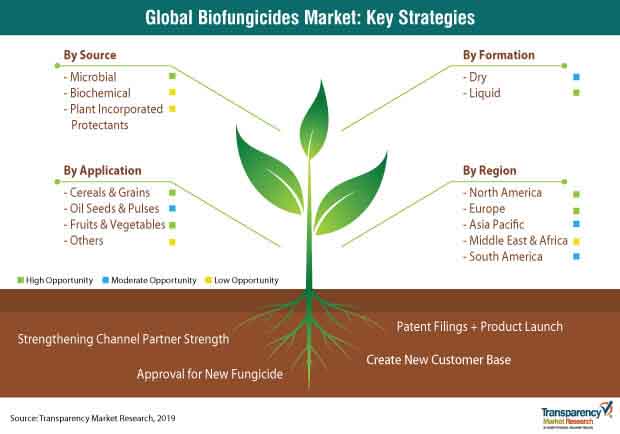 Are you a start-up willing to make it big in the business? Grab an exclusive PDF sample of this report here
Biofungicides Demand Bolstered by Shift to More Sustainable Agriculture
The use of biofungicides, now gaining increasing attention in the view of the rising demand for organic and residue-free foods, has come a long way since it started in the 17th century before the advent of synthetic pesticides. The global sales of biofungicides closed in on US$ 220 million in 2018, and the number of players competing for a share of the pie of this lucrative market continues to rise with each passing year.
Since the intensive and frequent excessive use of chemical pesticides has increased, the resistance strength of plant pathogens has also increased. This has become a threat to public health and environment; hence, focus has shifted back to R&D activities and introduction of biofungicides and other bio-based substitutes. With increased attention being paid toward sustainable agriculture and the boom in the organic farming industry, especially in developed regions, biofungicide companies should be looking at a period of sustained demand.
However, it is pertinent to note that, most farmers, particularly in developing regions, are familiar with chemical-based agro-products, and are reluctant to adopt advanced products on account of financial barriers; this continues to be a challenge for biofungicide suppliers. Further, biofungicides are widely regarded for their heat-resistant properties, however, biologicals have a tendency to be washed away by rain or irrigation systems, and these perceptions have meant that a significant section of farmers have stayed away from them.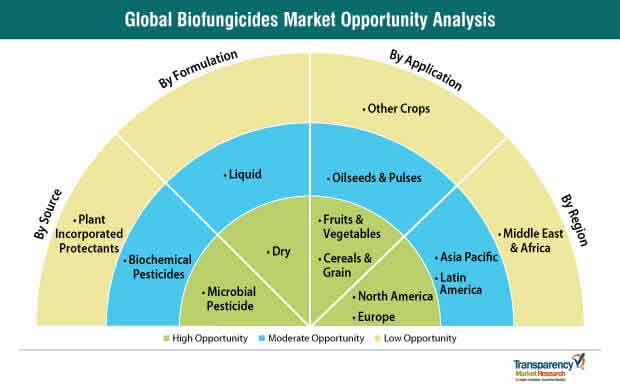 Is something restraining your company's growth in the Biofungicides market? Ask for the report brochure here
Trends Reforming the Biofungicides Landscape
Biofungicides are used as a pest-control in the cultivation of cereals, grains, fruits & vegetables, oilseeds & pulses. However, it has been the tectonic shift in consumer preference for organic fruits and vegetables that has led to a spike in their demand in the recent past. In the biofungicides market, product development and innovation strategies are underpinned by the rising demand for bio-based agro-products that not only increase agricultural yield but also ensure food security.
With regulatory agencies enforcing strict pesticide-residue-related regulations and conducting continuous revaluation of registered pesticides, biofungicides companies are likely to have a shot at capitalizing on the void. In addition, food-safety and other chemical-use regulations in various countries, along with pitfalls in the reregistration of synthetic fungicides with regulatory bodies, are likely to boost adoption of biofungicides.

Stuck in a neck-to-neck competition with other brands? Request a custom report on competition on "biofungicides market" here
Microbial Pesticides: A Tool for Green Farming Practices
Microbial pesticides continue to experience higher demand as compared to biochemical pesticides and plant-incorporated protectants. As microbial pesticides account for nearly 60% share of the biofungicides market, manufacturers are specifically focusing on this category, providing broad-spectrum disease control and increased crop yield potential.
Innovations have been witnessed in biofungicide seed treatment formulations and microbial fungicide technology. As the sales of microbial pesticides remain high, key manufacturers are wary about spending on other sources of biofungicides. These factors are further intensified when BioSafe Systems, a leading player in the biofungicides market, announced the launch of its PVent Biological Fungicide, an enhancement in microbial fungicide technology, which offers farmers with an easy-to-use, versatile integrated pest management (IPM) tool. PVent has a 93% Gliocladium catenulam strain J1446 as an active ingredient, allowing it to thrive across a wide range of temperatures and humidity. This strategic move by BioSafe Systems is likely to influence other developers to invest in microbial pesticides.
The Competitive Landscape
The biofungicides market shows a high level of fragmentation, with the significant presence of regional players and local players; the top five players collectively account for less than 10% share of the market.
Considering the nature of the product, registration from regulatory bodies and issuance of patents continue to be influencing aspects, and to stay competitive, a majority of developers have expanded their product portfolios that meet all the registration standards. Further, leading biofungicides market players are focusing on strengthening the product portfolios through new launches. For instance, in 2018, Maronne Bio Innovations, Inc. launched a series of biopesticides, including REGALIA CG, GRANDEVO CG, and VENERATE CG, in the United States, which are formulated to control highly destructive pests and diseases.
For companies to expand their business networks and strengthen their reach in different geographies, the appointment of new distributors also remains a key focus area. Government efforts to increase awareness regarding the beneficial application of biofungicides, especially in developing countries, has led to the realignment of strategies. Many leading players such as Marrone Bio Innovations, Inc. have entered into partnerships with regional distributors to push the sales of biofungicides and their other product lines in Vietnam, Cambodia, and other Southeast Asian countries.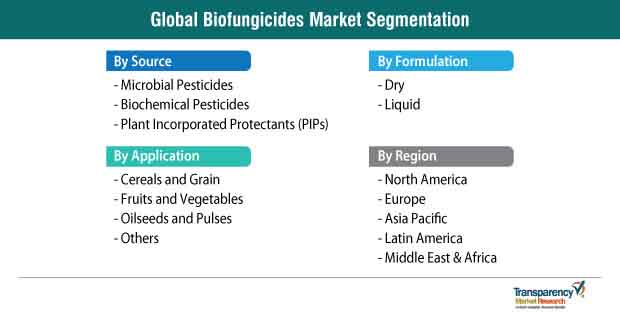 The Analyst Viewpoint
Report authors maintain a positive outlook of the biofungicides market, with double digit growth estimated for the forecast period. As developed countries continue to emphasize on Integrated Pest Management (IPM) as an agriculture policy, manufacturers will need innovate their products that meet all registration standards and win approval sooner. In addition to expanding their business networks, manufactures will need to look at developing countries from a manufacturing perspective, as operating and labor costs are relatively low in these regions. China is focusing on 'zero growth' in the usage of chemical fertilizers and pesticides by 2020, to avoid contamination in farmlands. Therefore, manufacturers with a higher-risk appetite and who are willing to invest in strengthening their manufacturing capabilities are likely to gain their own eminence in the future.
Biofungicides - Product Introduction
Biofungicides are fungicides that are derived from microorganisms such as fungi, bacteria, and virus, or natural materials such as plants.
Biofungicides can be segregated into microbial, biochemical, and plant-incorporated protectants. Microbial fungicides consist of microorganisms as active ingredients. They instantly impact the targeted area of the plants and crops.
Biochemical fungicides occur naturally. They are non-toxic compounds or synthetically derived with functional identities similar to their natural counterparts.
Plant-incorporated protectants are substances that are produced from genetic materials. These protectants are more costly than microbial and biochemical biofungicides due to their production process of genetic modification of plants.
Biofungicides Market Classification
Based on source, the microbial segment accounted for a significant share of the global biofungicides market in 2018, due to its cost efficiency and minimal environmental impact.
These biofungicides contain bacteria, virus, fungi, and protozoans as their active elements, which do not harm the environment, unlike chemical-based fungicides. Also, biofungicides can be easily adopted in Integrated Pest Management systems (IPMs), owing to their lower environmental risks and cost effectiveness.
Biofungicides are employed in a wide range of applications such as cereals and grains, oilseeds and pulses, fruits and vegetable, and others (including nursery and turf).
Cereals & grains is a prominent segment in the global biofungicides market. Biofungicides provide better results than chemical-based fungicides on cereal and grain crops, as they prevent a wide range of pathogens and pests.
Fruits & vegetables was a lucrative segment in the biofungicides market in 2018. It was followed by the cereals & grains segment. In terms of volume and value, the cereals & grains segment constituted a substantial share of more than 25% of the global biofungicides market in 2018.
Biofungicides can provide excellent fungi control, primarily on fruits and vegetables; and cereal and grain types of crops. Innovation in crop protection technologies and shift of consumer preferences toward nutritional and greener diets are driving the demand for organic food. This has augmented the demand for organic yield of fruits and vegetables and food grains crops. Additionally, biofungicides are widely used on turfs and grasses to control infections caused by fungi.
Biofungicides Market Indicators
A majority of farmers and users of biofungicides in developing countries are unaware about the benefits of biofungicides due to the extensive popularity of chemical-based fungicides. Conventional techniques dominate the agricultural sector in developing countries. Therefore, the rate of adoption of advanced products is sluggish in agriculture and agricultural-related industries, especially in developing economies such as India, China, and Vietnam.
Lack of an effective distribution network for biofungicides has adversely impacted the availability of biofungicides in local markets. These factors are anticipated to inhibit the biofungicides market in the near future.
Low shelf life of bio-based products as compared to synthetic fungicides and necessity of the registration process are major challenges faced by the global biofungicides market.
Biofungicides Market: Regional Outlook
In terms of volume and value, North America held a leading share of more than 40% of the global biofungicides market in 2018.
The U.S. is a key country in the biofungicides market in the region. Rise in the demand for organic food and implementation of regulations on synthetic pesticides are key factors driving the biofungicides market in the U.S. Prominent players operate in the biofungicides market in the country, along with several local and unorganized manufacturers.
The adoption of modern farming techniques is boosting the biofungicides market in North America.
The biofungicides market in Asia Pacific is projected to expand at a rapid pace during the forecast period, owing to the rise in the demand for food crops, primarily cereals and grains, and fruit and vegetables, owing to the ever-growing population. Increase in the awareness about the benefits of bio-based agrochemicals among farmers is also augmenting the demand for biofungicides in Asia Pacific.
Government support in terms of subsidies and awareness programs for educating farmers about the ill-effects of chemical-based fungicides are estimated to propel the popularity of biofungicides in Asia Pacific.
The biofungicides market in Europe is projected to expand at a rapid pace, due to the high demand for organic foods and changing eating habits, which are driving the need for organic production.
Oilseeds and pulses are the major crops in Latin America. The nature of these crops draws harmful fungi and other bacteria. This compels farmers to use biofungicides to protect oilseed- and pulse-based crops and plants.
The biofungicides market in the Middle East & Africa is likely to expand at a sluggish pace between 2019 and 2027, as the region is highly dependent on the imports of biofungicides.
Biofungicides Market: Competitive Landscape:
The global biofungicides market is a highly fragmented one, with the presence of regional and local players. The biofungicides market has experienced the acquisitions of key manufacturers by large chemical companies. For instance, Bayer AG acquired Monsanto Company in 2016.
Some of the major companies that have been profiled in the biofungicides market report are:

Agri Life
Certis USA LLC
Stanes & Company Limited
BioSafe Systems LLC
Biotech International Limited
Gujarat State Fertilizers and Chemicals Ltd.
FMC Corporation
Bayer AG
Novozymes
BASF SE
Marrone Bio Innovations, Inc.
Seipasa, LALLEMAND Inc.
Evonik Industries AG
BioWorks, Inc.
Isagro USA, Inc.
Transparency Market Research recently released a business intelligence report that analyzes the impact of the historical and current scenario on the future development of the biofungicides market. The study offers detailed information on how the growth avenues of the biofungicides market will unveil during the period of 2019 to 2027.
The report helps readers understand multiple dynamics about the biofungicides market, and provides actionable insights that can help key industry participants make well-informed business decisions in the coming years. TMR's study also covers a key indicator assessment to specify the growth prospects of the biofungicides market, along with forecast statistics regarding the development of the biofungicides market in terms of value (US$ million) and volume (tons).
In the biofungicides market report, readers can find exclusive data on the sales of biofungicides, and how they are increasing across different geographical regions. The study also includes the existing competitive landscape of the biofungicides market, and details of the product and business strategies being adopted by incumbent companies as well as new entrants in the biofungicides market.
What are the Key Questions Answered in the Biofungicides Market Report?
The report provides a qualitative and quantitative breakdown of the biofungicides market, based on thorough research about the macro-economic and industry-specific factors impacting the growth of the biofungicides market. Detailed information featured in the report can answer important questions for companies in the biofungicides market, so that they can enhance their decision-making processes. Some of the questions include:
What are regulatory trends that can impact the biofungicides market in agriculture-driven countries?
What are the imperative strategies being adopted by leading players to consolidate their position in the global biofungicides market?
What are the latest trends in the biofungicides market that are influencing the business strategies of manufacturers?
How will the historical prospects of the biofungicides market bring changes in the future?
What are effective strategies being adopted by local players in the biofungicides market to compete with global players?
Which are the upcoming commercial prospects in the biofungicides market?
Biofungicides Market: Research Methodology
To acquire detailed information about the development of the biofungicides market, a thorough market research has been conducted by the analysts. With the help of industry-validated insights gathered through and verified by primary and secondary resources, analysts could come up with incisive information on how the biofungicides market is expected to grow and expand during the forecast period.
Analysts have interviewed C-level executives, manufacturers, raw material suppliers and distributors, marketing managers, business unit managers, product development managers, and chief regional officers of key biofungicides market players, along with industry experts and key investors, and all the data has contributed to the compilation of the report as a primary resource. More than half of the primary interviews were conducted in North America and Europe, since the market is concentrated in these regions.
Secondary research resources that have contributed to the development of the report include company websites, annual and financial reports, government regulations and policies, and research papers that highlight the sales potential of biofungicides across different key regions. Secondary resources such as FAOSTAT Data, Agronews Magazine, FICCI (Federation of Indian Chambers of Commerce & Industry), IBMA (International Biocontrol Manufacturers Association), National Resource Institute, UK, The Association of Natural Biocontrol Producers (ANBP), Biological Products Industry Alliance (BPIA), and U.S. Environmental Protection Agency have been referred to by the analysts to confirm the accuracy of the future trends and opportunities in the biofungicides market.
Biofungicides Market: Segmentation
The study on the biofungicides market is divided into four broader categories - source, formulation, application, and region. Readers can find a comprehensive information on how the development of biofungicides market is influenced by different dynamics and evolving trends associated with these categories.
The report provides detailed insights into the segment-wise trends and developments in the biofungicides market. Information includes y-o-y growth analysis, market value share analysis, pricing analysis, supply chain assessment, and attractive analysis based on source, formulation, application, and each key region
Source

Microbial Pesticides

Biochemical Pesticides

Plant-Incorporated Protectants (PIPs)

Formulation

Dry

Liquid

Application

Fruits & Vegetables

Oilseeds & Pulses

Cereals & Grains

Others

Region

North America

Latin America

Europe

Asia Pacific

Middle East & Africa
Custom Market Research Services
TMR offers custom market research services that help clients to get information on their business scenario required where syndicated solutions are not enough.
REQUEST CUSTOMIZATION