Foundry Chemicals Market
Foundry Chemicals Market (Type: Binders, Additive Agents, Coatings, Fluxes, Hot Topping Compounds, and Others; and Application: Cast Iron, Steel, Aluminum, and Others) - Global Industry Analysis, Size, Share, Growth, Trends, and Forecast, 2019 - 2027
Category :

Chemicals & Materials

Format :
Foundry Chemicals Market Evolving with Foundry Owners Turning to 3D Sand Printing
The foundry industry, being in-line with Industry 4.0 trends, is making a move towards adopting technologically-advanced business operations, and 3D (3 dimensional) sand printing technology is revolutionizing the industrial landscape for manufacturers and suppliers in the foundry chemicals market space. An upsurge in the adoption of 3D sand printing technology is mainly attributed to its larger printing volumes as compared to any other conventional 3D printing technology, inexpensive printing materials, and its ability to print functional metal parts that are adjunct to metal powder used in the post processing of sand and metal castings. The foundry chemicals market is projected to increase at a CAGR of ~3%, to reach a value of ~US$ 2.9 Bn by 2027.
In recent times, innovative 3D binder technologies are being actively used for organic and inorganic sand printing for additive manufacturing processes. Manufacturers who seek print head compatibility, dimensional accuracy, and productivity are turning towards 3D sand printing to minimize labor-specific efforts and improve efficiency over conventional binders. This trend has seen a significant shift in manufacturers' preference of producing metal-sand molds and robust concrete structures used for various applications in architecture and infrastructure industries.
For instance, in June 2019, ASK Chemicals, a leading foundry consumables company, announced the launch of INOTEC 3D ? a new-age 3D sand binder that uses printing fluids and promoters in high temperature curing additive manufacturing processes involved in the production of sand castings. This helps manufacturers produce complex-shaped industrial sand components, and combine multiple sand cores into one.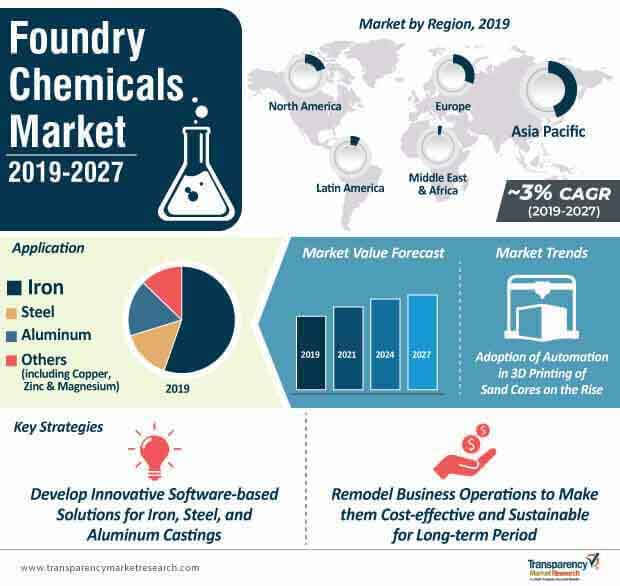 Want to know what lies in store for the future of Foundry Chemicals Market ? Request a Brochure here
Automating Production of 3D-printed Cores Gains Stakeholders' Attention
Foundry businesses have evolved from developing sand mixers, which were primarily used to produce mixed sand on demand, to using next-gen 3D printing technologies. Today, the global foundry chemicals market has become a ~US$ 2.2 billion landscape, excelling in printing technologies that can accelerate the production of 3D metal, sand prototypes, and various other critical components that are used in automotive, aerospace, petrochemical, and construction industries.
Stakeholders in the global foundry chemicals market are keen on expanding their product offerings for binders, additive agents, and coatings, so as to expand their foundry chemicals market share and product penetration applicable to various industries. Subsequently, efforts are being made to reinvent the manufacturing landscape in the production of core components and 3D printed units for various end-use industries. On the same lines, ASK Chemicals - a leading foundry consumables company, announced a collaboration with Loramendi & Aurrenak ? a leading group for the design and supply of solutions in core making, molding, and casting services, and Voxeljet - a leader for 3D printing systems, to pioneer the technique of additive manufacturing in foundry-serial production, backed with one-of-its kind technology for a fully-automated 3D printed core production solution. This technology allows the automated production of highly complex sand cores applicable in casting processes, by harnessing the flexibility that additive manufacturing provides and eliminates the issue of the design limitations of conventional tool technology.
To know more about this report, ask for a Report Sample
Software Modernizations for Producing Iron and Steel Castings Build Future Business Avenues
In the foundry chemicals market, the demand for core and mold binders, sand additives, and parting agents in iron, steel, and aluminum foundries has always remained high. In addition to this, the demand for foundry chemicals triggered by iron and steel melt shops has led to cutting-edge innovations in spot feeders for pliable iron castings, SCK (Sleeve Construction Kit) for the spot feeding of heavy-duty iron and steel casting and heat-intensive feeders for aluminum casting. These innovations are adding value to manufacturers, as they provide benefits such as steel filtration combined with a novel shrouding system, unmatched levels of re-oxidation removal from metals, and drastic improvements in casting quality, as well as reduced rework.
Such innovations are also catalyzing the need for software and technological modernizations. As an example, Foseco-Vesuvius, a leader in the supply of foundry consumables and solutions, announced the launch of the newly developed Ferrolab V ? a thermal analysis system for iron foundries. This system is easy to run and install, and contributes to real savings due to reduced scrap volumes and the increased casting quality of iron and steel metals. Also, for aluminum foundries, Foseco-Vesuvius is planning to promote its latest development of SMARTT Melt Treatment Stations and Degassing units that facilitate enhanced hydrogen level control, value-worthy inclusion removal, and superior grain refining for aluminum casting.
Along with iron, steel, and aluminum transformations, Foseco is also focusing on leading-edge tech and software developments for automotive coatings that provide one of the optimum levels of internal casting cavity cleanliness in the foundry industry, and features alongside their latest generation of ANTICOTE coatings. This coating system consists of an Intelligent Coating Unit, which ensures consistent coating application, minimizes coating related scrap, and improvises productivity volumes in the core room.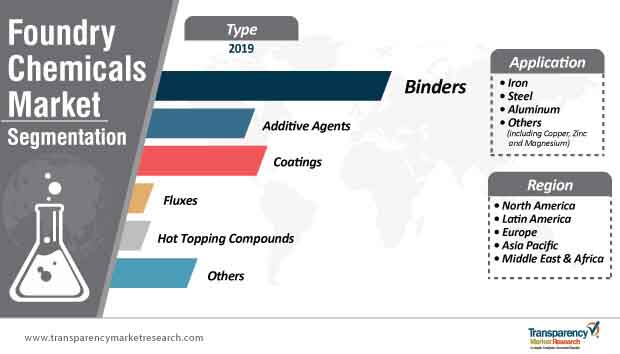 Ask for a custom report to know TMRs exclusive analysis on various parameters
Need for Environment-friendly Processes and Productivity Improvements Influence Market Trends
The adverse effects of casting operations by foundries is seen as one of the major concerns for environmental well-being. To meet the increasingly rigid carbon regulations formulated by various governments, companies are rethinking new alternatives of transforming their business operations required for long-term sustainability.
In an attempt to tackle this environmental issue, ASK introduced the MIRATEC TC technology to demonstrate its best performance in turbocharger casting. This state-of-the-art technology is used in the steel casting of zirconium-containing coatings, attributing to the efficient refractory properties of zirconium. This makes the technology an environmental-friendly alternative as a result of drastic reduction in the emission of carbon and hazardous gases, without affecting the functionality of the turbocharger.
However, challenges such as the need for new technologies and productivity improvements could act as restraints that may slow down the market growth of one of aluminum's major domain that caters to the high pressure die casting. To avert these challenges, manufacturers are adopting the Vacuum Die Casting technology, which improves mold fitting for thin-walled components, and is apt for crash-relevant components used in automotive, rail vehicles, and construction industries.
Due to the rising demand for improved process reliability and quality pertaining to chassis and structural parts, stakeholders are also adopting the technique of minimal lubrication water consumption, which reduces wastewater scrap and increases the product lifecycle of molds.
Analysts' View Point

Analysts of this report anticipate a moderate rise in the growth of the foundry chemicals market in terms of revenue and market share of small, medium, and key market players. The foundry chemicals market is estimated to exponentially grow in the Asia Pacific region, and continue to dominate Europe and North America in the coming decade. The automated 3D printing of intricate components and its rise for end-use applications in iron, steel, and aluminum are fueling the demand for industry-specific foundry chemicals. However, stakeholders must tackle the problem of environmental regulations with the help of advanced technological solutions, and improve production efficiency by increasing research & development efforts for technological transformations such as vacuum die casting and low-cost components, in a potential growth market that the foundry chemicals market is.
Foundry Chemicals Market Description
Foundry products are widely used in all sectors across the globe, including automotive, aerospace, power generation, petrochemicals, medical, defense, and marine. Nearly all key components of these industries such as brake disks, medical implants, marine engines, and aircraft turbine blades are dependent on castings. This is expected to drive the foundry industry across the globe in the next few years, thereby boosting the demand for foundry chemicals during the forecast period.
Foundries are increasingly striving to incorporate advances in technological development for the manufacture of casting parts. The need for fuel efficiency through lightweight construction and optimization of cast components is expected to drive the global foundry chemicals market during the forecast period.
Key Growth Drivers of the Foundry Chemicals Market
Increase in requirements to achieve fuel efficiency and stringent emission regulations are anticipated to support the trend of the production of automotive components by using lightweight materials in the next few years. In the past, automotive components were primarily made of iron and steel. However, off late, aluminum has started replacing them. Aluminum has comparable strength, durability, and light weight. The use of lightweight materials reduces the overall weight of a vehicle, and this improves the fuel efficiency of the vehicle.
The global demand for light vehicles is also expected to rise in the next few years. According to the European Automobile Manufacturers' Association, lightweight vehicle production is expected to reach 108 million units by 2022. This is estimated to drive the demand for aluminum casting components across the globe, thereby boosting the foundry industry and the foundry chemicals market during the forecast period.
Major Challenges for the Foundry Chemicals Market
Stringent environmental regulations imposed on the foundry industry are adversely affecting the global consumption of foundry chemicals. Environmental regulations for foundries are primarily related to the disposal of waste gases, wastewater, and mineral residues.
Casting products usually come with minor defects such as gas porosity, shrinkage defects, mold material defects, pouring metal defects, and metallurgical defects. It is difficult to achieve precision and complex geometries with the casting process.
The global foundry industry is likely to be restrained during the forecast period due to the emergence of high-precision technologies such as 3D printing and other competitive technologies. Environment-related concerns and high energy consumption are the major factors anticipated to adversely affect foundry processes as compared to other manufacturing processes in the next few years.
Cast iron and steel foundries are key consumers of foundry chemicals. Decline in the use of cast iron and steel components is likely to hamper the global foundry industry, and, in turn, adversely affect the global foundry chemicals market during the forecast period.
Lucrative Opportunities for the Global Foundry Chemicals Market
Economic growth in developing regions such as Asia Pacific, Latin America, and the Middle East has driven the need for urbanization. More than 50% of the global population was living in urban areas in 2018. This percentage is projected to increase to 66% by 2050. This equals to 2.4 billion more people living in urban centers.
Asia and Africa are urbanizing more rapidly than other regions. The urban population in Asia and Africa is anticipated to rise to around 65% and 62%, respectively, during the forecast period.
The factors mentioned above are projected to fuel the building & construction, automotive, and industrial sectors, which rely highly on casting products. This is likely to propel the foundry industry across the globe in the next few years, thereby augmenting the demand for foundry chemicals during the forecast period.
Asia Pacific a Prominent Foundry Chemicals Market
In terms of value, Asia Pacific dominated the global foundry chemicals market with ~40% share in 2018. The region is expected to remain highly lucrative during the forecast period, due to rapid industrialization and rise in the demand for foundry products in automotive and aerospace industries.
The foundry industry is shifting toward Asia Pacific, as the region has economical electricity and labor. These are integral parts of the foundry industry. Asia Pacific is also becoming a manufacturing hub for numerous industries, thereby creating high domestic demand for foundry castings. This, in turn, is expected to fuel the demand for foundry chemicals in the region.
The demand for casting products for usage in applications such as tractors, automobiles, auto components, and construction equipment has been rising in the foundry industry in developing countries such as India and Pakistan. The auto components sector is one of the major consumers of castings. It is experiencing strong growth. This is anticipated to drive the foundry industry, thereby propelling the foundry chemicals market.
North America Offers Growth Opportunities
The foundry chemicals market in North America is anticipated to experience limited growth during the forecast period, due to the sluggish expansion of industries such as automotive and energy in the region. According to the American Foundry Society, the U.S. ranks third (behind China and India) in the production of castings, across the globe. The U.S. ranks second in terms of productivity, as measured by tonnage per plant, and trails Germany.
The U.S. was the key consumer of foundry chemicals in North America in 2018. Various foundries are located in countries in the region, and consume foundry chemicals in significant amounts. The output from the foundry industry in North America is rising at a steady pace, due to the high demand from the automotive and construction sectors. This is likely to propel the consumption of foundry chemicals in North America during the forecast period.
Binders have a Prominent Market Share
The binders segment accounted for a major share of the global foundry chemicals market in 2018. The segment is anticipated to continue its dominance during the forecast period, as binders retain casting materials in place so that deformity does not arise in the final metal products. Foundry binders are employed in the casting of different metals such as aluminum, cast iron, bronze, and steel.
Binders are used in ferrous and non-ferrous foundries. Usually, sand casting is employed for casting of metals, as sand is inexpensive, readily available, and green sand casting is compatible with all types of binder systems.
Leading Players Actively Engage in Joint Ventures and R&D Activities
Key players operating in the global foundry chemicals market include
Vesuvius
ASK Chemicals
HÜTTENES-ALBERTUS Chemische Werke GmbH
Imerys
IVP Limited
General Chemical Corp.
Affcil Industries
Georgia-Pacific Chemicals LLC
Ultraseal India Pvt. Ltd.
John Winter
Yash Chemicals
Fincast Foundry Flux
Mancuso Chemicals Limited
Forace Polymers (P) Ltd.
Shamlax Metachem Pvt. Ltd.
CERAFLUX INDIA PVT LTD.
These companies are engaged in expansions, mergers & acquisitions, and joint ventures in order to maintain their share in the global foundry chemicals market.
On January 4, 2017, Imerys acquired Damolin, a Denmark-based provider of mineral-based solutions. Damolin has more than 30 years of mineral reserves of moler, a highly absorbing and lightweight mineral.
Foundry Chemicals Market - Scope of the Report
A latest study collated and published by Transparency Market Research (TMR) analyzes the historical and present-day scenario of the global foundry chemicals market, to accurately gauge its potential future development. The study presents detailed information about the important growth factors, restraints, and key trends that are creating the landscape for the future growth of the foundry chemicals market, to identify the opportunistic avenues of the business potential for stakeholders. The report also provides insightful information about how the foundry chemicals market will progress during the forecast period of 2019-2027.
The report offers intricate dynamics about the different aspects of the foundry chemicals market that aids companies operating in the market in making strategic development decisions. TMR's study also elaborates on the significant changes that are highly anticipated to configure the growth of the foundry chemicals market during the forecast period. It also includes a key indicator assessment to highlight the growth prospects of the foundry chemicals market, and estimate statistics related to the market progress in terms of value (US$ Mn) and volume (Tons).
This study covers a detailed segmentation of the foundry chemicals market, along with key information and a competitive outlook. The report mentions the company profiles of key players that are currently dominating the foundry chemicals market, wherein, various development, expansion, and winning strategies practiced and executed by leading players have been presented in detail.
Key Questions Answered in TMR's Report on the Foundry Chemicals Market
The report provides detailed information about the foundry chemicals market on the basis of comprehensive research on various factors that are playing a key role in accelerating the growth potential of the market. Information mentioned in the report answers path-breaking questions for companies that are currently functioning in the market and are looking for innovative ways to create a unique benchmark in the foundry chemicals industry, so as to help them make successful strategies and take target-driven decisions.
Which type of foundry chemical will emerge as a revenue generator for the market during the forecast period?
How are key market players successfully earning revenue out of the advantages of foundry chemicals?
What will be the Y-o-Y growth of the foundry chemicals market between 2019 and 2027?
What are the winning imperatives of market frontrunners in the foundry chemicals market?
Which end-use industry is expected to develop maximum application for foundry chemicals during the foreseeing period?
Research Methodology - Foundry Chemicals Market
The research methodology adopted by analysts for combining the foundry chemicals market report is based on detailed primary as well as secondary research. With the help of in-depth insights of the industry-affiliated information that is obtained and legitimated by market-admissible resources, analysts have offered riveting observations and authentic forecasts of the foundry chemicals market.
During the primary research phase, analysts interviewed industry stakeholders, investors, brand managers, vice presidents, and sales and marketing managers. On the basis of data obtained through the interviews of genuine resources, analysts have emphasized the changing scenario of the foundry chemicals market.
For secondary research, analysts scrutinized numerous annual report publications, white papers, industry association publications, and company websites to obtain the necessary understanding of the foundry chemicals market.
Foundry Chemicals Market - Segmentation
TMR's research study assesses the foundry chemicals market on the basis of type, application, and region. This report presents the extensive market dynamics and progressive trends associated with different segments, and how they are influencing the growth prospects of the foundry chemicals market.
Type

Binders

Additive Agents

Coatings

Fluxes

Hot Topping Compounds

Others (Parting Agents, Slaghold Allied Products)

Application

Iron

Steel

Aluminum

Others (including Copper, Zinc, and Magnesium)

Region

North America

Latin America

Europe

Asia Pacific

Middle East & Africa
Custom Market Research Services
TMR offers custom market research services that help clients to get information on their business scenario required where syndicated solutions are not enough.
REQUEST CUSTOMIZATION