Filling Machines Market
Filling Machines Market (Machine Type: Form-Fill-Seal Machines [Vertical Form-Fill-Seal Machines, Horizontal Form-Fill-Seal Machines], Automatic Filling Machines; Packaging Type: Pouches [3-side Seal Pouches, 4-side Seal Pouches], Cups, Tubes, Blisters, Bottles; Operating Speed: 5k to 10k PPH, 10k to 15k PPH, and 15k to 20k PPH; Packaging Capacity: 0.25 ml to 4 ml, 5 ml to 10 ml, 11 ml to 20 ml, 21 ml to 25 ml; Product Form: Powder & Granules, Liquid; End-Use Industry: Food, Beverages, Chemicals & Fertilizers, Personal C. & Cosmetics, Homecare & Toiletries, Pharmaceuticals, Others) - Global Industry Analysis, Size, Share, Growth, Trends, and Forecast, 2019 - 2027
Packaging
TMRGL29069
2019-06-19
258

Pages
Filling Machines Market – Growing Emphasis on Packaging Automation to Augment Demand for Automatic Variants
Consumer product manufacturing brands meticulously strategize the way their products need to be packaged to align with their branding tactics. Packaging plays an essential role in determining the product value in terms of its shelf-appeal, to offer the right blend of consumer experience and branding. Driven by the constant penetration of innovative packaging products, the packaging industry has been witnessing skyrocketing growth over the past couple of years. Amidst this, packaging machinery lays the ground for future packaging potential. The introduction of versatile packaging equipment, such as filling machines, by manufacturers, is capturing the attention of consumers who are looking for next-gen machines, where efficiency and speed are the two most significant criterions of adoption. Furthermore, highly compatible machines that do not require highly-skilled operators, enabling greater operational efficiency, are also becoming a favored choice.
The new study by TMR reveals key insights into the filling machines landscape, allowing report audiences to gain a holistic market synopsis. According to the TMR study, revenue from the filling machines market closed in on a valuation of over US$ over 1 billion in 2018. The rapid inclination towards packaged products, particularly in the food and beverage sector, and adoption of automation across packaging lines in a bid to boost productivity, and the proliferation of key industry trends, including 'single-use' packs and 'on-the-go' packaging have supported the adoption of filling machines across a plethora of application sectors. However, small-sized packages are a threat to the environment, as they majorly contribute to the clogging and flooding of drainage systems, a factor that might impede market growth to a certain extent.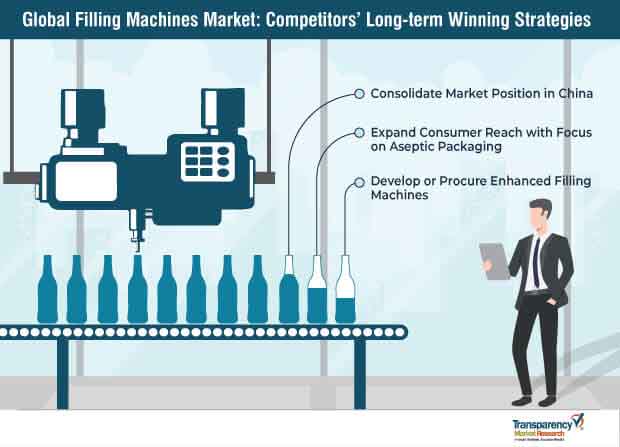 Planning to lay down future strategy? Perfect your plan with our report brochure
Filling Machine Manufacturers Capitalizing on Key Industry Trends
Convenient packaging solutions are emerging among millennials' favored packaging choices on account of the on-the-go food trend that aligns with the fast-paced lives of this consumer base. The demand for convenient food packaging has spawn miniaturized packaging across the globe, with small packs gaining immense popularity.
Packaging automation is expected to redefine the future of the packaging sector. Production line automation enables packaging solution providers to leverage efficiency and ingenuity, as they can be rest assured about high production levels. Moreover, an achievable consistency is further likely to center attention towards automatic packaging machines. With the moderate pricing of filling machines, the adoption of automatic variants has emerged an essential strategy to boost productivity for packaging enterprises.
Consumer demand for efficiency and hygiene is concentrating manufacturer's efforts towards aseptic filling machines. Cited particularly in the food and pharmaceutical sectors, the need for aseptic packaging continues to pick pace, as consumer awareness for healthy and sterile products propagates. Compliance with food safety regulations remains a vital factor driving the popularity of the aseptic filling machines market.
Beverage consumption has risen considerably over the recent past, with carbonated drinks and health drinks gaining significant traction, augmenting bottle filling activities across packaging lines. In addition, as contemporary grab-and-go consumers opt for easy-dispensing beverage packages, manufacturers' focus has shifted towards developing effective bottle filling machines.
Single-use packaging is witnessing high popularity among consumers, owing to which, portioned food packs are gaining increased traction. The demand for single-use packaging is further supported by the growing consumer inclination towards pre-packed snacks and meals, boosting the demand for filling machines.
Product diversity across the food sector has created the demand for flexibility in terms of filling applications. This includes tooling changeover, recipe changeover, and optimum cleaning applications between two diverse filling requirements, stirring new dynamics for novel filling machines.
The packaging machinery industry has cited the integration of new technologically-advanced systems that allow seamless, quick-paced, and accurate filling, enhancing the overall efficiency on the packaging floor. High-speed packaging requirements that are coming in the spotlight are addressed with the help of these high-speed filling machines.
Want to know the obstructions to your company's growth in future? Request a PDF sample
Competitor Winning Strategies to Remain on a Growth Course
Global Expansion Strategy - Consolidate Market Position in China
With major opportunities in the Asia Pacific region, filling machine manufacturers are expanding their businesses in key countries in Asia Pacific. China is a hub of opportunities for filling machine manufacturers. With the major presence of small-scale enterprises in Asia Pacific, the demand for cost-effective packaging machines remains high. Manufacturers present in Italy and Germany offer high-quality and technologically enhanced packaging machines, making the machines offered by Chinese and Indian manufacturers an economical choice for end users. Filling machine providers such as SIG are considering collaborations with end users in Asia Pacific, extending their supply landscape. European companies are planning to expand their presence in China through acquisitions and joint ventures with local companies.
Expand Consumer Reach with Focus on Aseptic Packaging
The continually growing demand for aseptic packaging across both, the pharmaceutical and food and beverage sectors, has garnered manufacturers' attention. Besides, expanding consumer reach by means of product differentiation and targeted product designing is further gaining grounds. With greater emphasis given to aseptic packaging by consumers looking for greater hygiene, filling machines market players are maintaining focus on aseptic packaging, aiming to extend consumer reach.
Develop or Procure Enhanced Filling Machines
Research and development activities are oriented towards providing versatile machines and increased efficiencies. The development or procurement of improved filling machines, with an objective to boost the overall productivity of packaging lines and achieve faster and greater capacity with filling machines, is cited as a long-term strategy for providers.
Filling machine manufacturers have concentrated their efforts towards portfolio expansion and product differentiation. As the filling machines market involves the participation of various manufacturers, emphasis on offering consumers improved products remains essential. Along with this, the transforming packaging landscape and trends shaping the packaging industry remain the focal point of manufacturers.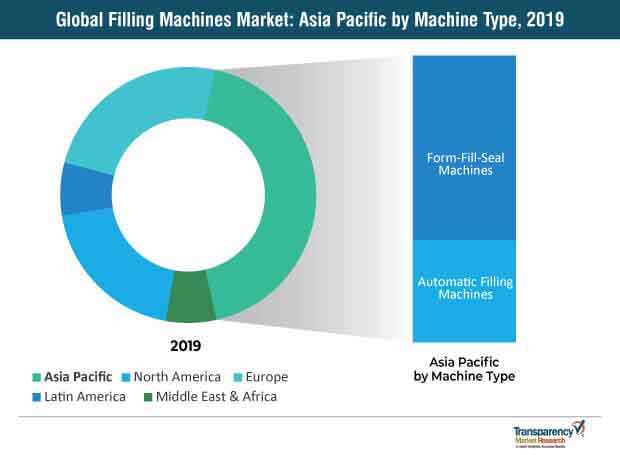 Looking for exclusive market insights from business experts? Request a Custom Report
Filling Machines Market: Competitive Landscape
Two of the most vital strategies adopted by filling machines market players include the acquisition strategy and new product developments, focused at catering to the demand from profit-churning end-use sectors, including the food and pharmaceutical sectors. Among the distinct applications of filling machines, their rising significance in beverage filling applications remains a pivotal aspect for the filling machines market. Apart from these primary strategies, filling machines market players are expected to focus on key supply partnerships, and on bringing vital improvements in filling machines to meet increased productivity requirements. The preference for automatic filling machines has stirred new innovations in the filling machines market. High productivity and enhanced quality of process remain vital factors that need to be addressed by filling machines market players.
Bosch Packaging Technology's filling and closing machine AFG 5000 recently received an internationally-renowned 'Red Dot Award' from the Design Zentrum Nordrhein-Westfalen in the product design category on the basis of criterions such as formal quality, degree of innovation, ergonomics and durability, and functionality.
Industria Macchine Automatiche SpA, an Italy-based filling machines market player, recently completed the acquisition of 70% of Spreafico Automation, a renowned name in the production, designing, and marketing of automatic filling machines and other automatic machines for preparing single-serve capsules for coffee and other soluble products.
Sacmi Filling S.p.A. unveiled the new Sacmi high-speed filling line, which played a critical role in the company's stand at China Brew and Beverage, a popular international brew & beverage processing technology fair in Asia (Shanghai New International Expo Centre, October 23 to 26, 2018). The new filling machines range offers high productivity, outstanding process quality, and flexibility, and has been configured for an output rate of up to 72,000 bottles/hour.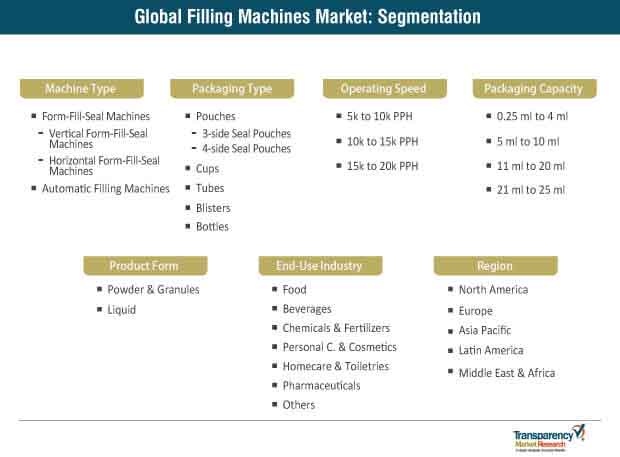 Analyst Viewpoint of the Market
Suppliers in the global filling machines market are expected to possess low bargaining power, primarily owing to the large number of manufacturers based in the Asia Pacific region. These manufacturers sell their products at a fraction of the prices fixed by key market players. The demand for filling machines will grow on account of the growing demand for flexible packaged products. Most companies are engaged in ramping up their production capacities to cater to the growing demand. New entrants must center their recognition efforts towards similar strategies.

The degree of automation in the industry is expected to increase over time, as manufacturers look to achieve high yield and reduce operator interference in the manufacturing process. Moreover, end users will prefer more automated solutions, as they are in line with the objective of cost-cutting, albeit a high cost of installation. Manufacturers will have major opportunities in the Asia Pacific region, as the organized retail sector continues to grow in developing countries. Currently, India has a large unorganized sector. As modern retail continues to grow, more companies operating in the packaged goods industry are likely to opt for an automated filling process to cater to the ever-increasing demand, making this variant a profit churner.
According to Transparency Market Research's latest market report on the filling machines market for the historical period of 2014-2018 and forecast period of 2019-2027, the increased demand for food, beverages, and consumer packaging is estimated to drive the market.
Globally, revenue generated by the filling machines market is estimated to be over 1 billion in 2019, and is expected to expand at a CAGR of over 4% in terms of value throughout the forecast period.
Demand for Single-use Packages to Fuel Filling Machines Market Growth
The demand for on-the-go packs is increasing worldwide. Individual small portion packs such as pouches are universally convenient and are gaining traction across the globe.
Many consumers prefer products packaged in 3-side seal & 4-side seal pouches/sachets. Increased production of consumer packaged goods is expected to drive the growth of the filling machines during the next 8 years.
Evolving technology has reduced the prices of filling machines, owing to which, small and medium enterprises (SMEs) are opting for automated filling machines to improve their productivity.
Manufacturers can find lucrative growth opportunities by incorporating packaging technologies in order to cope up with the fast-moving, small-sized pouch (sachet) packaging market.
TMR analyzes that, automated filling machines need to generate different packaging dimensions, including large volumes of pouches, to help players stay ahead in the competition. As the market requires different pouches and stick pack dimensions, high flexibility in a packaging machine is required.
Pouch, packaging, and filling machines must be capable of producing and packing different dimensions by simply changing formatting parts.
High Import Duties and Expensive Machinery Hindering Market Growth
One of the major trends observed in the global filling machines market is the export of filling machines from five major countries all over the world. Germany, Italy, the U.S., China, and Japan dominate the global filling machines market in terms of exports and production. Therefore, end-use companies opt for importing filling machines from these countries.
However, import has become one of the major issues for these companies due to high custom duties and various taxes imposed on filling machines imported from other countries.

For instance, in India, imported machinery, such as filling machines, cost approximately 30% more than the actual cost of the machinery.
Smart Manufacturing through Automation of Existing Packaging Systems
The automation of existing packaging systems will create tremendous growth opportunities in the filling machines market for new entrants as well as established players. Numerous companies are already working on developing packaging automation for filling machines to gain an early-mover advantage in the industry.
However, some of the multinational filling machine manufacturers are planning to enter into joint ventures or partnerships with well-established automation companies such as Tokyo Automatic Machinery Works, Ltd., and Robert Bosch, to establish their presence in the market, and also to gain a competitive edge and grow rapidly in the market.
China Represents High Potential for Sales of Filling Machines
The sales of filling machines will be driven by the market growth in China and other industrializing nations such as India, where the demand for processed food concentrates, as well as single-use cosmetic packs and other manufactured goods is expected to increase. Moreover, Asia Pacific is estimated to be a prominent market region for filling machines, due to the increasing number of organized food retail brands and key packaging companies with enhanced technologies.
Filling Machines Market: Competition Landscape
Some of the key players in the global filling machines market are Tokyo Automatic Machinery, Uflex Ltd., M.A. Industria Macchine Automatiche SpA, Hayssen Flexible Systems Srl, Robert Bosch GmbH, Matrix Packaging LLC, Bossar Packaging, Turpack Makine Sanayi ve Ticaret Ltd. Sti., Ossid LLC, Nichrome India Ltd., All-Fill Incorporated., GEA Group Aktiengesellschaft, Sacmi Filling S.p.A., Arpac LLC, Fuji Machinery Co. Ltd., Webster Griffin Ltd., Pakona Engineers Pvt Ltd., Mespack SL, Omori Machinery Co. Ltd., and Fres-co System USA, Inc.
Filling Machines Market: Key Developments
Key manufacturers in the global filling machines market are focusing on expansion through acquisitions and partnerships. In recent years, it has also been observed that, key participants in the filling machines market are increasing their popularity around the globe by participating in exhibitions.
In 2017, I.M.A. completed the acquisition of 80% interest in Mapster Srl, and in the same year, the company launched its latest line of packaging machinery.
Similarly, Robert Bosch GMBH is growing vertically by launching new products and horizontally by entering other segments. The company expanded its portfolio with filling machines for low-germ and aseptic filling of liquid and viscous food into pre-formed cups and bottles.
In the global filling machines market report, we have discussed individual strategies, followed by company profiles of the manufacturers in the filling machines market. The 'Competitive Landscape' section is included in the filling machines market report to provide report audiences with a dashboard view and a company market share analysis of top manufacturers operating in the global filling machines market.
The recently published TMR report on the filling machines market offers a holistic market overview with the help of valuable analysis of the various aspects of the filling machines market. This TMR study evaluates the market with respect to historical data, to provide an eight-year long forecast for the period of 2019–2027. The actionable insights and crucial findings of the filling machines market report help clients in taking major business decisions that foster long-term growth.
The comprehensive TMR study on the filling machines market compiles detailed evaluation of the significant market dynamics, profitable industry trends, and key developments carried out by leading players in the filling machines market, and a detailed competitive analysis of the market. The TMR study is bifurcated into key sections that offer insights and evaluations on independent aspects of the filling machines market.
Key Questions Answered in the Report on the Filling Machines Market
Which filling machines are majorly considered by end users?
What are the major trends that need to be considered by filling machine manufacturers to strategize future gains?
Which are the major developments made by the prominent filling machines market players that could support future business growth?
How will the filling machines market perform across key regions?
Which packaging type is expected to remain a favored choice among consumers?
The report on the filling machines market begins with an executive summary that highlights the aspects of the market in a concise manner. This section helps readers in understanding the filling machines market briefly. The market introduction includes a market taxonomy and definition to enable better market evaluation. The next chapter is the filling machines market overview, which offers the market outlook at a glance, making it easier for readers to understand the avenues of the filling machines market. Apart from this, key filling machines market dynamics are also discussed in the report, shedding light on the growth drivers, strong industry trends, restraining factors, and future opportunities.
This section of the filling machines market report offers a detailed segmentation analysis of the market, which is segmented on the basis of machine type, packaging type, operating speed, packaging capacity, product form, end-use industry, and region. The segmentation analysis of the filling machines market offers a Y-o-Y growth projection and basis point share analysis to better understand the segments. Furthermore, the market attractiveness analysis included in this chapter allows report audiences to gain a complete understanding of the key segments in the filling machines market.
This section included in the TMR study on the filling machines market offers a detailed understanding of the geographical landscape of the filling machines market. The regional analysis of the filling machines market allows new market entrants and established companies to evaluate the performance of the filling machines market in respective regions. The individual regional assessment of the filling machines market, backed by Y-o-Y growth predictions, helps report audiences in tracing key regional opportunities, helping them in informed decision-making.
The filling machines market report concludes with a detailed evaluation of the competition in the filling machines market. This section of the report highlights the nature of the filling machines market, while providing a detailed understanding of the key players operating in the filling machines market. The key growth strategies implemented by these companies and the regions across which the filling machines market is extended are also elaborated in the report. The section begins with a unique competitive dashboard that offers the readers with a brief outlook of the filling machines market competitors. Additionally, the competitive structure and key developments made by prominent players in the filling machines market are also discussed in the study.
Research Methodology
The TMR study on the filling machines market is based on a detailed evaluation of the market, with the help of extensive primary and secondary research. Along with this, detailed market evaluation of the competitive landscape is also included in the report. The evaluation of the historical and current market for filling machines, with major focus on the key market segments, regional assessment, and other qualitative inputs, helps the analysts arrive at significant predictions for the filling machines market. Readers can access the filling machines market report to gain a forecasted market assessment for the period of 2019 to 2027.
Filling Machines Market: Taxonomy
Machine Type

Form-Fill-Seal Machines

Vertical Form-Fill-Seal Machines
Horizontal Form-Fill-Seal Machines

Automatic Filling Machines

Packaging Type

Pouches

3-side Seal Pouches
4-side Seal Pouches

Cups
Tubes
Blisters
Bottles

Operating Speed

5k to 10k PPH
10k to 15k PPH
15k to 20k PPH

Packaging Capacity

0.25 ml to 4 ml
5 ml to 10 ml
11 ml to 20 ml
21 ml to 25 ml

Product Form

Powder & Granules
Liquid

End-Use Industry

Food
Beverages
Chemicals & Fertilizers
Personal C. & Cosmetics
Homecare & Toiletries
Pharmaceuticals
Others

Region

North America
Latin America
Europe
Asia Pacific
MEA
Custom Market Research Services
TMR offers custom market research services that help clients to get information on their business scenario required where syndicated solutions are not enough.
REQUEST CUSTOMIZATION