Molecular Diagnostics Market
Molecular Diagnostics Market (Product - Real-time PCR Systems, Liquid Handling Systems, and DNA Extraction Systems; End User - Hospitals, Diagnostic Laboratories, Academic and Research Institutes, and Pharmaceutical and Biotechnology Companies) - Europe Industry Analysis, Size, Share, Volume, Growth, Trends, and Forecast 2017 - 2025
Healthcare
TMRGL9434
2017-05-31
93

Pages
Innovation in molecular diagnostic techniques has resulted in detection of numerous diseases. It is more effective in case of challenging differential diagnosis. Further, technological advancement in molecular diagnostics are likely to drive the market growth substantially. The growth rate is attributed to portability, accuracy, cost-effectiveness of the diagnostic method.
Nanopore has commercialized use of MinION, which is an affordable and portable sequencer. It is suitable for application in small laboratories and point-of-care medical facilities. Wide adoption rate of MinION is likely to boost growth of molecular diagnostics market.
As per a report published by the World Health Organization (WHO), the average rate of hospital acquired infections in 2019 varied in between 4.5 and 7.1% in U.S. and Europe, respectively. Molecular diagnosis technique tends to provide quick and effective results. Thus, hospital acquired infections and infectious diseases are anticipated to drive the demand for molecular diagnostics market in coming years.
Further, growing investment by government bodies and other organizations for R&D activities in molecular diagnostics is likely to fuel the market. Funding plays an important role in the product development process. For example, Accelerate Diagnostics received USD 19.5 million from various organizations such as the Schuler Family Foundation, Oracle Partners, and Oracle Institutional Partners. The funds aided to increase development and sales of diagnostics tests and tools.
Regulations for approvals have always posed several restrictions on biotechnology, pharmaceuticals, and medical technology industries. Use of faulty diagnostics could provide incorrect results, which may be proved as fatal in future. To avoid such circumstance, FDA has framed strict approval regulations to ensure compliance of the diagnostic equipment with medical standards. In case of molecular diagnostics, FDA has become conscious, owing to dependency on molecular diagnostics for making critical decisions.
Europe Molecular Diagnostics Market: Snapshot
The demand for molecular diagnostic systems has been increasing owing to the increasing automation in the research process. These systems aid in automating the process of DNA extraction, amplification and recording the analysis data. In addition, these systems offer a range of advantages such as increased efficiency, correctness of the data, and decrease in the time required, which contribute to garner market growth. Against this background, the Europe molecular diagnostics market is expected to be worth US$769.0 mn by the end of 2025 from US$395.7 mn in 2016. During the forecast period of 2017 and 2025, the regional market is expected to register a CAGR of 6.6%.
On the basis product, the market has been segmented into real-time PCR systems, liquid handling systems, and DNA extraction systems. The market for real-time PCR systems is anticipated to remain strong in the forecast period, both in terms of value and volume. These systems are anticipated to record the strong growth owing to the range of advantages offered by these systems in comparison to the conventional PCR systems. Some of the benefits are analysis of amplified DNA in the exponential stage which provides a better study, decreases the fear of sample contamination as the process of amplification to analysis is done in the same tube along with increase in throughput among others. Furthermore, the market has witnessed an increase in the installed base of these systems, which can be attributed to their declining prices. This segment is anticipated to be trailed by liquid handling systems, whose growth can be attributed to the increasing demand for laboratory automation for effective and correctness in the liquid dispensing process.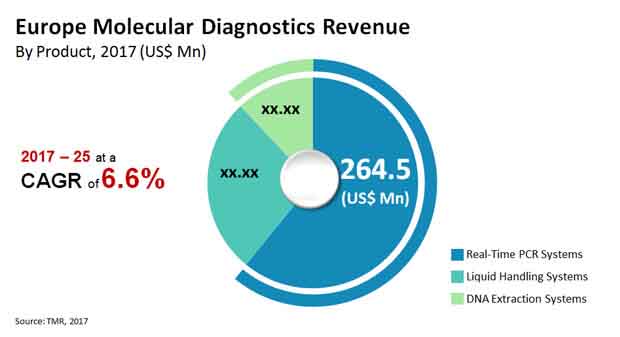 Pharmaceutical and Biotechnology Companies to be Key Users of Molecular Diagnostics
In terms of end user, the Europe molecular diagnostics market has been segmented into hospitals, diagnostic laboratories, academic and research institutes, and pharmaceutical and biotechnology companies. Pharmaceutical and biotechnology companies are anticipated to be the fastest growing segment, owing to their increasing investments on research that contributes to the growth in adoption of molecular diagnostic devices. This segment is closely trailed by academic and research institutes. The growth in this segment can be attributed to the increasing public and private funding for research. For instance, Europa Organization, the European funding organization, supports innovative companies in the development of new products and conducts annual PCR conferences to identify potential innovators of PCR technology.
Germany to Retain Dominance in Europe Molecular Diagnostics Market
Geographically, Europe region is segmented into five main countries, including the U.K., France, Germany, Italy and Spain; and Rest of Europe. Germany was the leading country in terms of revenues in 2016. It is anticipated to maintain its dominance and grow a significantly high CAGR during the forecast period. The strong growth of molecular diagnostics in Germany can be attributed to the government focus on healthcare investments, increased focus on enhancing the biotechnology sector, and the increasing number of biotechnology companies in the country.
Some of the leading players in the Europe molecular diagnostics market report are Agilent Technologies, Inc., Dickinson and Company, Becton, Bio-Rad Laboratories, Inc., Danaher Corporation, F. Hoffmann-La Roche Ltd., Eppendorf AG, PerkinElmer, Inc., Tecan Group Ltd., Thermo Fisher Scientific, Inc., and QIAGEN N.V., among others.
Europe Molecular Diagnostics Market: Overview
Molecular diagnostics market employs a range of systems, including real-time PCR systems, liquid handling systems, and DNA extraction systems, among others. Real-time PCR systems are commonly known as quantitative PCR systems. These systems monitor the amplification of the targeted DNA molecule during the exponential phase. The commonly used detection methods in these systems include fluorescent dyes and sequence specific DNA probes. The basic components of these systems include thermal cycler for automating the temperature cycling required in the PCR; optical systems for detection; and software to control the instrument and analyze the data. Liquid handling systems are used to dispense selected quantity of reagents, liquids, or samples to a container. These systems work on the principle of suction and are available as single or multi-channel systems. DNA Extraction systems are employed for streamlining the process of DNA extraction and automatic extraction of DNA from a variety of samples. These systems are employed as they are less time consuming, more efficient than the manual methods, and less prone to analytical errors.
Europe Molecular Diagnostics Market: Research Methodologies
The research is a combination of primary and secondary research, conducted for understanding and arriving at trends, used to forecast the expected revenue and volume of molecular diagnostics systems in the near future. Primary research formed the bulk of our research efforts with information collected from in-depth interviews and discussions with a number of key industry experts and opinion leaders. Secondary research involved study of company websites, annual reports, press releases, investor presentations, analyst presentation and various international and national databases. The report provides estimated market size in terms of US$ Mn and volume in terms of units for each products and end-user. In addition, the report provides estimated market size in terms of US$ Mn for various geographic regions in Europe for the period 2015 to 2025, considering the macro and micro environmental factors. The revenue generated from each product was calculated by considering their launch date in the market, customer acceptance, volume sales, price of the product, trends in industry, end user trend, and adoption rate across all the geographies.
The market report comprises an elaborated executive summary, which includes market snapshot that provides information about various segments of the market. It also provides information and data analysis of the market with respect to market segments based on product, end-user, and geography. The market overview section of the report analyzes market dynamics such as drivers, restraints and opportunities that influences the molecular diagnostics market in the current and future scenario. The report also provides value chain analysis of the market that describes the sequence of activities involved from identification of the market need to their final reach to the end users.
Market share analysis among the market players is analyzed to signify the contribution of these players in the market in terms of percentage share. All these factors will help the market players to decide about the business strategies and plans to strengthen their positions in the Europe market. Based on geography, the market has been analyzed for major countries: U.K. France, Germany, Italy, Spain, and Rest of Europe.
Key Players Mentioned in this Report are:
The report also profiles the major players in the market and provides various attributes such as company overview, financial overview, product portfolio, business strategies, and recent developments. Major companies profiled in the Europe molecular diagnostics market report are Agilent Technologies, Inc., Becton, Dickinson and Company, Bio-Rad Laboratories, Inc., Danaher Corporation, Eppendorf AG, F. Hoffmann-La Roche Ltd., PerkinElmer, Inc., QIAGEN N.V., Tecan Group Ltd., and Thermo Fisher Scientific, Inc. among others.
The Molecular Diagnostics Market has been segmented as follows:?
by Product

Real Time- PCR Systems

LightCycler 480
PCRmax Eco 48
Applied Biosystems 7900HT
QuantStudio Real-Time PCR
ViiA 7 Real-Time PCR
C1000 Touch
ABI StepOnePlus Real-Time PCR
5ABI 7500
AriaMx Real-time PCR System
CFX Connect
CFX384 Touch
MiniOpticon
Others

Liquid Handling System

epMotion
Biomek
Freedom EVO
Tecan D300e Digital Dispenser
Precision
JANUS
Others

DNA Extraction System

AutoMate Express
QIAcube
InnuPure
VERSA
chemagic
Others

by End-User

Hospitals
Diagnostic Laboratories
Academic and Research Institutes
Pharmaceutical and Biotechnology Companies

by Country

U.K.
France
Germany
Italy
Spain
Rest of Europe
Custom Market Research Services
TMR offers custom market research services that help clients to get information on their business scenario required where syndicated solutions are not enough.
REQUEST CUSTOMIZATION

Europe Molecular Diagnostics Market