Global End-of-line Packaging Market: Snapshot
The above average growth of the manufacturing sector over the past few years has augured well for ancillary industries such as end-of-line packaging. End of line packaging assembly for any industry unit helps automate the final leg of packaging before the products are out for transportation. Automation of processes within machineries can help increase end user throughput for any industry to serve the burgeoning demand.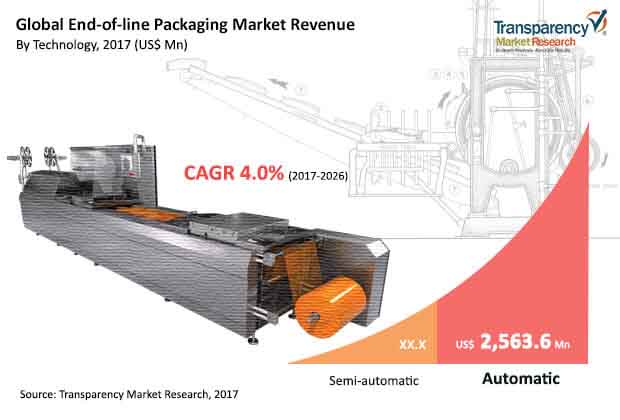 Today, profit-making businesses are vying to upgrade business processes which includes modernization of manufacturing facilities for increased profitability in the long run. In particular, industries in developing countries are adopting automated processes to address the dearth of skilled labor that impacts business turnover. End-of-line packaging solutions eliminate the need to find and train new workforce, which allows employers to engage available workforce for value-added tasks. This can also limit labor count to provide improved workplace conditions.
Integration of robots in packaging operations is increasingly becoming popular to increase production efficiency. Robotic system in packaging lines enhances overall production efficiency and reduces manual tasks such as picking, packing, and palletizing. Robotic system facilitates increased production efficiency to translate into low operational costs and impressive returns on investment. Robotic systems are specifically useful for handling lightweight packaging as it reduces the risk of damage as posed by conventional manual handling methods. The value-added benefits of robotic automation is influencing top companies in several industries to install these systems at appropriate place in the assembly.
Vis-à-vis revenue, the global end-of-line packaging market is anticipated to be worth US$6,047.6 mn by the end of 2026 expanding at a CAGR of 4.0% from 2017 to 2026. The demand in the market was worth US$4,221.1 mn in 2017.
Automatic Technology Segment to Continue to Rank Higher
Of the key segments of the end-of-line packaging market based on technology, the automatic segment currently dominates and is expected to remain this way through 2026. The semi-automatic segment, on the other hand, is expected to display declined share to hold 36% of the overall market by the end of 2026. Demand for incorporating automation in production assemblies to address the dearth of skilled labor, especially in developing countries, is anticipated to drive the increased adoption of automatic processes in manufacturing and production lines.
Investments to Upgrade Food Industry Processes to Translate into Growth
By received order type, customized order segment is anticipated to display noteworthy growth to be valued at US$4, 177.6 mn by 2016-end. As end-use industries are increasingly opting for customized end-of-line packaging solutions, the share of customized order segment is likely to increase through 2026. The standard segment in terms of received order type is likely to display increased demand in the upcoming years as end-use industries opt standard solutions to improve efficiency in end-of-line packaging processes.
Among the key end-use segments, food & beverages is anticipated to be the most attractive until 2026. Rapid urbanization coupled with rising demand for packaging machineries to minimize human handling of food for hygiene reasons is the key factor behind the growth of food & beverages segment. Pharmaceuticals, electronics & semiconductor. Automotive, and others some other key segments based on end-user.
On the basis of geography, Europe is projected to hold the lead position followed by North America and Asia Pacific in the end-of-line packaging market. North America being a relatively mature market is likely to display moderate growth.
Key companies operating in the global end-of-line packaging market are Krones AG, Bosch Packaging Technology, Pro Mach Inc., Festo Corporation, Gebo Cermex, IMA S.p.A., DS Smith plc, Combi Packaging Systems LLC, and Schneider Packaging Equipment.
Global End-of-line Packaging Market: Overview
Transparency Market Research's publication on the global end-of-line packaging market examines the said market at both global and regional level. It provides an in-depth analysis of the end-of-line packaging market for the 2017-2026 forecast period considering 2016 as the base year. The report provides 2015 values for historical reference. The report studies the end-of-line packaging market in terms of technology, function, end user, and geography.
Global End-of-line Packaging Market: Report Features
The executive summary section of the report provides a snapshot of growth indices and competitive structure of the end-of-line packaging market through 2026. To present this, vital market indicators such as demand drivers, challenges, and opportunities have been looked into at length along with their impact on each region over the forecast period. In addition, market attractiveness analysis and value chain analysis with list of suppliers/vendors and industry stakeholders at each point in the value chain is also provided in this report. Insights into current challenges between end-of-line packaging solution providers and end users and initiatives undertaken by the former to resolve these issues are a highlight of this report.
To provide a comprehensive view of the end-of-line packaging market, detailed competitive analysis and key players' unique selling propositions have been showcased in this report. The dashboard compares market stockholders such as equipment manufacturers and integrators on parameters such as operating margin, collective market share, unique selling propositions, and geographic concentration.
Global End-of-line Packaging Market: Research Methodology
Revenue estimates of the end-of-line packaging market is calculated aggregating sales of end-of-line packaging in key regions and important countries within these regions. Market size and revenue estimate of each segment have been calculated based on demand indices for key segment under different category. Demand indices considered for the calculation of revenue estimates are an aggregate of regional demand indices gathered through primary quotes from regional suppliers, manufacturers, and distributors.
The report has been prepared considering validated assumptions proven research methodologies. All key end-users have been considered and applications of end-of-line packaging in the future have been taken into account based on secondary sources and inputs received in the primary research phase. Regional demand patterns based on economic indices and cultural preferences have been considered to derive market size estimates of various end-users of end-of-line packaging in different regions.
A number of primary and secondary sources were reached out for making of the report. Secondary sources include Factiva, Pack World, Institute of packaging Machinery Manufacturers of india, Packaging Digest, The Association for Packaging and Processing Technologies, Hoovers, and company annual reports among others.
At the competitive front, the report provides market shares and competitive position of key players in the end-of-line packaging market. Market share of companies has been obtained based on revenues reported by key manufacturers. Key players in the end-of-line packaging market have also been profiled with respect to company overview, business strategy, recent developments, financial overview, and SWOTs.