Embedded System Market
Embedded System Market (Functionality- Standalone Embedded Systems, Real Time Embedded Systems, Networked Embedded Systems, and Mobile Embedded Systems; Microcontroller- Small Scale Embedded Systems, Medium Scale Embedded Systems, and Large Scale Embedded Systems; Type- Embedded Hardware and Embedded Software; Applications- Automotive, Telecom, Healthcare, Industrial, Consumer Electronics, and Aerospace and Defense) - Global Industry Analysis, Size, Share, Growth, Trends and Forecast 2019 - 2027
Category :

Electronics & Semiconductors

Format :
Global Embedded System Market: Snapshot
The global market for embedded system has been exhibiting a lucrative growth pace over the years owing to the vast rise in uptake of devices with embedded systems in commercial as well as domestic uses. The market has also witnessed vast developments owing to advancements in areas such as material sciences, manufacturing techniques, and R&D activities. The rising level of competition in the market has compelled companies to focus on expansion of product portfolios and geographical outreach. The market is likely to benefit from increased demand for advanced electrical and electronics devices in areas such as automotive and home automation systems.
According to the report, the global market for embedded systems will rise to US$338.34 bn by 2027, exhibiting a promising 6.4% CAGR from 2019 to 2027.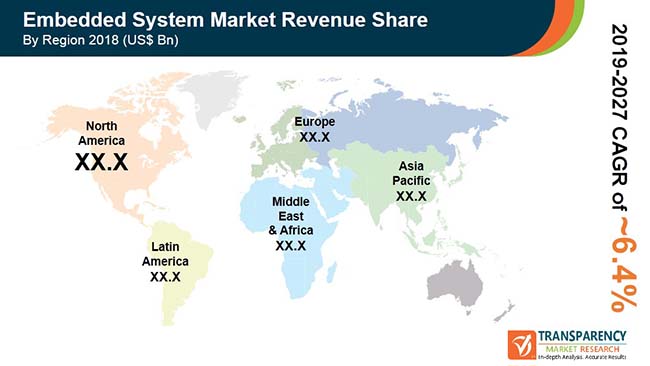 Request a sample to get extensive insights into the Embedded Systems Market
Auto Industry to Present Impressive Growth Opportunities Sector before Embedded Systems Market
Of the key application areas of embedded systems, the automotive industry is likely to account for a promising share of 18.3% of the overall market by 2021. The industry will continue to hold the largest slice in the revenue pie of the global market over the report's forecast period. This can be chiefly attributed to the increased uptake of a variety small-sized electrical and electronic components in vehicles. The rising demand for a variety of sensing devices and technologically advanced infotainment systems will also continue to make the automotive industry a lucrative application segment for the global embedded systems market in the near future.
Other key application areas of embedded systems include consumer electronics and defense and aerospace. The consumer electronics industry, especially, has been gaining massive traction over the years as consumers spend increased funds on devices such as smartphones, laptops, and tablets for their personal use. Adoption of smart electronics devices as a part of smart home setups also help make the electronics industry a leading application segment for the embedded systems market.
To understand how our report can bring difference to your business strategy, Ask for a brochure
North America and Asia Pacific to Remain Bigwigs in Overall Market
From a geographical standpoint, the North America market is expected to account for the dominant slice in the revenue pie of the global market over the report's forecast period. The region has been at the forefront of several developments in the field of electrical and electronics. The region is also home to some of the leading technology companies across the globe, including Freescale Semiconductor, Intel Corporation, and Texas Instruments. The highly encouraging R&D sector is also a leading factor strengthening the embedded systems market in the region.
Asia Pacific also holds a significant share in the global embedded systems market and is likely to continue being one of the most lucrative regional markets over the report's forecast period. The automotive and consumer electronics industries in countries such as South Korea, China, and Taiwan are undertaking the large-scale implementation of advanced embedded systems. As a result, the demand for embedded systems in the region is likely to continue to rise in the region in the near future as well.
Stuck in a neck-to-neck competition with other brands? Request a custom report on "Embedded Systems Market"
Some of the leading companies operating in the global embedded systems market are
Samsung Electronics Corporation,
Renesas Electronics Corporation,
Infineon Technologies,
Freescale Semiconductor,
Fujitsu,
Atmel Corporation,
Microchip Technologies,
STMicroelectronics, and
Texas Instruments.
Embedded System Market to Benefit from Increasing Adoption of Smart Home Automation Technology
The rapid advancement in consumer electronics has influenced the global embedded system market positively. Enabled developments in technology such as smart home automation concepts, advanced personal control for mobile users, and Personal Area Network are likely to aid in expansion of the market in the coming years. Smart home automation offering multiple advantages such as HVAC system, security, AI personal assistants, entertainment systems, lighting, gardening or lawn management, and others are likely to bode well for the market for embedded system in the coming years.
The home computerization is required to get a significant lift soon, as significant conveys like Verizon have turned out 5G innovation effectively in key business sectors like the US. Besides, the innovation has just been broadly embraced in China, wherein the public authority has driven key foundation improvements like IoV on the rear of cutting edge organizing capacities. One of the greatest factor creating new growth opportunity for the market is the effectiveness, and improved IoT capacities of these gadgets. The ascent in home mechanization can give new driving force to feeble areas like developments with a lift to home costs, and is progressively turning into a need because of green enactments for energy productivity, and feasible energy. For instance, nations like India, and UK have spread out designs to supplant ordinary meters with keen meters in each home. The development of 5G likewise appears to be encouraging as key organizations like Apple in the US district has gained the telecom division of Intel's 5G services, which may boost the adoption of this innovation around the world.
The market has likewise seen tremendous improvements attributable to headways in territories, for example, material sciences, fabricating procedures, and R&D exercises. The rising degree of rivalry in the market has constrained organizations to zero in on development of item portfolios and topographical effort. The market is probably going to profit by expanded interest for cutting edge electrical and gadgets in territories, for example, car and home robotization frameworks.
Embedded systems is a field derived through a combined study of software and hardware. Both aspects come together to create a functional targeting device that possesses the advantages of adaptability, speed, accuracy, reliability, power, and smaller size. Embedded systems possess a wide array of utility in the fields of mobile communication, electronic payment solutions, railways, aeronautics, and automobiles. They can be designed for specific applications in each field and can thus fulfil specialized purposes. The key to utilizing embedded systems comes from mitigating real time calculation constraints, which they can perform exceedingly well. Key application segments of the global embedded systems market can be concisely formulated as applications, microcontroller type, and functionality.
The report is a comprehensive analysis of all trends and dynamics that define the global embedded systems market. This includes all key drivers, restraints, and opportunities that players can share in the market over the coming years. These dynamics are correlated to each key trend that is affecting the market today, and has affected it in the recent past. Using these factors, the report gathers a conclusive analysis of the global embedded systems market for the forecast period from 2019 to 2027.
Global Embedded Systems Market: Trends and Opportunities:
The global embedded systems market is expected to be valued at US$ 338.34 bn by the end of 2027. This revenue is projected at a CAGR of 6.4% from 2019 to 2027. The primary factor responsible for the current growth pattern in this market is the fast-increasing number of applications for embedded systems in the automotive industry. Cars and other vehicles manufactured currently are being equipped with technologies that are used to perform a large number of real-time functions. In addition to this, the global embedded systems market is also benefitting from the growing use of multi-core technologies across various industry verticals. The consumer electronics industry is also witnessing an influx of embedded systems, especially in the devices that use embedded graphics systems.
A large number of highly influential trends for embedded systems players are visible in the fields of telecommunications, aerospace, defense, and healthcare. Each of these fields is making greater usage of embedded systems to perform complex functions with high accuracy. The scope of embedded systems grows even further with the inception of the Internet of things concept. The growing need for smart electronics and connected devices across various industries in the world is giving rise to a heavy demand for efficient embedded systems.
The future of the global embedded systems market lies in the low performance controller applications, as well as the creation of low power consumption systems.
Global Embedded Systems Market: Region-wise Outlook:
A large chunk of the total revenue obtained by players in the global embedded systems market is expected to come from North America. This region has consistently remained at the top of the consumption charts for embedded systems and is likely to continue showing a high demand for them. Additionally, North America has had a significant head start in the use of embedded systems and holds the presence of a large number of the globally prominent players.
Asia Pacific is expected to show a meteoric rise in demand for embedded systems in the coming years. This region contains a large number of industries that are rapidly evolving and showing the need for advanced technologies and systems.
Companies Mentioned in the Research Report:
The key players in the global embedded systems market include Intel Corporation (U.S.), Microsoft Corporation (U.S.), NXP Semiconductors (Netherlands), Atmel Corporation (U.S.), Renesas Electronics Corporation (Japan), HCL Technologies, Ltd. (India), Infosys, Ltd. (India), Freescale Semiconductor, Inc. (U.S.), Infineon Technologies AG (Germany), and Texas Instruments, Inc. (U.S.)
Key segments of the Global Embedded Systems Market:
by Functionality

Standalone embedded systems
Real time embedded systems
Networked embedded systems
Mobile embedded systems

by Microcontroller

Small scale embedded systems
Medium scale embedded systems
Large scale embedded systems

by Types

Embedded Hardware
Embedded Software

by Application

Automotive
Telecommunication
Healthcare
Industrial
Consumer electronics
Aerospace and defense
Others

by regions

Europe
North America
Asia Pacific
Rest of the World
Custom Market Research Services
TMR offers custom market research services that help clients to get information on their business scenario required where syndicated solutions are not enough.
REQUEST CUSTOMIZATION