Drone Services Market
Drone Services Market (Application: Aerial Photography, Delivery/Pickup, Surveying & Inspection, Monitoring, and Others; and End-use Industry: Media & Entertainment, Infrastructure, Logistics, Oil & Gas, Military & Defense, Agriculture, and Others) - Global Industry Analysis, Size, Share, Growth, Trends, and Forecast, 2019 - 2027
Category :

Electronics & Semiconductors

Format :
Drone Services Revolutionizing the Future of Agriculture Sector
The need for adopting drone services as an important part of farming processes is driven by a large group of end users, including farmers, who are moving towards smartly integrating the information gathered by these drones for pesticide management and better irrigation methodologies. Infrared and high-precision images of crops and soil quality that help farmers to ascertain the stress levels of crops and their growth parameters will continue to fuel the demand for drone services in the agricultural sector.
In 2018, the drone services market reached a valuation of ~US$ 2.6 billion, and the agriculture sector accounted for ~one-fourth revenue share of the market. Farmers are amassing to embrace this technology for the management of various crop dynamics such as aquaponics, crop rotation, crop protection, organic farming, and bio-waste management, and this is spurring the demand for drone services in the agriculture sector.
When Artificial Intelligence is applied in conjunction with high resolution images, it gives important insights to farmers about crop health, crop yield, and soil health. This also allows farmers to take remedial steps towards disease prevention. Soil-based sensor data extracted from drones gives actionable insights to stakeholders to take necessary action in reducing the impact of environmental changes. The wide range of applications of drones in the area of agriculture will be a key driving factor bolstering the growth of the drone services market.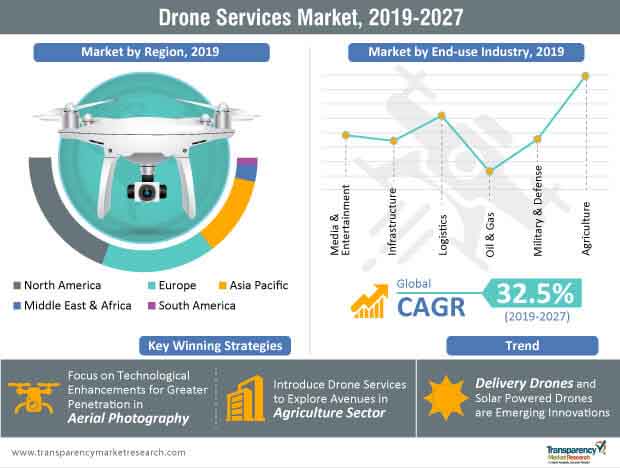 Planning to lay down future strategy? Perfect your plan with our report brochure here
Solar-powered Drones Soar to New Heights
With restricted battery life acting as a deterrent, solar-powered drones offer a vast plethora of possibilities to important stakeholders in the drone services market. Solar-powered drones can fly for hours as long as there is sunlight. Since they are lightweight, not limited by flight time, have the ability to take off from any flat surface, and fly out in a controlled manner using a global positioning system, they are emerging as a practical and cost-effective utility option in the drone services market.
With long-awaited rules and regulations on the operations of drones and unmanned aerial aircrafts being passed, the drone services industry is likely to propel ahead and mushroom, especially in segments that use solar power as a renewable energy source. The market for drone services has vastly expanded due to their usage in solar and wind plants, as these services are helping solar energy developers meet tight deadlines and identify quick economic solutions.
Aerial Photography Holds One-fourth Share while New Opportunities Abound in Logistics
Prior to the advent of drones, taking photographs from the air required the usage of costly fixed-wing aircraft or helicopters. However, as the availability of low-cost drones with high resolution cameras is increasing, the applications of drones in the aerial photography landscape have reached new heights in the recent years.
Filmmakers and photographers routinely use these high resolution drone cameras for photography projects involving landscapes, real estate, wildlife, filmmaking, and weddings. Furthermore, innovations and the latest trends in camera technology will leave a significant and indelible impact on the increasing use of drone services in the media & entertainment industry. While the adoption of drone services in the media & entertainment area is increasing rapidly, lucrative opportunities are abound in the logistics sector. The technology to make drone deliveries a reality definitely exists, and it has been considered by leading companies, such as Amazon, to be the future of the transportation and logistics industry.
Applications of drones in ocean freight envisages their usage in tracking shipments and cargo in real time, as well as their timely loading and unloading, thus saving manufacturers time and money. Drones can also supplement rail freight by removing packages and speedily delivering them, eventually reducing travel time and rail freight costs. A day will also dawn when drones will be the cheaper and more environmental-friendly alternative to air freighting, paving the way for immense cost savings and breakthrough point-to-point routing.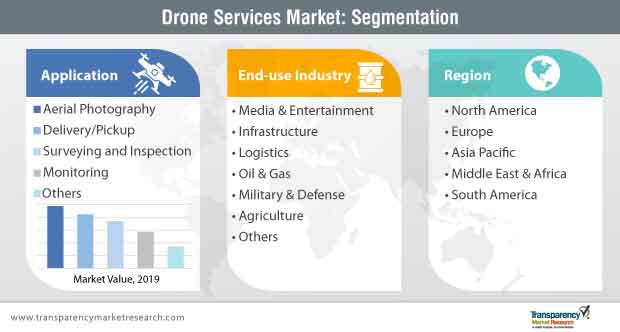 Want to know the obstructions to your company's growth in future? Request a PDF sample here
North America Remains Top Revenue Pocket with Larger Penetration of Technologies
The adoption of drone services in various industrial areas in North America surpassed the US$ 1 billion mark in 2018, and the increasing use of technologically-advanced drones is creating a favorable environment for drone service providers in the region. Along with the newly-evolved sensor technology integration in drone services, we are also likely to see robust tech-driven advancements such as drone software powered by Artificial Intelligence and the interpretation of data from IoT (Internet of Things) sensors.
Some of the bigger achievements come in the form of workflow integration, predictive maintenance, and enterprise asset management systems. The adoption of such highly-advanced enterprise systems through drone services among various organizations will continue to drive the drone services market. Businesses across multiple industries in North America realize that, drones have versatile uses, such as insurance companies using drones to inspect the damaged assets, or farmers utilizing drones to monitor their crops or collect soil data.
Apart from increasing investments in unmanned aerial vehicles (UAVs), the focus for drone service providers is expanding in high-profile industrial areas such as military & defense and security & intelligence, and this will continue to be a key trend in North America contributing to the development of the drone services market.
Stringent Regulations Continue to Influence Market Players' Strategies
Since the widespread utilization of drones in myriad spheres is still catching up, the legislation and regulatory process is tedious and still in its nascent stage. Moreover, federal regulations in countries such as the United States are strict, not allowing drones to trespass over federal property, fly at night close to an airport, and fly below a certain level, or fly with weight restrictions. Key questions that will continue to perplex authorities and restrain the drone services market is airspace property rights and the aerial trespassing of property, which is viewed as a breach by land owners. A failure to test and validate emerging technologies and prevent aerial mishaps caused by drones will hinder the growth of the market.
Scanning the Competitive Landscape
The drone services market is growing by leaps and bounds, at a staggering CAGR of 32.5%, and leading players such as DroneDeploy and Sharper Shape have consolidated their position through robust research & development capabilities and the adoption of next-generation technologies.
DroneDeploy, an established market player in the drone services industry, is harnessing the lethal power of a skilled workforce and a diversified product portfolio in drone technology for higher market penetration. In July 2019, DroneDeploy announced a massive expansion of its product portfolio, making it a single enterprise platform that manages its versatile drone operations, including enhanced data analytics, superior workflow integrations, and innovative inspection modes.
Sharper Shape, a drone Software-as-a-Service company, is focusing on automating large processes of utility inspections. The company is capturing large areas of the market due to its research & development initiatives, and tapping into emerging markets to enhance their profitability. Sharper Shape creates advanced sensors and cloud-based applications for the electric utility industry. Its core expertise lies in the automation of inspections, making them fast and affordable, which has been one of its key strategies for growth.
New entrants in the drone services market, such as Phoenix Drone Services and Identified Technologies, have been harnessing the power of emerging technologies and have been strengthening their position in the global market through well-timed partnerships. Phoenix Drone Services has been the proponent of aerial photography, videography, construction site monitoring, and civil engineering, to get entry into newer markets. It has partnered with MicaSence and senseFly to provide the best sensors for drones. Along with expansion, they have been investing hugely in research & development in order to meet the changing requirements of customers. Identified Technology has partnered with Landmark Construction to automate the tracking of the Earth moving with the help of a drone mapping solution.
Looking for exclusive market insights from business experts? Request a Custom Report here
Analyst's View

Authors of this report hold a positive view of the drone services market, and estimate that, the market is set to grow at a staggering rate during the forecast period of 2019–2027. Leading players in the drone services market find strong growth potential in aerial photography, and companies are anticipated to be more inclined towards their myriad uses in the field of security, agriculture, and infrastructure, in the coming years.

The demand for drone services in the logistics sector is estimated to be on the rise. Also, companies are diversifying product offerings through automation and cloud-based services. However, manufacturers may encounter restraints due to stringent regulations and hardware challenges. Nevertheless, the drone services market will continue to grow exponentially, owing to companies making investments in transformative solutions and improving safety & analytic capabilities.
According to Transparency Market Research's latest research report on the drone services market for the historical period of 2017–2018 and forecast period of 2019–2027, increasing implementation of drone services in aerial photography and delivery is expected to boost the global drone services market during the forecast period.
In terms of revenue, the global drone services market is estimated to reach a value of ~US$ 33 Bn by 2027, expanding at a CAGR of 32.5% throughout the forecast period.
Development of Drone Services for Aerial Photography: A Key Driver
With advancements in technology, drones can map, scan, and collect data like never before. As a result, drones offer an inexpensive and highly effective technique for aerial photography and videography to people and businesses.
Before drones, aerial footage used to be taken from airplanes or helicopters; this footage was usually of lower quality and came at a much higher price.
Aerial photos and videos is the best method to highlight any commercial or real estate property, particularly its exteriors.
Using aerial photos and videos to advertise real estate properties is guaranteed to impress and attract more number of prospective buyers or renters as compared to using only traditional photography at the ground level.
Thus, the rising demand for high-quality drone services can directly augment the global drone services market.
Delivery Drones: Latest Trend among Key Market Players
Delivery drones are unmanned aerial vehicles (UAVs) that can deliver lightweight parcels. Generally, 4–8 propellers and rechargeable batteries are used to provide thrust and attach parcels underneath the body of a drone.
Delivery drones are operated autonomously or remotely, with the operator supervising multiple drones simultaneously. In several examples across the world, drones are being used for delivering time-sensitive items, such as medicines, or in deliveries that would be difficult with traditional vehicle-based services. Delivery drones have the potential to change last-mile delivery economics for smaller and lighter parcels, as they can replace deliveries currently made by using traditional delivery vehicles.
Delivery drones can greatly reduce the cost and time required for last-mile deliveries. While a typical UPS and FedEx ground delivery may cost more than US$ 6 for delivery from a local distribution warehouse, drone delivery can be as cheap as five cents per mile, with a delivery time of around 30 minutes.
Distortions in Drone Services Led by Hard and Soft Iron Elements to Pose a Major Challenge to the Market
The increased usage of drones in different types of civilian applications has prompted numerous countries to formulate related regulatory frameworks. A regulatory framework is required for licensed drone pilots to be able to fly their drones safely. Lack of skilled and licensed commercial drone pilots is expected to hinder the drone services market during the forecast period.
The use of drone technology is growing rapidly, but battery life still remains a problem. Currently, the battery life of drones is insufficient for long-haul flights. Moreover, the requirement for proper wireless communication, bad climatic conditions, smoke, fire, and heat present major challenges for the operation of drones.
Additionally, challenges in using drones for infrastructure inspection include limited energy, short flight time, and limited processing capabilities, which are likely to restrict the adoption of inspection drones in the near future. This, in turn, is expected to restrict the drone services market in the next few years.
Global Drone Services Market: Competition Landscape
Detailed profiles of the providers of drone services have been provided in the report to evaluate their financials, key services offerings, recent developments, and strategies.
Key players operating in the global drone services market are

Cyberhawk Innovations Limited,
Skylark Drones Private Limited
Precision Hawk
Prioria Robotics Inc.
Phoenix Drone Services
Identified Technologies
Measure UAS
Dronedeploy
Sharper Shape
Terra Drone.
Global Drone Services Market: Key Developments
Key providers of drone services, such as Bartington Instruments Ltd, are strengthening their overseas sales structure by increasing their production capacities. Some other key developments in the global drone services market are as follows:
In February 2018, PrecisionHawk announced the acquisition of Uplift Data Partners to strengthen its drone services for use in the construction, building information management (BIM), and real estate sectors.
In the report on the global drone services market, TMR has discussed individual strategies, followed by the company profiles of providers of drone services. The 'Competition Landscape' section has been included in the report to provide readers with a dashboard view and market share analysis of key players operating in the global drone services market.
Global Drone Services Market – Scope of the Report
TMR's recent study on the drone services market offers its readers a holistic market synopsis, supported by comprehensive analysis of the global drone services market scenario. The TMR report on the drone services market analyzes the scenario for the forecast period of 2019–2027, wherein, 2018 is the base year and 2017 is the historic period. Readers are able to make long-term decisions concerning their businesses with the help of the crucial findings and exclusive drone services market insights included in this extensive research. The study also emphasizes on the key drone services market subtleties that are likely to influence the market in the foreseeable future. It also offers both, qualitative and quantitative insights on the future progress of the drone services market.
This comprehensive research study brings forth a succinct outlook concerning the changing dynamics of the drone services market, by realizing the essential drivers, restraints, opportunities, and threats. This study also incorporates a brief SWOT analysis of the leading market actors operating in the drone services industry, which enables readers to obtain a crystal-clear view of the drone services market for the foreseeable timeframe of 2019-2027. The global market report provides vital information about the major market players in the drone services market, along with their key strategies, capitals, and products, which can help stakeholders in grasping valuable insights into the drone services market. This TMR report is divided into segments to help readers in grasping discrete insights of the drone services market.
Key Questions Answered in TMR's Drone Services Market Report
How much revenue will the drone services market generate in 2027?
Which regions are contributing a greater share to the overall drone services market revenue?
What are the important strategies adopted by leading drone service market players?
Which manufacturing companies are leading the drone services market?
What are the major advancements witnessed across the drone services market?
What are the critical challenges faced by manufacturers in the drone services market?
Research Methodology
The TMR report on the drone services market is based on a complete evaluation of the market, supported by comprehensive primary and secondary research. Brief knowledge of the competitive scenario of the drone services market is backed by the assessment of different factors at a granular level. Examining the historical and present global drone services market, stressing on key market segments, driving factors, major contributors, and other qualitative inputs, help our seasoned analysts deduce key market predictions and calculate forecasts for the drone services market.
Primary research comprised interviews and discussions with key opinion leaders, brand managers, vendors, and distributors, which aided in understanding industry-specific data about the drone services market. Secondary resources that have played an important role in the production of this report consist of white papers, government statistics, policies, and research papers that shift attention to the sales prospects for drone services.
Segmentation of the Drone Services Market
TMR's report on the drone services market facilitates information on the basis of application, end-use industry, and region. The study can assist readers understand the influence of the market dynamics on the progress of the drone services market, including the emerging trends based on these segments. The study on the drone services market offers the historical, present, and upcoming trends shaping the growth of the segments and market. Further, it covers value chain analysis and Porter's five forces analysis in order to elaborate the crucial growth tactics and underlying opportunities for the market players contributing to the drone services market.
Application

Aerial Photography

Delivery/Pickup

Surveying& Inspection

Monitoring

Others

End-use Industry

Media & Entertainment

Infrastructure

Logistics

Oil & Gas

Military & Defense

Agriculture

Others

Region

North America

Europe

Asia Pacific

Middle East & Africa

South America
Custom Market Research Services
TMR offers custom market research services that help clients to get information on their business scenario required where syndicated solutions are not enough.
REQUEST CUSTOMIZATION