Document Capture Software Market
Document Capture Software Market (Deployment: Cloud, On-Premise, Hybrid; Solution: Multiple-channel Capture, Cognitive Capture, Mobile Capture, Others; Organization Size: Small & Medium Enterprises, Large Enterprises; Industry: Retail, Banking, Financial Services & Insurance, Telecom & IT, Healthcare, Transportation & Logistics, Energy, Others) – Global Industry Analysis, Size, Share, Growth, Trends, and Forecast 2019 - 2027
IT & Telecom
TMRGL36461
2019-09-05
250

Pages
Document Capture Software – Catalyzing 'Paperless' Operations
As managing the flow of documents remains an immense, complex, and critical task for many sectors, especially financial services, governments, and long-distance marketing and publishing, a lot of focus has been placed on turning paper into zeros and ones. In an attempt to fuel the concept of digital business, several organizations are moving towards highly collaborative, secure, and integrated cloud-enabled systems. In today's technology-powered landscape, where industries are in the midst of a major shift from dealing with physical documentation to digital, legacy solutions are at their peril, and advanced document capture software has been garnering increased traction as a viable solution.
In recent years, both, large and small organizations are beginning to rapidly invest in big data analytics, and in the new generation of cloud and hybrid-based platforms, and the result is likely to lead to the increased demand for document capture software. In the latest study, seasoned analysts at Transparency Market Research predict that, the document capture software market will reach a value of ~US$ 5.7 billion in 2019, registering an impressive CAGR of ~ 10% through to 2027.
Looking for Customized Insights to build your business for future, ask for a sample report here
Rise of SaaS-based Document Capture Software Solutions – A Key Growth Promoter
With greater availability of cloud-based utilities and 'Platform as a Service' tools to fuel the next wave of innovation in the 'paperless' journey, making the pivot has been a relatively easy undertaking for enterprises. Shrinking workforce and a wide range of issues associated with managing paper records have compelled organizations to leverage cloud-based services, thereby potentially raising the demand for Software-as-a-Service-based services that facilitate easy accessibility and pay-per-use. While cloud computing had a profound impact on document capture software solutions, stakeholders are likely to center their focus on 'mobile-friendly' developments, as today's professionals are constantly in motion, and require continuous access to important files and documents.
As global businesses show no signs of returning to time-consuming manual paper processing, market vendors are moving away from 'one size fits all' model to offering personalized products and services that are affordable even for small businesses. Although small- and mid-sized enterprises (SMEs) lagged far behind large enterprises in terms of financing and exploiting new technologies, several governments are taking initiatives to upgrade their management skills and the capacity to gather technology, in order to transform the existing scenario. As SMEs account for ~95% of the total enterprises across the globe, market players are focusing on improving their subscription models that allow SMEs to adopt document management solutions without investing in any infrastructure.
To get glimpse of what our report offers, ask for a report brochure here
Asia Pacific Promises New Growth Opportunities
Document capture software has been becoming an essential tool across a number of industries to streamline their operations, freeing up resources to focus on their core business initiatives. According to TMR's analysts, the document capture software markets in North America and Europe will continue to show positive growth, in the view of greater awareness and accessibility of technological developments, along with the growing adoption in healthcare and BFSI sectors to meet routine document imaging needs.
High growth opportunities are expected in developing countries in Asia Pacific, on account of a notable spike in the number of SMEs in the region, which gives a boost to subscription-based models of document capture software.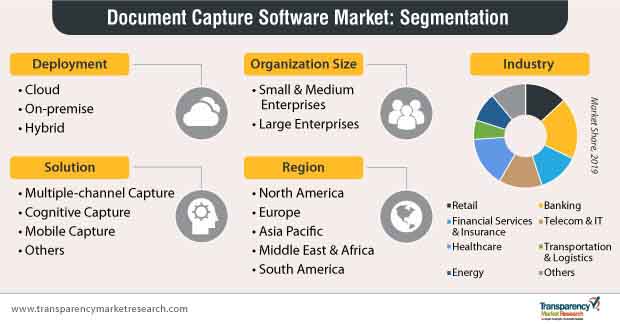 To get a bird's eye view of Document Capture Software Market's forecasts, ask for a Custom Report
Analysts' Viewpoint
Although report authors maintain an optimistic outlook of the market, risks associated with data sharing and security, along with lack of professional expertise, are likely to create obstacles in the steady growth of the market. To that end, the success of market players will hinge on their ability to provide user-friendly solutions with enhanced security and scalability. Enabling 'multi-format' and 'multi-channel' models without damaging the original files will unlock yet another opportunity to retain and gain new segments of customers.
Document Capture Software Market in Brief
The document capture software market is projected to register a CAGR of ~10% between 2019 and 2027. The market is projected to be driven by the growing penetration of cloud-based services across the globe.
The global document capture software market is expected to reach ~US$ 12.6 Bn by 2027 from ~US$ 5.7 Bn in 2019. Digitalization of business processes is boosting the document capture software market.
The document capture software market in Asia Pacific is anticipated to expand at a rapid pace during the forecast period, followed by Europe.
North America remains the dominant leader in the global document capture software market, with revenues in 2019 estimated at ~US$ 2.1 Bn. Growing investments in big data analytics are expected to exponentially drive the document capture software market.
Asia Pacific is projected to see high growth in the global document capture software market during the forecast period. In this region, the demand for document capture software is primarily driven by SMBs, as document capture software allows small and medium organizations to reduce cost and maintain an automated workflow.
Document Capture Software Market: Definition
The document capture software market report provides analysis of the global document capture software market for the period 2017–2027, wherein, 2018 is the base year, and 2019 to 2027 is the forecast period. Data for 2017 has been included as historical information.
In this report, we analyze the growth drivers that are increasing the value of the document capture software market, and how this software can enhance the operational function as well as reduce the capex within an organization. Moreover, the increased importance of digitization, which has increased productivity and feasibility in businesses, has driven this market.
Organizations are adapting and updating document capture software solutions rapidly due to their numerous benefits such as reduction in paperwork and manual errors, enhanced response time to manage documents, and reduction of risks related to document theft and more.
Asia Pacific Document Capture Software Market– Snapshot
Asia Pacific is one of the fastest growing regions in the document capture software market.
Growing initiatives for digitalization and the adoption of advanced technologies are reflecting in the growth of the document capture software market in Asia Pacific.
India and China have experienced exponential investments from big data companies. Big data analytics is expected to play a major role in India.
The Digital India initiative has led to the adoption of document capture software to record government services and to convert paper documents into electronic data.
Key Growth Drivers of the Document Capture Software Market
Growing Penetration of Cloud Based Services– Increasing use of cloud-based utilities and Platform as a Service (PaaS) tools has revolutionized document management operations, so that they can be remotely accessed and processed accordingly. This has led many business entities installing cloud as the most modern deployment solution to store important data.
Digitalization of Business Processes– Obsolete systems and labor-intensive processes create challenges and complexities, slowing down operations and hindering the ability of industries to generate revenue. Digitization has resulted in operational efficiency as well as improved productivity
Key Challenges Faced by Document Capture Software Market Players
Massive adoption of cloud-based platforms for storage has taken place; but if compared to on-premise storage, a cloud-based platform is weak in terms of security. Although the cloud has given users ease of storage, access, and flexibility, it has also led to a new era of security concerns.
Document Capture Software Market– Competitive Landscape
In August 2018, Canon, Inc., introduced a scalable document management solution named 'Therefore', to expand its solution offering in the field of digital imaging.
In July 2018, Ephesoft, an industry leading player in supervised analytics and machine learning-based document capture software and solutions, announced opeAPI – web services for its solution named Ephesoft Transact. This enables the company to integrate any of Ephesoft's document capture software solutions into any OpenAPI-compliant application such as Microsoft Flow.
In May 2018, Hyland Healthcare launched two new enterprise imaging solutions that would provide new tools to integrate, capture, and share important documents across departments.
In April 2018, Adobe announced that Spark for Education with premium features and additional functionality will be available to K-12 and higher education students, free of charge. Adobe Spark for Education is a fun storytelling creative cloud application that runs in any web or mobile browser, which enables students to quickly and easily express themselves via graphics, web stories, and video, to complete their school assignments and showcase digital creativity.
Document Capture SoftwareMarket - Company Profile Snapshot
Dell EMC: Founded in 1982, Dell EMC is a market leader in CCM products that support interactive and on-demand applications. The company has a content management portfolio that includes EMC Documentum products (Documentum, Application Xtender, xCP, Captiva, and Records Manager). EMC Corporation, which is now known as Dell EMC, is a subsidiary of Dell Inc., which Dell Inc. acquired in 2015. All products are offered via private cloud or on-premise delivery models.
CAPSYS Technologies, LLC: Founded in 1982, CAPSYS Technologies is a leading developer of distributed and centralized data and document capture software that streamlines the process of acquiring data and documents securely and efficiently for Information Management Systems. CAPSYS CAPTURE's scalable and extensible server software automatically ingests emails and attachments from Microsoft Office 365, Lotus Notes, Exchange, Yahoo Mail, Google Gmail (and other mail servers), fax servers, XML/JSON generated content, and content originating from the mobile e-tablet marketplace.
Ephesoft, Inc.: Founded in 2010, Ephesoft, Inc. provides data extraction solutions and advanced document capture software for businesses. The company provides the Ephesoft Enterprise solution, which is a data classification solution and supports intelligent document capture software that extracts data from various documents. The company also offers SnapDoc, Ephesoft Universe, and Ephesoft Smart Capture, apart from product training and certification, support services, and professional services.
Other major players operating in the global document capture software market and profiled in the report include
Adobe Systems Incorporated
Canon, Inc.
DocStar
Hyland Software, Inc.
ABBYY
Artsyl Technologies, Inc.
Eastman Kodak Company
KnowedgeLake Inc.
Oracle Corporation
Kofax Inc.
Xerox Corporation
IBM Corporation
Newgen Software Technologies Ltd.
Nuance Communications, Inc.
Meniko
Companies are shifting toward AI and machine learning, and upgrading their skills to gain a competitive advantage in the document capture software market, apart from maintaining their position in the market.
Document Capture Software Market – Scope of the Report
[250 Pages Report] A recent study by Transparency Market Research (TMR) outlines the growth trails of the document capture software market for the period of 2019-2027. It offers various dynamics along with challenges and opportunities for large as well as small companies operating in the document capture software market. TMR's study tracks the historical growth and current scenario of the document capture software market to analyze their impacts on the future development of the market.
Key indicators of the document capture software market such as historical value and volume analysis, pricing analysis, value and supply chain analysis, and Y-o-Y growth trend analysis have been detailed in the report. In-depth insights covered in the report can help readers anticipate the quantitative growth prospects of the document capture software market during the predefined time period.
The study on the document capture software market would help clients understand challenges such as growing concerns related to cloud-based security, and scope of increased productivity with the integration of document capture software in business organizations.
The report on the document capture software market allows stakeholders to understand the key skills that enterprises may seek in the long run and appropriate sourcing strategies for the same. For companies involved in providing document capture software, the report helps understand key industries contributing to demand, allowing them to strategically formulate steps to enhance their service mix.
Key Questions Answered in the Document Capture Software Market Report
Comprehensive insights provided in the document capture software market report answer several questions to help readers gain a deeper understanding and interpret the qualitative growth prospects of the market. Some of these questions include:
How has the document capture software market evolved since 2016?
What are the key opportunities present for new entrants in the document capture software market?
Which region is likely to be the fastest-growing market for document capture software in the next five years?
What are the key sustainability strategies adopted by leading players to stay ahead of the pack?
What are the important outcomes of Porter's five forces model?
What are the trending factors associated with individual segments influencing increased market shares?
What are the risks and challenges faced by document capture software market players?
Research Methodology
The research methodology is a perfect combination of primary research, secondary research, and expert panel reviews. The data repository for the document capture software market is updated on a continuous basis, with key vendors and their developments tracked at regular intervals.
Secondary sources such as annual reports, company websites, industry white papers, government publications, investor presentations, SEC filings, statistical databases, internal and external proprietary databases, and regulatory databases are referred to for developing preliminary market understanding.
Primary research involves telephonic interviews and face-to-face interviews, along with e-mail interactions for in-depth and unbiased reviews on the document capture software market across different geographical divisions.
The information obtained from secondary resources and verified by primary resources have contributed to the development of the document capture software market report.
Document Capture Software Market - Segmentation
The report provides an in-depth segment analysis of the global document capture software market, by conducting a thorough analysis of the market at both, macro and micro levels. Analysis of major countries that hold growth opportunities or account for significant shares has also been included as part of the geographic analysis of the document capture software market, besides segment-wise analysis.
Deployment

Cloud

On-premise

Hybrid

Solution

Multiple-channel Capture

Cognitive Capture

Mobile Capture

Others

Organization Size

Small and Medium Enterprises

Large Enterprises

Industry

Retail

Banking

Financial Services & Insurance

Telecom & IT

Healthcare

Transportation & Logistics

Energy

Others (Education, Manufacturing)

Region

North America

Europe

Asia Pacific

Middle East & Africa

South America
Custom Market Research Services
TMR offers custom market research services that help clients to get information on their business scenario required where syndicated solutions are not enough.
REQUEST CUSTOMIZATION

Document Capture Software Market