Digital Dose Inhalers Market
Digital Dose Inhalers Market (Product: Metered Dose Inhalers and Dry Powder Inhalers; Application: Asthma, COPD (Chronic Obstructive Pulmonary Disease), and Others) - Global Industry Analysis, Size, Share, Growth, Trends, and Forecast, 2019 - 2027
Healthcare
TMRGL18881
2019-08-16
163

Pages
Digital Maintenance Inhalers - Next Lucrative Destination for Manufacturers in Digital Dose Inhalers Market
The digital dose inhalers market been experiencing high growth with the increased prevalence of chronic obstructive pulmonary disease (COPD) and asthma, and the rise of advanced technologies integrated with inhalers. However, patient-device coordination remained the primary matter of concern, and created the need for acquiring accurate information and insights on various factors, including patient compliance, maintenance medication use, and overdose.
With the growing importance of digitized commodities, and in order to drive interactive engagement with individuals, companies in the digital dose inhalers market are introducing digital maintenance features in dose inhalers for patients suffering from asthma, chronic obstructive pulmonary disease (COPD), and other respiratory conditions.
Digital dose inhalers with built-in electronic modules that detect, record, and store data upon actuations, including peak inspiratory flow rates, are gaining popularity among patients as well as healthcare organizations. The need for facilitating the efficient transmission of patient-specific data that can be synced with mobile applications, and providing increased connectivity between devices, is triggering the adoption of wireless or Bluetooth technologies in the digital dose inhalers market.
In addition, manufacturers in the digital dose inhalers market are seeking insights on how well consumers are abreast with mobile apps and digital dose inhalers, and take up coherent initiatives in order to simplify the user experience as well as provide key information to help keep their medical conditions at bay.
Teva Pharmaceutical Industries — a leading Israeli multinational pharmaceutical company, recently announced the launch of its FDA (Food and Drug Administration)-approved digital maintenance asthma inhaler device AirDuo Digihaler. The company declared that its new device can help patients review and share data with their healthcare providers, as well as schedule dosing reminders with the help of the company's mobile app. With the launch of AirDuo Digihaler, the company aims to offer a combination therapy digital inhaler to individuals, equipped with built-in sensors to extract data by providing real-time information about their medical condition, and connects to a companion mobile application to provide information on inhaler-use instructions to people suffering from asthma.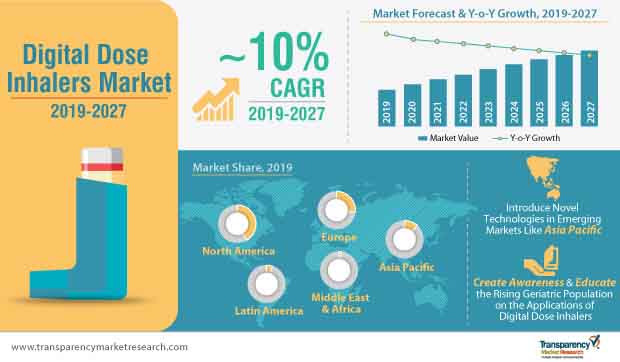 Identify the key factors that will drive your company's growth. Request a brochure of this report here
Greener Inhalers Gain Demand; Dry Powder Inhalers Preferred over Metered Dose Inhalers
The benefits of inhaler therapy have long been recognized as the cornerstone in the treatment of patients across a spectrum of respiratory diseases, including asthma and chronic obstructive pulmonary disease. But the most important innovations have occurred over the past 60 years, beginning with the invention of the pressurized metered dose inhaler.
A digital dose inhaler may look like a straightforward device; however, the technology undergoes rigorous research & development (R&D); which changes the way inhalers are designed and makes a huge difference to the daily lives of asthma sufferers. The digital dose inhalers market reached a valuation of ~US$ 1.7 billion in 2018, and with the burgeoning demand and ongoing innovations in the way digital dose inhalers are designed, the digital dose inhalers market is likely to reach the ~US$ 2 billion mark in 2019.
As a result of transformations in the way digital dose inhalers are manufactured and adopted, significant innovations in the manufacturing of metered dose inhalers have been recorded in the market. In an attempt to emphasize on 'new patient decision aid', NICE (National Institute for Health and Care Excellence, U.K) has encouraged healthcare providers to boost the use of greener asthma inhalers amongst their patients. The use of metered dose inhalers results in the emission of greenhouse gases, ? a bitter irony for people with respiratory diseases, who are being encouraged to use an environmental-friendly alternative, unless in extremely necessary cases.
Metered dose inhalers account for more than half the revenue share of the digital dose inhalers market. However, since metered dose inhalers contribute twice the amount of carbon footprints as compared to dry powder inhalers, stakeholders feel the need to manufacture greener inhalers, accounting for a major stake of metered dose inhalers in the market, as well as the rapid adoption of dry powder inhalers in the coming years.
Artificial Intelligence and Machine Learning Pave the Way for Inhaler Manufacturers
Tackling the issue of easy-to-use digital dose inhalers alongside environmental concerns, manufacturers are now moving towards digitally-viable and technologically-powerful respiratory inhaler for patients.
Manufacturers are now coming up with ways in which the software will work vis-à-vis the patients by introducing AI (Artificial Intelligence)-powered asthma inhalers that notify patients regarding dosage intake. These 'smart' inhalers embedded with machine learning technology are proving to be game-changers in the digital dose inhalers market, by providing patients with personalized information that empowers doctors and healthcare providers to offer an effective diagnosis. For instance, Amiko ? a leading digital health solutions company, collaborated with Arm, a leading multinational software design company, and announced the launch of Respiro, a connected platform that offers connected devices with applications and analytics, so that consumers can enhance and upgrade their respiratory care.
Air Louisville – a data-driven collaboration among public, private, and philanthropic organizations to use digital health technology to improve asthma – recently documented the complex challenges faced by asthma patients in Kentucky, and encountered positive outcomes on tackling the public health issue of citizens living in the area. This was possible with the help of crowd-sourced real-time data on inhaler use, integrated with environmental data, which led to policy recommendations to the Louisville Metro Government.
In addition, companies are constantly setting the benchmark by introducing innovative features in digital dose inhalers to gain a competitive edge in the digital dose inhalers market space. Research & development expenditures are being made to manufacture respiratory inhalers that wirelessly connect to the company's mobile app, which gives insights such as the frequency of the user's symptoms, pollen level, and air quality.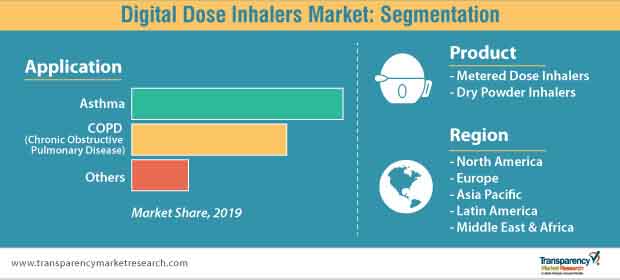 Want to know more such detailed insights of "Digital Maintenance Inhalers Market"? Request a PDF sample here
Companies to Capitalize on Expansion Opportunities in Existing Markets
Manufacturers are focusing on achieving technological expertise in the digital dose inhalers market, especially dry powder inhalers, through strategic collaborations with tech companies. Companies in the digital dose inhalers market are making new market expansions in potentially profitable regions, mainly in Europe, to establish a technological stronghold in this market. For instance, Glenmark Pharmaceuticals ? a research-led global integrated pharmaceutical company, announced that its subsidiary, Glenmark Arzneimittel GmbH, procured marketing authorization in Germany for a specialized categorical type of dry powder inhaler (DPI).
In addition to new business expansions, manufacturers are diversifying further treatment options for COPD patients. These treatment options are being extended to patients with moderate to severe COPD on multiple clinically important endpoints, such as improving lung function and reducing exacerbations, in order to enhance the health-related quality of life for patients. Thus, to serve patients in the COPD domain, Theravance Biopharma announced the launch of a unique single-inhaler triple therapy ? Trelegy Ellipta, in Europe. This leading pharmaceutical company recognized the product's effect on exacerbations, which only requires one inhalation a day. Thus, consumers are capable of averting the constant burden of keeping a tab on the number of dosages taken in a day.
Increased Education and Low-cost Incentives Become the Cornerstone for Unmet End-user Requirements
Although companies are heading towards increased research and development expenditures to manufacture technologically-viable respiratory inhalers, consumers face the plight of expensive respiratory inhalers and treatment facilitated by healthcare providers. Eventually, patients with uncontrollable asthma tend to bear more medical expenses as compared to those with controlled asthma. Also, the lack of health insurance amongst individuals belonging to low-income groups find it challenging to buy inhalers due to the high cost of treatment, thus hampering the sales of respiratory inhalers.
To tackle the issue of high cost of treatment and respiratory inhalers, GlaxoSmithKline has extended a helping hand by announcing the launch of a generic version of the Albuterol Sulfate Inhaler for the prevention or treatment of bronchospasm. This inhaler is available at a ~35% reduction in price to the current WAC (Wholesaler Acquisition Cost) price, depending upon the patient's insurance coverage.
Also, the lack of awareness about appropriate inhalation skills and techniques, especially in children and elderly patients, is anticipated to slow down the market of digital dose inhalers. This creates a common misconception that, respiratory inhalers are less effective, thus, making them prone to an increased risk of asthma attacks. To tackle this challenge, companies are encouraging consumers to purchase digital dose inhalers, as increased engagement with the help of connected devices via mobile apps will facilitate companies to share vital information on the appropriate usage of the inhalers.
Expanding operations in future? To get the perfect launch ask for a custom report here
Digital Dose Inhalers Market: Analysts' View

TMR's analysts have a positive perspective on the growth of the digital dose inhalers market for the forecast period of 2019–2027. North America and Europe are anticipated to continue to serve as one of the most preferred markets for the expansion of the digital dose inhalers market. Asia Pacific is estimated to grow at a moderately steady rate as compared to other emerging markets such as Latin America and the Middle East &Africa.

Technological innovations and increased research & development expenditures remain the key focus points for manufacturers. Apart from the former, real-time engagement with patients and increasing awareness about the appropriate use of metered dose inhalers and dry powder inhalers will help consumers build faithful and reliable relationships with healthcare companies.

Artificial intelligence and machine learning are some of the key focus areas for manufacturers that have the potential for exponential growth in the coming years. However the high cost of treatments and respiratory inhalers acts as hindrances for the growth of digital dose inhalers market. Thus, devising price-related incentives to support individuals in low-income groups can increase the scope for sales in the digital dose inhalers market.
According to Transparency Market Research's latest market report on digital dose inhalers for the historical period of 2017‒2018 and forecast period of 2019‒2027, the rising demand for digital dose inhalers, due to the increasing geriatric population, rising prevalence of respiratory diseases such as asthma and COPD (chronic obstructive pulmonary) across the globe, and technological advancements are expected to boost the global digital dose inhalers market during the forecast period.
Globally, in terms of revenue, the digital dose inhalers market is estimated to reach a value of ~US$ 2 Bn by the end of 2019. The digital dose inhalers market is expected to expand at a CAGR of ~10%, in terms of value, during the forecast period.
Technological Advancements: A Key Driver
The global digital dose inhalers market is expanding at a relatively high growth rate, owing to increasing patient population, adoption of novel technologies due to increasing requirement and prevalence of pulmonary diseases, and rise in research and development in both, developed and developing markets.
Digital dose inhalers possess advanced features that detect inhaler use and also transmit required data. These inhalers contain sensors that record when the medication is being administered. They are Bluetooth-enabled, and can therefore be paired wirelessly with a tablet, smartphone, or computer in order to enable transfer of data from the digital dose inhaler, automatically.
According to a study by the European Respiratory Society, numerous digital technologies have been developed to address the need for optimized adherence to maintenance medication in patients with respiratory diseases. Strategies employed include approaches to monitoring and improving adherence (such as electronic inhalers, text messaging, and reminders) and self-management tools (such as web-based and mobile applications) to record symptoms and monitor lung function.
Electronic health records (EHRs) and electronic medical records (EMRs) are an advantage of modern health information technology, and these EHRs and EMRs are a part of digital dose inhalers. EHRs are connected to software applications (apps) running on the web, local Intranets, or mobile devices. These apps give new life to the data entered into EHRs and other health IT platforms by providing the ability to visualize risks, trends, and trajectories; mash up clinical records with external data sources; and deliver decision support to clinicians and respiratory diseases patients during and between encounters. This helps create better patient adherence. It also helps maintain patients' medication regimes, and provide timely and appropriate support from professionals.
Thus, technological advancements in inhalers, monitoring, and management of respiratory diseases are boosting the global digital dose inhalers market.
Increasing Exposure to Air Pollution and Tobacco Smoking Drives the Global Digital Dose Inhalers Market
Increasing exposure to air pollution and tobacco smoking is a major trend in the digital dose inhalers market. COPD patients undergo breathing difficulties if exposed to smoking. According to WHO, the primary cause of COPD is exposure to tobacco smoke (either active smoking or second-hand smoke).
According to the American Lung Association, in 2017, an estimated 34.3 million, or 14% of adults 18 years of age and older, were current cigarette smokers. Smoking is directly responsible for approximately 90% of lung cancer deaths and approximately 80% deaths caused by chronic obstructive pulmonary disease (COPD), including emphysema and chronic bronchitis.
The number of COPD and asthma patients is rising, and this increasing number of patients suffering from respiratory disorders requires inhalers as the first line of treatment.
Lack of Awareness about Proper Inhalation Skills and Technique Restrains the Global Digital Dose Inhalers Market
Patient education is crucial to commence effective inhaler use, while ongoing, recurrent evaluation and education of skills related to inhaler use are vital for sustaining advanced and appropriate technique and inhaler selection. According to a study by Dove Press Ltd., inadequate health literacy has been related to worsened inhaler technique and knowledge of disease, but not difficulty at learning or retaining of instructions.
Management of chronic airway disease is 10% medication and 90% education. Failure of patients to effectively use inhaler devices can be largely ascribed to deficiencies in clinicians' knowledge of inhaler techniques.
Furthermore, According to NCBI (National Center for Biotechnology Information), several primary care, specialty physicians, and nurses lack the knowledge, awareness, and training required to instruct patients about the proper usage of inhalers. This is another factor restraining the digital dose inhalers market.
Global Digital Dose Inhalers Market: Competition Landscape
Detailed profiles of the manufacturers operating in the global digital dose inhalers market have been provided in the report to evaluate their financials, key product offerings, recent developments, and strategies.
Key players operating in the global digital dose inhalers market include
Novartis AG
AstraZeneca
Glenmark
GlaxoSmithKline plc.
Teva Pharmaceutical Industries Ltd
3M
Sensirion AG Switzerland
AptarGroup, Inc.
Cipla Inc.,
​H&T Presspart Manufacturing Ltd.
Global Digital Dose Inhalers Market: Key Developments
Key manufacturers in the digital dose inhalers market are strengthening their position in the market through increasing approvals from government bodies, strong sales and distribution network, increasing number of technological advancements, rising acquisitions and mergers, and increasing research and development activities. Key developments in the digital dose inhalers market are as follows:
In 2017, Propeller Health, a leading provider of digital health solutions for respiratory diseases, and Novartis Pharma AG, announced a collaboration to develop a custom add-on sensor for the Breezhaler inhaler, a device used for the treatment of COPD (Ultibro Breezhaler, Onbrez Breezhaler, and Seebri Breezhaler). This move connected these medications to Propeller's digital health platform.
In December 2018, AstraZeneca received approval from the European Commission (EC) for Bevespi Aerosphere, which is used in a pressurized metered-dose inhaler (pMDI) indicated as maintenance dual bronchodilator treatment in adult patients with COPD. This approval enabled the company to add a technologically-advanced product to its existing product offerings for patients in Europe.
In May 2016, Glenmark launched Digihaler, an electronic inhaler for asthma patients. This inhaler provides an accurate digital dose counter, along with a low-dose-warning indicator to enable asthma and COPD patients keep a track of their daily doses.
In the global digital dose inhalers market report, we have discussed individual strategies, followed by company profiles of the manufacturers of digital dose inhalers. The 'Competitive Landscape' section is included in the digital dose inhalers market report to provide readers with a dashboard view and a company market share analysis of the key players operating in the global digital dose inhalers market.
[163 Pages Report] TMR's recent publication on the digital dose inhalers market provides readers with an overview of the market, with the help of a detailed assessment of the global market scenario. The TMR study on the digital dose inhalers market evaluates the industry with respect to the historical and current market condition, and offers a forecast for the period of 2019-2027. Report audiences are able to make important decisions concerning their businesses with the help of the important findings and exclusive insights on the digital dose inhalers market. This TMR report is divided into different segments that allow readers to gain an individual understanding of the digital dose inhalers market.
Key Queries Addressed in the Report
How much revenue is the digital dose inhalers market expected to generate by the end of the forecast period?
Which digital dose inhaler is likely to generate the highest revenue by 2027?
What are the crucial growth factors and market dynamics that are expected to drive the growth of the digital dose inhalers market in the coming decade?
Which geographies have the potential for profitable avenues for digital dose inhalers market competitors?
What are the key strategies incorporated by leading digital dose inhaler players in an attempt to expand their market presence?
The first section in TMR's report on the digital dose inhalers market begins with a preface that includes the report scope, market segmentation, and research highlights. This section provides an overall understanding of the market elements, and enables readers to understand the important aspects covered in the study. Following this, the report includes the market dynamics that offer an understanding of the market drivers, restraints, and opportunities.
The next section includes an extensive segmentation analysis of the digital dose inhalers market. Its analysis includes the division of the digital dose inhalers market on the basis of key factors such as product, application, and region. Evaluation of the key segments in the digital dose inhalers market, year-on-year growth projections, and basis point share analysis collated in the report further helps readers identify promising areas for business expansions.
The TMR study on the digital dose inhalers market offers an assessment of the geographical landscape of the market. Individualized, country-wise, and segment-wise analysis in context to individual regions helps readers of the digital dose inhalers market report to weigh the potential of the market in different geographies. Supported by year-on-year growth projections, and global value and volume share, this section is a crucial part of the report on the digital dose inhalers market.
This report on the digital dose inhalers market offers a holistic competitive analysis with the details of prominent and emerging market players. This chapter throws light on the nature of the digital dose inhalers market in relation to the market share held by leading players along with other emerging companies. This chapter also features the key focus areas of digital dose inhalers market players. The competitive structure of key players in the digital dose inhalers market is also included in this report publication.
Research Methodology
The TMR study on the digital dose inhalers market is based on an elaborate investigation of the market, integrated with comprehensive primary and secondary research inputs. Detailed assessment of the digital dose inhalers market in terms of competitive landscape is supported by an individual-level examination of the different avenues related to the industry. An analysis of the historical and current global market for digital dose inhalers is presented, thus focusing on key market segments, major regions, market drivers, and other qualitative inputs, which help TMR's analysts arrive at anticipated predictions and forecast analysis of the digital dose inhalers market.
Digital Dose Inhalers Market: Segmentation
Product

Metered Dose Inhalers

Dry Powder Inhalers

Application

Asthma

COPD (Chronic Obstructive Pulmonary Disease)

Others

Region

North America

Europe

Asia Pacific

Latin America

Middle East & Africa
Custom Market Research Services
TMR offers custom market research services that help clients to get information on their business scenario required where syndicated solutions are not enough.
REQUEST CUSTOMIZATION

Digital Dose Inhaler Market