Curcumin Market: Global Industry Analysis 2018-2026
Curcumin is one of the essential components derived from turmeric. It is also known as Curcuma longa. Curcumin is commonly found in Southeast Asia, Asia Pacific, and Western Africa. Curcumin is a herb that belongs to the ginger family. In our scope of study, the various applications of curcumin covered comprise its use in herbal medicinal products, in dietary supplements, as an antioxidant, an anti-inflammatory, and other applications and uses. Curcumin is predominantly used as a supplement for stress relief and as an anti-anxiety cure.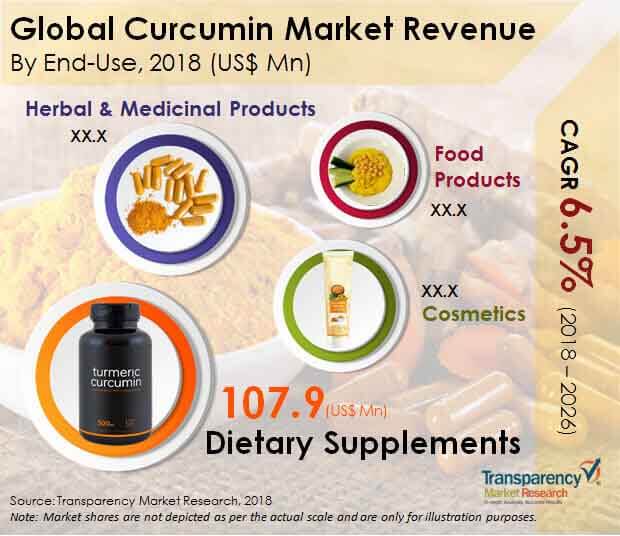 The different forms of curcumin analyzed in the scope of this report include:
Powder: Powders are made from curcumin extract, which has been used for centuries in Asian and African folk medicine in order to treat various conditions.
Liquid: Curcumin liquid extract is a herbal extract taken from the curcumin tree. It is also called Indian frankincense.
Some of the different applications of curcumin considered in the scope of this report include:
As an ingredient in dietary supplements, curcumin helps treat osteoarthritis (OA) and rheumatoid arthritis (RA).
Curcumin is used to treat various chronic inflammatory diseases. The major acids present in it are responsible for the inhibition of pro-inflammatory enzymes.
Due to their anti-inflammatory properties, curcumin extracts are also used in treating asthma, which is an inflammatory disease of the lungs.
Some of the different end uses of curcumin considered in the scope of this report include:
Dietary Supplements: Curcumin is used as an active ingredient in various dietary supplements, owing to its nutritional properties.
Food Products: Curcumin is an essential ingredient in food products these days; it is used as a spice in a majority of regions.
Herbal and Medicinal Products: Curcumin is used in making herbal medicines, owing to its herbal properties, and is used for curing and preventing a variety of diseases.
Cosmetics and Personal Care: Curcumin also finds application in cosmetics, because of its natural properties that help in improving skin health and solving various skin problems.
Productive Growth for Organic Curcumin
Among the nature segments, the organic curcumin segment is anticipated to register a high growth rate of 6.9% in terms of revenue in the global curcumin market, owing to the increasing awareness of organic and natural products and their associated quality by consumers across the globe.
Increasing Demand for Natural Ingredients in Personal Care Products
Consumer inclination to buy natural personal care products is shifting significantly, due to the increasing awareness regarding the benefits of natural and organic ingredients present in them. Consumers are increasingly opting for greener products, owing to the presence of toxic ingredients in synthetic personal care products.
Consumers are currently more informed regarding the benefits of using natural ingredients, through various social media platforms. The application of natural skincare products improves skin texture, tone, and appearance, owing to the presence of nutrients required to enrich skin health.
Growing Demand for Spices in the Food and Beverage Industry across the World
The increasing use of curcumin is a growing trend in all cities across the globe, due to its health benefits. Consumers are continuously looking for food that is healthy and meets their personal needs beyond hunger or cravings.
Consumers across the globe are focusing on the impact of each functional ingredient on an individual's body, and finding new ways to optimize their diets by incorporating such functional food ingredients in their daily life.
As per the leading U.S. magazine Nutritional Outlook, in both, 2013 and 2014, curcumin was the number one selling herbal ingredient in U.S. natural and food stores, with over 30% sales growth in 2013–2014 alone, according to the American Botanical Council report.
Targeting the Functional Beverage Industry in Order to Generate Maximum Revenue Returns
The use of curcumin as a functional ingredient in beverages such as sports and performance drinks, energy drinks, ready-to-drink teas, and others is limited and not yet widely established.
Health drinks comprising curcumin as an active ingredient are highly popular in countries where consumers consume them for managing joint related issues, liver health, and other health related issues.
In 2015, for example, Sabsina Corporation launched uC3 CLEAR, a new curcumin ingredient that brings complete solubility to curcumin, for the beverage market.
Report Description for the Curcumin Market
This report provides forecast and analysis of the global curcumin market. The report provides the estimated data for 2018, and forecast data up to 2026 in terms of revenue (US$ Mn) and volume (MT). The report also includes macroeconomic indicators, along with an outlook on curcumin for the global market. It includes the drivers and restraints of the global curcumin market, and their impact on each region during the forecast period. The report also comprises the study of current industry trends and opportunities for curcumin. It also includes value chain analysis. In order to provide the users of this report with a comprehensive view of the market, we have included detailed competitiveness analysis, market key players, and strategic overview. The dashboard provides a detailed comparison of curcumin manufacturers on parameters such as government certifications, product offerings, and key strategies & focus areas of the company. The study encompasses market attractiveness analysis by nature, form application, end use, and region.
Through a detailed study of the market, our analysts have observed that, there is a tendency amongst the end users of curcumin to shift from conventional curcumin to organic curcumin, which is likely to result in an increase in market demand over the forecast period. The report further states that, the use of curcumin in the food industry as a supplement is likely to result in a lucrative market opportunity for the producers of curcumin targeting this segment. On the basis of end use, the herbal & medicinal products segment is expected to hold the highest market share when compared to the other end uses in the curcumin market. On the basis of region, the North American curcumin market is expected to hold the highest market share throughout the forecast period, owing to more consumption of curcumin as a food supplement in the region. Following North America, the European curcumin market is expected to hold the second-largest market share throughout the forecast period.
The report includes the company profiles of key producers of curcumin, and the revenue generated from companies across North America, Latin America, Europe, Asia Pacific (APAC), and the Middle East & Africa (MEA). For the estimation of revenue, regional average prices were obtained through quotes from numerous curcumin producers, exporters, and distributors. The report covers area under turmeric production, per hectare yield, production of turmeric for demand side analysis import-export scenario turmeric is tracked for key countries. All the key application segments of curcumin have been considered, and potential applications have been estimated on the basis of secondary sources and feedback from primary respondents. Some of the key data points collected for the modeling approach include the food and beverage sector overview, regional food and beverage outlook, average usage of supplements, including curcumin in food products, and others. The market has been forecasted based on constant currency rates.
A number of primary and secondary sources were consulted during the course of the study. Secondary sources include Factiva, and Hoovers, and company annual reports and publications. This report covers market dynamics related to curcumin that include the drivers, restraints, and trends driving each segment and opportunities in the curcumin market. The report also includes analysis and insights into the potential of the curcumin market in specific regions. Detailed profiles of providers are also included in the scope of the report to evaluate their long-term and short-term strategies, product portfolio of curcumin producers, and recent developments in the curcumin market space. Some of the major companies operating in the curcumin market space are Sabinsa Corporation, Synthite Industries Ltd., Biomax Life Sciences Limited, Hebei Tianxu Biotech Co., Ltd, Jiaherb Inc., Herboveda India Pvt. Ltd, The Green Labs LLC, and Wacker Chemie AG, among other curcumin producers.
Global Curcumin Market – By Nature
Organic Curcumin
Conventional Curcumin
Global Curcumin Market – By Form
Global Curcumin Market – By Application
Heart Health
Brain Health
Stress/Anxiety Relief
Anti-inflammation
Antioxidant
Flavorant & Colorant
Global Curcumin Market – By End Use
Dietary Supplements
Food Products
Herbal & Medicinal Products
Cosmetics
Global Curcumin Market – By Region
North America
Europe
Latin America
Asia Pacific
Middle East & Africa