Corneal Topographers Market
Corneal Topographers Market (Product: Optical Coherence Tomography (OCT), Placido, Scheimpflug, Ray Tracing, LED Triangulation, and Others; Application: Corneal Ectatic Disorder Diagnosis, Cataract Surgery Evaluation, Contact Lens Fitting, Post-penetrating Keratoplasty, Evaluation of Post-refractive Surgery, Keratoconus, and Others; End User: Hospitals, Ophthalmology Clinics, Ambulatory Surgical Centers, and Others) - Global Industry Analysis, Size, Share, Growth, Trends, and Forecast 2019 - 2027
Category :

Healthcare

Format :
Convergence of Corneal Topographers and Laser Technology to Unlock New Growth Prospects
The technology-intensive corneal topographers market is tracing a steady growth trajectory, despite unfavorable growth conditions brought in by the cost-prohibitive nature of these systems and the shortage of ophthalmologists. As found by several researches, there has been a staggering rise in ophthalmic incidences and ocular conditions. The National Eye Institute has found that, 36 Mn people in the U.S. were detected with ocular diseases in 2016. The rapid rise in the number of patients opting for vision correction procedures is likely to exert a profound influence on the vertical movement of the market.
Yet another cause of poor vision can be associated with the growing diabetic populace, since they are highly susceptible to developing cataract. With masses leading unhealthy and demanding lifestyles, regular consumption of packaged food and beverages is found to be the leading cause of diabetes. Growth in the patient base has attracted market players to leverage technology to develop topography-guided personalized laser treatment systems, with increased efficiency.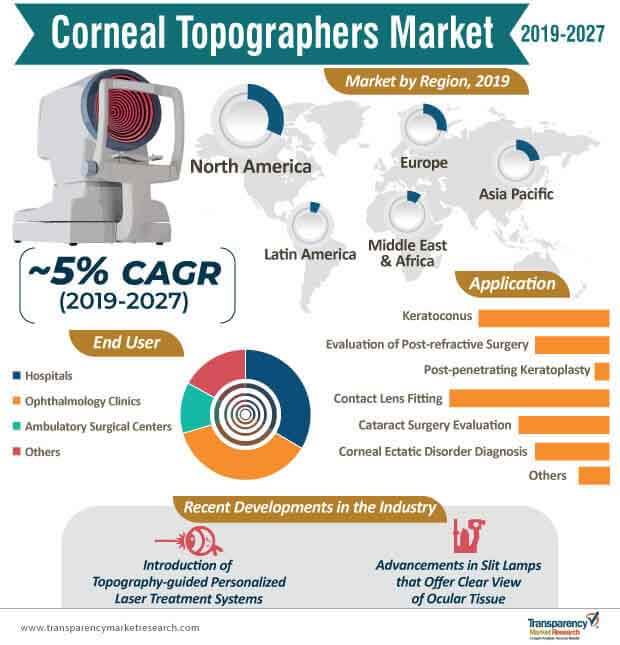 To know the scope of our report Get a Sample on Corneal Topographers Market
Computer-assisted Corneal Topographers to Offset Edges of Conventional Systems
Keratometers have long been used as the standard instruments for assessing corneal curvature; however, the advent of computer-assisted photokeratoscopy in ophthalmology practice is improving the performance of corneal topography. With the increasing penetration of corneal topographers, it is uncommon for ophthalmologists to use keratometers, as the former can capture data from the entire cornea and offer valuable information to assist the diagnosis of corneal problems.
Get a glimpse of the in-depth analysis through our Report Brochure
The future scope of computer-assisted corneal topographers extends towards the designing of custom-fitted contact lenses to ensure better convenience for patients, which is shown by a report presented by Transparency Market Research (TMR). The study shows that, corneal topographers are significantly used for contact lens fitting applications, while their use for the evaluation of cataract is growing at an exponential rate.
Asia Pacific to be a Lucrative Corneal Topographers Market
Regulatory norms for the development and approval of medical devices differ from country to country. However, the base of approval for any medical device is dependent on efficiency and safety. With innovation moving beyond its current range and making rapid penetration in the form of novel corneal topographers, the scrutiny of these systems has been stricter in developed countries as compared to developing countries. At the same time, the technological revolution in developing countries underpinned by increasing government initiatives in the healthcare sector is likely to complement the corneal topographers markets in these regions.
The corneal topographers market has been growing at an exponential pace in China and India, as the focus of the governments of these nations has been shifting towards quality care. In China, the supervision and administration of medical devices is governed by the China State Food and Drug Administration (SFDA). The regulatory scenario in the country is of a lenient nature, and non-contact viewing devices used for ophthalmic procedures are categorized as class-1. These devices are deemed low-risk devices, and they need only general control, thereby offering ease of use to ophthalmologists.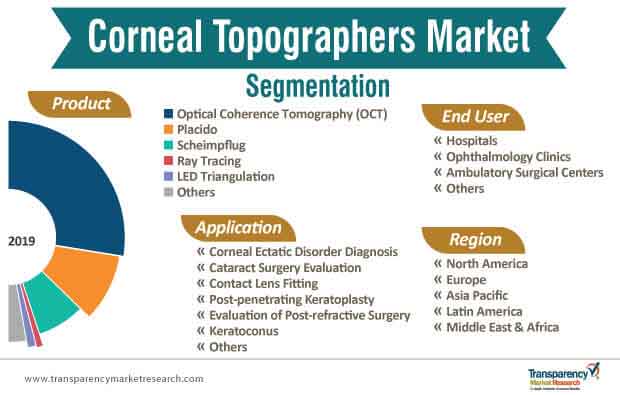 Expanding operations in future? To get the perfect launch ask for a custom report
Analysts' Opinion on Market Growth
Authors of the report opine that, 2020 will be a crucial year for the corneal topographers market, as the sales of these systems will cross the US$ 1 Bn mark, and reach a value of ~US$ 1.4 Bn by 2027. Market players will continue to invest in research & development activities by leveraging technology, and establish their products as new gold standards in the corneal topographers landscape. For instance, in 2017, Carl Zeiss Meditec AG invested ~12% of its 2016-17 revenue for the development of technologically-advanced medical devices. Besides this, market players are also looking to make strategic acquisitions to move towards a consolidated market position.
Corneal Topographers Market: Overview
Rapid developments in the field of ophthalmology have ensured the introduction of efficient methodologies for diagnosis and treatment to improve patient outcomes.
The global corneal topographers market is witnessing strong growth due to rise in the demand for novel technological diagnostic platforms and effective treatment options.
Ophthalmology is a vital segment of healthcare, and has experienced significant development in terms of scope as well as acceptance by patients, owing to rapid technological developments.
Rapid growth of the medical devices industry is considered to be a major driver of the corneal topographers market.
The global corneal topographers market was valued at ~US$ 920 Mn in 2018, and is projected to reach ~US$ 1.4 Bn by 2027. The global corneal topographers market is expected to expand at a CAGR of ~5% from 2019 to 2027.
North America, Europe, and Asia Pacific were the major markets for corneal topographers in 2018. The corneal topographers markets in North America and Asia Pacific are projected to expand at CAGRs of ~5% and ~6%, respectively, during the forecast period.
Corneal Topographers Market: Trends
High Demand for Corneal Topographers and OCT Devices
Corneal topographer systems and OCT devices have been identified as essential in ophthalmology, as normal methods of clinical evaluation modalities such as slit lamp or indirect ophthalmoscopy are used for imaging or testing the anterior segment of the retina.
According to WHO, cataract is responsible for more than 50% cases of blindness across the globe. The prevalence of cataract and age-related macular degeneration (AMD) is expected to rise during the forecast period due to increase the number of elderly people. However, the high prices of these systems and high development cost owing to stringent government regulations are hampering the growth of the global corneal topographers market.
Awareness Programs on Ocular Diseases and Training Programs on New Ophthalmic Diagnostic Devices
Initiating research and training camps at universities and ophthalmology research organizations to increase awareness about cataract and glaucoma can improve the adoption of new ophthalmic diagnostic devices.
In November 2018, The Haag-Streit Academy hosted a successful slit lamp imaging course at the Radisson Blu Hotel in Leeds. The practical workshop provided delegates the opportunity to gain experience with HS-UK's state-of-the-art imaging devices, including a specialist workshop on advanced photography, which focused on Haag-Streit's BX 900 Slit Lamp.
Increase in Incidence of Cataract and Glaucoma in Asia Pacific
According to the Journal of Scientific Report, the prevalence of congenital cataract (one of the primary causes of preventable childhood blindness) in Asia Pacific ranges from 1 to 15 per 10,000 children. This condition is treated through implantation and surgeries. High prevalence of this condition is expected to increase the demand for ophthalmic diagnostic devices used in primary care or treatment processes.
According to the American Academy of Ophthalmology, the number of individuals suffering from glaucoma is likely to rise from 64 million in 2014 to 76 million in 2020 and 111 million in 2040, with Asia and Africa being affected more than the rest of the world.
Corneal Topographers Market: Key Strategies
Increase in Trade and Export Facilities of Medical Devices in Latin America
According to ProMéxico, Latin America is the top exporter of medical devices, which offers 20% savings in manufacturing costs for medical instruments. Mexico is the fifth-largest exporter of medical instruments in the world, and an important supplier to the U.S.
Mexico, Brazil, Argentina, and Colombia account for more than 80% of the export and sales of capital equipment in Latin America, owing to an increase in friendly regulation policies with the approval of devices to be exported to other countries.
Awareness Programs on Pre-surgery Checkup Demonstration among Patients
The International Diabetes Federation (IDF) has a presence in 20 countries and territories in Latin America. In 2017, 44 diabetes organizations in 19 countries in Latin America organized eye disease programs.
The Dilated Eye Exams Program recommends eye checkups every one to two years for individuals who are at higher risk of glaucoma, including African Americans aged 40 years and above, people of Hispanic origin aged above 60 years, and patients with a family history of glaucoma.
Corneal Topographers Market: Competition
Competitive rivalry in the global corneal topographers market is considered to be moderate to high. The global corneal topographers market is highly fragmented, with the presence of a large number of regional corneal topographer players. There is high competition among corneal topographer market players due to competitive pricing for the sales and marketing of products.
Strong competition in the global corneal topographers market is prompting companies to expand in regions with high growth potential, while maintaining their current share in the global corneal topographers market. In such a market scenario of the global corneal topographers market, Carl Zeiss Meditec AG focuses on its core business to stay ahead of its competitors. The company strives to expand its business in countries in Latin America, Africa, and the Middle East.
Carl Zeiss Meditec AG offers a comprehensive portfolio of products and services for patients suffering from different ocular diseases. The company's latest products include

Humphrey Visual Field Analyzer
AngioPlex OCT Angiography
Primus 200
Retina Workplace
OPMI LUMERA 300.

In May 2017, NIDEK CO., LTD. introduced the SL-2000 Slit Lamp that provides a crisp and clear view of ocular tissue in nearly natural color. The optical design of the SL-2000 optimizes resolution and contrast to visualize ocular tissue in exquisite detail.
Tomey Corporation consistently focuses on launching new and advanced ophthalmologic devices to cater to the demand in ophthalmology medical sector.

For instance, in November 2016, the company launched the Cornea / Anterior Segment OCT CASIA2, a non-invasive device for capturing images of the lens and corneal shape.
Corneal Topographers Market: Scope of the Report
A new study on the global corneal topographers market was published by Transparency Market Research (TMR). It presents a wealth of information on key market dynamics, including the drivers, market trends, and challenges, as well as the structure of the corneal topographers market. TMR's study offers valuable information about the corneal topographers market to illustrate how growth will discern during the forecast period of 2019–2027.
Key indicators of market growth, which include value chain as well as supply chain analysis, and compound annual growth rate (CAGR %), have been analyzed in TMR's study in a comprehensive manner. This data can help readers interpret the quantitative growth aspects of the corneal topographers market for the forecast period.
An extensive analysis on leading market players' business strategies is also featured in TMR's study on the corneal topographers market. This can help readers understand principal factors to foresee growth in the corneal topographers market. In this study, readers can also find specific data on the qualitative and quantitative growth avenues for the corneal topographers market, which will guide market players in making apt decisions in the future.
Key Questions Answered in TMR's Corneal Topographers Market Study
What is the scope of growth of corneal topographer companies in the surgical treatment sector?
What will be the Y-o-Y growth of the corneal topographers market between 2019 and 2027?
What is the influence of the changing trends in technologies on the corneal topographers market?
Will North America continue to be the most profitable regional market for corneal topographer providers?
Which factors will impede the growth of the global corneal topographers market during the forecast period?
Which are the leading companies in the global corneal topographers market?
Research Methodology
A unique research methodology has been utilized by TMR to conduct comprehensive research on the growth of the global corneal topographers market, and arrive at conclusions on the future growth prospects of the market. This research methodology is a combination of primary and secondary research, which helps analysts warrant the accuracy and reliability of the drawn conclusions.
Secondary resources referred to by analysts during the production of the corneal topographers market report include statistics from company annual reports, SEC filings, company websites, World Bank database, investor presentations, regulatory databases, government publications, and industry white papers. Analysts have also interviewed senior managers, product portfolio managers, CEOs, VPs, and market intelligence managers, who contributed to the production of TMR's study on the corneal topographers market, as a primary resource.
These primary and secondary resources provided exclusive information during the interviews, which serves as a validation from corneal topographer industry leaders. Access to an extensive internal repository and external proprietary databases allows for this report to address specific details and questions about the corneal topographers market with accuracy. The study also uses a top-down approach to assess the numbers for each segment, and a bottom-up approach to counter-validate them. This has helped in making TMR's estimates on the future prospects of the corneal topographers market more reliable and accurate.
Segmentation of Global Corneal Topographers Market
TMR's study on the corneal topographers market includes information divided into four segments: product, application, end user, and region. Changing industry trends and other crucial market dynamics associated with these sections of the corneal topographers market are discussed in detail.
Product

Optical Coherence Tomography (OCT)
Placido
Scheimpflug
Ray Tracing
LED Triangulation
Others

Application

Corneal Ectatic Disorder Diagnosis
Cataract Surgery Evaluation
Contact Lens Fitting
Post-penetrating Keratoplasty
Evaluation of Post-refractive Surgery
Keratoconus
Others

End User

Hospitals
Ophthalmology Clinics
Ambulatory Surgical Centers
Others

Region

North America
Europe

Germany
U.K.
France
Spain
Italy
Rest of Europe

Asia Pacific

China
Japan
India
Australia & New Zealand
Rest of Asia Pacific

Latin America

Brazil
Mexico
Rest of Latin America

Middle East & Africa

GCC Countries
South Africa
Rest of Middle East & Africa
Custom Market Research Services
TMR offers custom market research services that help clients to get information on their business scenario required where syndicated solutions are not enough.
REQUEST CUSTOMIZATION

Corneal Topographers Market