CMP Slurry Market
CMP Slurry Market (Product Type - Aluminum Oxide, Ceramic, Cerium Oxide, Silica, and Others; Application - Silicon Wafers, Optical Substrate, Disk Drive Components, and Other Microelectronic Surfaces) - Global Industry Analysis, Size, Share, Growth, Trends, and Forecast 2017 - 2026
Category :

Electronics & Semiconductors

Format :
Chemical mechanical polishing/planarization (CMP) slurries are abrasive materials, also called non-crystalline inorganic oxides, which are dispersed in water blended with other chemicals and used in CMP processes for semiconductors. CMP process is employed in semiconductor manufacturing, where surfaces of wafers are smoothed and leveled with the help of abrasive slurries. This process is critical for precise lithography patterning, and is utilized after every deposition-etch step.
Various New CMP Steps in Advanced FEOL have Necessitated New Slurry Formations
Advanced logic & memory device nodes create significant demand for greater performance of CMP processes. Increased diversity and the rapid growth in number of non-metal CMP steps have resulted into new emerging requirements such as considerable decline in the process cost to previous device nodes ratio, enhanced planarization efficiency, and near-zero level defectivity. This has further created demand for high tunable as well as dilutable CMP slurries with matched CMP pads & process, in order to acquire the technical and economic objectives. In the advanced front-end-of-line (FEOL) processes, various new CMP steps require tight process control, selectivities, and different rates for polishing different layer combinations including polysilicon, nitride, and oxide. These varied requirements have necessitated new slurry formations.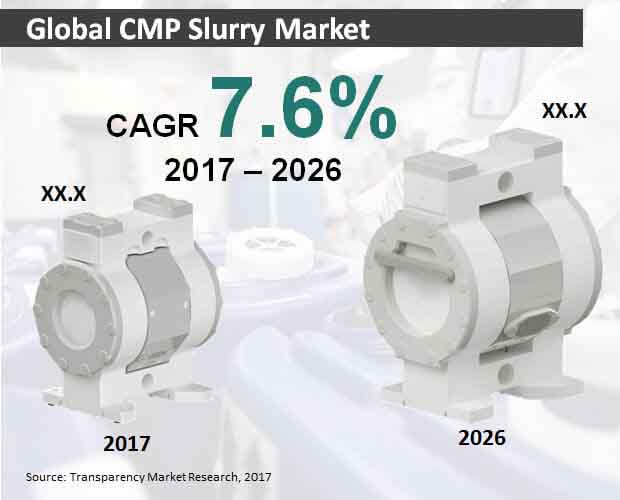 Leading CMP slurry producers are identifying requirements for new as well as additional CMP steps, and are delivering new slurry solutions that offer exceptional defectivity and planarization in a stable CMP process. These producers are increasingly investing in R&D for achieving advanced performance, at the same time making the process cost-effective with the help of low point-of-use concentrations of abrasives, exceptional process consumable lifetime, and high removal rates. As the industry continues to witness accelerated growth, new innovations are being made in CMP slurries, which are likely to help realize success at advanced nodes in next-generation manufacturing. The global CMP slurry market will represent a splendid expansion throughout the forecast period, 2017 to 2026, according to a recently developed report of Transparency Market Research (TMR). Roughly US$ 3,500 Mn worth of CMP slurries are estimated to be sold across the globe by 2026-end.
Countries in Asia-Pacific excluding Japan (APEJ), such as South Korea, India and China, are making considerable investments in semiconductor manufacturing to cater the significant demand growth in consumer electronic products. In addition low waged labor has resulted into a rise in global export from these countries. APEJ is projected to be the fastest growing market for CMP slurry through 2026. In addition, APEJ will account for the largest revenue share of the global CMP slurry market throughout the forecast period. North America is expected to be the second largest market for CMP slurry by 2026-end.
Key Research Findings from TMR's Report on CMP Slurry Market
While aluminum oxide- and ceramic-based CMP slurry will continue to be the most financially rewarding products, sales of cerium oxide-based CMP slurry will register a relatively faster expansion through 2026
Silicon wafers and optical substrates will remain dominant as well as fast-expanding applications of CMP slurry throughout the forecast period
Competition Tracking
The global CMP slurry market is characterized by the occupancy of several emerging regional manufacturers, who are continuously investing in research and development activities for product innovation. These manufacturers are also expanding their production capacities to meet the growing market demand and grab higher market shares. Established players in the global CMP slurry market such as Cabot Corporation and Applied Materials lead the market with their vast market reach and huge production facilities across several potential regions. TMR's report identifies key market participants that include Cabot Corporation, Hitachi Chemical, Samsung Electronics, FujiFilm, Dow Chemicals, BASF, Applied Materials, 3M, Evonik, and Fujimi Corporation.
On the back of fast surging number and spurred diversity of non-metal chemical mechanical polishing/planarization (CMP) steps, there is a rise of new requirements such as near-zero level defectivity, substantial reductions in the cost of process versus previous device nodes, and enhanced planarization efficiency. High dilutable and tunable CMP slurries in coordination with matched CMP processes and pads are required for achieving both economic and technical objectives. Semiconductor manufacturers are now depending upon strong collaboration with material suppliers for identifying or developing slurries that cater these stringent and specific requirements.
Transparency Market Research has developed a new report on the global CMP slurry market, and provides insights on future market growth over the forecast period, 2017 to 2026. The report analyzes the global CMP slurry market in detail, and engulfs key market dynamics comprehensively. Along with the provision of information on propelling factors, restraining factors, and trends guiding the market expansion, analysis on data across multiple market parameters is offered in the report to attain significant market numbers associated with CMP slurry.
Report Structure
The first chapter of the report offers an executive summary of global CMP slurry market. An abstract of the global CMP slurry market at has been delivered in this chapter coupled with pertinent market numbers such as compound annual growth rates for the historical (2012-2016) and forecast (2017-2026) period. A chapter on overview of global CMP slurry market follows the executive summary. In this chapter, a formal definition of "CMP slurry" and its market introduction has been incorporated. This chapter portrays a clear picture of global CMP slurry market report's scope to its readers. Chapters subsequent to overview illuminate important dynamics impacting global CMP slurry market, and engulf key nodes such as bottom line of enterprises, fiscal stimulus, and global economy.
Market Taxonomy
In its proceeding chapter, the report examines the global CMP slurry market in terms of a segmentation-wise analysis. The market has been segmented into product type, application, and region. Y-o-Y growth comparison, along with revenue and market share comparison of these segments have been incorporated in this chapter, for delivering the most significant numbers regarding the segmentation-wise analysis. Global CMP slurry market is categorized regionally into Latin America, Japan, North America, Europe, Middle East & Africa (MEA), and Asia-Pacific excluding Japan (APEJ).
Competition Landscape
The report gives a scrupulous analysis on competition landscape of the global CMP slurry market, and incorporates information about active industries that are contributing to the market expansion. Occupancy of players in the market is portrayed through an intensity map. This culminating chapter emphasizes on identifying key market players rigorously, and provides insights about these players based on the product overview, SWOT analysis, company overview, key financials, and key developments made by the players. This weighted chapter is invaluable for readers of the report, as it submits all necessary information apropos to market participants, and the novel strategies they employ for staying at the market's front edge.
Research Methodology
An extensive research methodology is utilized by TMR's analysts for developing market research reports, and delivering accurate forecasts and insights pertaining to the intended process or product. This research methodology employed relies entirely upon primary & secondary researches, to achieve necessary information on global CMP slurry market. The analysts then validate the information harnessed, for ensuring its authenticity and authoritativeness to clients.
Region

North America
Latin America
Europe
Japan
APEJ
MEA

Product Type

Aluminum oxide
Ceramic
Cerium oxide
Silica
Others

Application

Silicon Wafers
Optical Substrates
Disk-drive Components
Other Microelectronic Surfaces
Custom Market Research Services
TMR offers custom market research services that help clients to get information on their business scenario required where syndicated solutions are not enough.
REQUEST CUSTOMIZATION