Chlor-alkali Market
Chlor-alkali Market (Product: Caustic Soda, Chlorine, and Soda Ash; and Application: Aluminum Processing, EDC/PVC, Chemical Processing, Dyestuff, Glass Manufacture, Food Processing, Pulp & Paper, Water Treatment, Soaps & Detergents, and Others) - Global Industry Analysis, Size, Share, Growth, Trends, and Forecast, 2020 - 2030
Chemicals & Materials
TMRGL1521
2020-04-30
229

Pages
Demand for Disinfection Solutions Spikes Due to COVID-19 Pandemic
Unlike other markets, COVID-19 (coronavirus) is anticipated to bring positive news for companies operating in the chlor-alkali market. This is due to an unprecedented demand for disinfectant chemicals and spray bottles that help to sanitize surfaces and objects and help to break the chain of the infection. India is one of the key producers of alkali chemicals such as chlorine, bleaching solutions, and sodium hypochlorite that are extensively used in disinfection solutions.
As per the guidelines issued by the Alkali Manufacturers Association of India (AMAI), companies in the chlor-alkali market are increasing awareness about the cautious measures that individuals must follow to avoid any harmful reactions on the skin. Manufacturers are recommending dilution of disinfection chemicals before using them for sanitization of surfaces and objects that are contaminated or infected.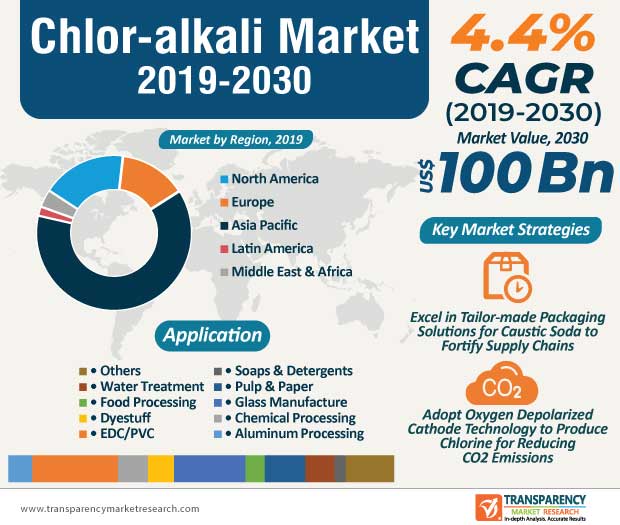 Individual Packaging Solutions for Caustic Soda Boost Growth of Chlor-alkali Market
There is a growing demand for caustic soda with free flowing properties and possesses high resistance to abrasion. Hence, companies in the chlor-alkali market are making improvements in their production techniques to meet end user demands. For instance, Nouryon— a specialty chemicals supplier, manufactures caustic soda at its membrane electrolysis plant in Frankfurt to meet high quality standards of end users in Western Europe. Such innovations are contributing toward the exponential growth in revenue of caustic soda in the chlor-alkali market.
Companies in the market for chlor-alkali are increasing their efficacy in tailor-made packaging solutions to meet sudden and urgent supply demands of clients. Such services help manufacturers to boost their credibility credentials, as customers need not suffer any losses in their production volume. As such, manufacturers are broadening their revenue streams in biodiesel and surfactants production.
To gauge the scope of customization in our reports Ask for a Sample
ODC Technology Overcomes Limitations of Hydrogen-producing Electrode for Saving Energy
High-energy consumption and increased CO2 emissions associated with the production processes of chlorine are some of the drawbacks that companies face in the chlor-alkali market. As such, the market is predicted to advance at a modest CAGR of 4% during the forecast period. Hence, groundbreaking innovations are helping overcome production related drawbacks in the market for chlor-alkali. For instance, recently, on April 3, 2020, manufacturer of high-tech polymer materials, Covestro, announced that its oxygen depolarized cathode (ODC) technology is gaining global recognition whilst providing energy savings and reduced CO2 emissions for the production of chlorine.
Get an idea about the offerings of our report from Report Brochure
The ODC technology is being highly publicized for drastically reducing CO2 emissions during chlorine production. As such, chlorine is anticipated to dictate the second-highest revenue among all products in the market for chlor-alkali. The ODC process is replacing the conventional procedure of hydrogen-producing electrode to suppress the formation of hydrogen, leaving behind application-ready chlorine and caustic soda in the market for chlor-alkali.
Capacity Additions in India to Boost Aluminum Production
Asia Pacific dominates the highest revenue among all regions and the region's revenue is projected for aggressive growth in the chlor-alkali market. This is evident since companies in India are entering into strategic agreements to tap into value-grab opportunities. For instance, Grasim Industries of leading multinational conglomerate, Aditya Birla Group, announced to acquire the chlor-alkali business of KPR Industries in Andhra Pradesh to deploy expansion plans for aluminum in the state. Currently, the chlor-alkali market is valued at ~US$ 73 billion and is estimated to reach ~US$ 100 Bn by the end of 2030.
Manufacturers in the market for chlor-alkali are increasing efforts to increase their production capabilities in caustic soda to tap opportunities in India's aluminum sector. As such, companies are strengthening their operations in the East Coast of India. Such strategies to strengthen operations are leading to capacity additions for caustic soda, which is extensively used in the production of aluminum. Manufacturers are unlocking incremental opportunities by exploring sectors of water treatment, viscose staple fiber, pharmaceuticals, and the likes.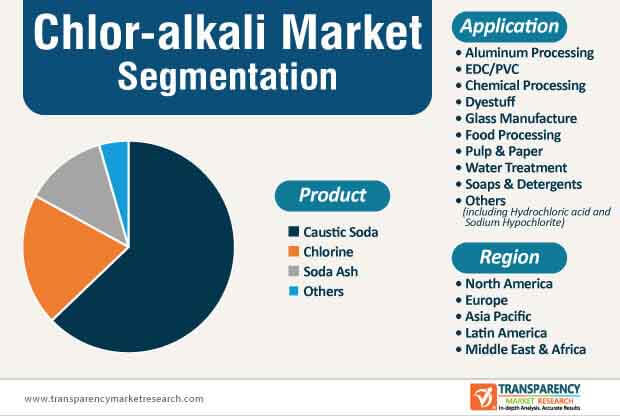 Looking for Regional Analysis or Competitive Landscape in Chlor-Alkali Market , ask for a customized report
Analysts' Viewpoint
The unprecedented demand for disinfection sprays and solutions helps companies in the chlor-alkali market to capitalize on revenue opportunities amidst the COVID-19 crisis. The ODC technology has proved to be a game changer that offer energy savings and has significantly reduced CO2 emissions during the chlorine production.

The caustic soda is being increasingly used to maintain or increase the pH level that helps to reduce corrosion of steel, which is exposed to drilling fluids. Caustic soda cannot be effectively used to raise the pH level in case of high amounts of cations. Hence, companies should increase their research in bioassay information to avoid precipitation of hydroxides, while trying to maintain sufficient pH levels.
Chlor-alkali Market – Scope of the Report
A new study on the global chlor-alkali market published by Transparency Market Research (TMR) presents a wealth of information on key market dynamics, including drivers, market trends, and challenges, as well as structure of the global chlor-alkali market. TMR's study offers valuable information on the global chlor-alkali market to illustrate how growth would discern during the forecast period of 2020 to 2030.
Key indicators of market growth, which include value chain analysis as well as supply chain analysis and compounded annual growth rate (CAGR), are elucidated in TMR's study in a comprehensive manner. This data can help readers interpret quantitative growth aspects of the global chlor-alkali market during the forecast period.
An extensive analysis of leading market players' business strategies is also featured in TMR's study on the global chlor-alkali market. This can help readers understand principal factors to foresee growth of the global chlor-alkali market. In this study, readers can also find specific data on avenues for qualitative and quantitative growth of the global chlor-alkali market, which would guide market players in making apt decisions in the near future.
We have also considered the impact of the COVID-19 crisis on demand for chlor-alkali while analyzing the market.
Key Questions Answered in TMR's Study on Chlor-alkali Market
What is the scope for growth of chlor-alkali companies in the application industries?
What would be the Y-o-Y growth rate of the global chlor-alkali market between 2020 and 2030?
What is the influence of changing trends in technologies on the global chlor-alkali market?
Would Asia Pacific continue to remain the most profitable region for manufacturers of chlor-alkali in the near future?
Which factors would impede the growth of the global chlor-alkali market during the forecast period?
Which are leading companies in the global chlor-alkali market?
Research Methodology
A unique research methodology has been utilized by TMR to conduct comprehensive research on the global chlor-alkali market and arrive at conclusions on future growth prospects for the market. This research methodology is a combination of primary and secondary research, which helps analysts warrant the accuracy and reliability of the conclusions drawn.
Secondary resources referred to by analysts during production of the report on the global chlor-alkali market include statistics from company annual reports, SEC filings, company websites, World Bank database, investor presentations, regulatory databases, government publications, and market whitepapers. Analysts also interviewed senior managers, product portfolio managers, CEOs, VPs, and market intelligence managers, who contributed to the production of TMR's study on the global chlor-alkali market as a primary resource.
These primary and secondary resources provided exclusive information during interviews, which served as a validation from leading players operating in the global chlor-alkali market. Access to an extensive internal repository and external proprietary databases allows this report to address specific details and questions about the global chlor-alkali market with accuracy. The study also uses a top-down approach to assess numbers for each segment and a bottom-up approach to counter-validate them. This has helped in making TMR's estimates on future prospects of the global chlor-alkali market more reliable and accurate.
Chlor-alkali Market – Segmentation
TMR's study on the global chlor-alkali market segments the market based on product, application, and region. Changing market trends and other crucial market dynamics associated with these segments of the global chlor-alkali market are discussed in detail.
Product

Caustic Soda
Chlorine
Soda Ash

Application

Aluminum Processing
EDC/PVC
Chemical Processing
Dyestuff
Glass Manufacture
Food Processing
Pulp & Paper
Water Treatment
Soaps & Detergents
Others (including Hydrochloric acid and Sodium Hypochlorite)

Region

North America (U.S., Canada)
Europe (Germany, France, U.K., Italy, Spain, Russia & CIS, Rest of Europe)
Asia Pacific (China, India, Japan, ASEAN, Rest of Asia Pacific)
Latin America (Brazil, Mexico, Rest of Latin America)
Middle East & Africa (GCC, South Africa, Rest of Middle East & Africa)
Custom Market Research Services
TMR offers custom market research services that help clients to get information on their business scenario required where syndicated solutions are not enough.
REQUEST CUSTOMIZATION