Cell Expansion Market
Cell Expansion Market (Cell Type - Human Stem Cells, Human Differentiated Cells`itals, CMO & CRO, Biotechnology & Pharmaceutical Companies, and Academic & Research Institutes) - Global Industry Analysis, Size, Share, Growth, Trends and Forecast 2016 - 2024
Category :

Healthcare

Format :
The growth of the global cell expansion market is primarily driven by the growing prevalence of chronic diseases and increasing investments offered by the governments to fuel cell based research. The growth of the global market is also being driven by increasing focus on customized and personalized medicine. Additionally, rising onus on the research and development activities on the cell based therapies and rising GMP certifications for production facilities for cell therapy are also important for driving the growth of the global cell expansion market.
The competitive landscape of the global cell expansion market is fairly consolidated in nature. The companies in the global market are eyeing to get at the top of the pyramid with the help of advanced research and development activities. Naturally, the companies are investing heavily in such R&D activities and are coming up with new cell applications and cell lines. These companies are also concentrating on product differentiation in order to strengthen their overall market position. Naturally, such developments are expected to drive the development of the market and further intensify the competition. The companies in the global cell expansion market are also expected to resort to aggressive growth strategies such as mergers, takeovers, acquisitions, strategic partnerships and alliances in order to stay ahead of their competitive rivals.
Some of the key developments in the global cell expansion market are given below:
In 2016, Thermo Fisher Scientific Inc. announced that the company has acquired Affyetrix Inc. a US based company. Thermo Fisher announced that the company invested US$1.3 billion for this deal. This takeover helps the company to improve their product portfolio in the field of genetic and cellular analysis.
In 2017, Becton Dickenson and Company announced that they have received a 501(k) clearance for its BD FACSLyric flow cytometer system.
Global Cell Expansion Market: Snapshot
The global cell expansion market is fairly consolidated with the top eight players accounting for most of the market share. Majority of the top players, with an aim of furthering their market share, are expending a lot of money and time on research and development in order to come up with new cell lines and applications. They are also focusing hard on product differentiation to bolster their positions. On account of this, competition is robust in the market for cell expansion.
Providing tailwinds to the global cell expansion market is the growing prevalence of rare and chronic conditions and also the continued rise in demand for biopharmaceuticals. Growing demand for regenerative medicines that provide faster results and cell-based therapies that have high patient compatibility are also said to be stoking market growth.
High cost involved in operations due to the need for skilled workforce and high tech instrumentation, however, is acting as a deterrent for the market. Strict rules and regulations pertaining to cell expansion processes owing to the ethical concerns surrounding it too is crimping market growth to an extent.
However, despite all obstacles, the market will likely clock a robust CAGR of 14.7% between 2016 and 2024, finds a report by Transparency Market Research. Growing at this pace, the report predicts the market to attain a value of US$26 bn by 2024-end from US$7.737 bn in 2015.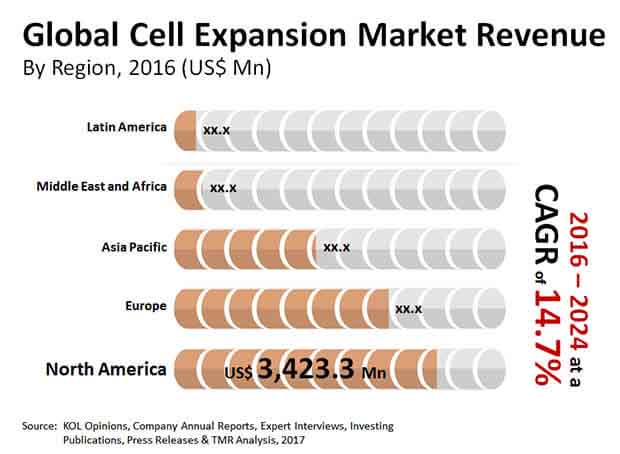 Increase in Chronic Diseases Propels Market for Human Stem Cells
The global cell expansion market can be broadly divided into human stem cells, human differentiated cells, and animal cells based on the types of cells. Of them, the human stem cell segment accounts for a leading share in the market vis-à-vis revenue due of the increasing instances of various chronic diseases and support provided by the government. In 2016, it held a substantial 58.1% share in the overall revenue in the global cell expansion market.
The animal cell segment, on the other hand, is also predicted to grow at an impressive 14.6% CAGR from 2016 to 2024 to become worth US$ 7,432.6 Mn by 2024 on the back of demand for development of vaccines against some parasitic and viral diseases.
North America Market Shines due to Presence of Key Players in the Region
Geographically, the global cell expansion market can be segmented into Asia Pacific, Europe, North America, Latin America, and the Middle East and Africa. North America, of them, is the leading market. In 2016, it held a 39.3% share in the market. The regions dominant share is the result of a large number of prominent players domiciled there and the increasing spends on research and development in the area. In the years ahead, North America is predicted to trim its market share and by 2024 it is slated to hold 37.7% share. It will still retain its leading share, however by rising at a 14.7% CAGR during the period from 2016 to 2024.
In terms of growth rate, Asia Pacific will expected to outpace all other regions by clock a stellar CAGR of 16.4% between 2016 and 2024. This is because of the key players keen on tapping into the opportunities in the emerging economies in the region such as India and China. Besides, growing number of market participants from the nations of Japan, Australia, India, and China is also majorly filliping the cell expansion market in Asia Pacific. The trend of outsourcing research processes to low cost destinations in Asia Pacific and the availability of expertise in the region has also been stoking growth.
Global Cell Expansion Market: Overview
This report on the global cell expansion market analyzes the current and future prospects of the market. The report comprises an elaborate executive summary, including a market snapshot that provides overall information of various segments and sub-segments.
The research is a combination of primary and secondary research. Primary research formed the bulk of our research efforts along with information collected from telephonic interviews and interactions via e-mails. Secondary research involved study of company websites, annual reports, press releases, stock analysis presentations, and various international and national databases.
The report provides market size in terms of US$ Mn for each segment for the period from 2014 to 2024, considering the macro and micro environmental factors. Growth rates for each segment within the global Cell Expansion market have been determined after a thorough analysis of past trends, demographics, future trends, technological developments, and regulatory requirements.
A detailed qualitative analysis of factors responsible for driving and restraining market growth and future opportunities has been provided in the market overview section. This section of the report also includes market attractiveness analysis that provides a thorough analysis of the overall competitive scenario in the global cell expansion market.
Market revenue in terms of US$ Mn for the period between 2014 and 2024 along with the compound annual growth rate (CAGR %) from 2016 to 2024 are provided for all the segments, considering 2015 as the base year. Market size estimations involved in-depth study of services and product features of different types of services. Additionally, market related factors such as increase in prevalence of cancer and rare diseases, rise in demand for regenerative and cell-based therapies and historical year-on-year growth have been taken into consideration while estimating the market size.
Global Cell Expansion Market: Segmentation
The cell expansion market has segmented into four categories, namely by type of cells, by product, by end-user and by region.
Geographically, the global Cell Expansion market has been segmented into five regions: North America, Europe, Asia Pacific, Latin America, and Middle East & Africa. In addition, the regions have been further segmented by major countries from each region. These include the U.S., Canada, the U.K., Germany, France, Italy, Spain, China, Japan, India, Saudi Arabia, UAE, Brazil, and Mexico.
Global Cell Expansion Market: Competitive Landscape
The report also profiles major players in the cell expansion market based on various attributes such as company overview, financial overview, SWOT analysis, key business strategies, product portfolio, and recent developments. Key companies profiled in the report include GE Healthcare, Danaher Corporation (Pall Corporation), Terumo Corporation, Merck Millipore (Merck KGaA), Octane Biotech, Inc., Thermo Fisher Scientific, Inc., Lonza Group, STEMCELL Technologies, Inc., Becton, Dickinson and Company, Bio-Techne (R&D Systems), Takara Bio, Inc., Cell Signaling Technology, Inc., PeproTech, CellGenix GmbH, Corning Incorporated, Eppendorf AG, and HiMedia Laboratories.
The global cell expansion market is segmented as follows:
by Type of Cells

Human Cells
Stem Cells

Adult Stem Cells
Induced Pluripotent Stem Cells
Embryonic Stem Cells

Differentiated Cells
Animal Cells

by Product Type

Instruments

Cell Expansion Supporting Equipment
Bioreactors
Automated Cell Expansion

Consumables
Disposables

Bioreactor Accessories
Tissue Culture Flasks
Others

by End User

Hospitals
CMO & CRO
Biotechnology & Pharmaceutical Companies
Academic & Research Institutes

by Geography

North America
Europe

UK
Germany
France
Italy
Spain
Russia
Rest of Europe

Asia Pacific

China
Japan
Australia & New Zealand
Rest of Asia Pacific

Latin America

Brazil
Mexico
Rest of Latin America

Middle East and Africa

South Africa
GCC Countries
Rest of Middle East & Africa
Custom Market Research Services
TMR offers custom market research services that help clients to get information on their business scenario required where syndicated solutions are not enough.
REQUEST CUSTOMIZATION