Global Calcium Chloride Market: Snapshot
The global calcium chloride market is progressing on the back of several applications of calcium chloride. Extensive demand of calcium chloride for de-icing applications in cold countries is providing a fillip to this market. Calcium chloride with rock salt reduces the need for frequent application of salt thereby saving as much as 40% salt. Calcium chloride is also extensively used as a dust suppressant in dust control applications and as a concrete accelerator in cement industry because of its favorable chemical properties.
However, availability of inexpensive production techniques leading to overproduction of low-grade calcium chloride is a deterrent to the growth of this market. Corrosive character of calcium chloride that has been detected to be more than water makes it unsuitable for several applications. This is hampering the growth of calcium chloride market.
The global calcium chloride market is poised to register a CAGR of 4.2% for the forecast period between 2017 and 2024.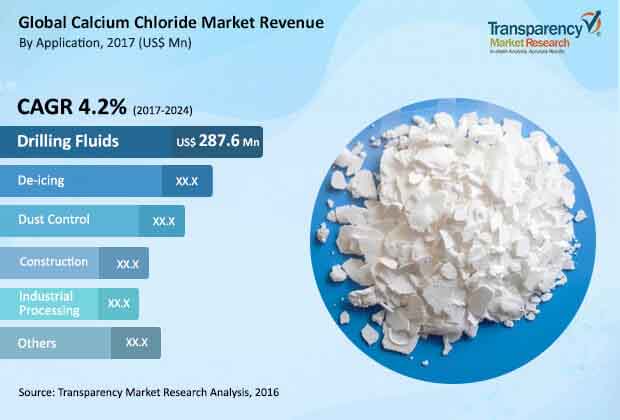 De-icing Application Segment to Contribute Significant Revenue through 2024
The global market for calcium chloride is segmented in terms of product, application, and region. By product prills 94%, flakes 94%, pellets 94%, flakes 77%, and liquid grade are the segments into which the calcium chloride market is segmented. Flakes 77% held considerable share in the overall market until recently, however, the segment is anticipated to display declined share in the upcoming years due to high demand in de-icing and dust control applications. Flakes 94%, prills 94%, and pellets 94% are expected to collectively hold more than 55% share by 2024. Liquid calcium chloride is likely to lose share by 2024 due to increasing production capacity of calcium chloride with 94% purity.
Application-wise, de-icing, drilling fluids, dust control, construction, industrial processing, and others are the segments into which the calcium chloride market is divided. Drilling fluid segment recorded high sales in recent years. The segment is anticipated to remain lucrative in the upcoming years due to high demand for drilling fluids. De-icing is likely to remain highly attractive and contribute significant revenue to the overall market through 2024. This is because calcium chloride is a favored and effective agent for snow and ice melting to be completed in short time periods.
On the other hand, construction and industrial processing segments are anticipated to collectively lose 0.7% market share by 2024. Vis-à-vis volume, demand for calcium chloride from industrial processing segment is predicted to reach 374,394.1 tons by 2024. Dust control and other segment are likely to display moderate growth in the calcium chloride market in the near future.
North America to Continue to Remain at the Fore
Geography-wise, the calcium chloride market is divided into North America, Asia Pacific, Europe, Latin America, and the Middle East and Africa. In terms of demand, North America currently leads the calcium chloride market; the region is estimated to continue to remain at the fore through 2024. Asia Pacific is likely to display significant demand for calcium chloride on the back of expansion of the construction sector in emerging economies.
The Middle East and Africa calcium chloride market is anticipated to expand at a moderate pace. Latin America calcium chloride market holds moderate share due to low number of drilling activities and de-icing applications.
Key companies operating in the global calcium chloride market include TETRA Chemicals, OxyChem, B.J. Services, Solvay S.A, Occidental Chemical Corporation, Tiger Chemicals, Weifang Haibin Chemical Co. Ltd., Zirax Limited, Sulaksh Chemicals, Aditya Birla Chemicals, The Dow Chemical Company, Nedmag, Sitara Chemical Industries Ltd., and Gujarat Alkalies among others.
Global Calcium Chloride Market: Overview
The report provides detailed analysis of the global calcium chloride market for the 2017-2024 forecast timeframe. The research study analyzes the calcium chloride market in terms of revenue (US$ Mn) and volume (in kilo tons). The report provides revenue and volume estimations for 2017-2024 with 2016 as the base year. The report provides 2015 values for historical reference.
The report highlights important qualitative and quantitative aspects regarding investments and price trends that impact the calcium chloride market. The report also covers distribution and trade scenario, Porter's five forces analysis, value chain analysis, company market share, and attractiveness analysis for key end users in each region. Following this, insights into competitive strategies has been provided for existing players as well as new entrants to serve as a valuable guide to formulate winning strategies.
The market study is specifically designed to examine the growth behavior of key segments under each category in the calcium chloride market. This is used to project market share and revenue contributions of each of these segments over the forecast period.
Global Calcium Chloride Market: Research Methodology
A combination of bottom-up and top-down approach has been employed to provide market size of projections of key product and application segments for each region in the market. Underlying estimation factors include growth of industries such as chemical, construction, oil & gas, mininh, agriculture, etc. They also include production of calcium chloride, substitute analysis, and environmental scenarios across the regions.
Industry analysis factors include strategic partnerships, technology upgrades, mergers and acquisitions, and availability in relation to the global competitive scenario. Secondary and primary research was conducted to understand and arrive at growth trends, which were used to present projections for the calcium chloride market.
Secondary research sources typically include but are not limited to annual reports, company websites, financial reports, broker reports, investor presentations, , and SEC filings. Other sources reached out in the secondary phase include external and internal proprietary databases and pertinent licensed and regulatory databases, statistical databases, market reports, national government documents, news articles, webcasts specifically made for companies operating in the market, press releases, ICIS, American Chemical Society, Portland Cement Association, Chemical Weekly, Factiva, Countryside, etc.
Following an elaborate primary and secondary research phase, growth projections through 2024 have been provided based on the following assumptions
The scope of the research report is limited to demand for calcium chloride for key applications in key regions
Market estimations have been provided with the assumption that there would not be serious natural calamities or political disturbances that could impact production and demand supply dynamics
Estimations for calcium chloride market have been calculated aggregating the revenue contribution of key applications in key regions
Minimal change in production prices and overheads has been assumed through the forecast period
The market is mature in developed nations. Large players based in developed nations that are striving to expand into potential growth nations will need to obtain trade licenses applicable for each country.