Butanes Market
Butanes Market (Application: Liquefied Petroleum Gas (LPG) (Residential/Commercial, Chemical/Petrochemical, Industrial, Auto Fuel, Refineries, and Others), Petrochemicals, Refineries, and Others) - Global Industry Analysis, Size, Share, Growth, Trends, and Forecast, 2019 - 2027
Category :

Energy & Natural Resources

Format :
Global Butanes Market: Snapshot
Butane is a hydrocarbon of the alkane family with four carbon atoms attached to it. Butanes may refer to either of two structural isomers, n-butane (normal butane) or isobutene or to a mixture of these two isomers. Butane is a colorless, flammable and easily liquefied gas. Butane is heavier than the air with a density of approximately 575 kg per cubic meters at 15 degree Celsius. The boiling point of butane is approximately -1 degree Celsius whereas, the flash point of butane is approximately -40 degree Celsius.
One of the sources from where butanes are extracted is gas processing plants which are located close to crude oil or natural gas reservoirs. Basically, butane is produced as a byproduct of crude oil production and refining. Butanes are also produced as byproduct of crude oil refining in a refinery. The crude oil extracted from the reservoir is sent to refineries for extraction of various end use products like gasoline, diesel, jet fuel, lubes etc. Crude oil is processed in a fractionating tower and various products are recovered from the tower at various temperature levels, which are also known as crude cuts.
The global butanes market is expected to progress at a CAGR of 7.1% from 2019 to 2027, in terms of value. This market is expected to be valued at around US$ 156 Bn by the end of 2027 from US$ 84 Bn in 2018.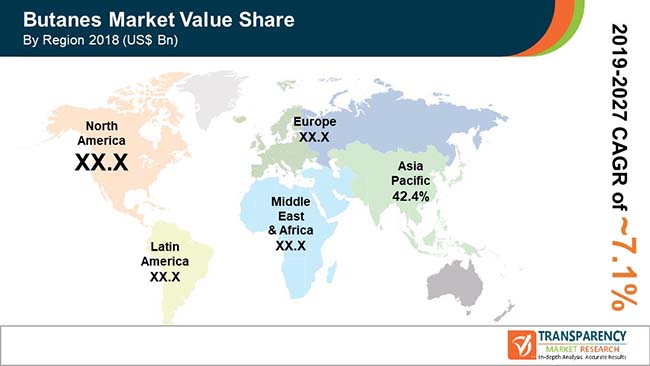 Request a sample to get extensive insights into the Butanes Market ?
Liquefied Petroleum Gas (LPG) Major Application Area of Global Butanes Market
Normal butane is primarily used in liquefied petroleum gas (LPG). About two third of the butane produced globally is used in LPG. Butane is commonly referred to as LPG when it is mixed with propane in a certain proportion. LPG is mainly used for residential and commercial purposes as cooking and heating fuel. LPG is also used for chemical/petrochemical and industrial purposes as a fuel. One of the fastest growing usages of LPG is as an auto fuel; owing to its cleanliness it is gaining the market share as one of the emerging fuels for automobiles and transportation purposes.
The next biggest application of butane is in petrochemical industry where it is being used as feedstock for producing variety of petrochemicals, including primary petrochemicals like ethylene and other downstream petrochemicals like butadiene (a key raw material for the production of synthetic rubber). Butanes are also used in refineries as blending agent mixed in gasoline. Other uses of butane include as fuel in cigarette lighter, propellant in aerosol sprays such as deodorants etc.
To understand how our report can bring difference to your business strategy, Ask for a brochure
Residential/Commercial Sub-segment Driving Demand for Butanes in Liquefied Petroleum Gas (LPG) Segment
The growing demand for LPG from residential and commercial sectors where it is mainly used as a domestic fuel is the major factor driving the butanes market. Butane used as petrochemical feedstock for producing ethylene and other derivatives is also driving the market for butanes owing to growing ethylene capacity in the Middle East). However, the volatility in crude oil prices and the regulatory issues owing to growing environmental concerns are the major factors inhibiting the market for butanes.
Key Players in the Global Butanes Market
Some of the key players in the butanes market from a global perspective include
Exxon Mobil Corporation
Royal Dutch Shell
China Petroleum & Chemical Corporation (Sinopec)
British Petroleum Plc
Chevron
Total S.A.
Conocophillips
China National Petroleum Corporation (CNPC)
Bharat Petroleum Corporation Limited
Indian Oil Corporation Ltd.
Stuck in a neck-to-neck competition with other brands? Request a custom report on Butanes Market
Global Butanes Market: Recent Developments
On 14th February, 2020, Petroleum Ministry of Egypt announced the signing of a US$ 2.5 Billion contract for the development of lower-quality heavy fuels hydrocracking complex in Assiut, the largest oil refining project to be implemented in the Upper Egypt. The complex in Assiut would have a production capacity of 2.8 million tons annually, and the facility would also produce butane and naphtha which would be used in the production of high-octane gasoline.
In January 2020, as part of India's strategy of practicing, the Indian Oil Corporation Ltd (IOCL) announced its plans to help Ghana's National Petroleum Authority (NPA) expand the country's liquefied petroleum gas (LPG) network
Butanes Market – Scope of the Report
Transparency Market Research's recent report on the global butanes market, with the help of a comprehensive outlook, provides readers with an assessment of the global market landscape. This study on the global butanes market analyzes the market scenario for the period from 2018 to 2027, wherein 2018 is the base year. This report enables readers to make important decisions with regard to their business, with the help of a wealth of information enclosed in the study.
This TMR study on the global butanes market also provides data on developments made by important players and stakeholders operating in the market, along with competition analysis. The report also provides an understanding of strengths, weaknesses, threats, and opportunities, along with market trends and restraints in the competition landscape section.
This study also discusses the underlying trends and the impact of various factors on the global butanes market along with their influence on evolution of the market
This study also offers Porter's five forces analysis, value chain analysis, and regulatory scenario of the global butanes market, in order to elaborate crucial growth strategies of and opportunities for players operating in the market
Key Questions Answered in Global Butanes Market Report
How much value does the global butanes market is expected to reach by the end of the forecast period?
Which region currently account for the maximum share of the global butanes market?
What are the key factors expected to drive the global butanes market?
Which region is likely to be a lucrative market for butanes during the forecast period?
What are the essential strategies adopted by key players operating in the global butanes market to expand their geographical presence?
What are major advancements in the global butanes market?
This report answers these questions about the global butanes market, aiding major stakeholders and key players in making the right decisions and strategizing for growth of their business
Global Butanes Market: Research Methodology
This TMR report on the global butanes market is based on a complete and comprehensive evaluation of the market, backed by secondary and primary sources. The competition scenario of the global butanes market is supported by an assessment of different factors that influence the market on a minute and granular level. By thoroughly analyzing the historical data and the current trends, researchers of the global butanes market arrived at predictions and estimations, and calculated the market forecast.
This report uses an analytical triangulation method to estimate the numbers of the global butanes market, by using both bottom-up and top-down approaches
This detailed assessment of the global butanes market, along with an overview of the market, is provided based on a careful examination of avenues related to the market. Analysts' conclusions on how the global butanes market is set to expand are based on carefully vetted primary and secondary sources.
Global Butanes Market: Segmentation
This report on the global butanes market provides segmentation of the market based on application and region
Application

Liquefied Petroleum Gas (LPG)

Residential/Commercial
Chemical/Petrochemical
Industrial
Auto Fuel
Refineries
Others

Petrochemicals
Refineries
Others

Region

North America
Europe
Asia Pacific
Middle East & North Africa
Rest of the World
Custom Market Research Services
TMR offers custom market research services that help clients to get information on their business scenario required where syndicated solutions are not enough.
REQUEST CUSTOMIZATION