Burn Injury Treatment Market
Burn Injury Treatment Market (Product: Wound Care Dressings, Wound Care Devices, Biological Products, Medications; Degree of Burn: First-degree Burns, Second-degree Burns, Third-degree Burns; Treatment Type: Medications, Traditional Dressings, Advanced Dressings, Surgeries, Others; End User: Hospitals, Clinics, Home Care Settings, Others) - Global Industry Analysis, Size, Share, Growth, Trends, and Forecast 2019 - 2027
Category :

Pharmaceutical

Format :
Burn Injury Treatment Market: Topical Treatments Prevent Risks of HAI
Severe burn injuries can lead to increased morbidity and mortality rates in the healthcare space. This is why, healthcare providers in the burn injury treatment market are developing efficacious treatment options for patients.
One of the major challenges that patients with burn injuries face is the risk of hospital-acquired infections (HAI). This is well explained, as highest revenue in the burn injury treatment market came from hospitals, which accounted for ~US$ 1.3 billion in 2018. Wherefore, healthcare providers in hospitals and clinics are increasing the availability of topical treatments to prevent the risk of hospital-acquired infections.
To reduce the incidences of hospital acquired infection in patients, healthcare companies of the burn injury treatment market are introducing improved silver sulfadiazine (SSD) creams that reduce complications and other health risks. Healthcare professionals are seeking the expertise of researchers and scientists to experiment on silver-containing dressings with honey, as honey provides antiseptic effects for the faster healing of burn injuries. Companies are increasing research on dressings infused with sodium hypochlorite that show faster healing results as compared to SSD dressings.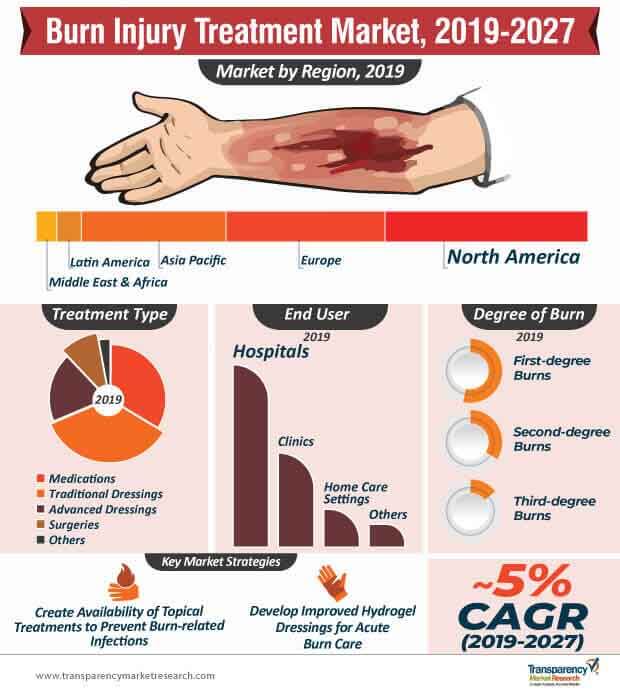 To know the scope of our report Get a Sample on Burn Injury Treatment Market
Hydrogel Dressings Reduce Trauma in Pediatric Burn Patients
Burn injuries lead to painful and traumatic experiences, especially in children. Hence, there is the growing need for enhanced treatment alternatives in the burn injury treatment market that reduce pain and anxiety in pediatric burn patients.
The revenue of traditional dressing products is projected to reach ~US$ 1.4 billion by 2027, in the burn injury treatment market. Thus, healthcare companies are developing result-oriented hydrogel dressings to capitalize on the market trend. Hydrogel dressings help reduce re-epithelialization time as compared to conventional plastic wrap used for the treatment of pediatric burn patients. As a result, parents and healthcare professionals are turning towards hydrogel dressings to provide pain relief via the evaporative cooling agents present in the dressing, which soothes exposed nerve endings in the skin.
Get a glimpse of the in-depth analysis through our Report Brochure
Depending on the degree of burn, manufacturers in the burn injury treatment market are innovating on skin care products such as aloe vera cream and antibiotic ointments. As many patients are more comfortable taking medications, healthcare companies are introducing pain medications such as acetaminophen (Tylenol) for first-degree burns.
Improved Skin Regeneration Therapies Overcome Treatment Obstacles
Tissue regeneration technology has achieved important milestones in the burn injury treatment market. However, its limitations are a great concern for healthcare providers. For instance, commercial products such as Epicel and Cryoskin are mostly non-permanent bioactive materials in dressings. In many cases, immune rejection has been reported by patients who opted for skin-regeneration dressings with allogeneic fibroblasts and keratinocyte materials. Hence, healthcare providers are increasing the capabilities of skin-regeneration therapies using cytokines and ECM (Extracellular Matrix).
Collagen-based products have the highest revenue among biological products, with an estimate of ~US$ 276 million by 2027, in the burn injury treatment market. This is not surprising, as healthcare providers are developing product designs that provide similar skin composition to collagen types I and III, which are native tissues in the human body. However, collagen possesses poor mechanical properties. Hence, scientists and healthcare companies are improving collagen-based products by cross-linking collagen with synthetic materials for developing better skin-regeneration treatment options.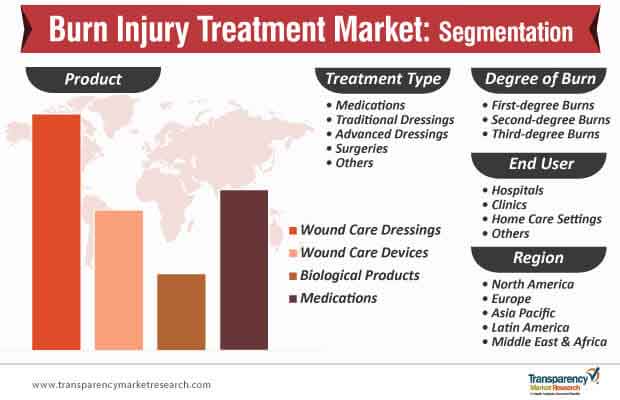 Expanding operations in future? To get the perfect launch ask for a custom report
Analysts' Viewpoint on Burn Injury Treatment Market
Manufacturers in the burn injury treatment space are developing less-invasive treatment options such as antibiotic creams and ointments that heal second-degree burns. They are also increasing research on the techniques of skin grafting with the use of synthetic skin for the treatment of third-degree burns. Severe burns that have affected large parts of the body need profound treatment options such as intravenous (IV) antibiotics to prevent infection. However, stakeholders in the healthcare space are questioned about the social challenges that patients may come across after getting discharged from the hospital. Thus, healthcare providers should develop efficacious skin regeneration therapies using plant cells that mimic the native tissue cells of the human body.
Burn Injury Treatment Market: Overview
According to Transparency Market Research's latest market report on the burn injury treatment market for the historical period of 2017–2018 and forecast period of 2019-2027, increase in the prevalence of burn injuries, rise in the adoption of artificial skin substitutes, and surge in the demand for advanced treatment are factors anticipated to drive the global burn injury treatment market.
According to the report, the global burn injury treatment market was valued at ~US$ 2.6 Bn in 2018, and is expected to expand at a CAGR of ~5% from 2019 to 2027.
As such, the global burn injury treatment market is projected to be valued at ~US$ 4 Bn by the year 2027.
Increase in Prevalence of Burn Injuries and Rise in Awareness to Drive Market
There has been an increase in the prevalence rate of burn injuries, which is leading to a rise in the demand for burn injury treatment products.
Growing awareness of personal hygiene and personal care among the population, leading to a surge in the adoption rate of wound care products, is anticipated to drive the growth of the burn injury treatment market. The affordability of high-end burn injury treatment products has also increased in developing countries, which is expected to boost the purchasing power of patients.
According to WHO, 265,000 deaths occur every year due to burns; a majority of these are preventable with proper treatment. Approximately 96% of burns occur in low- and middle-income countries, highlighting significant treatment penetration in developed countries.
According to the American Burn Association, in the U.S., an estimated 486,000 burn injuries were recorded at emergency departments between 2011 and 2015.
Burn Injury Treatment Market: New Product Development and Technological Advancements
Key players in the burn injury treatment market are engaged in the development of technologically-advanced products for burn injury treatment. For instance, Acelity L. P., Inc. is expanding and deepening its global footprints in the advanced wound care segment through innovations in NPWT and incision management systems. The company is also focused on innovating within services and customer support offerings. It has also launched the iOn Healing mobile application.
Technological advancements in burn injury treatment, such as endovascular arterial repair techniques and bi-layered human dermal substitutes, are projected to drive the burn injury treatment market.
In September 2016, ConvaTec, Inc. announced a new addition to its existing line of surgical dressings with the launch of the AQUACELL AG Surgical dressing. AQUACELL AG is an antimicrobial dressing used to prevent wound infection.
The adoption of such technologically-advanced solutions for the treatment of burn injuries is likely to fuel the growth of the global market in the near future.
High Cost of Advanced Wound Care Products and Unfavorable Reimbursement Policies to Hamper Market
Cost is a major factor influencing the selection of a treatment option. Due to high costs, conventional wound healing products are preferred over technologically-advanced dressings, despite their slow healing process.
Price-sensitive markets, mainly underdeveloped countries, are anticipated to witness slow adoption of advanced burn injury treatment technologies.
Specialized complex care in burn injury treatment is often challenged by unfavorable reimbursement policies. Ever-changing and new reimbursement guidelines are tedious to follow and understand.
In some cases, wound care surgery is performed in outpatient settings, which do not require an overnight stay. Hence, such therapy is not considered for coverage by the reimbursement system of healthcare settings. This factor is anticipated to restrain the expansion of the global burn injury treatment market.
Global Burn Injury Treatment Market: Competition Landscape
This report profiles the major players in the global burn injury treatment market based on various attributes such as company overview, financial overview, product portfolio, business strategies, and recent developments.
Prominent players operating in the global market include

Integra LifeSciences Corporation
Cardinal Health
Mölnlycke Health Care AB
Essity Aktiebolag
Smith & Nephew plc
Acelity L.P., Inc.
B. Braun Melsungen AG
3M Healthcare
ConvaTec, Inc.
Coloplast Group.
Burn Injury Treatment Market: Key Developments
Key players in the global burn injury treatment market are engaged in the development of new products, key mergers & acquisitions, and collaborations. Major developments by industry players are likely to fuel the expansion of the global burn injury treatment market. Some of the growth strategies adopted by players in the market are as follows:
In January 2017, Integra LifeSciences Corporation acquired Derma Sciences, Inc., a tissue regeneration company, focused on advanced wound and burn care.
In December 2016, Mölnlycke Health Care AB announced a collaboration with Rochal Industries, a U.S.-based biomedical R&D company. The collaboration is focused on expanding Mölnlycke Health Care AB's existing skincare portfolio by introducing new skincare products with innovative technologies. Additionally, the collaboration is expected to reinforce Mölnlycke Health Care AB's offerings for infection prevention in the near future.
In November 2016, B. Braun Melsungen AG launched Prontosan Wound Gel X, an antimicrobial barrier facilitating autolytic debridement for the prevention of wound infection.
In the global burn injury treatment market report, we have discussed individual strategies followed by company profiles of manufacturers of burn injury care products. The 'Competition Landscape' section has been included in the global burn injury treatment report to provide readers with a dashboard view and a company market share analysis of key players operating in the global market.
Burn Injury Treatment Market – Scope of the Report
TMR'S report on the global burn injury treatment market studies the past as well as current growth trends and opportunities to gain valuable insights of the same indicators for the said market during the forecast period of 2019 to 2027. The report provides the overall market revenue of the global market for the period of 2017–2027 period, with 2018 as the base year and 2027 as the forecast year. The report also provides the compound annual growth rate (CAGR) for the global burn injury treatment market for the forecast period.
The report has been prepared after an extensive primary and secondary research. Primary research involves bulk of the research efforts, wherein, analysts carry out interviews with key opinion leaders, industry leaders, and opinion makers. Extensive secondary research involves referring to key players' product literature, annual reports, press releases, and relevant documents to understand the market.
Secondary research includes Internet sources, statistical data from government agencies, websites, and trade associations. Analysts have employed a combination of the top-down and bottom-up approach to study the various phenomena in the global market.
The report includes an elaborate executive summary, along with a snapshot of the growth behavior of various segments and sub-segments included in the scope of the study. Furthermore, the report sheds light on the changing competitive dynamics in the global market. These indices serve as valuable tools for existing market players as well as for entities interested in entering in the market.
The report delves into the competitive landscape of the global burn injury treatment market. Key players operating in the market have been identified, and each one of them has been profiled for their distinguishing business attributes. Company overview, financial standings, recent developments, and SWOT are some of the attributes of the players in the global market that have been profiled in this report.

Key Questions Answered in the Burn Injury Treatment Market Report
What is the sales/revenue projected to be generated by each product type segment of the market across all regions during the forecast period?
What are the opportunities in the market?
What are the major drivers, restraints, opportunities, and threats in the market?
Which region is likely to expand at the fastest CAGR during the forecast period?
Which burn injury treatment type and degree of burn segments are expected to generate the highest revenue globally in 2027? Which segment is projected to expand at the highest CAGR during the forecast period?
What is the market share or position of different companies operating in the global market in 2018?
Global Burn Injury Treatment Market – Research Objectives and Research Approach
The comprehensive report on the global burn injury treatment market begins with an overview of the said market, followed by the scope and objectives of this study. Following this, the report provides detailed explanation of the objectives behind this study, regulatory scenario, pricing analysis, value chain analysis, and technological advancements in the treatment of burn injuries.
For reading comprehensibility, the report has been compiled in a chapter-wise layout, with each section divided into small sections. The entire report comprises an exhaustive collection of graphs and tables appropriately interspersed in the entire compilation. Pictorial representation of the actual and projected values of key segments is visually appealing to the readers. This also allows comparison of the market shares of key segments in the past and at the end of the forecast period.
Global Burn Injury Treatment Market – Segmentation
TMR's study on the global burn injury treatment market includes information divided into five sections - by product, by degree of burn, by treatment type, by end user, and by region. Changing industry trends and other crucial market dynamics associated with these sections of the global burn injury treatment market have been discussed in detail.
Product

Wound Care Dressings

Antimicrobial Dressings
Hydrocolloid Dressings
Hydrogel Dressings
Film Dressings
Foam Dressings
Alginate Dressings
Other Dressings

Wound Care Devices

Thermal Burn Therapy Devices
Negative Pressure Wound Therapy (NPWT)
Ultrasound Therapy
Hyperbaric Oxygen Therapy (HBOT)

Biological Products

Collagen
Skin Grafts
Flaps

Medications

Burn Creams and Ointments
Anti-infective Drugs
Painkillers and Anti-anxiety Medications
IV-Fluids & Therapeutic Peptide Nutrition

Degree of Burn

First-degree Burns

Second-degree Burns

Third-degree Burns

Treatment Type

Medications

Traditional Dressings

Advanced Dressings

Surgeries

Others

End User

Hospitals

Clinics

Home Care Settings

Others

Region

North America

Europe

Asia Pacific

Latin America
Custom Market Research Services
TMR offers custom market research services that help clients to get information on their business scenario required where syndicated solutions are not enough.
REQUEST CUSTOMIZATION

Burn Injury Treatment Market