Bakery Packaging Machine Market
Bakery Packaging Machine Market (Machine Type: Filling & Sealing Machines, Labeling Machines, Strapping/Bundling Machines, Tape Machines, and Others; Packaging Type: Primary Packaging, Secondary Packaging, and Tertiary Packaging; Mode of Operation: Automatic and Semi-automatic; Application: Bread, Cakes & Pastries, Cookies & Biscuits, Doughnuts, Muffins, Bun & Pies, and Others; and Distribution Channel: Direct Sales and Indirect Sales) - Global Industry Analysis, Size, Share, Growth, Trends, and Forecast, 2021-2031
Factory Automation
TMRGL75867
2021-08-26
187

Pages
Robots Enable Contact-less Operations in Bakery Packaging during COVID-19 Outbreak
Production, preservation, and storage of bakery items have been disrupted by the COVID-19 pandemic. Cash-rich companies in the bakery packaging machine market are addressing this issue with the help of robots in order to replace humans, owing to the social distancing norms. Small- and medium-sized companies are making use of government stimulus packages in order to efficiently plan their investments and expenditures.
The renewed interest in machinery automation and contact-less operations is growing evident in bakery packing process. Companies in the bakery packaging machine market are increasing the availability of smart solutions to guarantee productions and continue even when there is a lack of personnel. They are providing easy-to-clean machines to end users in order to cater to hygiene packaging demands.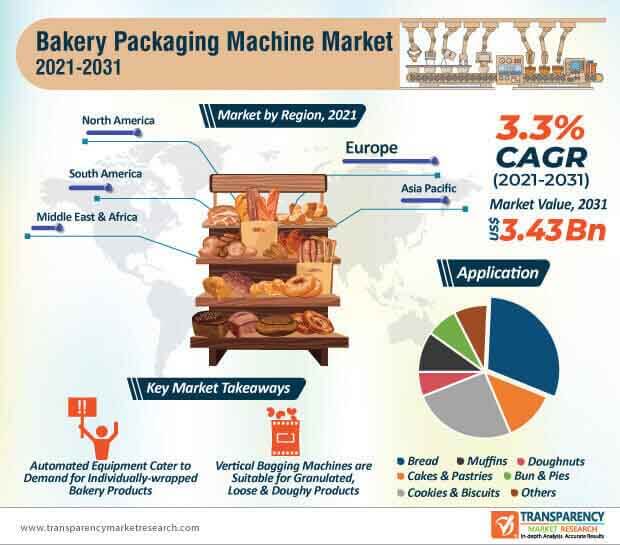 Request a sample to get extensive insights into the Bakery Packaging Machine Market
High Speed Automatic Packing Systems Guarantee Efficient Wrapping of Baked Goods
Different challenges for packaging of baked goods are emerging such as fragility of biscuits or low resistance of crackers to moisture. In order to gain a competitive edge in the highly fragmented bakery packaging machine market, stakeholders are boosting their R&D muscle to develop equipment that ensure bakery goods are efficiently wrapped in order to retain its freshness.
KernPack - a supplier of packaging machinery solutions, is gaining recognition for its equipment that guarantees shelf appeal in bakery products without compromising on quality. Manufacturers are innovating in high-speed automatic packing systems that deliver convenient pack sizes and packet opening methods that are important to consumers.
To understand how our report can bring difference to your business strategy, Ask for a brochure
Automated Portioning Equipment Help Adhere to Regulatory Requirements
The bakery packaging machine market is expected to cross the valuation of US$ 3.43 Bn by 2031. Automated portioning equipment are being publicized for optimizing bakery production. Automation has become a recurring trend in the bakery packaging machine market, since automated portioning equipment create more consistent output as compared to human workers. These machines ensure tighter quality control, since they eliminate the possibility of human error.
Automated portioning equipment are being programmed to meet specific and repetitive product parameters. Manufacturers are designing automated equipment that help end users to adhere to regulatory standards in order to make food traceability an important criterion for businesses to consider. These machines are assisting in data collection in cases of an employee injury, product recall, or any other issues.
Cutting-edge Machines Cater to Diversity of Products, Bakery Formats
The bakery packaging machine market is slated to clock a CAGR of 3.3% during the forecast period. This is evident since a highly competitive market landscape has fueled the demand for machines that cater to the diversity of products, formats, and presentations for bakery goods.
Harpak-Ulma Packaging LLC - a designer and manufacturer of automated packaging equipment, is gaining popularity for its flow wrapping, thermoforming, and tray sealing machines, among others. Manufacturers in the bakery packaging machine market are designing vertical bagging machines that are ideal for loose products, granulated products, and doughy products.
Stuck in a neck-to-neck competition with other brands? Request a custom report on Bakery Packaging Machine Market
Analysts' Viewpoint

Even though the coronavirus outbreak has led to temporary and permanent shut down of many restaurants, an increasing number of startups are emerging since stay-at-home orders are driving people to stock up bakery products. However, these startups are witnessing a scarcity of co-packers during the pandemic, as established bakery companies are also increasing efforts to run their production lines at full tilt to keep retailers shelves full. Hence, startup brands in the bakery packaging machine market should smartly invest in automated equipment to specially cater to the demand for individually wrapped bakery products mainly for hygiene and efficiency reasons. Stakeholders are investing in high speed automatic packaging systems for ultimate efficiency in wrapping applications.
Bakery Packaging Machine Market: Overview
Bakery packaging machines are the machines used to pack a variety of bakery products such as breads, biscuits & cookies, cupcakes, pastries, buns, etc. There are various types of machines used at three different stages of packaging, including primary, secondary, and tertiary. Filling and sealing machines are primary packaging machines, used to fill and seal various bakery products. These are either automatic or semi-automatic. Key types of filling and sealing machines are – vertical form and horizontal form machines and their subtypes such as flow wrapper, stand-up pouch bag machines, and pouch & bag sealing machines. Vertical bagging machines are used in both high-speed and mid-range packaging of fresh and dry bakery products.
Labelling machines are used to paste printed labels on finished bakery packaging products such as pouches, carton box, and trays. Key types of labelling machines are – automatic label printers, table top labelling machines, top and bottom label applicators, etc.
Rising Demand across End-use Industries, Expansion of Frozen Bakery Industry: Key Drivers of Bakery Packaging Machine Market
High demand for customized packaging provided to bakery products such as buns and pies, cakes, and pastries is identified as a key market driver of the bakery packaging machine market. The integrated packaging solutions generate high demand for bakery packaging products. Machines such as shrink bundling and industrial shrink wrap machines provide efficient packaging systems to bakery products including donuts, etc.
New processes have led to packaging, which best fits bakery products that can be packaged efficiently into suitable boxes, wraps, and accurate packaging. New processes such as easy-open packaging solutions, cluster production, cooling conveyors, and shaping & batch refining have generated high demand for high-quality bakery packaging machines.
Modern lifestyles and evolving food consumption patterns are influencing consumers to buy ready-to-bake products. This, in turn, is anticipated to drive the demand for frozen bakery food packaging machines in the upcoming years. Bake-off retailers such as bakery chains, restaurants, and supermarkets are preferring frozen breads, buns, and pastries as economic alternatives to serve their customers with value added and nutritious bakery food. Moreover, working women across developed and emerging economies are preferring frozen bakery products such as cookies, cakes, and muffins as a light snack during working hours.
High Demand for Tailor Fit Packaging: Key Market Opportunity
Fully automatic bakery packaging machines, which are fast and easy to clean are being used for tailor fit packaging wherein insert filled, standalone, flat-bottomed packages are required. These operations help in smoothening the task for packaging bakery products. Flow wrap filling and sealing machines are largely preferred for packaging biscuits and cookies. Rising demand for tailor-made horizontal machines and loading systems is expected to drive the growth of the filling and sealing machines segment during the forecast period.
Key manufacturers are frequently engaged in extensive R&D activities to develop innovative bakery packaging machines to target potential buyers. Automatic bag sealing machines are seeing increased sales. Automatic bakery packaging machines can be used easily, are extremely simple, and guarantee superior quality finished products. Vertical form fill and seal machines are engineered to pack bakery food in attractive pouches and trays of different styles.
Clean labelling of bakery goods is on the rise in Europe. Labelling machines are primarily used to paste labels on pouches, cartons, and other containers of finished products. Furthermore, these machines help to reduce labor cost and time required in manual labelling of bakery products.
Increasing diversity of bakery products require advancement in the packaging formats and product labelling. Vertical and horizontal form bakery packaging machines are accepted as flexible and efficient solutions by many industrial bakers. Bakery packaging machines featuring automatic loading and unloading are suitable for different packaging needs, including flow-wrapping, tray sealing, and thermoforming.
High Cost, Technical Expertise: Major Challenges
As bakery packaging machines such as filling and sealing machines comprise numerous components, they require regular inspection and maintenance by an expert team of engineers. Moreover, consistent maintenance is highly recommended to avoid unplanned downtime and costly repairs. Factory personnel must receive appropriate training from bakery packaging machines manufacturers to identify malfunction and resolve system breakdown. Moreover, additional costs are involved for aftermarket services, including failure investigation, replacement of components, and troubleshooting of temperature and air pressure issues.
High cost of technology and R&D is the key challenge for bakery packaging machine manufacturers across the global market
Bakery Packaging Machine Market: Competition Landscape
The research report provides detailed profiles of bakery packaging machine manufacturers to evaluate their financials, key product offerings, recent developments, and strategies
Key players operating in the global bakery packaging machine market are

ARPAC LLC
IMA-Ilapak
HOPAK MACHINERY CO., LTD.
Ulma Packaging
Cavanna
minipack®-torre S.p.A.
Frutmac GmbH
Campbell Wrapper Corporation
Nichrome Packaging Solutions
Yamato Corp.
Rianta packaging systems GmbH
Gerhard Schubert GmbH
PAXIOM Group
Syntegon Technology GmbH
JOIEPACK Industrial Co., Ltd.
Bakery Packaging Machine Market: Major Developments
Technology advancements, strategic alliances & partnerships, acquisitions, and investments in R&D and service networks are key strategies of bakery packaging machine manufacturers to meet the evolving needs of industrial bakers and bakery food retailers
Moreover, companies are focused on close association with end users to know the exact requirement and deliver industry specific solutions. Some key developments in the global bakery packaging machine market are highlighted below:

In May 2021, Yamato Corp. purchased a 96,500-square-foot industrial property at Wisconsin, U.S. to expand production capacity of bakery packaging machines
In May 2021, Minipack-torre S.p.A. introduced various new horizontal packaging machines for bakery products. These bakery packaging machines are quick, accurate, and safe. The machines are also compact and esthetically pleasing, which is estimated to help the company in the long-run.
In April 2021, Heat and Control, Inc. opened a new factory in Mexico. The new facility will enable new and modernized packaging machinery and engage more customers long term. The total plot size of 728,554 sq. ft. (67,685 sq. m) includes a warehouse, manufacturing, R&D and demonstration center, and offices.
In March 2019, Rianta packaging systems GmbH partnered with Optima Group, a sales company in the U.S. to intensify sales activities in North America

The global bakery packaging machine market report also discusses product portfolio and key business strategies followed by bakery packaging machines companies. The 'Competition Landscape' section has been included in the report to provide readers with a dashboard view and company market share analysis of key players operating in the global bakery packaging machine market.
Bakery Packaging Machine Market – Scope of Report
A new study on the global bakery packaging machine market has been published by Transparency Market Research (TMR). It presents a wealth of information on key market dynamics, including drivers, market trends, and challenges, as well as the structure of the global bakery packaging machine market across the globe. TMR's study offers valuable information about the global bakery packaging machine market to illustrate how the market would grow during the forecast period, 2021–2031.
Key indicators of market growth, which include value chain as well as supply chain analyses, and compound annual growth rate (CAGR), are elucidated in TMR's study in a comprehensive manner. This data can help readers interpret quantitative growth aspects of the global bakery packaging machine market during the forecast period.
An extensive analysis of business strategies of leading market players is also featured in TMR's study on the global bakery packaging machine market. This can help readers understand principal factors to foresee growth in the global bakery packaging machine market. In this study, readers can also find specific data on the qualitative and quantitative growth avenues for the global bakery packaging machine market, which is expected to guide market players in making apt decisions in the future.
Key Questions Answered in TMR's Bakery Packaging Machine Market Study
What are the key factors influencing the bakery packaging machine market in each region?
What will be the CAGR of the global bakery packaging machine market between 2021 and 2031?
What is the future scope and current trends in terms of sizing and distribution channel of the global bakery packaging machine market?
What is the revenue of the global bakery packaging machine market based on the respective segments?
Which are the key strategies used by top players of the global bakery packaging machine market?
Which are the leading companies in the global bakery packaging machine market?
Research Methodology – Bakery Packaging Machine Market
A unique research methodology has been utilized by TMR to conduct comprehensive research on the growth of the global bakery packaging machine market and arrive at conclusions on the future growth prospects of the market. This research methodology is a combination of primary and secondary research, which helps analysts warrant the accuracy and reliability of the drawn conclusions.
Secondary sources referred to by analysts during the production of the global bakery packaging machine market report include statistics from company annual reports, SEC filings, company websites, World Bank database, investor presentations, regulatory databases, government publications, and industry white papers. Analysts have also interviewed senior managers, product portfolio managers, CEOs, VPs, and market intelligence managers, who contributed to the production of TMR's study on the bakery packaging machine market as a primary source.
These primary and secondary sources provided exclusive information during interviews, which serves as a validation from bakery packaging machine industry leaders. Access to an extensive internal repository and external proprietary databases allows this report to address specific details and questions about the global bakery packaging machine market with accuracy. The study also uses the top-down approach to assess the numbers for each segment and the bottom-up approach to counter-validate them. This has helped in making TMR's estimates on the future prospects of the global bakery packaging machine market more reliable and accurate.
Bakery Packaging Machine Market – Segmentation
TMR's study on the global bakery packaging machine market includes information categorized into six sections - machine type, packaging type, mode of operation, application, distribution channel, and region. Changing industry trends and other crucial market dynamics associated with these sections of the bakery packaging machine market are discussed in detail.
Machine Type

Filling & Sealing Machines
Labeling Machines
Strapping/Bundling Machines
Tape Machines
Others (Stretch Wrapping Machines, etc.)

Packaging Type

Primary Packaging
Secondary Packaging
Tertiary Packaging

Mode of Operation
Application

Bread
Cakes & Pastries
Cookies & Biscuits
Doughnuts
Muffins
Bun & Pies
Others (Bars, Candies, Rusk, etc.)

Distribution Channel

Direct Sales
Indirect Sales

Region

North America

U.S.
Canada
Rest of North America

Europe

U.K.
Germany
France
Rest of Europe

Asia Pacific

China
India
Japan
Rest of Asia Pacific

Middle East & Africa

GCC Countries
South Africa
Rest of Middle East & Africa

South America

Brazil
Rest of South America
Custom Market Research Services
TMR offers custom market research services that help clients to get information on their business scenario required where syndicated solutions are not enough.
REQUEST CUSTOMIZATION

Bakery Packaging Machine Market