Bag-in-Box Containers Market: Snapshot
The demand for aseptic and convenient packaging formats on the part of the consumer and the need to reduce per-package cost price on the part of the manufacturer are the prime factors behind the emergence and rising adoption of bag-in-box containers across industries. Bag-in-box containers, as against conventional packaging solutions, provide improved hygiene and safety features in addition to greater convenience in packaging, storage, and transportation and low space utilization.
While the sales of bag-in-box containers are anticipated to amount to US$2.7 bn by the end of 2016, the market is anticipated to face a major challenge from the introduction of competitive alternate products such as cubitainers. Nevertheless, the surging demand for bag-in-box containers for wine packaging is expected to help overcome growth restrictions and give the global market a significant push to expand at a 6.5% CAGR from 2016 to 2024.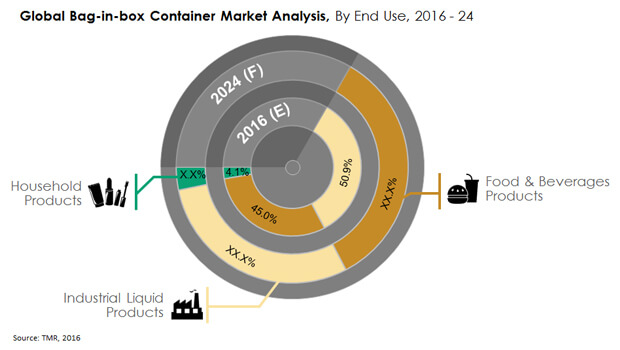 Soaring Opportunities in Customized Bag-in-Box Containers
Based on end use, the global bag-in-box containers market caters to the food and beverages industry, household applications, and industrial liquids packaging companies. The food and beverages sector dominates the global bag-in-box containers market with a share amounting to over three-fourths of the overall market by end use. This segment comprises alcoholic beverages, non-alcoholic beverages, and liquid foods. The use of bag-in-box containers for household products is anticipated to witness the fastest growth over the forecast period at an 8.8% CAGR.
Bag-in-box containers are made from low-density polyethylene (LDPE), ethylene vinyl acetate (EVA), ethylene vinyl alcohol (EVOH), and other materials. Low-density polyethylene is the most widely used material for bag-in-box containers and accounts for a prominent share in the global market owing to its high consumption in the packaging of food and beverages as well as household products. Driven by its oxygen barrier properties, ethylene vinyl alcohol is anticipated to gain traction over the forecast period in the packaging of food items and beverages.
By the type of received order, the global bag-in-box containers market includes standard orders and customized orders. Bag-in-box containers are mainly available in a standard format and thus, the segment accounts for the maximum share. However, customized bag-in-box offerings are expected to present lucrative opportunities for manufacturers. This segment is projected to expand at a CAGR of 7.7% from 2016 to 2024.
Asia Pacific to Gain Traction in Near Future
On the basis of geography, the global bag-in-box containers market is segmented into North America, Asia Pacific, Europe, Latin America, and the Middle East and Africa. Europe is the largest revenue generator in the global bag-in-box containers market in terms of value and volume. Latin America is anticipated to witness the highest growth over the forecast period, registering a CAGR of 8.0%. The growing demand for bag-in-box containers is likely to boost the Asia Pacific market, with countries such as China and India emerging as major contributors to the growth of the regional market. Prominent bag-in-box container manufacturers have been significantly investing in these countries in the recent past. The bag-in-box containers market in MEA is expected to witness moderate growth in the coming years.
Leading players in the global bag-in-box containers market include Smurfit Kappa Group, DS Smith, Amcor Limited, Liqui-Box, Scholle IPN, CDF Corporation, Vine Valley Ventures LLC, Parish Manufacturing Inc., TPS Rental Systems Ltd, and Optopack Ltd. Companies have been mostly focused on geographical and capacity expansions in order to secure a top spot among the global leaders.
The report covers forecast and analysis for the global bag-in-box container market on the global as well as regional level. The study provides historical data of 2014 along with forecast for 2017 to 2024 based on volumes ('000 units) and revenue (US$ Mn). The study includes drivers, restraints, opportunities, and trends for global bag-in-box market with their impact on demand during the forecast period. Market dynamics in the report are justified with the help of quantitative and qualitative data which is verified by primary and secondary sources. The report includes segmentation, targeting & positioning (STP) analysis, and value proposition analysis which would enable clients to differentiate their strategy. The report also includes regional pricing analysis and supply chain analysis with list of raw material suppliers and prominent buyers by region.
In order to provide the users of this report with comprehensive view of the market, we have included detailed competitiveness analysis and company players with unique selling propositions. The competition dashboard provides detailed comparison of bag-in-box films manufacturers, fitment manufacturers, and machinery manufacturers on parameters such as strategic focus, unique selling proposition, and market share. The study also provides market attractiveness analysis by end use, by material type, and by order type.
Inflation is not part of pricing in this report. Prices of bag-in-box containers vary in each region. Hence, similar volume to value ratio does not follow for each individual region. Prices of bag-in-box containers across major regions have been taken into account while estimating and forecasting market revenue on the global basis. We have used bottom-up approach to arrive at the global market, considering individual application segments and integrating them to arrive at a global number.
For the research report, we conducted in-depth interviews and discussions with key industry experts and opinion leaders. We reviewed key players' product literature, press releases, white papers, annual reports, relevant document for competitive analysis and market understanding. Secondary sources include technical writing, statistical data from government websites, trade associations, and agencies. This has proven to be effective, reliable, successful approach precise market data, and recognizing business opportunities.
Key players in the bag-in-box containers includes Amcor Limited, CDF Corporation, TPS Rental Systems Ltd, Optopack Ltd, Smurfit Kappa Group, DS Smith, Liqui-box, and Scholle IPN. Company profiles include attributes such as company overview, financial overview, business strategy, SWOT analysis, and recent developments.
The market has been segmented as follows:
Global bag-in-box container market on the basis of end use
Food & Beverages

Alcoholic Beverages
Non-alcoholic beverages (juice, smoothies, etc.)
Liquid food (cooking oil, milk & other, dairy products )

Industrial Liquid Products (chemicals, battery acids, etc.)
Household products (Liquid washing & cleaning products, Water, cosmetics, etc.)
Global bag-in-box container market on the basis of material type
Low Density Polyethylene (LDPE)
Ethylene Vinyl Acetate (EVA)
Ethylene Vinyl Alcohol (EVOH)
Others (Nylon, poly-butylene terephthalate, etc.)
Global bag-in-box container market on the basis of order type
Standard Order
Customized Order
Bag-in-box container market – Regional Analysis by region
North America
Latin America

Brazil
Mexico
Rest of Latin America

Europe

Germany
France
U.K.
Italy
Spain
Nordic
Russia
Poland
Benelux
Rest of Europe

Asia Pacific (APAC)

China
India
Japan
Australia & New Zealand
ASEAN
Rest of Asia Pacific

Middle East and Africa (MEA)

GCC Countries
South Africa
North Africa
Rest of MEA