Retreaded Tire Market
Retreaded Tire Market (Tire Type: Radial, Bias, and Solid; Process: Pre-cure [Cold Treading] and Mold-cure [Hot Treading]; and Vehicle Type: Two Wheeler Vehicle, Passenger Vehicle, Commercial Vehicle, and Off-road Vehicle) – Global Industry Analysis, Size, Share, Growth, Trends, and Forecast, 2021–2031
Category :

Automotive & Transport

Format :
Volatile Market Developments Compel Manufacturers to Adapt to COVID-19 Uncertainties
Despite the impact of COVID-19, the demand for medium truck tire retreads dropped only slightly from previous-year levels in the U.S. However, the lack of enough truck drivers and workforce is causing a slowdown in the business activities. The India retreaded tire market, on the other hand, is facing poor market sentiments due to the ongoing pandemic. This has taken a toll on India's GDP, since the automotive industry accounts for a large share of the GDP. As such, mass vaccination programs are anticipated to revive market growth in India.
The emerging COVID-19 scare due to the ever-evolving infection in Peru and European countries has compelled manufacturers in the retreaded tire market to adopt contingency planning. Retreaders are collaborating with fleet operators to keep economies running during the pandemic. Plymouth's Bandvulc Tyres Ltd.— a seller of recycled and retreaded tires for commercial trucks & lorries, is being publicized for administering sales growth during the pandemic.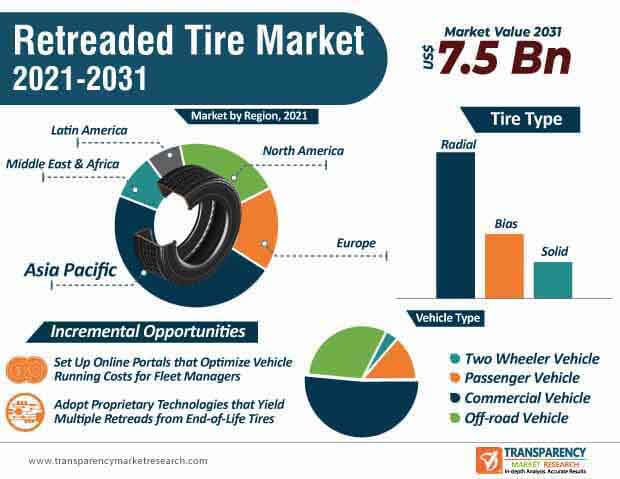 Request a sample to get extensive insights into the Retreaded Tires Market
Budget Tires Emerge as Threat to Retreaded Tire Sales
Though retreaded tires offer advantages of environment conservation, the influx of budget tires is leading to a paradigm shift in the market landscape. This explains why the retreaded tire market is slated to clock a CAGR of 0.26% during the assessment period. Budget tires are less expensive than retreaded tires and freshly made tires that offer better quality than retreaded tires. Thus, apart from retreading, stakeholders must diversify their business capabilities in budget tires to stay relevant in the market and supply retreaded tires for customers that place special requirements.
Manufacturers are establishing robust on-site mixing facilities where manufacturers can work with suppliers to procure new types of oils, polymers, and other materials.
To understand how our report can bring difference to your business strategy, Ask for a brochure
B2B Online Ordering Systems, Technical Support Significant for Companies
In order to revive growth in the retreaded tire market, owing to a sluggish CAGR, companies are going the extra mile to offer technical support, quality control, and visibility. Marangoni— a worldwide recognized brand in retreading systems is increasing the focus on B2B online ordering systems and technical support on machinery and casings in order to improve finished product quality. Technological innovations are at the forefront for stakeholders in the retreaded tire market. Commercial and managerial tools & courses are being implemented to optimize resources and achieve better results.
Manufacturers are increasing their R&D muscle to develop tires without joints and weak structural points to guarantee perfect adhesion and new-tire-level performance. They are gaining proficiency in tire retreading systems that use spliceless pre-cured rings, which fits perfectly to the casing.
Online Portals Help Optimize Running Costs for Fleet Managers
With professional management aimed at meeting business needs of customers, Michelin— a France-based multinational tire manufacturing company, is publicizing its MICHELIN Remix® retreaded tires that deliver same performance levels as per safety, robustness, and mileage of new MICHELIN tires. Since commercial vehicles are expected to dictate the highest revenue share compared to all vehicle types in the retreaded tire market, manufacturers are mainly focusing on set up online portals that help to optimize the running costs for fleet managers.
Companies in the retreaded tire market are carrying out retreading as per recommendations from manufacturers and service providers. The decline in raw material consumption is one of the major advantages of retreaded tires. This signals less waste to recycle for a retreaded tire. Retreading is being linked with saving on natural resources.
U.K. Holds Lucrative Growth Opportunities for Retreaders
Apart from trucks, manufacturers in the retreaded tire market are unlocking incremental opportunities by extending supply for civil airliners, since more than 70% of these airliners are fitted with retreaded tires. The U.K. buses are gaining popularity for using retreaded tires. This is evident as an increasing number of end-of-life truck tires is rising in the U.K. every year.
Europe is estimated to dominate the highest revenue share among all regions in the retreaded tire market during the forecast period. More than 90% of the truck tire retreads used in the U.K. are manufactured in the nation. Such findings are grabbing the attention of stakeholders in the market. Moreover, the U.K. retreading industry supports the job of several thousand workers. These jobs are located in deprived areas of the country.
Environment Conservation, Accountability of Processes Create Uniform Retreaded Tire Products
Retreading technologies are emerging as an environment-friendly way to protect bottom lines. This technique helps to reduce the tire total cost of ownership (TCO). Manufacturers in the retreaded tire market are taking advantage of saving on million gallons of oil annually throughout the world. Since end-of-life tires end up in landfills, manufacturers can use them to deploy in trucks and civil airliners.
The low rolling resistance with retreaded tires helps to ensure maximum fuel efficiency. Manufacturers in the retreaded tire market are adopting proprietary technologies that yield multiple retreads. Carefully monitored and audited multi-step manufacturing processes help to deliver uniform results in end products. On-site digital apps are ensuring better manufacturer, supplier, and customer relationships and accountability. There is a demand for consistent and nationwide retread warranty for tires.
Circular Economy, New Tire Design Technology Offer Revenue Opportunities for Manufacturers
The concept of circular economy is becoming a fast growing phenomena in the Europe retreaded tire market. Laura D'Aprile, Director General for the Circular Economy at the Ministry of the Environment, has stressed on the role played by retreaded tires as products resulting from recovery and restoration of end-of-life tires. Manufacturers are taking advantage of such opportunities since repair, reuse, and eco-design are forming the basis of the European plan for establishing a circular economy.
Advanced tire design technology, proven tread designs, and new tire manufacturing standards are contributing to the growth of the retreaded tire market. Technological innovations are delivering reliable retreads that are designed to meet end-use applications and help maximize tire assets. Manufacturers are focusing on important manufacturing processes such as initial inspection, bussing, and casing integrity analysis (CIA), among others, to increase the availability of high quality products.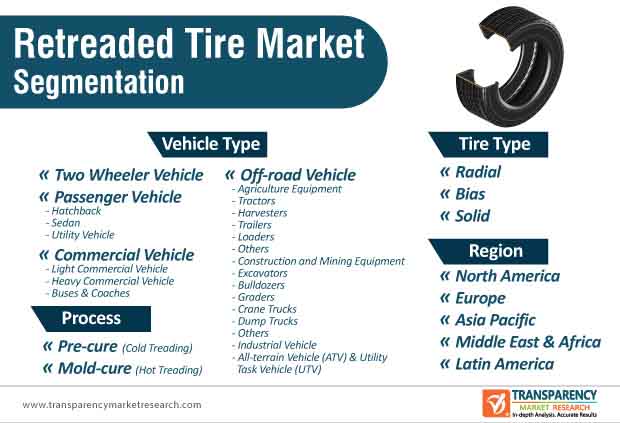 Stuck in a neck-to-neck competition with other brands? Request a custom report on Retreaded Tires Market
Analysts' Viewpoint

Even though profits are increasing for certain companies, poor market sentiments and economic downturn are compelling manufacturers in the retreaded tire market in various countries to diversify their business streams such as in buses, trucks, and civil airliners. The market is expected to reach US$ 7.5 Bn by 2031. However, budget tires and quality compromise with retreaded tires as compared to new tires are emerging as challenges for stakeholders. Hence, companies in the market should adopt proprietary technologies, new tire designs, and multi-step manufacturing processes to ensure uniformity and quality in retreaded tires.
Retreaded Tire Market: Overview
The global retreaded tire market was valued at US$ 7 Bn in 2020. It is estimated to expand at a CAGR of 0.26% from 2021 to 2031. Tire retreading is the process of tire remolding, wherein selected and inspected tires receive a new tread. In retreading, a worn casing of a tire are removed through a process called buffing. Subsequently, the tire undergoes a series of processes such as preparation and building, which lead to new treads being generated on the tire. The revamped tire is subsequently taken for a curing process in which the new rubber is vulcanized to the original casing.
Retreading is dependent on availability of good strength tire casings. In retreading, the tire casing passes through various pressures and temperature settings for creating new treads after which it is used in vehicles for running nearly the same number of miles as the original tires. This makes strength of tire casings a vital prerequisite for retreading. Several tire manufacturers such as MICHELIN and Bridgestone Corporation have introduced high strength tires certified for retreading twice or thrice over their lifespan. These new high strength tires are driving the global retreaded tire market.
Drivers of Retreaded Tire Market
Rise in rubber waste generated from used tires has become a major concern worldwide, thereby creating awareness for efficient tire waste management. According to the data collected by the U.S. Tire Manufacturers Association, more than 300 million tires are scrapped annually in the country. These tires are often dumped illegally in lakes, abandoned lots, or along the side of the road. Retreading is being widely adopted and promoted across the globe to overcome the challenges posed by this growing heaps of waste tires. Retreaded tires also save millions of gallons of oil, which is required to manufacture new tires. It takes 22 gallons of oil to manufacture a new tire, while only 7 gallons is required for a retreaded tire. Government agencies are also promoting retreading through various programs. For instance, the California Integrated Waste Management Board (CIWMB) has awarded a grant to the Tire Retread Information Bureau for promoting retreading across the U.S. Thus, growing awareness about tire waste management is boosting the global retreaded tire market.
Commercial vehicle fleet operators are continuously striving to lower the operational costs of their vehicles. Tires are a major contributor to the operational costs of fleet vehicles; hence, numerous fleet operators are opting for retreading. This assists vehicle owners to save considerable amount of money. New tires available in the market can be retreaded at least twice or thrice, and this helps to save up to 40% of money every time. These monetary benefits are further propelling the global retreaded tire market.
Technical innovations in tire retreading process, such as 3D printed retreading, are aiding market players to boost revenues by minimizing the time required in the process of retreading and also reducing the number of equipment used in traditional retreading. Furthermore, development of advanced treads with better performance characteristics is attracting more number of customers, thus further propelling the profits of industry participants. These technological advancements are fueling the global retreaded tire market.
Challenges for Retreaded Tire Market
New budget tires are gaining popularity in the market, which are imported from countries in Asia, such as China, available at more affordable prices. More number of vehicle owners prefer these tires due to budget constraints. Availability of these new economic budget tires is restraining the retreaded tire market across the globe.
The COVID-19 pandemic hampered majority of businesses across the globe, owing to the forced lockdown, which caused people to stay at home. Presently, second and third waves of COVID-19 pandemic have hit multiple countries in Europe and Asia Pacific. This has further reduced the demand for retreaded tires, as industries are operating at limited capacities and consequently, commercial vehicles travel less miles and perform less trips, which reduce the wear of tires. Moreover, movement of people is restricted, which reduce the wear of passenger vehicle tires. This has negatively impacted the global retreaded tire market.
Segmentation of Retreaded Tire Market
The global retreaded tire market has been segmented based on tire type, process, vehicle type, and region
Based on tire type, the radial tire segment dominated the global retreaded tire market, in terms of revenue, in 2020. Radial tires operate at a lower temperature at highway speeds and under load. Steel belts in these tires provide tougher construction and higher puncture resistance. This increases the life of tires, which has further fueled the popularity of these tires. Therefore, more number of radial tire casing is available for retreading and customers demand for retreaded radial tires.
Based on vehicle type, the commercial vehicle segment dominated the global retreaded tire market, in terms of revenue, in 2020. Commercial vehicle fleet operators need to frequently replace tires of their vehicles due to high loads and more miles travelled by these vehicles, which causes rapid wear of tires. Rising number of industries, warehouses, and other commercial facilities boost sales and miles driven by transport vehicles, which is propelling the share held by the commercial vehicle segment of the global retreaded tire market.
Regional Analysis of Retreaded Tire Market
The global retreaded tire market has been segregated into North America, Asia Pacific, Europe, Latin America, and Middle East & Africa
Asia Pacific held a major share of the global retreaded tire market in 2020. The region has high presence of leading tire manufacturers and retreading companies such as Bridgestone Corporation, THE YOKOHAMA RUBBER CO., LTD., Apollo, and several others. ASEAN countries such as Thailand and Indonesia are home to major manufacturers of rubber, which is an essential raw material for retreading. This provides retreading companies with undisrupted supply of raw material and tire casings. Furthermore, rising industrialization in the region has boosted the miles traveled by commercial vehicles, thereby increasing the demand for replacement tires. These factors are contributing to the high share held by Asia Pacific of the global retreaded tire market.
Retreaded Tire Market: Competition Landscape
Key players operating in the global retreaded tire market are

Akarmak
Apollo
Bridgestone Corporation
Continental AG
Kal Tire
Marangoni S.p.A.
MELION INDUSTRY CO.LTD.
MICHELIN
MRF Limited
Parrish Tire and Automotive
RDH Tire & Retread Co.
Service Tire Truck Centers
The Goodyear Tire & Rubber Company
THE YOKOHAMA RUBBER CO.LTD.
Tyresoles
West End Tire

Key players operating in the global retreaded tire market are expanding their market share by engaging in mergers and acquisition or establishing new facilities. For instance, June 2021. Apollo Tyres inaugurated its new tire retread center in the Karnataka state of India. In other instance, in May 2020, Bridgestone Corporation announced the acquisition of Germany-based specialist tire trade group, REIFF Reifen und Autotechnik GmbH. This company operates through a network of 42 retail stores and a tire retreading plant in Germany.
Retreaded Tire Market – Scope of Report
Transparency Market Research's recent report on the retreaded tire market, with the help of a comprehensive outlook, provides readers with an assessment of the global market landscape. This study on the retreaded tire market analyzes the scenario for the period of 2021 to 2031, wherein, 2020 is the base year and 2019 and before is historical data. This report enables readers to make important decisions with regard to their business, with the help of a wealth of information enclosed in the study.
This TMR study on the retreaded tire market also provides data on the developments made by important players and stakeholders in the market, along with a competitive analysis. The report also provides an understanding of strengths, weaknesses, threats, and opportunities, along with the trends and restraints in the landscape. Presented in a clear sanctioned manner, this report on the retreaded tire market gives readers an individual understanding of the market.
Key Questions Answered in This Report on Retreaded Tire Market
How much value will the retreaded tire market generate by the end of the forecast period?
Which segment of the market is likely to have the maximum market share by 2031?
What are the impact factors and their effects on the market for retreaded tires?
What regions currently contribute the maximum share to the overall retreaded tire market?
What are the indicators expected to drive the retreaded tire market?
What region is likely to be a lucrative market during the forecast period?
What are the essential strategies by key stakeholders in the retreaded tire market to expand their geographic presence?
What are the major advancements witnessed in the retreaded tire market?
How regulatory norms affected the market for retreaded tire market?
This report answers these questions and more about the retreaded tire market, aiding major stakeholders and key players in making the right decisions and strategizing for the advancement of their business.
Retreaded Tire Market – Research Methodology
This TMRa report on the retreaded tire market is based on a complete and comprehensive evaluation of the market, backed by secondary and primary sources. Market volume is determined by country wise model mapping of vehicle through internal & external proprietary databases, and relevant patent and regulatory databases. The competitive scenario of the retreaded tire market is supported by an assessment of different factors that influence the market on a minute and granular level. By thoroughly analyzing the historical data, current trends and announcement by the key players, researchers of the retreaded tire market arrive at predictions and estimations, and calculate the forecast for the market.
This report uses an analytical triangulation method to estimate the numbers and figures of the retreaded tire market, with both a bottom-up and top-down approach.
This detailed assessment of the retreaded tire market, along with an overview of the landscape, is provided based on a careful examination of the avenues related to this industry. Analysts' conclusions on how the retreaded tire market is estimated to expand are based on carefully vetted primary and secondary sources.
Retreaded Tire Market – Segmentation
This report on the retreaded tire market provides information on the basis of tire type, process, vehicle type, and region.
Tire Type
Process

Pre-cure (Cold Treading)
Mold-cure (Hot Treading)

Vehicle Type

Two Wheeler Vehicle
Passenger Vehicle

Hatchback
Sedan
Utility Vehicle

Commercial Vehicle

Light Commercial Vehicle
Heavy Commercial Vehicle
Buses & Coaches

Off-road Vehicle

Agriculture Equipment
Tractors
Harvesters
Trailers
Loaders
Others
Construction & Mining Equipment
Excavators
Bulldozers
Graders
Crane Trucks
Dump Trucks
Others
Industrial Vehicle
All-Terrain Vehicle (ATV) & Utility Task Vehicle (UTV)

Region

North America
Europe
Asia Pacific
Middle East & Africa
Latin America
This study also discusses the underlying trends and impact of various factors that are driving the retreaded tire market, along with their influence on the evolution of the market.
This study also offers Porter's Five Point Analysis, value chain analysis, regulatory scenario, and a SWOT analysis of the retreaded tire market in order to elaborate the crucial growth tactics and opportunities for market players contributing to the market.
Custom Market Research Services
TMR offers custom market research services that help clients to get information on their business scenario required where syndicated solutions are not enough.
REQUEST CUSTOMIZATION

Automotive Retreaded Tires Market