Automotive Camera Market
Automotive Camera Market (Product Type - Side-view Cameras, Interior-view Cameras, Forward-view Cameras, Rear-view Enhancement, and Corner-view Cameras; Vehicle Type - Compact Passenger Cars, Mid-sized Passenger Cars, Premium Passenger Cars, Luxury Passenger Cars, Light Commercial Vehicles, and Heavy Commercial Vehicles; Application - Blind Spot, Drive Recorders, 360° Surround View, LDWS, Night Vision, Parking Surround View, Drowsiness, Distance, AFS, and Other Applications; Technology - Mono Cameras, Stereo Cameras, Infrared Cameras, and Other Cameras) - Global Industry Analysis, Size, Share, Growth, Trends, and Forecast 2017 - 2026
Category :

Automotive & Transport

Format :
Automotive cameras are utilized for a variety of applications such as cruiser control systems and night vision systems in vehicles, particularly in passenger cars. Automotive cameras are installed in the rear and front side of automobiles as well as inside them for safety purposes. Vehicles equipped with these cameras offer better driving experience by enhancing the front and rear view of the driver.
Ongoing Advancements in Camera Technology Leading toward Cost Reduction
Over the past few years, camera-based automotive systems such as driver assistance systems have witnessed a surge in advancements, along with increasing aftermarket sales of cameras for parking surround view. Ongoing advancements in camera technology coupled with spurred production output are likely to reduce the cost of automotive cameras drastically, thereby propelling their adoption. Demand for sensing cameras for application in advanced driver assistance systems (ADAS) has increased significantly, with rising focus on safety measures on the back of road accidents. Automotive cameras have evolved considerably for integration with safety systems of vehicles. For example, a lane departure warning system leverages the video camera technology, equipped with electrically-powered steering, for enabling speedy feedback in case of critical conditions, such as swaying away from the active lane.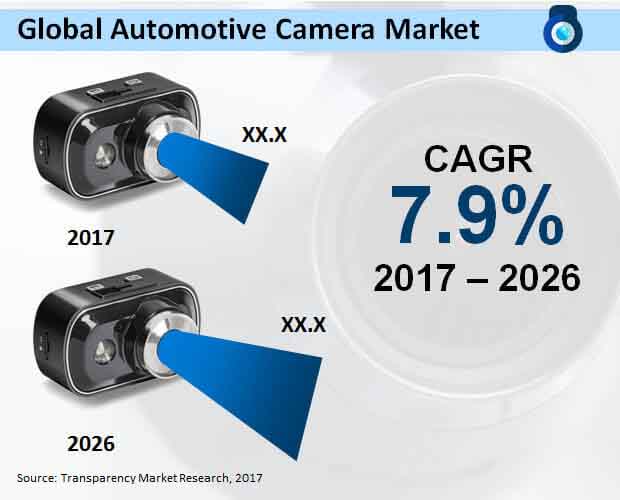 Increasing demand for cameras such as thermal camera, digital camera, and infrared camera in commercial vehicles is further expected to augment growth of the automotive camera market. In addition, shifting concentration of manufacturers toward using camera as a replacement for side-view mirrors will create new opportunities in the foreseeable future. Growth of the global automotive camera market is expected to remain impressive throughout the forecast period, 2017 to 2026, according to a recently published report of Transparency Market Research (TMR). Roughly US$ 5,000 Mn revenues will be reaped from sales of automotive camera around the world by 2026-end.
APEJ to Remain Most Financially Rewarding Market for Automotive Camera
Countries in Asia-Pacific excluding Japan (APEJ), such as South Korea, India and China, are experiencing rapid growth in industrialization, coupled with spurred automobile production. Increasing purchasing power of the middle-class population have fuelled demand for passenger vehicles as well as luxury vehicles equipped with advanced safety systems. These factors have been significantly driving growth of the automotive camera market in APEJ. APEJ will continue to be the most financially rewarding market for automotive camera.
Europe is also expected to be a lucrative region for expansion of the automotive camera market. The market growth in Europe is mainly driven by soaring production volumes of light commercial vehicles, subsequent stringency in EC regulations, and impact of the New Car Assessment Program (NCAP). Vehicle owners in Europe highly demand for various driver assistance systems such as parking assistance systems and lane-departure warning systems. Automotive Camera Manufacturers in the region are seeking strategic partnerships with established OEMs, with an aim of gaining contract for supplying them with the whole camera systems.
Key Research Findings from TMR's Report on Automotive Camera Market
Rear-view enhancement cameras will continue to be the dominant product in the market, followed by corner-view cameras
Based on vehicle type, revenues from sales of automotive cameras in compact passenger cars will account for the largest share of the market during 2017 to 2026
Although parking surround view is expected to remain most profitable application of automotive cameras, sales in drowsiness application will register the highest CAGR through 2026
By technology, revenues from sales of stereo cameras and infrared cameras are projected to account for over three-fourth share of the market by 2026-end
Competition Tracking
Key market participants listed by TMR's report include Ambarella, Continental AG, Ficosa International S.A., KYOCERA Corporation, Delphi Automotive LLP, Media Data Systems Pte Ltd., Autoliv Inc., Qrontech Co. Ltd., Transcend Information Inc., Valeo Inc., and Robert Bosch GmbH.
Automotive Camera Market to See Uptick in Demand with Positive Consumer Sentiments
Camera technologies are proliferating in use in the automotive sector. Automotive cameras have rapidly expanding in functionality to meet the various passenger safety needs in modern vehicles. Modern automotive have increased the use cases of ultrahigh definition (UHD) displays as a part of advanced driver assistance and safety systems. The rapidly evolving regulatory landscape together with the consumer expectations has expanded the demand in the automotive camera market. Hardware manufacturers are keen on offering automotive OEMs energy-efficient camera technologies for enabling end users get access to vast video outputs. The growing popularity of high-definition camera technologies in various consumer devices has also raised expectations of customers in the automotive sector, thus boosting the prospect in the automotive camera market. A variety of camera link technology with different bandwidth requirements has hit the automotive camera market. The capabilities in automotive camera systems have also improved concurrently with bandwidth capabilities. An instance is the image quality. Autonomous driving presents an incredible opportunity for industry players in the automotive camera market. Rise in autonomous vehicle research has underscored the high potential of camera technology in the automotive industry. New types of cable assemblies are rising in prominence in the automotive camera market.
The automotive camera market has witnessed a temporary decline in research and development activities in 2020, when the Covid-19 pandemic hit the world. The pandemic led to massive lockdowns of economies activities including automotive manufacturing industry. However, in recent weeks and months, the consumer sentiment toward advanced automotive has started picking up pace. Numerous globally prominent automakers have also come into action and have begun getting into strategic deals to expand their brands and promote their brand positioning communication to engage consumers. This has opened new avenues in the automotive camera market. Furthermore, the research on autonomous driving has also started gaining momentum, with top players in developed nations willing to commit more money there.
Automotive cameras are a part of the bigger picture of automated driving, automotive electronics, and ADAS. These cameras have immensely benefitted from infrastructure left behind by manufacturers of digital still camera (DSC), along with the developed know-how from mobile cameras. A direct consequence is dramatic decline in average selling prices (ASP). Technology-wise, the way of manufacturing automotive cameras holds potential maturity. With standardization fostering competition between manufacturers, more players are paving their way to grab shares in the automotive camera market. The strong link between image analysis, and image acquisition in ADAS is the area where most of the automotive cameras are being characterized.
Transparency Market Research (TMR) has composed an insightful report on global market for automotive camera for the forecast period, 2017 to 2026. The report submits forecasts on the global automotive camera market, studying the market in detail, and offering important dynamics that are expected to influence the market expansion. Along with the intelligence on imperative trends, augmenting factors, and curbing factors impacting the market growth, the report offers analysis on relevant data across multiple market parameters.
Report Structure
The report's first chapter gives an executive summary of global market for automotive camera. This chapter provides a summation of global automotive camera market coupled with information on crucial market numbers such as the CAGRs during the historical period (2012-2016) and the forecast period (2017-2026) related to the market segments. A chapter offering an overview of global automotive camera market follows the executive summary, incorporating the definition of "automotive camera", which trails behind a concise market introduction. The overview portrays wide scope of global automotive camera market clearly. Chapters succeeding the overview elucidate key dynamics affecting demand for automotive camera worldwide, and inundates in-depth insights regarding bottom line of enterprises, fiscal stimulus, and the global economy.
Competition Landscape
A scrutinized analysis on the competition landscape of global automotive camera market is submitted in the last chapter of the report. This chapter includes information on prominent players significantly supporting the market growth. Occupancy of the market participants has been traced through an intensity map. Moreover, information on company overview, key developments, product overview, and key financials appertaining to these market players has been included in this chapter.
Research Methodology
A tested & proven research methodology is leveraged by TMR's analysts to compile the report on global automotive camera market. This research methodology has enabled the analysts to deliver accurate insights apropos to the global automotive camera market. The research methodology employed depends completely on primary & secondary researches, which have helped gain necessary information appertaining to global automotive camera market. All the information gathered is then validated a number of times by analysts for ensuring the report's authenticity.
Market Taxonomy
The report also propounds forecasts on the global market for automotive camera based on a segmentation analysis. Branching the global market for automotive camera into key segments viz. product type, vehicle type, application, technology, and region, associated market numbers in terms of revenue comparison, and Y-o-Y growth comparison, coupled with the market share comparison are included in the report. The global automotive camera market is segmented geographically into Middle East & Africa (MEA), North America, Europe, Latin America, Asia-Pacific excluding Japan (APEJ), and Japan.
Region

North America
Latin America
Europe
Japan
APEJ
MEA

Product Type

Side-view cameras
Interior-view cameras
Forward-view cameras
Rear-view enhancement
Corner-view Cameras

Vehicle Type

Compact Passenger Cars
Mid-sized Passenger Cars
Premium Passenger Cars
Luxury Passenger Cars
Light Commercial Vehicles
Heavy Commercial Vehicles

Application

Blind Spot
Drive Recorders
360° Surround View
LDWS
Night Vision
Parking Surround View
Drowsiness
Distance
AFS
Other Applications

Technology

Mono Cameras
Stereo Cameras
Infrared Cameras
Other Cameras
Custom Market Research Services
TMR offers custom market research services that help clients to get information on their business scenario required where syndicated solutions are not enough.
REQUEST CUSTOMIZATION