Corporate Wellness Market
Corporate Wellness Market: (Service Type - Health Risk Assessment, Fitness, Smoking Cessation, Health Screening, Weight Management, Nutrition) - Asia Pacific Industry Analysis, Size, Share, Growth, Trends, and Forecast, 2016 - 2024
Category :

Healthcare

Format :
Corporate wellness has helped organization in enriching the environment across their physical premises. Besides, it has propelled these organizations towards acquiring fruition in terms of employee welfare and management. As employee wellness become a core component of growth for companies, deployment of corporate wellness plans shall gather swing. The need to create congenial, healthy, and hygienic workspaces has promoted several companies to include corporate wellness on their charter of commitments. It is extremely important for vendors to understand the requirements of modern-day firms. Besides, customization of corporate wellness plans shall help these vendors to capture the attention of diverse groups of companies.
The performance index of multinational firms has dramatically improved post induction of corporate wellness programs. Besides, research studies find that companies who treat their employees as optimizable assets are more likely to achieve performance improvements. Therefore, there is little contention about the inflow of humongous revenues into the global corporate wellness market. Furthermore, the unprecedented need for ensuring health security for the employees has also created ripples across the market. The corporate sector is characterised by continual improvements in its practices and hierarchies. Employing a corporate wellness program could prove to be supremely rewarding for leading corporate entities.
In this report preview, Transparency Market Research (TMR) decodes several important factors concerning growth within the corporate wellness market. The use of corporate wellness programs across several industries including pharmaceuticals, healthcare, consulting, and finance shall offer fresh opportunities to market vendors. Moreover, several companies have been in disguise about their employee welfare schemes. The market vendors are persuading these companies to subscribe to economical wellness programs. This move could help the companies in freely declaring and promoting their schemes for employee welfare. The next decade is expected to witness the induction of corporate wellness programs across large percentage of major companies.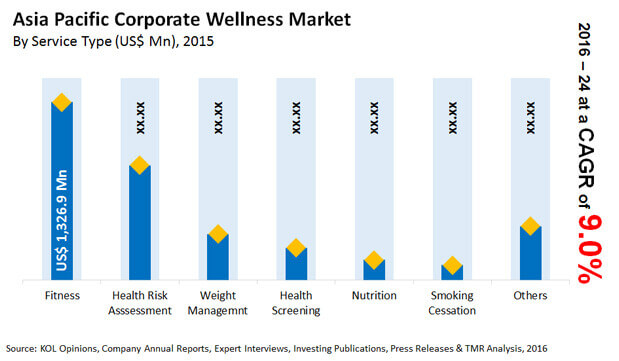 Health Risk Assessment Takes the Lead across Global Firms
Based on application, the global corporate wellness market can be segmented into health risk assessment, smoking cessation, fitness drills, weight management, nutritional advice, and health screening. The demand for health risk assessment and health screening has been the highest across the corporate sector. The holistic approach followed towards health management under the aforementioned applications has aided market growth. Moreover, economic viability of conducting regular health screenings has also played a vital role in market growth.
Governments have, time and again, focused on the need to build workspaces into safe, secure, and hygienic centers. Therefore, state authorities have stipulated several guidelines for corporate firms. Moreover, there are regular checks and appraisals conducted to check on the progress of new and established vendors. Presence of a corporate wellness program in place can be crucial for companies to be graded well by state inspection authorities. Henceforth, there are bright growth prospects for vendors and stakeholders operating in the global corporate wellness market.
Asia Pacific to Witness Steady Improvements in Employee Welfare Index
Several companies based in the US and Europe have entered Indian and Chinese markets over the past decade. Relaxation of barriers and foreign direct investment have played a key role in creating room for such companies. These companies have also brought with them key intellectual resources such as welfare schemes, training modules, and healthcare guidelines. Corporate wellness practices are also a part of such companies' intellectual repository. Therefore, the global corporate wellness market is attracting fresh revenues from vendors operating in the Asia Pacific market. Markets in Europe and North America have already reaped the benefits of early implementation.
Some of the leading players operational in the global corporate wellness market are ComPsych Corporation, Central Corporate Wellness, Optum, Inc., Truworth Wellness, SOL Wellness, JLT Australia (Recovre Group), Sodexo, and ConneXions Asia.
Remote Wellness to Accelerate the Growth Prospects across the Corporate Wellness Market
Mental health plays a crucial role in increasing productivity levels. If the mental condition of an individual is stable, s/he can effortlessly perform more tasks at hand. Employers are now focusing on the wellness of the employees to boost productivity. For fulfilling this aspect, corporate wellness programs are in extensive demand. Based on all these aspects, the global corporate wellness market expects to garner expansive growth opportunities across the assessment period of 2016-2024.
A corporate wellness program is an employers' approach to achieve the goal of a healthy workplace. Wellness programs consist of varied productivity-boosting activities for the employees. The activities are developed and created in such a way that they fit perfectly in the lives of the employees without disturbing their routines. The programs are ideal tools for employee acquisition and retention. The benefits associated with corporate wellness will bring tremendous growth opportunities.
Wellness programs are also customizable. Some programs are created and designed according to the size and type of a particular organization. These customizations bode well for the growth of the corporate wellness market. The escalating technological developments across the corporate wellness sector will further help in accelerating the growth prospects. The integration of corporate wellness programs with wearables and other devices will serve as a robust growth-generator during the assessment period.
The corporate wellness market is not affected negatively due to the pandemic. The novel coronavirus outbreak increased the demand for remote working mechanisms to a great extent. A large number of employees are now working from home. The pandemic is still wreaking havoc across the world. Thus, sensing the popularity of work-from-home mechanisms, the players in the corporate wellness market are creating and designing their programs accordingly. All these factors will assure profitable growth opportunities for the corporate wellness market during the tenure of 2016-2024.
Corporate Wellness Market: Brief Overview
The increasing awareness among employers regarding corporate wellness in Asia Pacific is expected to drive the growth of this market in the region. The increasing number of smokers in Asia Pacific and the growing prevalence of obesity have lead employers to consider corporate wellness programs for the health management and weight management of their employees to avert major health issues in the long run. By 2024 end, it is expected that the Asia Pacific corporate wellness market will reach an evaluation of US$7.4 bn exhibiting a CAGR of 9% between 2016 and 2024.
Some of the corporate wellness programs and services which are increasingly being utilized by employers include smoking cessation, fitness, health risk assessment (HRA), weight management, health screening, nutrition, diabetes management, vaccinations, and stress management. Among these, the growing incidence of chronic diseases, increasing awareness about health and fitness, and rapidly increasing cost of medical services will drive the fitness segment to the top. The smoking cessation segment is also expected to emerge as a key service expanding at a remarkable CAGR in the years to come. China in Asia Pacific ranks first in terms of cigarette consumption. Countries such as India, Japan, Indonesia and South Korea are also witnessing an increase in the number of smokers. Thus, the smoking cessation service will be in demand.
Corporate Wellness Market: Trends and Opportunities
One of the key factors boosting the growth of the corporate wellness market in the Asia Pacific is the increasing prevalence of non-communicable diseases such as chronic respiratory diseases, diabetes, cancer, and cardiovascular diseases. This has increased the anxiousness among employers and therefore they have started taking steps to promote the wellness and health maintenance of their employees by offering corporate wellness programs. Employers gain by doing so as it reduces the company's overall medical cost as well as boosts productivity. Another factor which is supporting the growth of the corporate wellness market is the increasing support it receives from the government.
However, the implementation of corporate wellness programs can be a costly affair as companies need to allot certain amount of budget from the revenue that they have generated. This is expected to deter many companies from incorporating corporate wellness programs and services for their employees. Another factor which is expected to challenge the growth of the market in Asia Pacific is the inefficient execution of corporate wellness services and programs, which in turn is increasing the cost of the companies trying to implement these services for their employees.
Corporate Wellness Market: Geographical Analysis
It is expected the China which has been leading in the corporate wellness market among the countries in Asia Pacific, will exhibit a remarkable CAGR of 9.1% between 2016 and 2024, fueled by the rising development and adoption of wellness programs, increasing incidences of chronic diseases, large-scale urbanization, and rapid economic development. Moreover, the China corporate wellness market is also supported by several private and public players.
Japan has made amendments in its Industrial Safety And Health Act which was implemented in 2015 end and due to this law, health check-ups for workers and employees have become mandatory which in turn is boding well for the corporate wellness market in Japan. In addition to this, the government also supports employee health programs which is also pushing the adoption of corporate wellness services in the country.
Lastly, India will also emerge as a lucrative market for corporate wellness on account of the willingness among organizations to conduct wellness programs. The increasing incidences of chronic diseases and rising awareness among individuals about fitness, health, and wellbeing will also lead the Indian corporate wellness market to flourish.
Corporate Wellness Market: Companies Mentioned
Prominent vendors operating in the corporate wellness market in Asia Pacific include Central Corporate Wellness, JLT Australia (Recovre Group), ComPsych Corporation, Bupa Wellness Pty Ltd., Optum, Inc., SOL Wellness, Truworth Wellness, Sodexo, and ConneXions Asia.
Custom Market Research Services
TMR offers custom market research services that help clients to get information on their business scenario required where syndicated solutions are not enough.
REQUEST CUSTOMIZATION

Asia Pacific Corporate Wellness Market