Anti-aging market is growing as the modern technologies have initiated the involvement of novel anti-aging treatments and products. Anti-aging market is segmented into products, services and devices. Anti-aging product market compared to services was observed to be resilient to economic cycles because it was observed that during a financial downturn customers shifted to cost efficient mass marketed products which prevented any major declination in products market.
Anti-aging market can also besegmented on the basis of age demographics such as baby boomers, generation X and generation Y. Baby boomers are observed to the major target for anti-aging industry as this generation is aging and have high disposable income. According to a statistical data, 44% of US population is of Baby Boomers and 70% of US's disposable income is owned by Baby boomers. It was also observed that baby boomers and generation X are the most aware and potential customers for anti-aging market. This age group is investing more into anti-aging products market as they have already crossed 50years and now expect to delay or mask the aging signs whereas generation X is investing more in anti-aging services market to maintain their appearance as they have reached in their forties.
Anti-aging market consists of products, services and devices among which by revenue product segment leads the market followed by services and devices. The future growth of products market was observed to depend on the innovation and technological development with increase in the efficacy and safety of anti-aging products.
North America is the leading geography for anti-aging market due to high awareness about aging signs, rise in obesity and sedentary lifestyle which are the major drivers of this market. Anti-aging services and products market are observed to be more mature markets than devices but demand for devices for personal use is increasing in this geography. Asia- Pacific market is expected to grow as the acceptance of new product, service or device has been increased over years due to awareness among population of Asia-Pacific and their growing economies have also added up to their disposable income capacities.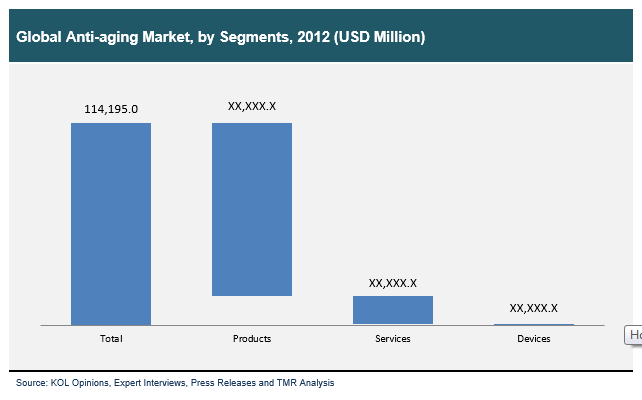 Anti-aging products and services are becoming highly prevalent owing to the growing number of aging baby boomers, which has fuelled the demand for numerous methods that can curb or reverse the signs of aging. The anti-aging products market in comparison with the anti-aging services market has become more resilient owing to the fact that in times of financial downturn, the customers' preferences shift to economical, mass-marketed products.
The report is a detailed breakdown of the entire anti-aging market and covers the wide variety of anti-aging products and services employed by the aging demographic. The report also includes a general market outlook and information on market drivers, trends, opportunities, and major selling products, among others. The market has been categorized on the basis of suppliers, product categories, and geographic regions.
Overview of the Anti-aging Market
The anti-aging market has expanded exponentially over the past few years and diverse consumer concerns are being catered to within this market. Along with wrinkles, other signs of aging are also being targeted, such as hyperpigmentation, age spots, dry skin, dark circles under the eye, and uneven skin tone, among others. The continuous demand for beauty products has led to the introduction of new innovative products and services within the anti-aging market.
On the basis of demographics, the global anti-aging market is segmented into generation X, baby boomers, and generation Y.
On the basis of product, the market is segmented into anti-wrinkle products, UV absorbers, anti-stretch marks products, and hair color.
On the basis of services, the market is segmented into adult acne therapy, anti-pigmentation therapy, liposuction services, breast augmentation, chemical peel, abdominoplasty, hair restoration, eyelid surgery, and sclerotherapy.
On the basis of devices, the market is segmented into microderm abrasion devices, anti-cellulite treatment devices, radiofrequency devices, and laser aesthetic devices.
The global anti-aging market is primarily fuelled by the increasing population base all around the world, particularly in countries that have a major share of baby boomers among their population. On the other hand, the anti-aging market is still considered to be a developing market as the consumers are still skeptical about some of the products and services being offered within this market. This factor may impede the growth of the market in the coming years. However, this restraint is being overcome owing to a number of technological advancements. These advancements may slowly reinstate the consumers' trust in the coming years.
On the basis of geography, the anti-aging market is segmented into Europe, North America, Asia Pacific, and Rest of the World (RoW). Amongst these, North America dominates the anti-aging market owing to increasing awareness about aging signs and the rise in sedentary lifestyles and obesity. On the other hand, the Asia Pacific anti-aging market is also predicted to expand owing to the acceptance of new devices, services, and products in this region. In addition, rising disposable income in this region has also accelerated the anti-aging market.
Key players in the Anti-aging Market
The key players dominant in the market include L'Oreal, SA, Allergan Inc., Cynosure Inc., Solta Medical Inc., Alma Lasers Ltd, Beiersdorf AG, Personal Microderm, Coty Inc., Photomedex Inc., and Lumenis Ltd, among others.
Major geographies analyzed under this research report are:
North America
Europe
Asia Pacific
Rest of the World
This report gives you access to decisive data such as:
Market growth drivers
Factors limiting market growth
Current market trends
Market structure
Market projections for the coming years
Key highlights of this report:
Overview of key market forces propelling and restraining market growth
Up-to-date analyses of market trends and technological improvements
Pin-point analyses of market competition dynamics to offer you a competitive edge
An analysis of strategies of major competitors
An array of graphics and SWOT analysis of major industry segments
Detailed analyses of industry trends
A well-defined technological growth map with an impact-analysis
Offers a clear understanding of the competitive landscape and key product segments