Air Transport USM Market
Air Transport USM Market (Product Type - Engine, Components, and Airframe; Aircraft Type - Narrowbody Jet, Widebody Jet, Turboprop, and Regional Jet; Provider Type - OEM and Non-OEM) - Global Industry Analysis, Size, Share, Growth, Trends, and Forecast 2017 - 2026
Defense
TMRGL37751
2018-01-08
170

Pages
Increasing fuel prices and dwindling air ticket fares in the face of brimming demand for air transport facilities has driven airline companies towards adoption of Used Serviceable Material (USM). To tackle expenditure challenges, airline companies across the globe are opting for air transport USMs. This has enabled them in coping with the increasing costs of MROs and rising inclination of consumers towards air travel as a sought-after mode of transport.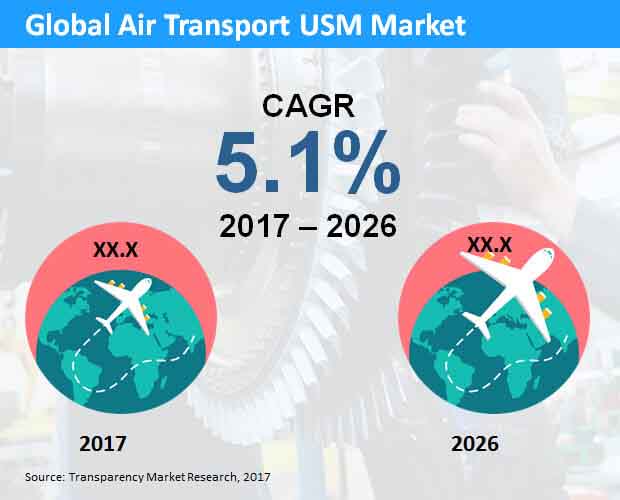 Transparency Market Research projects that airlines will be compelled to adopt air transport USMs in order to save costs to survive in a volatile marketplace. According to its study, the global market for air transport USM is poised to expand at a steady CAGR of 5.1% during 2017-2026. The study further projects that by the end of 2026, over US$ 7 Bn worth of air transport USMs will be sold globally.
Factors Driving the Sales of Air Transport USMs
Manufacturing an aircraft remains a complex process, and airline companies are compelled to spend millions of dollars on keeping an aircraft in working conditions. Airliners are expected to wait for years before reaping profits from air travel fares. Owing to such scenario, buying new engines and components in refurbishing of existing or new aircrafts becomes financially impractical. Air transport USMs are relatively affordable and technically feasible for being installed in different aircrafts.
Industrial regulations across the globe prohibit the dumping of used aircraft components as they are valuable commodities in the aerospace industry. These components can be serviced and reused to keep an airline company up and running. As a result, old aircrafts are being dismantled to create a range of USMs that be repurposed in the global air transport sector. Cost savings remains the most influential driver for the growth of the global air transport USM market.
High Demand for Used Serviceable Aircraft Engines in Refurbishing of Narrowbody Jets
The report has revealed the engines will be a top-selling product in the global air transport USM market through 2026. In 2017, engines worth US$ 3 Bn were sold in the global air transport USM market. The demand for air transport USM is also expected to be high with respect to their use in narrowbody jets. In terms of aircraft-type, almost every other air transport USM sold in the global market will be used for narrowbody jets. Over the forecast period, narrowbody jets are pegged to register a value CAGR of 5.2%.
OEMs to Represent Leading Providers of Air Transport USMs through 2026
Compared to non-OEMs, a majority of air transport USMs will be provided by OEMs. High expenditure in transport of these materials and growing importance on proper maintenance and authorized servicing of air transport USM will drive the contribution of OEMs in the overall market revenues. By 2026-end, nearly 60% of air transport USMs will be provided by OEMs in the global market.
Competition Tracking
The global market for air transport USM will witness participation of a handful of companies, mostly industry leaders. Through 2026, Pratt & Whitney, General Electric, TES Aviation Group, Lufthansa Technik (LHT), and AAR Corp. will represent the key players in the global air transport USM market. These companies are expected to focus on lowering the complexities in procurement of USMs and increasing the maintenance measures before re-installing them into other aircrafts.
Increased Aircraft Revamping Activities in Aircraft Industry Boosts Expansion of Air Transport USM Market
With consistent growth in oil prices and increased competition levels in the aircraft industry, the companies engaged in this sector are growing the acceptance of used serviceable material (USM). This strategy is helping enterprises to deal with the challenge of reducing expenditure and increasing the possibilities of higher revenues. This scenario highlights the potential expansion avenues for vendors working in the global air transport USM market in the years ahead.
In recent few years, there is remarkable growth in use of air traveling on commercial basis. This situation is pushing companies from the airlines and defense forces to upgrade their fleets with the advanced technology and together with incorporation of robust components in them. Apart from this, many air service providers are increasing focus toward refurbishment of their existing commercial aircrafts. Owing to this scenario, the companies engaged in the maintenance, repair, and overhaul (MRO) as well as aircraft component suppliers are expected to experience prodigious surge in demand. This scenario is indicative of the growth of the global air transport USM market at decent pace.
The revamping of aircraft includes landing gears, engine, antennas, and radars. The vendors engaged in the supply of USM ensure that the key aircraft components are available at considerably lower prices costs and higher dependability. This scenario is resulting into growing interest of aircraft manufacturers toward opting for USMs, thereby generating lucrative avenues for players operating in the global air transport USM market.
Major industrial sectors including air transport USM market are experiencing negative impact of recent COVID-19 pandemic. To contain the spread of coronavirus disease, majority of government authorities from all worldwide locations have employed strict regulations associated with the national as well as international travelling. Owing to this scenario, the companies engaged in the worldwide aircraft sector are witnessing noteworthy drop in their revenues. On the back of all these factors, the global air transport USM market is also expected to experience decreased number of sales in the upcoming few months.
Market Overview
Accelerated rate of aircraft deliveries are likely to result into a massive technology shift in the foreseeable future. The retirement of aircraft is expected to remain brisk in the meantime. Narrow-bodies and small regional jets have been predominant source of the aircraft retirements. However, several of these smaller-capacity aircrafts have purged from the fleet, and the industry is expecting retirement ages to rise again with retirement selections naturally reverting to old, large-capacity aircrafts. This significant rise in retirements is likely to lead toward growing adoption of Used Serviceable Material (USM). Proliferation of USM has the potential to reduce material prices for airlines as well as the Maintenance, Repair & Overhaul (MRO) sector.
Transparency Market Research has recently developed a new report on the global air transport USM market. The report offers insights on the market for the forecast period - 2017 to 2026. The report examines the air transport USM market at a global scale, engulfing the market dynamics exhaustively, and providing key trends affecting the market expansion. The report on the global market for air transport USM offers a precise knowledge base for the market players who seek global expansion. Analysis offered in this report is instrumental for the market players and investors for gauging expansion potential of the global air transport USM market in the upcoming years.
Structure of Report
Commencing with a chapter on executive summary of global air transport USM market, the report delivers key prospects of product and regional segments included, coupled with the most significant numbers appertaining to the market. The historical CAGR (2012-2016) and the forecast CAGR (2017-2026) have been included in the market numbers. Intelligence on lucrative regions for expansion of the global air transport USM market is also offered in the report in terms of rate of sales growth, and revenue shares over the forecast period.
A chapter on overview trails the executive summary, providing an incisive market introduction succeeded by a definition of "air transport USM" to convey report readers about wide scope of the market. Proceeding chapters of the report offer information on the market dynamics that include the drivers, restraints, opportunities & trends impacting expansion of the market.
Market Taxonomy
The report also offers a segmentation analysis of global market for air transport USM. Segmentation of the market has been done based on product type, aircraft type, provider type, and region. Chapters providing segmentation analysis include imperative market numbers regarding revenue comparison, Y-o-Y growth comparison, and the market share comparison. Regionally, the report has segmented the global market for air transport USM into North America, Europe, Latin America, Asia-Pacific excluding Japan (APEJ), Middle East & Africa (MEA), and Japan.
The report has also offered an intensity map, which plots occupancy of key players in global air transport USM market. The concluding chapter of the report offers insights on the market players, and provides information related to the market's competitive landscape. Key market players are profiled in detail, and information associated with key financials, key developments, SWOT analysis, company overview, and product overview has been offered. The competitive landscape information is invaluable for the report readers, as it comprises necessary insights for analysing contribution of the leading players to expansion of the market. This chapter also enables analysing the method of strategy implementation by these market players, along with their aims for staying at the forefront of global air transport USM market.Competition Assessment
Region

North America
Latin America
Europe
Japan
APEJ
MEA

Product Type

Engine
Components
Airframe

Aircraft Type

Narrowbody Jet
Widebody Jet
Turboprop
Regional Jet

Provider Type
Custom Market Research Services
TMR offers custom market research services that help clients to get information on their business scenario required where syndicated solutions are not enough.
REQUEST CUSTOMIZATION