Agave Nectar Market
Agave Nectar Market (Product Type: Light Agave and Dark Agave; Form: Powder and Liquid; Nature: Organic and Conventional; Flavor: Vanilla, Hazelnut, Caramel, and Others; Price Range: Economy, Mid-range, and Premium; Source: Blue Agave, Salamiana Agave, and Others; Distribution Channel: Stored Based Retailing [Hypermarkets/Supermarkets, Convenience Stores, Discount Stores, Wholesale Stores, Independent Small, Groceries, and Other Retail Formats] and Online Retailing) - Global Industry Analysis, Size, Share, Growth, Trends, and Forecast, 2020 - 2030
Category :

Food & Beverages

Format :
Social Media Marketing and Growing Consumer Awareness to Boost Demand for Agave Nectar
Over the past decade, consumer preferences have evolved at a rapid pace. A tectonic shift toward healthy, organic, natural, and clean-label food products can be observed– a trend that is expected to continue in the upcoming years. The notable shift toward healthier food alternatives, growing consumer demand for transparency from food manufacturers, and the advent of social media are some of the leading factors that have played an important role in augmenting the demand for niche food products such as agave nectar. The demand for agave syrup and agave nectar has witnessed a considerable surge over the past few years.
Agave nectar has gained a great amount of popularity as a natural sweetener and is increasingly being used as a substitute for sugar in several regions. Growing prevalence of diabetes worldwide, the surge in demand for agave nectar from the food & beverages industry, product diversification, and soaring consumer appetite for organic and natural ingredients are some of the leading factors that are expected to boost the growth of the agave nectar market during the forecast period. At the back of these factors, along with a growing focus on launching new products, the global agave nectar market is projected to attain a market value of ~US$ 272 Mn by the end of 2030.
Request a sample to get extensive insights into the Agave Nectar Market
Processed Food Products See Red Flags from Consumers
The demand for agave nectar is predominantly influenced by the rising consumer awareness pertaining to the benefits of agave nectar and syrup. In addition, as more number of consumers turn their back on processed sugars and high-fructose syrups, organic and natural alternatives, including agave nectar have received a great degree of attention. Companies operating in the current agave nectar market are marketing agave nectar as a product with low glycemic index and slow-release carbohydrate due to which, the demand for the same is on the rise, particularly in developed regions of North America and Europe.
To understand how our report can bring difference to your business strategy, Ask for a brochure
At present, the demand for agave nectar particularly from the food & beverages sector is moving in the upward trajectory– a trend that is likely to continue during the forecast period, thereby boosting the growth of the agave nectar market. Although research activities continue to reveal the adverse effects of agave nectar on human health, companies operating in the current market landscape are increasingly investing resources to produce new products that are expected to appeal the health-conscious consumers.
Market Players Launch New Products to Gain Edge
Players operating in the current agave nectar market are expected to focus on product development, product diversification, pricing strategies, and promotional and marketing strategies to gain a competitive edge. While several companies continue to target the health-conscious consumers via impactful marketing strategies, brands are also expected to launch new products to strengthen their foothold in the agave nectar market during the forecast period. For instance, in 2017, Silver Spoon launched a new line of flavored agave nectar. Apart from launching a new product range, the company also focused on enhancing the packaging and designs of their products to attract more consumers. In addition, while sales via conventional sales channels, including supermarkets, hypermarkets, and retail stores are increasing at a consistent pace, brands are also expected to boost sales via listing their products on e-Commerce platforms. Companies are also expected to focus on branding and packaging strategies to gain a competitive edge.
COVID-19 Pandemic Boosts Demand for Essential Goods; Agave Nectar Sales Decline Worldwide
The advent of the novel COVID-19 pandemic has made a strong impact on the fast-moving consumer goods sector. Consumer behavior trends continue to witness major changes, as the demand for essential goods and services continues to witness exponential growth. While emergency health supplies, groceries, fruits, and vegetables continue to remain high in demand, sales of luxury or premium products, including agave nectar is expected to take a hit. Players operating in the current market landscape are anticipated to face challenges within the supply chain due to trade restrictions imposed by government authorities worldwide.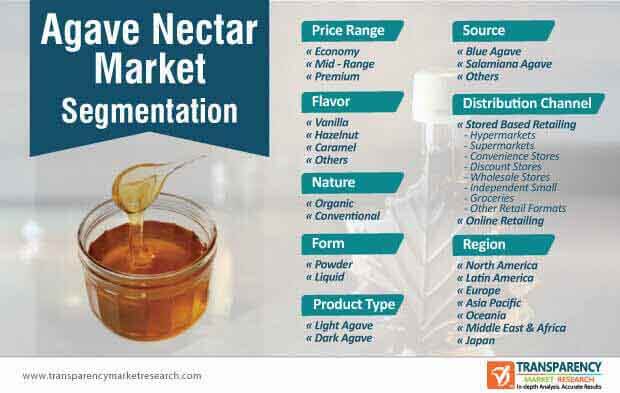 Stuck in a neck-to-neck competition with other brands? Request a custom report on Agave Nectar Market
Analysts' Viewpoint
The global agave nectar market is expected to grow at a healthy CAGR of ~5.7% during the forecast period. The market growth can be primarily attributed to a host of factors of which, high prevalence of cardiovascular and diabetes is expected to remain the most prominent factor. Companies operating in the current market landscape are likely to address the supply chain challenges put forth by the COVID-19 pandemic and seek new innovative solutions to improve sales. Although the sales of premium food products are anticipated to take a hit particularly in 2020, sales of agave nectar products are likely to surge in the second half of 2021.
Agave Nectar Market: Overview
The global agave nectar market's estimated value stood at ~ US$ 156 Mn in 2020, finds Transparency Market Research (TMR) in a recent study. According to the report, the market anticipated to reach ~US$ 272 Mn by 2030, at a CAGR of ~5.7%.
Factors impacting the purchase decision of consumers are agave nectar is a unique sugar substitute in terms of sweetness and it is less likely to cause heart diseases and diabetes. In addition to this, emergence of clean label products and increasing product innovation are creating favorable condition for growth.
The gradually increasing disposable income of consumers is in turn tending to consumption of organic products and alternative sugar products such as agave nectar or agave syrup. In addition to this, the agave nectar market is gaining traction on account of frequent purchase of sugar substitute by health conscious consumers.
Agave Nectar: Market Frontrunners
In terms of product, light agave is expected to lead the market in 2020 accounting with approximately 58.4% share. Furthermore, the segment dark agave accounts for ~41.6% of the market in terms of value.
The blue agave segment is leading the global market in terms of by source followed by salamiana agave and others (Agave American). These segments accounted for 59.0%, 31.8% and 9.3% of the market, respectively, on the basis of value in 2020.
North America leads the global market followed by Europe, Asia Pacific excluding Japan, and Oceania. Based on nature, the conventional segment accounts for approximately 87.7% of the market, while the organic segment accounts for the remaining share in the market.
Agave Nectar Market: Trends
The rising application in the bakery and beverage industries is projected fuel the market for agave nectar across the globe. Agave nectar has a caramel flavor in it, which can be used in strong-flavored beverages. It can also give a distinct flavor to seafood, meat, and poultry dishes. For the past few months, there has been increasing growth in the market, as a rising number of bakeries have incorporated the use of agave nectar instead of sugar and honey.
Products coming with clean label are in high demand. This is an ongoing trend in the food & beverages industry. It is a consumer-driven trend, since consumers are increasingly worried about the health effects of ingredients present in food and beverages. The increasing use of the Internet, blogs and social media to access available information about various chemicals and ingredients is driving this trend in the global food & beverages industry. Modern consumers, especially those from developed countries, have become more aware of what they eat every day, and they prefer to consume clean label products. This is expected to give impetus to the agave nectar market.
Impact of COVID-19 on Agave Nectar
Agave nectar is widely used in the food & beverage industry. Due to the outbreak of coronavirus, the market will recover in 4th quarter of 2020. Border closures, quarantines, and supply chain and trade disruptions could restrict people's access to sufficient/diverse and nutritious sources of food, especially in countries such as U.S., China and Italy, which are hit hard by the virus or already affected by high levels of food insecurity. Due to restriction of movement, and the basic aversion behavior by workers, the market may suffer, In addition, the factors such as shortage of fertilizers, veterinary medicines, and other input could affect agriculture production. The listed factors are affecting the market growth of agave nectar.
Agave Nectar Market: Strategies
Key players operating in the global agave nectar market are introducing new business-to-business websites, where customers are offered discount on the products listed

Product Innovation and Launches: Key companies are offering product in unique flavor which have content of agave nectar
In the year 2016, Pamela's Products Inc. and Bob's Red Mill Natural Foods, Inc., leading baking companies, have introduced various cake recipes with agave nectar as a sweetener, replacing sugar

Target Region for Market

In terms of value, countries in North America represented the largest share in the market in 2019 and are expected to remain strong, Europe retaining the second position in the market over the forecast period following APEJ
Agave Nectar Market: Players
Key players operating in the market, as profiled in the study, include

The IIDEA Company
Malt Products Corporation
The Tierra Group
Sisana Sweeteners
Nature's Agave, Inc
Ciranda
Florida Crystals Corporation
Madhava Natural Sweeteners
Domino Foods, Inc.
Groovy Food Company Ltd.
The Colibree Company, Inc.
The Simple Syrup Co.
SunOpta, Inc.
Natura BioFoods
NOW Foods,
Loving Earth Pty Ltd.
Agave Nectar Market - Scope of the Report
Transparency Market Research (TMR) has recently published a market study on the agave nectar market. It provides a detailed assessment of key market dynamics, including drivers, trends, opportunities & restraints, and detailed information about the agave nectar market structure. The market study presents exclusive information about how the agave nectar market will grow during the forecast period of 2020-2030.
Key indicators of market growth, which include year-on-year (Y-o-Y) growth of the market, value chain, supply chain analysis, and compounded annual growth rate (CAGR) are elaborated in the study in a comprehensive manner. This information is intended to help readers understand the quantitative growth prospects of the agave nectar market during the forecast period.
The study is intended to offer a holistic market overview to stakeholders in the agave nectar manufacturers, suppliers, distributors, and investors, and to help them develop winning growth strategies. Stakeholders in the agave nectar market, which include investors, industry experts, researchers, and journalists, and business researchers, can leverage the information and data presented in TMR's study.
The study also includes statistics and facts related to the macro as well as microeconomic factors that are impacting expansion of the market. It also offers actionable insights into the future trends in the agave nectar market. Furthermore, small businesses and new entrants in the agave nectar market can make use of the information presented in this study, based on which, they can make appropriate business decisions in order to gain momentum in the market.
Key Questions Answered in TMR's Agave Nectar Market Report
Which region will continue to remain the most profitable regional market for agave nectar market players?
Which factors will induce a change in the demand for agave nectar during the assessment period?
How will the changing trends impact the Agave Nectar market?
How can market players capitalize on the low-hanging opportunities in the Agave Nectar market in developed regions?
Which companies are leading the Agave Nectar market?
What are the winning strategies of stakeholders in the Agave Nectar market to catapult their position in the forefront?
Agave Nectar Market: Research Methodology
In TMR's study, a unique research methodology is used to conduct extensive research on the growth of the agave nectar market and identify future growth parameters. This research methodology is a combination of primary and secondary research, to help analysts ensure the accuracy and reliability of the conclusions.
Secondary resources referred to by analysts for compiling the agave nectar market study include statistics from governmental organizations, trade journals, white papers, and internal and external proprietary databases. Analysts have interviewed senior managers, product portfolio managers, CEOs, VPs, marketing/product managers, and market intelligence managers, who contributed to the development of this report as a primary resource.
Information acquired from primary resources and secondary resources is compiled in a comprehensive manner. This also acts as a validation from companies in the agave nectar market, which makes TMR's projections more accurate and reliable.
Agave Nectar Market – Segmentation
TMR's studies the agave nectar market in terms of a few important segments. These are fruit type, form, application, packaging, product type, sales channel, and region. This report offers comprehensive data and information about the important market dynamics and growth parameters associated with these categories.
Product Type

Form

Nature

Flavor

Vanilla
Hazelnut
Caramel
Others

Price Range

Economy
Mid-range
Premium

Source

Blue Agave
Salamiana Agave
Others

Distribution Channel

Stored Based Retailing

Hypermarkets
Supermarkets
Convenience Stores
Discount Stores
Wholesale Stores
Independent Small

Groceries

Other Retail Formats
Online Retailing

Region

North America
Latin America
Europe
Asia Pacific
Oceania
MEA
Japan
Custom Market Research Services
TMR offers custom market research services that help clients to get information on their business scenario required where syndicated solutions are not enough.
REQUEST CUSTOMIZATION