Global Active Pharmaceutical Ingredients Market: Overview
The developing pool of geriatrics is boosting the interest for different sorts of drugs, which thus is prompting a taking off demand for active pharmaceutical ingredient (API) market. Active pharmaceutical ingredients are fundamentally utilized for making drugs that are utilized for treating a scope of ceaseless conditions, for instance, neurology disorders, cardiovascular diseases, metabolic disorders, and cancer and also for other restorative uses. Given this solid foundation, the global market for active pharmaceutical ingredients is likely to be worth US$219.60 bn by the end of 2023 from US$134.7 bn in 2015. Between the estimate time of 2015 and 2023, the global market is relied upon to witness a 6.3% CAGR.
The enhancing access to healthcare with the fast entrance of innovation and different advancements in the healthcare industry has likewise expanded the utilization of drugs, accordingly specifically making a positive effect on this market. Moreover, the proliferating healthcare budgets of developing and developed countries are additionally influencing a noteworthy commitment towards pushing the sales of active pharmaceutical ingredients. Besides, the consistence by active pharmaceutical ingredients producers in India with the U.S. FDA standards is likewise expected to bring about expanding uses of this substance.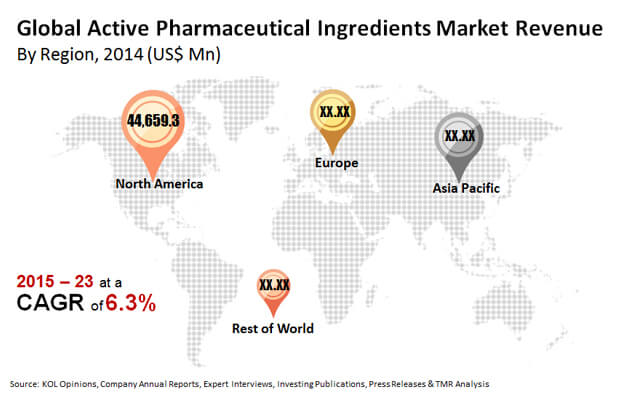 Cardiovascular Disorders to Fuel Demand for APIs
Starting at 2015, the high frequency of cardiovascular illnesses, neurological disorders, and other metabolic issues drove these remedial portions to represent an aggregate offer of half in the worldwide market. In the conjecture time frame, the pervasiveness of convoluted cardiovascular conditions will impel this remedial range at a CAGR of 6.63%. Moreover, as most of the blockbuster drugs lost licenses in the vicinity of 2011 and 2015, it has opened an enormous ground for different organizations to present their drugs, in this manner expanding the opposition and likely lessening costs.
Asia Pacific to Surface as Core Manufacturer Region of APIs
Starting at 2014, North America held an overwhelming share in the global market, representing around 35.1% share in the overall market. The prevalence of huge pharmaceutical organizations in North America that require a lot of active pharmaceutical ingredients is the main consideration driving the API market in North America. The introduction of biosimilars as the administrative procedure get casual will additionally quicken the utilization of active pharmaceutical ingredients in North America. The API production is anticipated to encounter an upsurge in the developing economies of India, South Korea, China, and Japan because of the existence of production units and inexpensive cost of labor.
A few of the core companies in the global market for active pharmaceutical ingredients are Zhejiang Huahai Pharmaceuticals Co., Ltd., Zhejiang Hisun Pharmaceutical Co., Ltd., Aurobindo Pharma Limited, Sandoz (Novartis AG), Northeast Pharmaceutical Group Co., Ltd., Dr.Reddy's Laboratories Limited, North China Pharmaceutical Group Corp. (NCPC), Zhejiang NHU Co., Ltd., Teva Pharmaceutical Industries Ltd., and Zhejiang Medicine Co., Ltd. At present, these market players are constantly focusing on acquiring new product lines and partnering with other leading companies to expand their portfolio and also add value to it. Moreover, the vendors are also expected to concentrate on the capacity expansion for catering to the huge pool of unmet medical needs of the consumers.
Active pharmaceutical ingredients (APIs) are bulk drug products that are used as raw materials for formulations. APIs of good quality are essential for the manufacture of effective and safe medicines. However, not all pharmaceutical companies possess in-house API manufacturing capabilities. Furthermore, a single company cannot produce all the APIs required for their formulation offerings.
The global market has been broadly segmented on the basis of manufacturing process, type of API, types of drugs, therapeutic areas and geography. This report analyzes the current scenario as well as future market potential for market globally. This report comprises an elaborate executive summary, demonstrating a snapshot on market dynamics of various segments and sub-segments in a precise manner. Moreover, executive summary also comprises a waterfall chart, which reflects the market size of various segments in descending order.
The report provides detailed qualitative analysis of the market dynamics that affect the growth of the global market. Factors responsible for driving and restraining the growth of the global API market and future opportunities has been provided in the market overview section. This section of the report also provides comprehensive market comparative analysis and market attractiveness analysis for the global market by geography for the base year, Porter's Five Forces analysis, and market share analysis by key players (%) for the base year, operating in the active pharmaceutical ingredients market. The report also encompasses detailed event impact analysis and value chain analysis for the global market.
The global API market is categorized in to captive manufacturing and contract manufacturing. Types of active pharmaceutical ingredients described in the global market include synthetic chemical API and biological API. Branded prescription drugs, generic prescription drugs, and over-the-counter drugs are various types of drugs covered in the global market. The global market encompasses various therapeutic areas such as cardiovascular disorders, oncology, metabolic disorders, neurological disorders, musculoskeletal disorders, NSAIDs and other therapeutic uses (such as infectious diseases). The market for these types has been extensively analyzed based on consistency, effectiveness, and sales revenue of the various products developed by the manufacturers.
Geographies discussed and analyzed in the global market include North America, Europe, Asia Pacific, and Rest of the World. In addition the report also comprises the precise and detailed country wise analysis for the global active pharmaceutical ingredients market such as North America (U.S. and Canada), Asia Pacific (China, Japan, India and Rest of Asia Pacific), and Europe (Germany, U.K. and Rest of Europe). The market size and forecast in terms of US$ Mn for each segment has been provided for the period from 2013 to 2023. The report on the market also provides compound annual growth rate (CAGR %) for each of the market segments mentioned above for the forecast period from 2015 to 2023, considering 2014 as the base year.
A list of recommendations have been provided for new entrants to help establish a strong presence and for existing market players to take strategic decisions and to increase their market shares in the global active pharmaceutical ingredient market. The report concludes with the profiles of major players in the market based on various attributes such as company overview, financial overview, business strategies, product portfolio, and recent developments. Major players profiled in this report include Allergan plc, BASF SE, Boehringer Ingelheim Group, Cambrex Corporation, Dr. Reddy's Laboratories Ltd., Lonza Group, Mylan, Inc., Sandoz (Novartis AG), Pfizer, Inc., Teva Pharmaceutical Industries Ltd., and WuXi Apptec.
The global active pharmaceutical ingredients market is segmented as follows:
Global Active Pharmaceutical Ingredients Market, by Manufacturing Process, 2013-2023 (US$ Mn)
Captive Manufacturing
Contract Manufacturing
Global Active Pharmaceutical Ingredients Market, by API Type, 2013 – 2023 (US$ Mn)
Synthetic Chemical API
Biological API
Global Active Pharmaceutical Ingredients Market, by Drug Type, 2013 – 2023 (US$ Mn)
Branded Prescription Drugs
Generic Prescription Drugs
OTC Prescription Drugs
Global Active Pharmaceutical Ingredients Market, by Therapeutic Area, 2013 – 2023 (US$ Mn)
Cardiovascular Disorders
Metabolic Disorders
Neurological Disorders
Oncology
Musculoskeletal Disorders
NSAIDs
Other Therapeutics Uses
Global Active Pharmaceutical Ingredients Market, by Geography, 2013 – 2023 (US$ Mn)
North America
Europe

U.K.
Germany
Rest of Europe

Asia-Pacific

China
Japan
India
Rest of Asia Pacific

Rest of the World (RoW)