Home Press Releases
Infusion Pumps Market: Large Patient Base in Asia Pacific to Propel Market at 5.3% CAGR during 2013-2019
Infusion Pumps Market: Large Patient Base in Asia Pacific to Propel Market at 5.3% CAGR during 2013-2019
According to a research report published by Transparency market Research, the global infusion pumps market is expected to be valued at US$7768.2 million by 2019. The report, titled "Infusion Pumps Market - Global Industry Analysis, Size, Share, Growth, Trends and Forecast, 2013 - 2019", estimates the valuation of the overall infusion pumps market at US$5411.5 million in 2012 and expects the market to grow at a CAGR of 5.3% during the period between 2013 and 2019.
Browse Full Report Infusion Pumps Market (Large Volume, Disposable, Syringe, Ambulatory, Implantable) - Global Industry Analysis, Size, Share, Growth, Trends and Forecast, 2013 - 2019 Research Report With Full TOC @ http://www.transparencymarketresearch.com/infusion-systems-market.html
Infusion pumps are used to deliver fluids such as medications and nutrients in controlled amounts into a patient's body and are widely used across nursing homes and hospitals. The report points out that the increasing patient base affected with cancer, diabetes, and chronic pain is expected to fuel the global infusion pumps market. Rapidly growing geriatric population, coupled with technological advancements in infusion pumps, will augment the overall market during the forecast horizon.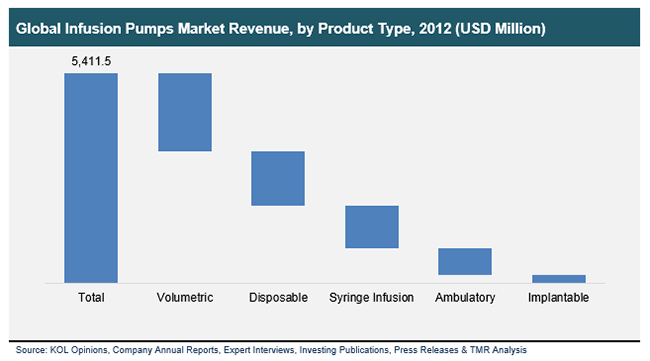 However, there have been problems associated with the working of infusion pumps which has led some manufacturers to recall their products. Also, regulations such as the Patient Protection and Affordable Care Act in the U.S. are expected to affect the prices of the infusion pumps, thereby negatively affecting the overall market. Emerging economies are expected to play an important role in opening new opportunities for the global infusion pumps market during the forecast period.On the basis of product type, the global infusion pumps market has been divided into ambulatory infusion pumps, implantable infusion pumps, large volume infusion pumps, syringe infusion pumps, and disposable infusion pumps. In 2012, large volume infusion pumps accounted for 36.9% of total market revenue, followed by disposable infusion pumps. During the forecast period, disposable infusion pumps are expected to dominate the market, owing to higher infusion accuracy, dose calculation software, and wireless integration with electronic health records.
On the basis of application, the global infusion pumps market has been divided into chemotherapy, analgesia, clinical nutrition, diabetes, and others. In 2012, clinical nutrition emerged as the largest application segment of the market, followed by analgesia and chemotherapy. The report estimates the clinical nutrition segment to grow consistently during the forecast period due to the rising demand from Asia Pacific. Globally, the infusion pumps market has been divided into Europe, Asia Pacific, North America, and Rest of the World. North America was the largest regional segment of the market in 2012. However, during the forecast horizon, Asia Pacific is expected to grow at the fastest rate owing to the presence of a large patient pool and rising prevalence of diseases such as cancer and diabetes. Rising per capita health expenditure in nations such as China and India is also expected to boost the infusion pumps market in this region.
Some of the key players in the global infusion pumps market are CareFusion Corporation, Hospira Inc., Medtronic, Smiths Medical, and Baxter International Inc.
About Us
Transparency Market Research (TMR) is a global market intelligence company providing business information reports and services. The company's exclusive blend of quantitative forecasting and trend analysis provides forward-looking insight for thousands of decision makers. TMR's experienced team of analysts, researchers, and consultants use proprietary data sources and various tools and techniques to gather and analyze information.
TMR's data repository is continuously updated and revised by a team of research experts so that it always reflects the latest trends and information. With extensive research and analysis capabilities, Transparency Market Research employs rigorous primary and secondary research techniques to develop distinctive data sets and research material for business reports.
Contact
Mr. Nachiket Ghumare
State Tower,
90 State Street,
Suite 700,
Albany NY - 12207
United States
Tel: +1-518-618-1030
USA - Canada Toll Free: 866-552-3453
Email: sales@transparencymarketresearch.com
Website: http://www.transparencymarketresearch.com
Related Report
Patient Warming Devices Market: (Products: Surface Warming Systems, Intravascular Warming Systems, Patient Warming Accessories; Applications: Acute Care, Perioperative Care, New Born Care, Others): Global Industry Analysis, Size, Share, Growth, Trends, & Forecast 2015 - 2023

This report on the patient warming devices market studies the current as well as future prospects of the market globally. The stakeholders of this report include companies and intermediaries engaged in the manufacture and commercialization of various patient warming devices such as surface warming devices as well as new entrants planning to enter this market. This report comprises an elaborate executive summary along with a market snapshot providing overall information of various segments and...

Cell Phone-Enabled Diagnostics Market - Global Industry Analysis, Size, Share, Growth, Trends and Forecast 2015 - 2023

Most of the low to medium income, developing nations are many times deprived of medical and other healthcare facilities, due to several reasons such as distance between the patient and healthcare service providers and others. Researchers have devised an important solution to this by creating medical diagnostic applications that are really small and can fit into the objects that people are already using in their day to day life. Cell phones were identified as one such object that can bring the...

Bacterial Disease Diagnostic Market - Global Industry Analysis, Size, Share, Growth, Trends and Forecast 2015 - 2023

Bacteria are of various types some of them are infectious whereas, majority of them are beneficial for the body. Any bacteria that cause an infectious disease are called pathogens. Diagnosis of causative organism of a bacterial disease has always been difficult, since infections show similar symptoms like fever and lethargy. Routine clinical diagnosis have high error rate, administering the wrong antibiotics can sometimes increase infection and can even result in death. The oldest method for ...