Home Press Releases
Global Anti-aging Market Boosted by Baby Boomer Population Nearing Retirement; Market to be Worth US$191.7 Billion in 2019
Global Anti-aging Market Boosted by Baby Boomer Population Nearing Retirement; Market to be Worth US$191.7 Billion in 2019
The
global anti-aging market
is growing at a CAGR of 7.8% between 2013 and 2019. With the market's value being 122.3 billion in 2013, it is expected to reach US$191.7 billion by the end of 2019. Statistics regarding the same have been provided in a research report by Transparency Market Research (TMR), titled "
Anti-aging Market - Global Industry Analysis, Size, Share, Growth, Trends and Forecast, 2013 - 2019
", on sale on TMR's website. The report displays data gathered about the global anti-aging market with regard to market trends, geography, revenue streams, and others.According to the report, the global anti-aging market is being driven primarily by the rise in the aging population in the world, especially the nations that hold majorities of the baby boomer population. The population comprises individuals that have, for long periods, been concerned with physical health and beauty.
The report states that individuals born between 1946 and 1964 are the biggest consumers of anti-aging services and products. Other statistics show that more than 8,000 individuals are added per day to the count of people above 65. This is expected to continue for the next 18 years. A large portion of this aging population includes citizens from the baby boomer era. Their requirement from the global anti-aging market as well as the availability of funds to do so continues to drive the market.The report segregates the global anti-aging market using its various products and services. It states that the majority of the products in the global anti-aging market can be purchased without any prescription. Some services and most devices in the global anti-aging market, however, require special attention and a prescription in most cases.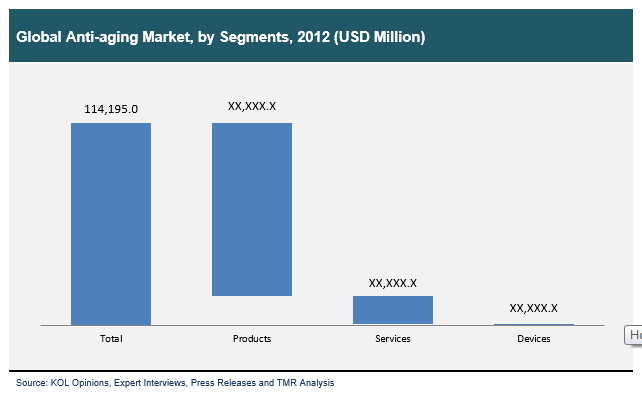 Overall, the segment of anti-aging products is expected to dominate the global anti-aging market, according to the report by Transparency Market Research. The report also states that the global anti-aging market is currently in a highly developmental stage, and as such is led by experimental studies and customer reception.One of the market restraints mentioned in the report is the skepticism portrayed by consumers towards the global anti-aging market's services and products. One of the factors that could resolve this is the proven advancement in technologies that help create better services and products. Another factor presented in the report is the growing governmental restriction to safeguard consumer health and maintain product quality.
The key players mentioned in the report on the global anti-aging market include Photomedex Inc., Lumenis Ltd, Personal Microderm, Coty Inc., Beiersdorf AG, Solta Medical Inc., Alma Lasers Ltd, Cynosure Inc., L'Oreal, SA, and Allergan Inc.In terms of geography, the report projects Asia Pacific to become a major player in the global anti-aging market owing to increasing awareness of innovations and new services, products, and devices, along with the growing disposable income of individuals and families.
Browse Full
Anti-aging Market (Anti-wrinkle products, Hair Color, Hair restoration treatment, Breast augmentation and Radio frequency devices) -Global Industry Analysis, Size, Share, Growth, Trends and Forecast, 2013 - 2019
Research Report With Full TOC @
http://www.transparencymarketresearch.com/anti-aging-market.html
Key segments of the Global Anti-aging Market
Global Anti-aging Market by Demographics
Baby Boomers
Generation X
Generation Y
Global Anti-aging Market by Products
UV Absorbers
Anti-Wrinkle Products
Anti-Stretch Marks Products
Hair Color
Global Anti-aging Market by Services
Anti-Pigmentation Therapy
Adult Acne Therapy
Breast Augmentation
Liposuction Services
Abdominoplasty
Chemical Peel
Eye-Lid Surgery
Hair Restoration
Sclerotherapy
Global Anti-aging Market by Devices
Anti-Cellulite Treatment Devices
Microderm Abrasion Devices
Laser Aesthetic Devices
Radiofrequency Devices
Global Anti-aging Market by Region
North America
Europe
Asia Pacific
Rest of the World
About Us
Transparency Market Research (TMR) is a global market intelligence company providing business information reports and services. The company's exclusive blend of quantitative forecasting and trend analysis provides forward-looking insight for thousands of decision makers. TMR's experienced team of analysts, researchers, and consultants use proprietary data sources and various tools and techniques to gather and analyze information.
TMR's data repository is continuously updated and revised by a team of research experts so that it always reflects the latest trends and information. With extensive research and analysis capabilities, Transparency Market Research employs rigorous primary and secondary research techniques to develop distinctive data sets and research material for business reports.
Contact
Mr. Nachiket
State Tower,
90 State Street,
Suite 700,
Albany NY - 12207
United States
USA - Canada Toll Free: 866-552-3453
Email: sales@transparencymarketresearch.com
Website: http://www.transparencymarketresearch.com
Related Report
Cardiovascular Peptides Market - Global Industry Analysis, Size, Share, Growth, Trends and Forecast 2015 - 2023

Peptides are short chain of amino acids linked by peptide bonds. Usually they contain less than 50 amino acids. Natural cardiovascular peptides such as ANP and BNP are hormones of cardiac origin that play an important role in the regulation of cardiovascular homeostasis. Cardiovascular peptides are predominantly produced in heart, although many other tissues produced it but in amounts inadequate to induce any physiological effects. Advancement in biotechnology and...

Fracture Fixation Products Market - Global Industry Analysis, Size, Share, Growth Trends and Forecast 2015 - 2023

Fracture fixation is a process of stabilizing the fractured bone, to enable fast healing of the injured bone, and to return early mobility and full function of the injured extremity. The global fracture fixation market is growing significantly due to the rise in prevalence of osteoporosis and osteoarthritis propelling the demand for joint replacement surgeries. Osteoporosis is an alarming health issue, especially in the geriatric population. The disease is associated with weakening of hip,...

Bone Grafts and Substitutes Market (By Type: Allografts, and Bone Graft Substitutes; By Application: Spinal Fusion, Long Bone, Foot and Ankle, Craniomaxillofacial, Joint Reconstruction, and Dental) - Global Industry Analysis, Size, Share, Growth, Trends and Forecast 2015 - 2023




Bones have a natural tendency to heal, however if the defect surpasses a critical size, then bone grafting is the preferred option. Bone grafting is a surgical procedure that replaces the missing or damaged bone by natural or synthetic bone. There are three major types of bone grafts: autografts, allografts, and bone substitutes. Bone grafts and substitutes should be biocompatible, osteoconductive,...