Xylose Market
Xylose Market (Source: Plant-derived, Synthetic; Product Type: D-Xylose, L-Xylose, DL-Xylose; Form: Powder, Liquid, Crystals; End Use: Food, Beverages, Pharmaceuticals, Personal Care, Bio Fuel Industry, Animal Feed Industry) - Global Industry Analysis, Size, Share, Growth, Trends, and Forecast, 2019 - 2029
Category :

Food & Beverages

Format :
Xylose – A Sweet Solution to Achieve Sugar Reduction
Xylose is one of the most versatile sugars with a wide range of applications as an ingredient in diverse food products to enhance their palatability and organoleptic properties. A paradigm shift in the consumer preference for healthier and natural products has significantly fueled the traction for xylose, particularly in the thriving food and beverage industry, over the recent years. The surging food and beverage industry, coupled with increasing consumer health consciousness, has been pacing up the sales of natural food ingredients, such as plant-derived xylose. This is further indicating a subtle boom in the growth of the xylose market, wherein, companies are exploring product applications in broader industries to gain a stronger hold in the industry.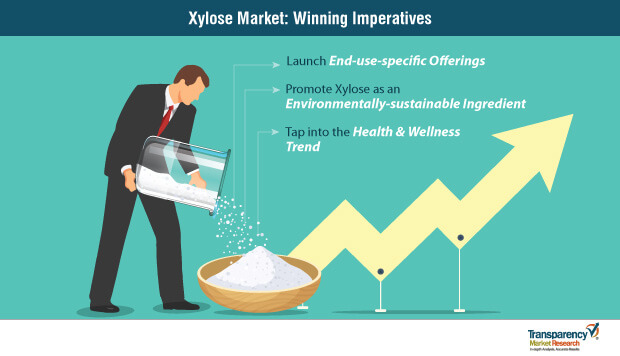 Planning to lay down future strategy? Perfect your plan with our report brochure here
Xylose Market - The Evolution Map
Xylose was first isolated from woods such as birch in 1881, and has been among the rarer sugars due to its difficult and high-cost preparation. However, in 1930, the United States Bureau of Standards, in a cooperative investigation, found a simple xylose preparation method from cottonseed hull bran, which is a very cheap raw material. This made xylose a sugar obtainable at a price comparable to that of sucrose.
Xylose is now widely found in a large span of woody materials, including straw, corncobs, and pecan shells, and is also known to be found in berries, broccoli, and spinach. Over the years, the use of xylose has grown significantly in food & beverages and pharmaceuticals, to name a few. As per TMR's analysis, the traction for xylose has grown at a steady pace, with its market anticipated to be valued at ~ US$ 1.5 Bn in 2018. The TMR study indicates a ~ 6% Y-o-Y growth of the xylose market in 2019 over 2018.
Impact of Undercurrents on the Xylose Market
Quest for Sugar Alternatives to Help Fight Diabetes, Uplifting Sales
Growing incidences of type-2 diabetes have led to a notable shift in consumer preference for diabetic sweeteners over conventional sugar, which, in turn, has opened a window of opportunities for market players. Diabetic sweeteners such as xylose aid in maintaining low glycemic index and cholesterol levels, and prevent heart diseases. While white sugar can increase insulin levels in the body, xylitol, a derivative of xylose, has garnered traction as a crystalline aldose sugar that doesn't impact the same way, and is witnessing wide adoption as a sweetener for tea and coffee.
Natural Approach to Cavity Prevention – A Fast-Growing Trend
Dental hygiene products have emerged as a hotbed of opportunities for xylose manufacturers, in line with the shifting focus of companies towards leveraging natural ingredients in products to appeal a wide pool of health-conscious consumers. Increasing awareness about xylitol's role in inhibiting the growth of plaque-forming bacteria by preventing tooth decay and oral cavities is creating fresh growth avenues for market players. The adoption of D-xylose-derived xylitol in dental health products is growing substantially, in line with its promising role in preventing the demineralization of enamel and stimulating salivary flow. The growing contribution of xylitol in improving oral health, and curing gum, teeth, and mouth issues, is bolstering its usage in products that combat tooth decay, including mouthwash, toothpaste, and even sugar-free gum.
Adoption in Pet Food Upholding Growth
The sales of pet food are growing year-on-year, with pet owners increasingly spending more on their furry family members. Given the fact that pets are often considered as an equal part of the family, consumers have started making similar choices for pet food and animal feed as they do for themselves. This has further led to an increased traction for food with natural, ethically-derived ingredients that come with free-from claims and boast of high nutritional profile. For that matter, xylose is witnessing increased traction as palatability enhancers in altering pet food formats. Although the adoption opportunities for xylose are increasing in the animal feed segment, it is pertinent to note that, there are several concerns around the toxicity and health impact of xylose on some animals. However, there is no substantial scientific literature to prove this impact.
High Traction for Diet-based Foods Underpinning Gains
A large number of consumers have shifted their consumption preferences to healthier products, while creating a significant market for diet-based food products. Responding to this rapidly growing trend, manufacturers in the food and beverage industry have started leveraging healthy ingredients, such as D-xylose derived xylitol that has no carbohydrates, which further makes it a viable choice for diet-based foods. With high fiber content, xylose is likely to garner significant traction as a powerful ingredient that reduces the number of calories, and aids weight loss and digestive health in individuals.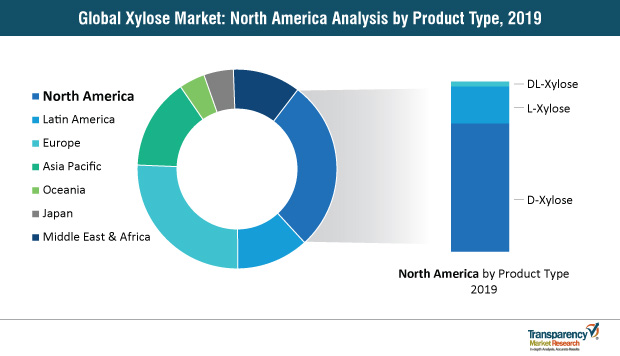 Want to know the obstructions to your company's growth in future? Request a PDF sample here
Winning Imperatives
Exploring Applications in the Food & Beverage Industry
In view of the wide range of applications of xylose in the proliferating food and beverage industry, market players are eying long-term collaborations with multinational food processing companies to strengthen sales' security. The rapidly growing trend of packaged food products, coupled with increased consumer health-consciousness, has been creating substantial demand for flavored ingredients. Anticipating the lucrativeness of the seeming shift in consumer preference for mouth savoring food products, manufactures are eying stronger tie-ups with end users to capitalize on the potential increase in the demand for plant-derived and synthetic xylose. This falls in line with the considerable uplift in the adoption of non-caloric sweetener D-xylose to sweeten products that are intended for use by obese and diabetic customers.
Tapping the Health and Wellness Trend
The rapidly-growing health and wellness trend has made a large number of consumers opt for plant-derived ingredients. However, the purchasing decisions of consumers are still primarily affected by product cost, taste, and convenience. For that matter, several companies in the xylose market are finding ways to provide novel-flavored offerings to increasingly growing health-conscious and taste-driven consumers, while at the same time not compromising on low-in calorie and convenience factors.
Competition Landscape
Companies looking to consolidate their position in the market are focusing on launching competitive offerings in the diabetic-food, pet-food, and dental hygiene category. Considering the advantages of xylose over conventional sugars, manufacturers are also focusing on promoting xylose as a super ingredient. Another key strategy for manufacturers is to promote xylose as an environmentally-sustainable alternative to wheat/corn for the manufacturing of isobutene. As government and regulatory authorities are encouraging the optimum utilization of waste, manufacturers are keen to leverage the opportunities in this landscape.
Anyang Yuxin Xylitol Technology, a China-based xylitol manufacturing firm, has placed its focus on extracting xylose and xylitol from the by-products of wood, as it looks forward to strengthen the sustainability credentials of its products. Several xylose processing companies are also aligning with key regional distributors and suppliers to expand their customer base and simultaneously generate higher sales. In addition, market players are exploring the use of D-xylose in cosmetics and personal care products, and as a raw material for myriad applications that span from bio-degradable detergents to agricultural products.
Future growth and opportunities in the xylose market are likely to remain concentrated in the diabetic and pet food categories, and it won't be surprising to see new product launches at competitive pricing in cost-sensitive markets of Asia Pacific. Manufacturers are well aware of the growing sales in Asia Pacific, and are looking to exploit the opportunities in this region.
Looking for exclusive market insights from business experts? Request a Custom Report here
Analysts' Viewpoint
Authors of the report maintain a bullish outlook on the xylose market, estimating global revenue to grow at a ~ 6% CAGR through to 2029. The adoption of xylose is likely to be pushed by the broader health and wellness trend, and a general focus on reducing sugar intake, not only in diabetic individuals, but also in the general population. Companies need to understand the unique requirements of customers, especially in high-growth regions, and offer products at competitive price points, which is a strategy that is most likely to help them gain a competitive edge in the xylose market.
Xylose Market observing shifts, Owing to Holistic Approach towards Health
Consumers are transforming their wellness approach and switching to products that are healthy instead of sticking only to functional ingredients. They are emphasizing more on natural products and preventing the use of those that are full of additives and stabilizers, even though these products claim to be low-fat and non-calorific.
In addition, consumers are not willing to compromise on taste despite following a holistic approach. As a result, they are opting for more natural and plant-derived products that are as sweet as table sugar, but more healthy and with low calorific value.
Preference for Vegan Products Fueling Xylose Market Growth
Nowadays, consumers prefer products that have a natural base, low calorific value, and minimal processing. Since concerns regarding the consumption of animal products are rising, a lot of people are abstaining from consuming animal products, and are switching to plant-based products.
Moreover, it has been reported that, vegans are less likely to develop cardiovascular and other diseases. Vegan meals incorporate all the necessary nutrients, and aid in regulating cholesterol levels. The British Dietetic Association and The American Academy of Nutrition and Dietetics have reported that, vegan meals are suitable for all age groups and at all stages of life. Some researchers have linked vegan diets with lower risk of cancer and type 2 diabetes.
Going vegan also helps reduce carbon footprint. It is one of the most effective measures that an individual can take to lower his/her carbon footprint and contribute towards sustainability.
Health Benefits of Xylose Anticipated to Drive Sales
The use of xylose is widening across the world with its use in the food and beverage, nutraceutical, pharmaceutical, animal feed, and other industries. Prominent health benefits of xylose such as lowering the risk of cardiovascular diseases and regulating cholesterol levels are anticipated to propel its demand.
Increasing healthcare awareness among people has made them shift to more natural and plant-based products that are rich in nutrients and are safer for long-term use.
Xylose is also used to test malabsorption. Xylose, specifically d-Xylose, is a monosaccharide that is usually easily absorbed in the body. This test determines how well someone's capacity to absorb xylose is. It measures the level of xylose in the urine and blood after a threshold amount is ingested, so as to evaluate the person's ability to absorb carbohydrates in general.
Xylose, as an ingredient, is used in many dental hygiene products, including toothpaste and mouthwash, and helps prevent tooth decay and tooth dental issues. It has been reported that, xylose reduces the amount of S. mutans bacteria in the mouth. This further reduces plaque build-up and also helps prevent tooth decay.
In addition to this, xylose is reported to possess antioxidant properties and helps counteract the harmful effects of free radicals.
Xylose – A Profitable Business Opportunity
TMR's research finds that, the xylose market was valued ~ US$ 1.6 Bn in 2019, and is estimated to record ~ 6% Y-o-Y growth during the forecast period.
The sugar industry is expected to witness major transformation in the near future, with increasing health-consciousness due to pollution, increasing veganism, and various beneficial uses. All these factors are raising the global demand to bring more plant-derived products to plates, including xylose.
Growing Demand for Xylose with Increasing Usage in Dietary Supplements
Increasing shift in consumer preference for less calories and low processed foods is anticipated to drive the growth of the xylose market. Moreover, it aids in maintaining low glycemic index and preventing heart diseases, which together, help boost the market growth for xylose.
Consumers are becoming more inclined towards using nutritional supplements for self-care, maintaining good health, and reducing the risk of diseases, which is expected to support the growth of the global xylose market. Xylose is widely used as a diabetic sweetener and in other food supplements.
Key Market Players in the Xylose Market
Key companies profiled in the xylose market report are
Healtang Biotech Co, Ltd.
Toyota Tsusho Corporation
BOSCI, Triveni Chemicals
Futaste Pharmaceutical Co. Ltd
Guangdong Hongtai Chemical Co. Ltd
Avanscure Lifesciences Private Limited
Zhejiang Huakang Pharmaceutical Co. Ltd
Suvchem,
Carbone Scientific Co., Ltd
Sure Chemical Co., Ltd
Shandong Xieli Bio-Technology Co., Ltd
HYET Sweet.
A latest study compiled and published by Transparency Market Research (TMR) evaluates the historical and current scenario of the global xylose market, to precisely gauge its future opportunistic development. The report presents detailed information about the vital growth factors, restraints, and key trends that are shaping the growth of the xylose market, to identify the opportunistic prospects of the business potential for stakeholders. The report also offers exhaustive information about how the xylose market will progress during the forecast period of 2019-2029.
The report offers riveting dynamics about the different aspects and nuances of the xylose market, to assist companies operating in the market make winning development decisions. TMR's report also mentions significant changes that are highly likely to shape the growth of the xylose market during the foreseeable period. It includes a key indicator assessment to underline the growth prospects of the xylose market, and forecast statistics related to the market progress in terms of value (US$ Mn) and volume (Tons).
The report covers a detailed taxonomy of the xylose market, along with valuable insights and a competitive landscape. The report presents the company profiles of players that are currently operating in the xylose market, wherein, different development and winning strategies formulated and leveraged by leading players have been presented in detail.
Key Questions Answered in TMR's Report on Xylose Market
The report provides elaborate information about the xylose market on the basis of detailed research on various factors that are playing a key role in pacing up the growth potential of the market. Information mentioned in the report answers game-changing questions for companies that are currently operating in the market or are looking forward to make a mark in the xylose industry, so as to help them make winning strategies and take business-driving decisions.
Which form of xylose will emerge as a revenue generator for the market in 2022?
How are market big shots successfully earning revenue out of the key attributes of xylose?
What will be the Y-o-Y growth of the xylose market between 2019 and 2024?
What are the winning strategies of market frontrunners in the xylose market?
Which end-use industry is anticipated to generate maximum application for xylose during the projection period?
What rate of ROI can xylose manufacturers expect from DL-xylose?
Research Methodology – Xylose Market
The research methodology adopted by analysts for developing the xylose market report is based on detailed primary as well as secondary research. By delving deep into the industry-validated information that is obtained and legitimated by market-pertinent resources, analysts have provided riveting insights and authentic forecast of the xylose market.
During the primary research phase, analysts interviewed industry players, investors, C-level executives, vice presidents, brand managers, raw material suppliers, regional managers, and sales and marketing managers. On the basis of information obtained through the interviews of relevant resources, analysts have highlighted the development scenario of the xylose market.
For secondary research, analysts studied multiple annual report publications, research publications, white papers, industry association publications, case studies, and company websites to obtain the necessary understanding of the xylose market.
Xylose Market - Segmentation
TMR's research study gauges the xylose market on the basis of source, product type, form, end use, and region. The report presents detailed market dynamics and rapidly altering trends associated with different segments, and how they are impacting the growth prospects of the xylose market.
Source

Plant-derived

Synthetic

Product Type

D-Xylose

L-Xylose

DL-Xylose

Form

Powder

Liquid

Crystals

End Use

Food

Beverages

Pharmaceuticals

Personal Care

Bio Fuel Industry

Animal Feed Industry

Region

North America

Latin America

Europe

Asia Pacific

Oceania

Japan

Middle East & Africa
Custom Market Research Services
TMR offers custom market research services that help clients to get information on their business scenario required where syndicated solutions are not enough.
REQUEST CUSTOMIZATION