In the last few years, the incidence of chronic illnesses has considerably increased among women. Be it the change in lifestyle or the rising geriatric populations, experts project this prevalence to continue rising in the forthcoming years as well, thus making women health rehabilitation more imperative than ever. Medical rehabilitation is a highly monitored activity considered indispensable for assisting in the improvement overall health status after a prolonged illness. Demand for women rehabilitation has therefore substantially increased in the recent years. The increasing maternal deaths, especially in developing nations, rising injuries due to road accidents, and the increasing prevalence cardiovascular ailments causing death of women have compelled governments to focus more on women health and rehabilitation.
Transparency Market Research (TMR) forecasts the global women health rehabilitation products market to reach US$4.2 bn by the end of 2024, from a valuation of US$2.6 bn in 2015. The market is therefore expected to rise at a CAGR of 5.0% between 2016 and 2024.
Rehabilitation has emerged as an important method of mitigating the burgeoning risk of chronic diseases among women. These services are designed to improve the overall heart health, increase metabolism, expedite faster recovery, and improve hormonal profile among ailing women. Their demand has thus increased in response to the drastically changing lifestyle and dietary preferences. Integration of advanced technologies in existing rehabilitation products has further boosted prospects for their sales.
Earlier, acceptance of health rehabilitation services was a major issue across developed nations, which is now resolved with the rising awareness. However high product pricing still creates major bottlenecks for the sales of health rehabilitation products in emerging economies.
North America, Trailed by Europe, Emerged Key Contributors in 2015
Regionally, North America emerged as the key contributor in the global health rehabilitation products market in 2015, trailed by Europe. The market in North America is expected to reach US$1.5 bn by the end of 2024, from US$1 bn in 2015, rising at a CAGR of 4.9% during the period. High demand for women health rehabilitation products in both Europe and North America is attributed to the increasing number of road accidents in the last few years and the rising geriatric population. However, TMR projects Asia Pacific to exhibit the fastest CAGR due to the presence of untapped opportunities in the region. Besides this, Asia Pacific boasts a developing health care infrastructure and strong presence of skilled health care professionals, which is expected to drive demand for women health rehabilitation products in the region.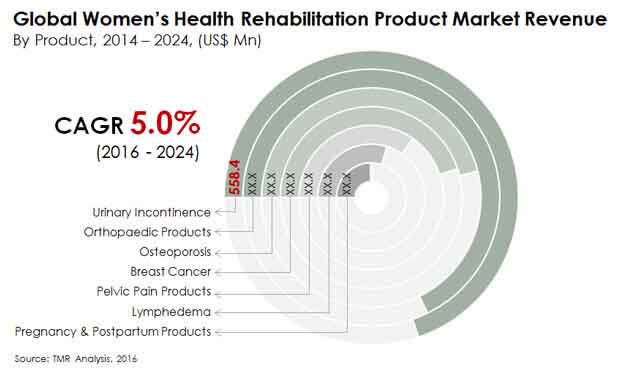 Rising Geriatric Population Boosts Demand for Treat Urinary Incontinence Products
By product type, orthopedic, pelvic pain product, urinary incontinence, pregnancy and postpartum, lymphedema, breast cancer, and osteoporosis constitute the major segments in the global women health rehabilitation products market. Of these, urinary incontinence held the dominant share in the market in 2015. It is also projected to maintain its lead through the forecast period. Increasing urinary incontinence among aged women is expected to keep demand from this segment high in the forthcoming years. The segment is expected to report a CAGR of 5.4% during the forecast period.
Some of the leading players operating in the global women health rehabilitation products market include Access Health (Victoria, Australia), Carib Rehab Ltd. (St. Michael, Barbados), GE Healthcare (Chalfont St. Giles, U.K.), GPC Medical Ltd.( New Delhi, India), Pelvic Health and Rehabilitation (San Francisco, U.S.), Rehab Plus (Timmins, Canada), Meyer Physical Therapy (New York, U.S.), Sportstek (Oakleigh, Australia), Vandana Surgical Cotton Ind. (Ajmer, India), and Win Health Medical Ltd. (Jedburgh, U.K.)
Expansion of the Elderly Women Population to Boost Women's Health Rehabilitation Products Market
Rehabilitation is described as a phase of physical restoration of a disabled or sick person through training and treatments in order to help them achieve a stable or normal life. Massage therapy, occupational therapy, physical therapy, and hand therapy are examples of treatments used to help people reach their highest degree of mental function. It also assists an individual in gaining independence from their disability and enhancing their quality of life. Rehabilitation, on the other hand, does not refute the damage sustained by a trauma or disease; rather, it aids in the restoration of the individual's well-being, functioning, and health. Rising demand for these products to assist women with disabilities or sickness are expected to foster development of the global women's health rehabilitation products market in near future.
Women's health rehabilitation is a programme that focuses on problems that women are likely to face in their lives, such as breast cancer, sexual dysfunction, pregnancy, pelvic floor pain or disorder, postpartum rehabilitation. Women's health rehabilitation service provides specialized care and treatments to women of all ages and with complex disabilities including multiple sclerosis (MS) in order to help them recover greater range of movement whilst still promoting their performance, satisfaction, and smooth everyday functioning. Such benefits are likely to work in favor of the global women's health rehabilitation products market in near future.
High Incidences of Breast Cancer to Drive Up the Demand for these Rehabilitation Products
The number of breast cancer cases has risen dramatically in the recent years. This is largely due to a shift in the way of life. Breast cancer is considered the one of the most common causes of cancer death. Breast cancer struck 1.68 million women worldwide. The demand for recovery products is anticipated to increase as the number of breast cancer cases surges. The risk of developing health problems such as cancer, cardiovascular disease, and disabilities is increasingly growing amongst the population of elderly women, which is likely to drive growth of the global women's health rehabilitation products market in the years to come.
Interested in this report?
Get a FREE Brochure now!