Wireless Mesh Network Market
Wireless Mesh Network Market (Radio Frequency Band - Sub 1 GHz Band, 4 GHz Band, 9 GHz Band, 5 GHz Band; Application - Hospitality, Government, Logistics, Mining, Education, Health Care) - Global Industry Analysis, Size, Share, Growth, Trends and Forecast 2016 - 2024
Category :

IT & Telecom

Format :
Wireless Mesh Network Market: Snapshot
Wireless mesh networks are rapidly emerging as a cost-effective solution for the improvement of wireless communications across various industry verticals. Their fast and easy deployment in the public safety infrastructure is indicative of their rising popularity and the significant growth the wireless mesh market is likely to experience in the coming years. The adoption of these networks has become critical in most industries where worker safety is a concern and this is a major factor driving the global market.
The surging demand for wireless mesh networks is reflected in the projected volume growth of the market. In 2015, the demand was pegged at 13.3 mn units and this is expected to rise to 37.2 mn units by the end of 2024.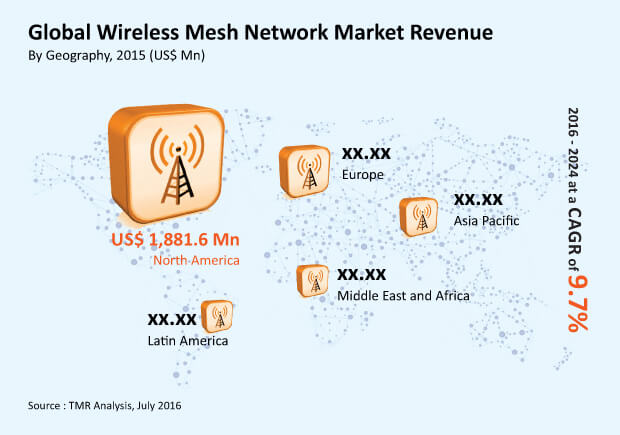 Regulatory Mandates Driving Demand for Wireless Mesh Networks in North America
The global market for wireless mesh networks comprises five key regions: North America, Latin America, Asia Pacific, Europe, and the Middle East and Africa. North America was the largest contributor to the wireless mesh network market in 2015 owing to the high adoption of mesh networks in safety and security systems in the utilities and energy sectors. Worker safety regulations in the region mandate the use of critical communication systems and mesh networks form the backbone of this communication infrastructure. The growing adoption of Internet of things (IoT) devices has also spurred the use of wireless mesh networks for connectivity and data sharing in North America.
In terms of revenue generation, Europe is the second-largest market. Asia Pacific is projected to be the most rapidly expanding regional segment with a forecast CAGR of 13.7% from 2016 to 2024 thanks to the development of public infrastructure and growing needs from smart city projects. APAC countries such as Japan, China, and India have been witnessing a rising number of initiatives for smart city projects of late with the aim of transforming the safety and communication infrastructure of their cities. Smart metering initiatives by private and government bodies have also generated the demand for wireless mesh networks in APAC. Smart meters have been replacing old gas and electricity meters for enhanced data transfer and accurate usage analysis. Moreover, the cost required for wiring is reduced since they are connected to wireless mesh networks.
Mining and Oil and Gas Sectors Major End-users of Wireless Mesh Networks
Wireless mesh networks find application in several areas, such as government, mining, healthcare, hospitality, logistics, and education. They are also used in the utilities, oil and gas, and energy sectors. TMR reveals that a significant portion of the revenue generated in the wireless mesh networks market by application comes from the oil and gas, utilities, and energy sectors. The high adoption of wireless mesh networks in the mining and oil and gas industries is due to the enforcement of several worker safety rules and regulations pertaining to the installation of various security applications. The MEA and Latin America regions are lucrative markets for the application of wireless mesh networks in these two industries.
The wireless mesh network market report provides analysis for the period 2014–2024, wherein the period from 2016 to 2024 is the forecast period and 2015 is the base year. The report covers all the major trends and technologies playing a key role in wireless mesh network market growth over the forecast period. It also highlights the drivers, restraints, and opportunities expected to influence the market's growth during the said period. The study provides a holistic perspective on the wireless mesh network market's growth throughout the above mentioned forecast period in terms of revenue (in US$ Mn), across different geographies, including Asia Pacific, Latin America, North America, Europe, and Middle East & Africa (MEA).
The market overview section of the report demonstrates the market dynamics and trends, such as the drivers, restraints, and opportunities that influence the current nature and future status of this market. An impact analysis of key trends has also been provided for every geographic region in the report, in order to give a thorough analysis of the overall competitive scenario of the wireless mesh network market, globally. Moreover, the report provides an overview of the various strategies of key players in the market.
The report segments the global wireless mesh network market on the basis of radio frequency band into sub 1 GHz, 2.4 GHz, 4.9 GHz and 5 GHz. By application, the market has been classified into hospitality, government, logistics, mining, education, health care and others. Thus, the report provides in-depth cross-segment analysis of the wireless mesh network market and classifies it into various levels, thereby providing valuable insights at the macro as well as micro levels.
The report also highlights the competitive landscape of the wireless mesh network market, thereby positioning all the major players according to their geographic presence and recent key developments. The comprehensive wireless mesh network market estimates are the result of our in-depth secondary research, primary interviews, and in-house expert panel reviews. These market estimates have been analyzed by taking into account the impact of different political, social, economic, technological, and legal factors along with the current market dynamics affecting the wireless mesh network market's growth.
On the basis of country, North America market is divided into the U.S. and Rest of North America. Similarly, Europe market is divided into European Union 7 (EU7), Commonwealth of Independent States (CIS) and Rest of Europe. Asia Pacific has been segmented into Japan, South Korea, China, South Asia, Australasia and Rest of Asia Pacific. Where, China is further segmented into Hong Kong, Taiwan and Rest of China. South Asia is further divided into India, Pakistan, Bangladesh, Sri Lanka, Indonesia, Malaysia, Thailand, Vietnam, Myanmar, Philippines, Singapore and Rest of South Asia. Australasia includes Australia, New Zealand and Guinea. This report provides all the essential information required to understand the wireless mesh network and its components. Also, report gives heavy emphasis on the use cases of wireless mesh networks in various industries and applications. Commercial off-the-shelf products involved in the wireless mesh networks are explained in this report according to their adoption. Public safety applications of wireless mesh networks are described in detail, including the current installations worldwide. Furthermore, mesh based futuristic applications are discussed in this report.
Rajant Corporation, Cambium Networks, SCAN RF Projects, Cisco Systems, Concentris Systems LLC, ABB (Tropos Networks Inc.), Zebra Technologies, Firetide Inc., Synapse Wireless Inc., Fluidmesh Networks LLC, Aruba Networks Inc., Qorvus Systems Inc., P2 Wireless Technologies and General Dynamics Mission Systems, Inc. are some of the major players operating within the global wireless mesh network market profiled in this study. Details such as financials, business strategies, recent developments, and other such strategic information pertaining to these players have been duly provided as part of company profiling.
Wireless Mesh Network Market
By Radio Frequency Band
Sub 1 GHz Band
4 GHz Band
9 GHz Band
5 GHz Band
By Application
Hospitality
Government
Logistics
Mining
Education
Health Care
Others
By Geography
North America
Europe
Asia Pacific

Japan
South Korea
China

Taiwan
Hong Kong
Rest of China

South Asia

India
Pakistan
Bangladesh
Sri Lanka
Indonesia
Malaysia
Thailand
Vietnam
Myanmar
Philippines
Singapore
Rest of South Asia

Australasia

Australia
New Zealand
Guinea

Rest of APAC

Middle East and Africa

GCC Countries
North Africa
South Africa
Rest of MEA

Latin America

Brazil
Rest of Latin America
Custom Market Research Services
TMR offers custom market research services that help clients to get information on their business scenario required where syndicated solutions are not enough.
REQUEST CUSTOMIZATION

Wireless Mesh Network Market