Waterproofing Admixture Market
Waterproofing Admixture Market (Product - Crystalline and Pore-blocking; Application – Residential, Commercial, and Infrastructure) - Global Industry Analysis, Size, Share, Growth, Trends, and Forecast 2016 - 2024
Chemicals & Materials
TMRGL7436
2017-02-15
155

Pages
Global Waterproofing Admixture Market: Snapshot
Concrete is an awesome structure material with regards to solidness and sturdiness. It's solid, flexible, cheap, and accessible pretty much all over. All around, it's generally used to fabricate everything from walkways to transportation burrows. In spite of the prevalence of solid, its solidness relies upon how well you secure it, particularly against water. Water is the essential foe of cement during administration life, despite the fact that it's basic to solid creation, arrangement, and relieving. In order to make concrete stronger and water proof, constructors are using waterproofing admixture. Owing to this adoption, the global waterproofing admixture market is projected to grow substantially in coming years.
In the construction business, waterproof and watertight mean something very similar. So when we state something is waterproof, we imply that fluid water won't go through in any quantifiable sum under normally discovered conditions. Waterproofing concrete from water is commonly practiced by applying a boundary or outer layer or something to that affect the surface. Outer layers, regularly utilized for waterproofing generally safe auxiliary tasks, are intended to stop water. However, establishment issues, punctures, and deformities can prompt breaks. They additionally break down after some time, requiring expensive fixes and substitution. The lack of long life may hamper the growth of global waterproofing admixture market.
Water-repulsing admixtures are often known as hydrophobic. These items work by changing the surface strain so water dabs in contact with the solid as opposed to engrossing in and through the pores. Many water-repulsing admixtures consolidate some pore-blocking properties too. Such items can be extremely powerful at keeping water out of cement both above and subterranean. Notwithstanding, they don't work at opposing water that is feeling the squeeze. When water pressure surpasses the surface strain inside the pores of the solid, the water can push past and through the concrete surface. This as a result propels the growth of global waterproofing admixture market in coming years.
Global Waterproofing Admixture Market: Overview
Waterproofing admixtures are added to concrete structures to reduce their permeability and make them waterproof, with the objective of providing superior protection. They thus enhance the durability of structures and enhance the overall maintenance process. The drive for waterproofing admixtures in the construction industry stems from the need for improving the compressive strength and the durability of concrete. The rising use of waterproofing admixtures in addressing the various concrete durability issues in old as well as new construction structures is a key factor propelling the growth of the market. Key properties which make their use relevant in such applications are water reduction, increased hydrophobic effect, splendid pore reduction and blocking, and increased density. Understanding the mechanics of physical and chemical degradation, due to water and ingress of fluid, paves way to product launches and innovations in the global waterproofing admixtures market.
The global waterproofing admixtures market stood at US$2.5 bn in 2015 and is projected to rise at CAGR of 7.9% during the forecast period of 2016–2024. By 2024 end, the opportunities in the global market are anticipated to reach US$4.9 bn.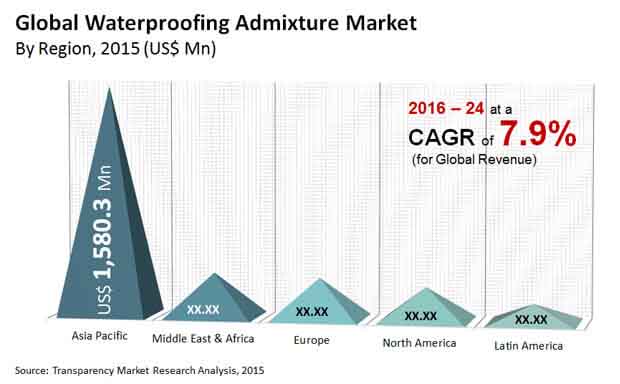 Self-Healing Capabilities Bolsters Demand for Crystalline Waterproofing Admixtures
On the basis of product type, the report segments the global waterproofing admixtures market into pore-blocking, crystalline, and an others category notably including supplementary cementitious material. Of all the segments, the crystalline one is expected to hold sway in the global waterproofing admixtures market. By the end of 2024, crystalline waterproofing admixtures are anticipated to contribute a share of 46.7%. They have earned their name as the primary admixture and are largely hydrophilic. Their unique characteristic of filling even minor cracks in concretes stem from their self-healing abilities, which come from the mix of proprietary active chemicals and cementitious material.
The other key segment pore-blocking admixtures have emerged as secondary admixtures. They act by forming an insoluble hydrophobic layer on concrete and hence stop the water to permeate through it. This product type falls under the PRA category of Permeability-Reducing Admixture for Non-hydrostatic conditions (PRAN). Water-repelling chemicals in pore-blocking admixtures consists notably of mineral oil, stearates, and long chain fatty acids derivatives.
Swift Pace of Urbanization makes Residential Sector Key Market
Vis-à-vis application, the global waterproofing admixtures market is segmented into commercial, infrastructure, and residential sectors. The residential application is projected to serve the major demand in the market. The prominence can be attributed to the rapidly rising demand for various types of waterproofing admixtures in old and new residential projects. The rapid strides made by the housing sector, especially in emerging economies, are bolstering the demand for waterproofing admixtures. This is supported by the swift pace of urbanization in various regions across the globe. Crystalline products have witnessed higher application owing to their attractive characteristics in managing hydrostatic pressure.
Rapid Strides Made in Construction Sector Fuels Uptake in Asia Pacific
The various key regional markets for waterproofing admixtures are Asia Pacific, North America, Europe, the Middle East and Africa, and Latin America. Of these, Asia Pacific holds the major share and is likely to retain its lead throughout the assessment period. Rapid strides made in the construction sector, notably in countries such as China and India.
On the other hand, the rising popularity of multidwelling units in the Middle East and Africa will help the regional market to rise at promising pace over the assessment period.
Meanwhile, the demand for waterproofing admixtures in North America and Europe has matured a bit over the past few years. Especially, North America witnessed a decline in uptake in 2015. Factors constraining demand are the implementation of governmental regulations pertaining to VOC emission and rise in consumer awareness regarding waterproofing admixtures. However, the demand in Europe has received a massive impetus from the growing prospect of high-performance concrete structures in the regional residential sector.
Some of the key players operating in the waterproofing admixture market are Mapei SPA, Cemex, Sika AG, and BASF SE.
Global Waterproofing Admixture Market: Overview
Waterproofing admixture is a porous chemical ingredient employed during cement or concrete formulation to resist water penetration and water-borne contaminants. Waterproofing admixture is primarily used in residential, commercial, and infrastructure sector. Concrete being sustainable building material can reduce carbon footprint by 30-40%, but being porous in nature it is susceptible to chemical attack. Thus, waterproofing admixtures if employed during formulation provides excellent resistance to alkali attack during climate and weather changes. It also reduces maintenance cost and enhances the durability of concrete structures.
The report estimates and forecasts the waterproofing admixture market on the global, regional, and country levels. The study provides forecast between 2016 and 2024 based on volume (KiloKilo Tons) and revenue (US$ Bn) with 2015 as the base year. The report comprises an exhaustive value chain analysis for each of the product segments. It provides a comprehensive view of the market. Value chain analysis also offers detailed information about value addition at each stage. The study includes drivers and restraints for the waterproofing admixture market along with their impact on demand during the forecast period. The study also provides key market indicators affecting the growth of the market. The report analyzes opportunities in the waterproofing admixture market on the global and regional level. Drivers, restraints, and opportunities mentioned in the report are justified through quantitative and qualitative data. These have been verified through primary and secondary resources. Furthermore, the report analyzes global average price trend analysis of waterproofing admixture.
Global Waterproofing Admixture Market: Research Methodology
Secondary research sources that were typically referred to include, but were not limited to company websites, financial reports, annual reports, investor presentations, broker reports, and SEC filings. Other sources such as internal and external proprietary databases, statistical databases and market reports, news articles, national government documents, and webcasts specific to companies operating in the market have also been referred for the report.
In-depth interviews and discussions with a wide range of key opinion leaders and industry participants were conducted to compile this research report. Primary research represents the bulk of research efforts, supplemented by extensive secondary research. Key players' product literature, annual reports, press releases, and relevant documents were reviewed for competitive analysis and market understanding. This helped in validating and strengthening secondary research findings. Primary research further helped in developing the analysis team's expertise and market understanding.
Global Waterproofing Admixture Market: Segmentation
The study provides a comprehensive view of the Waterproofing Admixture market by dividing it into product type, application and geography. The waterproofing admixture market has been segmented into crystalline, pore-blocking, and others. Application segments have been analyzed based on historic, present, and future trends, and the market has been estimated in terms of volume (Kilo Kilo Tons) and revenue (US$ Bn) between 2016 and 2024.
Regional segmentation includes the current and forecast demand for activated alumina in North America, Europe, Asia Pacific, Latin America, and Middle East & Africa (MEA). Additionally, the report comprises country-level analysis in terms of volume and revenue for end-user segments. Key countries such as the U.S., Germany, France, the U.K., Spain, Italy, India, China, South Africa, Mexico, and Brazil have been included in the study. Market segmentation includes demand for individual end-users in all the regions and countries.
Global Waterproofing Admixture Market: Competitive Landscape
The report includes Porter's Five Forces Model to determine the degree of competition in the waterproofing admixture market. The report comprises a qualitative write-up on market attractiveness analysis, wherein application and countries have been analyzed based on attractiveness for each region. Growth rate, market size, raw material availability, profit margin, impact strength, technology, competition, and other factors (such as environmental and legal) have been evaluated in order to derive the general attractiveness of the market. The report comprises price trend analysis for Waterproofing Admixture between 2016 and 2024.
The report covers detailed competitive outlook that includes market share and profiles of key players operating in the global market. Key players profiled in the report include CEMEX S.A.B. de C.V.,BASF SE, Sika AG, Wacker Chemi AG, Mapei S.P.A. Company profiles include attributes such as company overview, number of employees, brand overview, key competitors, business overview, business strategies, recent/key developments, acquisitions, and financial overview (wherever applicable).
The global waterproofing admixture market has been segmented as follows:
Product Type Analysis

Crystalline
Pore-blocking
Others

Application Type Analysis

Residential
Commercial
Infrastructure

Regional Analysis

North America
Europe

Germany
France
U.K.
Italy
Spain
Rest of Europe

Asia Pacific

China
India
Japan
ASEAN
Rest of Asia Pacific

Middle East & Africa

GCC
Egypt
South Africa
Rest of Middle East & Africa

Latin America

Brazil
Mexico
Rest of Latin America
Custom Market Research Services
TMR offers custom market research services that help clients to get information on their business scenario required where syndicated solutions are not enough.
REQUEST CUSTOMIZATION

Waterproofing Admixture Market