Medical Waste Management Market
Medical Waste Management Market (Type of Waste - Sharps, Infectious and Pathological Waste, Non-infectious Waste, Radioactive Waste, Pharmaceutical Waste; Service - Collection, Transportation, and Storage, Waste Treatment, Disposal Method) - U.S. Industry Analysis, Size, Share, Growth, Trends, and Forecast 2015 - 2023
Category :

Healthcare

Format :
A continuously expanding healthcare industry, rising numbers of diagnostic tests, and flourishing medical devices and pharmaceutical industries have significantly contributed towards the exponentially rising medical waste volumes in the U.S. The U.S. medical waste is highly regulated by strict emission, disposal, and recycling norms. It has witnessed excellent expansion in the past few years, and technological developments, emergence of advanced and innovative disposal techniques, and sustained efforts by government and non-government bodies aimed at ensuring public safety from hazardous medical waste at a sustained pace.
The Drug Enforcement Administration (DEA) has collected over 2,100 tons of prescription medicines as of September 2010 across the country, reports show. Apart from being one of the largest producers of medical waste across the globe, the U.S. also has one of the most efficient medical waste management markets of the globe. Government bodies, several NGOs, and community-based organizations are constantly guiding healthcare facilities about devising proper ways of effective recycling and disposal of medical wastes in the country.
Non-infectious Waste Takes Lion's Share in Market
A large portion of the overall medical waste generated in the U.S. is of the non-infectious variety. In 2014, non-infectious waste accounted for a dominant share of around 63% in the U.S. waste management market. In the same year, infectious waste accounted for the second-largest, 22.6%, share of the market, TMR says.
The rising number of diagnostic tests in the country is the prime reason behind the generation of vast volumes of infectious wastes from pathological labs in the country. Rising geriatric population and the relatively larger possibility of this demographic contracting serious illnesses provides a big boost to the demand for medical services and diagnostic tests, which are major contributors to the rising volumes of medical wastes.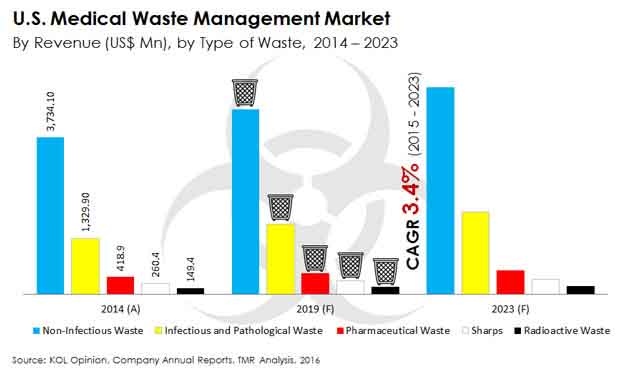 Non-incineration Waste Disposal Practices are Now Preferred in the U.S.
Incineration of medical wastes has traditionally been the dominant medical waste management method in the U.S. However, incineration leads to the emission of several harmful gases such as carbon monoxide, sulfur dioxide, and dioxins, which contribute to global warming. The Environment Protection Agency (EPA) has made air emission limits more stringent in the country, compelling waste management companies to switch cleaner ways of handling medical waste.
This has led to the increased adoption of non-incineration technologies such as steam autoclave treatment, non-ionization radiation treatment, a variety of chemical treatments in the past few years. Non-incineration technologies are also gaining increased popularity owing to their less capital intensive nature and the possibility of turning waste into resource efficient materials using these techniques.
Large Companies Face Stiff Competition from Small-sized Local Vendors
The U.S. market for medical waste management features the presence of a large number of small-sized local vendors and only a few large companies. In 2014, small-sized companies in the market accounted for a massive share of 53.1% in the market, while Stericycle, the most prominent large-scale company in the market held a share of 23.2%.
Mergers with and acquisitions of smaller companies are thus the most beneficial growth opportunities for new entrants and existing vendors in the market. Acquisition of smaller companies allows large-sized vendors in enhancing their operational efficiencies and expanding their service capabilities and consumer base in the U.S. medical waste management market.
U.S. Medical Waste Management Market: Overview
Medical waste management alludes to the proper preparing of waste materials produced by the healthcare organization organizations such as hospitals, clinics etc. These waste materials are produced at bloods banks, facilities, research centers and other such institutions. The development of medical waste management systems have assumed a key part in the commence of toxic mixes into water and land. Medical waste management systems treat waste capably by embracing condition cordial treatment methods. These medicines are ecofriendly and discharge zero harmful emanations, exhaust and gases, empowering the repurposing of waste into assets.
Ventures are seen putting liberally in innovative work to get condition inviting approaches to treat solid medical waste. Occasions, for instance, gatherings, and meetings held over various nations are centered on bringing issues to light about the subject.
U.S. Medical Waste Management Market: Trends and Opportunities
The ascent in the interest for clinic waste management is because of the strict tenets forced for discharge, transfer, and reusing of hospital waste. Besides, there have been a ton of mechanical developments and headways that have helped in diminishing and reusing of the waste to a huge degree. Numerous administrative and non-legislative firms are working towards spreading awareness among masses, teaching them about transfer of medical waste, and dealing with their security from hurtful medical waste and its negative impacts. Since quite a while, burning of medical waste has been a regular and highly popular method for disposal in the U.S. However, this strategy is rarely safe to utilize as it radiates part of toxic components and gases such as dioxins, sulfur dioxide, and carbon monoxide into the air. These gases are significantly responsible for the worldwide temperature changes occurring. After observing these impacts of cremation the Environment Protection Agency (EPA) has forced strict principles in regards to the air outflow. These controls have empowered a few waste management associations to utilize the cleaner and more secure strategies to dispose medical waste.
U.S. Medical Waste Management Market: Geographical Analysis
North America dominated the overall market by capturing the largest revenue share of over 32.0% in 2016uch of which is attributable to the U.S. A highly developed healthcare sector and rising prevalence of infectious & chronic diseases that require advanced medical & surgical aids, which generate a large number of byproducts and residues is driving the market growth in this region.
However, there are certain factors that are likely to pull down the market growth of medical waste management. The waste management process involves lot of capital to be invested, as the procedure focuses on dumping of contaminated material and managing harmful by-products. The disposal and recycling process includes the emission of dangerous gases and compounds that are foreseen to disturb the environment and ecosystem. Nevertheless, keeping all the drawbacks in consideration, various non-incineration technologies have been introduced in recent past such as non-ionization treatment, steam autoclave treatment, and many other chemical treatments as well.
U.S. Medical Waste Management Market: Companies Mentioned
The U.S. market is composed of all both small and big participants that are either looking to invest in the medical waste management market or those who are already going strong since sometime. However, among big giants and small companies, the latter one was evaluated to hold around 53.1% of the revenue of the market.
Leading participants of the U.S. medical waste management market include Sharps Compliance, Inc., Suez Environmental Services, Stericycle Inc., Clean Harbors, Inc., U.S. Ecology Inc., Republic Services Inc., Waste Management Inc. and Veolia Environmental Services.
The U.S medical waste management market is segmented as follows:
U.S Medical Waste Management Market
U.S. Medical Waste Management Market, by Type of Waste

Sharps
Infectious and Pathological Waste
Non-infectious Waste
Radioactive Waste
Pharmaceutical Waste

U.S. Medical Waste Management Market, by Service

Collection, Transportation, and Storage
Waste Treatment
Disposal Method
U.S Pharmaceutical Waste Management Market
U.S. Pharmaceutical Waste Management Market, by Type
U.S. Pharmaceutical Waste Management Market, by Category
U.S. Pharmaceutical Waste Management Market, by Substance Generator

Hospitals
Physician offices
Clinical laboratories
Manufacturers
Reverse Distributors
Custom Market Research Services
TMR offers custom market research services that help clients to get information on their business scenario required where syndicated solutions are not enough.
REQUEST CUSTOMIZATION

Us Medical Waste Management Market