Bacterial Conjunctivitis Drugs Market
Bacterial Conjunctivitis Drugs Market (Drug Class - Fluoroquinolones (Ciprofloxacin, Ofloxacin, Levofloxacin, Moxifloxacin, Gatifloxacin, Besifloxacin), Aminoglycosides (Tobramycin, Gentamycin), Macrolides (Erythromycin, Azithromycin)) - U.S. Industry Analysis, Pipeline Assessment, Size, Share, Growth, Trends and Forecast 2012 - 2024
Category :

Pharmaceutical

Format :
The U.S. market for bacterial conjunctivitis drugs has been declining sharply over the last few years. Analysts project the trend to continue in the coming years. In 2013, the market's opportunity was valued at US$473.3 mn, which is likely to reduce to US$439.8 mn by 2024. In the coming years, the market will have to experience a patent cliff as the top U.S. brands of bacterial conjunctivitis drugs, such as AzaSite, Zymaxid, Moxeza, and Vigamox, are set to lose their marketing exclusivity very soon.
The growing genericization of antibacterial drugs has impacted the demand for branded drugs significantly. The generic versions of patented formulations, with almost same efficiency as the latter, are easily available at much lower rates in the market. This has increased the sales volume, albeit at the cost of revenues. Many branded ophthalmic drug manufacturers have incurred huge losses due to the generic cannibalization in this market.
Rising Prevalence of MDROs Creates Serious Challenge for Market's Growth
Apart from this, the rising prevalence of multi-drug resistant organisms (MDROs), triggered by wide usage of antibiotics, incorrect drug dosage, and inappropriate medications, has created serious challenges for the treatment of infections such as bacterial conjunctivitis. Researchers across the world are working on discovering efficient drugs for these MDROs. However, the non-availability of effective medications in near future is likely to hamper the market's growth over the coming years.
Although the market is facing a number of restraints at present, it may experience a little relief in future if the product development partnerships (PDPs) models for business are implemented by participants. As various research and development procedures incur a high amount, exerting substantial pressure on pharma companies, strategic alliances with small biotech research organizations will prove to be beneficial for both the parties.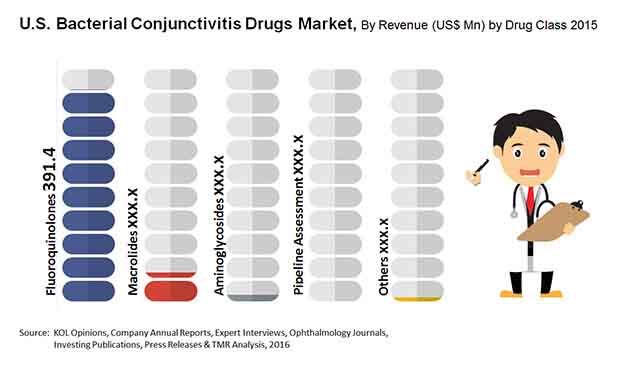 Market Encroachment by Generic Variations to Limit Demand for Topical Fluoroquinolones
Fluoroquinolones, macrolides, and aminoglycosides are the major classes of drugs used for the treatment of bacterial conjunctivitis. The demand for topical fluoroquinolones is the highest among all classes of bacterial conjunctivitis drugs in the U.S. However, the segment is projected to be hindered severely in the coming years, owing to the forthcoming patent expirations of bestselling drugs of this class, such as Vigamox, Moxeza, and Zymaxid by the end of 2016.
The market's opportunity will also be hurt significantly over the next few years due to the encroachment by generic variations of these drugs and decline from US$361.9 mn in 2013 to US$286.4 mn by 2024.
Imminent Patent Expiries to Hurt Leading Players Severely
Valeant Pharmaceuticals Int. Inc., Santen Pharmaceutical Co. Ltd., Pfizer Inc., Perrigo Com. Plc., Novartis AG, Merck & Co. Inc., F. Hoffmann-La Roche Ltd., Bayer AG, Akorn Inc., and Actavis Plc. are leading the market for bacterial conjunctivitis drugs in the U.S. The imminent patent expiries is likely to hurt the business of these players significantly in the near future. However, the rising prevalence of bacterial infection in eyes and the increasing susceptibility to infection among individuals of various age groups may provide rewarding opportunities to participants over the next few years.
Players are recommended to focus on developing herbal medicines for the treatment of bacterial conjunctivitis, as the consumer preference is shifting from pharmacological medicines to herbal treatment regimens.
US Bacterial Conjunctivitis Drugs Market: Overview
The severe infection of the eye induced by several kinds of bacteria is the bacterial conjunctivitis. The main classes of drugs used to treat bacterial conjunctivitis include fluoroquinolones, macrolides, and aminoglycosides. Herbal medicines for better therapy are also being created.
One of the main eye problems globally, bacterial conjunctivitis has been caused by bacteria like Moraxella and Chlamydia trachomatis. These bacteria cause persistent conjunctivitis and greater redness levels. Similarly, the non-acute bacterial conjunctivitis of Staphylococci and Streptococcia is observed. In addition, bacteria such as β-hemolytic streptococci, Neisseria gonorrheae and Corynebacterium diphtheriae are other bacteria, which in the case of bacterial conjunctivitis produce membranes or psuedomembranes.
Most instances of bacterial conjunctivitis, but not a significant cause of severe medical problems, are acute and self-limiting; because of their elevated incidence the disease can have an important effect on society, as people are usually missing college or work.
This report on the US bacterial conjunctivitis market provides and in-depth industry study with analysis on its drivers, challenges, opportunities and future trend. The study further examines the product's impact on associated industries and sectors. The market intelligence study sheds light on the prominent strategies adopted by established market vendors, elucidating on the possible entry barriers for new market entrants. The research is an illuminative guide on the US bacterial conjunctivitis market over the provided forecast period.
TMR's report projects that the US bacterial conjunctivitis market is anticipated to generate US$439.8 mn by 2024. In 2013, the market earned US$473.3 mn.
Topical Fluoroquinolones Emerges Highest Grossing Segment
Fluoroquinolones are the most commonly suggested class of drugs because of increased efficacy and wide spectrum activity against conjunctivitis causing bacteria. Factors like the large-scale antibiotics activity provided by fluoroquinolones against the gram-positive, gram-negative and anaerobe organisms can be ascribed to the popularity of this section. The restrictions for this section are the forthcoming patent expiry of blockbuster fluoroquinolone branded pharmaceuticals over the prediction period.
The market is extremely dynamic, as currently very few research studies with a poor product pipeline are carried out, because of drug expiry problems, the generic antibiotic version will prevail on the market over the forecast period.
Drug Patent Expiry to Challenge US Bacterial Conjunctivitis Market
Most significant drug patents in the blockbuster industry are about to expire, which is the main restriction on market growth. Moxeza, Besivance, Vigamox, and Zymaxid are key blockbuster drugs due to expire. Apart from the loss of patent exclusiveness, a deficit of novel compounds accessible for preclinical and clinical examination also places the market in a restrictive position. There are presently only a few research projects under way on bacterial conjunctivitis and pharmaceutical approvals. In addition, in recent years, doctors have prescribed an array of inexpensive generic medicines following the drug expiry problem. This is a key factor leading to sluggishness in the US bacterial conjunctivitis market in coming years.
New players face entry barriers due to their steep initial investments, but they are encouraged to spend on the market by the capacity of excellent research and development equipment. Big pharmaceutical companies and biotech research organizations, are focusing on mergers and acquisitions, and take part in strategic partnerships. Players concentrate on creating herbal medicinal products while consumer medicinal products are being treated with herbal medicinal products.
Key vendors operating in the US bacterial conjunctivitis market include Novartis AG, Valeant Pharmaceuticals Int. Inc., Santen Pharmaceutical Co. Ltd., Merk & Co. Inc., and Perrigo Com. Plc.
Custom Market Research Services
TMR offers custom market research services that help clients to get information on their business scenario required where syndicated solutions are not enough.
REQUEST CUSTOMIZATION

Us Bacterial Conjunctivitis Drugs Market