Urinary Catheters Market
Urinary Catheters Market (Product Type - Intermittent Catheters, Foley Catheters, and Male External Catheters) - Global Industry Analysis, Size, Share, Growth, Trends, and Forecast 2017 - 2025
Category :

Healthcare

Format :
Urinary Catheters Market: Contours of Evolution
Continuous advances in urinary catheterization, both in relation to materials used and the techniques themselves, have built up sizable demand in urinary catheters market. Various types of catheters are used, mainly including intermittent catheters, foley catheters, and male external catheters, for emptying the bladder. Various guidelines have come to the fore, including for self-catheterization, for meeting the needs in patients with range of bladder problems. They are used in healthcare settings when the emptying of the bladder for patients is not possible for temporary health conditions. One of the most promising patient population has been those with neurological problems, an example being people with neurogenic bladder dysfunction. The urinary catheters also find demand in hospitals and nursing homes, especially those engaged in rehabilitating patients.
Manufacturers and end users have been concerned equally with the rising incidence of catheter-associated complications, especially in case of indwelling urinary catheters. They have gained useful insights from constant updates in guidelines for accessing clinical outcomes in patients in case of long-term use.
The global urinary catheters market was registered the revenue of about US$3,130.7 mn in 2016 and is projected to garner CAGR of 5.3% from 2017 to 2025. This will drive the revenues to reach US$5,003.1 mn by 2025-end. Strides made in medical devices industry, pharmaceutical, and biotechnology industries are spurring the clinical effectiveness of various types of urinary catheters. Of the various product types in the urinary catheters market, the intermittent catheters led the pack; it held a share of 44.0% in 2016.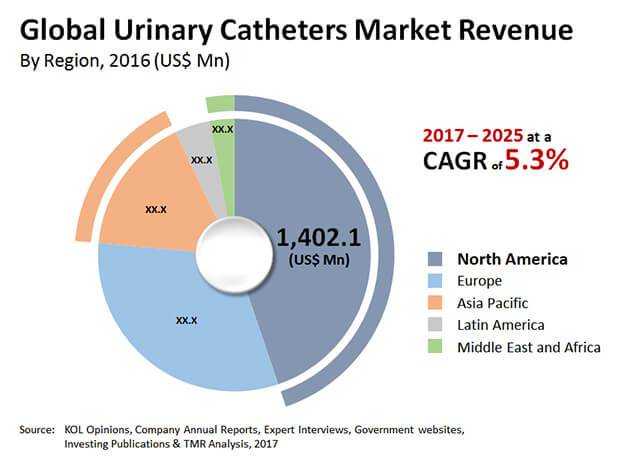 Patient Acceptance of Intermittent Urinary Catheters In Managing Urinary Retention Account For Its Dominance
Over the years, the rise in patient acceptance of intermittent urinary catheters in managing chronic urinary retention is noteworthy, accruing to large revenue gains to device manufacturers. They are striving for effectiveness, reliability, safety, cost-effectiveness, and efficacy of the same. Key players have also constantly improving the aspects that are central to patient preference. Prevalence of chronic urinary retention is one of the crucial growth drivers of growth in the segment. The clinical identification of urinary symptoms that require technologically advanced equipment for intermittent catheterization has been a key trend cementing the prospects of the overall urinary catheters market.
Several New Tech in Intermittent Urinary Catheters Unveiled
Over the years, experts have observed a rapid acceptance of intermittent systems in the urinary catheters market, mainly on account of their non-invasiveness of these to enable patients to continue with their daily activities. Another crucial factor causing a sustained shift toward Catheter-associated urinary tract infection, a common occurrence in indwelling catheters. A relevant trend is substantial marketization of urinary catheters including self-administering ones that can reduce catheter-associated bacteriuria/funguria in recent years.
In coming years, researchers are excited about assessing the reliability of new antimicrobial-coated catheters, especially for short-term catheterization. This has been unlocking new revenue stream for medical manufacturers to tap into. In developed countries, the rise in urinary catheters demand has been bolstered by evidence-based guidelines for clinicians who find these helpful in increasing the patient comfort during catheterization.
North America Leading Global Landscape; Popularity of Non-Invasive Urinary Catheters Growing
Regionally, the report segments the global urinary catheters market into North America, Asia Pacific, Europe, the Middle East and Africa (MEA), and South America. Of these, North America is expected to dominate the landscape, and will account for a substantial share throughout the assessment period.
The presence of a robust healthcare infrastructure across the region is one of the key factors for the massive adoption rate over recent years. Further, a growing number of elderly population with urinary incontinence is bolstering demand for safe and non-invasive urinary catheters. Rise in target populations with neurological conditions in the region will boost the revenue generation of the regional market in coming years as well. In 2016, it held a share of 44.9%.
The North America market is trailed by Europe. The region will be the second leading one in the coming few years as well. Rising research and development activities related to catheterization methods and technology has made the regional market increasingly lucrative. The emergence of new guidelines has brought about best practices in indwelling and intermittent catheterization.
Asia Pacific Emerging as Lucrative Market
Meanwhile, Asia Pacific is expected to be a promising regional market with the presence of vast latent avenues for all prominent device manufacturers. Growing number of surgical procedures that require the use of catheters has bolstered the prospects of the regional market. Moreover, advances in nursing care has spurred the demand for urinary catheters in hospitals in the key economies of the region. Further, rapidly aging populations who are aware of the benefits of self-catheterization are also crucial to the growth of all key regional markets.
Some of the promising players in the urinary catheters market are Teleflex Incorporated, Hollister Incorporated, ConvaTec Inc., Medtronic plc, Cook Medical, Boston Scientific Corporation, Coloplast, C.R. Bard Inc., B.Braun Melsungen AG, nd TE Connectivity Corporation.
Global Urinary Catheters Market: Overview
Urinary catheters find applications among patients suffering from various urinary disorders such as urinary incontinence and urinary retention, and among patients who have undergone genital or prostrate surgery or suffering from disorders such as multiple sclerosis and neurological disorders such as Parkinson's disease and dementia. Urinary catheters have been primarily classified into three major segments: intermittent, indwelling and male external urinary catheters. Rising prevalence of urinary incontinence and other urinary disorders, aging population, demand for minimally invasive procedures and various other factors would contribute to the growth of the market. The report consists of an executive summary that provides information about the products, its segments along with a market snapshot and comparative analysis by geography, in terms of revenue %, for 2016.
Global Urinary Catheters Market: Scope of Study
A detailed overview of market dynamics, including the drivers, restraints, and opportunities of the Urinary catheters market, along with porter's analysis, value chain analysis, of the global market, has been provided in this report. Market revenue analysis for all the above mentioned segments has been provided for the forecast period of 2017-2025, considering 2016 as the base year, and 2015 as the historical year, along with compound annual growth rate (CAGR %), for the forecast period of 2017-2025. Market share estimations were based on in-depth analysis and study of products, and their features etc.
This report provides in-depth analysis of the urinary catheters market. The stakeholders for this report include companies involved in the manufacturing of urinary catheters. Executive summary section is included snapshot on stakeholders in this report, which summarizes the market size, trends and competition in different regions. Market players and Market share analysis is analyzed to signify percentage share of the major players operating in the urinary catheters market. Furthermore, the report includes market attractiveness analysis by geography that depicts the most attractive and significant region in the global market in 2016.
The research methodology is a combination of primary and secondary research. Primary research includes information collected via e-mails, and telephonic interviews of key opinion leaders (KOL), and forms the bulk of our research. Secondary research includes information collected from various sources, by study of company websites, annual reports, stock analysis presentations, press releases, and various national and international databases.
Global Urinary Catheters Market: Market Segmentation
Based on product type, the urinary catheters market has been segmented into intermittent catheters, Foley Catheters, and male external catheters. Intermittent catheter is growing at a CAGR of 6.0% from 2017 to 2025 due to it several advantages and application. Based on geography, the market is segmented into North America, Europe, Asia Pacific, Latin America, and Middle East & Africa. The regions are further segmented into major countries which include, U.S., Canada, Germany, U.K., France, Italy, and Spain, rest of Europe, China, Japan, India, Australia, Rest of Asia Pacific, Brazil, Mexico, Rest of Latin America, Saudi Arabia, South Africa, and Rest of Middle East & Africa. The report also comprises list of major players in the market, their SWOT analysis, market share of these players in the urinary catheters market, key business strategies, product portfolios, and recent developments. Key market players profiled in this report include, TE Connectivity Corporation (AdvancedCath), B. Braun Melsungen AG, Boston Scientific Corporation, C. R. Bard, Inc., Coloplast, Cook Medical, Medtronic Plc, Hollister Incorporated, Teleflex Incorporated, ConvaTec, Inc., CURE MEDICAL, LLC.
The Urinary catheters Diagnostic market has been segmented as follows:
by Product Type

Intermittent Catheters
Foley Catheters
Male External Catheters

by Geography

North America
Europe

Germany
France
U.K.
Spain
Italy
Rest of Europe

Asia Pacific

China
Japan
India
Australia
Rest of Asia Pacific

Latin America

Brazil
Mexico
Rest of Latin America

Middle East & Africa

South Africa
Saudi Arabia
Rest of Middle East & Africa
Custom Market Research Services
TMR offers custom market research services that help clients to get information on their business scenario required where syndicated solutions are not enough.
REQUEST CUSTOMIZATION