UPS Market
UPS Market (Type - Offline, Online, Line Interactive; kVA Range - Less than 5 kVA, 5.1-20 kVA, 20.1-60 kVA, 60.1-200 kVA, Above 200 kVA; Application - Data Centre and Facility UPS, Industrial UPS, Marine UPS, Network, Server and Storage UPS, PC, Workstation and Home UPS) - Global Industry Analysis, Size, Share, Growth, Trends, and Forecast 2018 - 2026
Factory Automation
TMRGL48177
2018-08-11
382

Pages
UPS Market - Snapshot
The global UPS market is currently driven by growing frequency of power fluctuations and growth in number of data centers and cloud storage utilization. Demand for power backup solutions in small and large scale industries is increasing considerably to protect sensitive equipment from the adverse effects of grid power fluctuations. Need for UPS systems in hospitals and factories are also growing, where power failures lead to critical situations. Advancements in UPS systems such as lithium-ion technology, transformer-less UPS, and modular UPS are likely to have strong influence on market growth over the forecast period. In 2017, the global UPS market was valued at US$ 5,539.2 Mn and is anticipated to reach US$ 10,745.9 Mn by 2026, expanding at a CAGR of 7.8%during the forecast period from 2018 to 2026.
These days, there are many reasons for power failures such as natural causes, short circuits, and other causes including man-made outages because of which power cuts are becoming more and more frequent. Electrical equipment faces potential danger from both severe weather and poor voltage quality that can cause slow equipment degradation or instantaneous loss of data stored on the equipment. The most frequent blackouts occur in emerging economies including South Asia, due to underinvestment on energy infrastructures. To cope with electricity failures and fluctuations, adoption of UPS has increased in order to protect various electronic equipment. Data centers require continuous power supply to protect the operational data & IT equipment and to keep cooling systems running.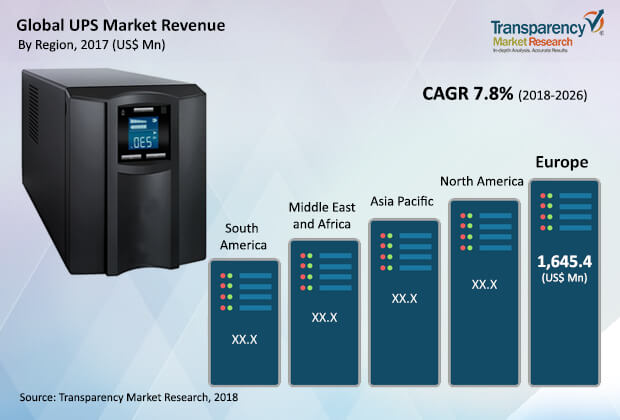 Global expansion of wireless internet connectivity and penetration of affordable smartphones have resulted in rapidly-increasing data traffic. Hence, data centers are being constructed across emerging countries such as China and India at lower costs. To efficiently manage IT equipment and avoid any data or equipment loss due to power failures or disruptions, data centers are expected to be highest adopters of Uninterruptible Power Sources (UPS) solutions during the forecast period.
However, the high installation and maintenance cost is likely to be a limiting factor for the UPS market growth. Installing Uninterruptible Power Supplies (UPS) requires major initial capital investment which varies as per application and kVA range. Attaching many UPS batteries to an existing wiring system will give an efficient power supply to the system. Nonetheless, market players are making efforts toward providing flexible, energy efficient, and high load capacity features in UPS. Further, growth of smart home technology creates huge growth opportunity for the UPS market
Many players are increasing their share through strategic mergers & acquisitions and partnerships with several industries, paying attention to expand their market and necessary requirement. In June 2017, Schneider Electric expanded its Galaxy V-Series Uninterruptible Power Supply (UPS) product portfolio for data center and industrial applications in order to achieve high density and efficient power protection. Some of the prominent players identified in the UPS market includes - Schneider Electric SE, Eaton Corporation Plc., Emerson Electric Company, Uninterruptible Power Supplies Ltd., Legrand, Vertiv Co., ABB Ltd.,Luminous Power Technologies, Mitsubishi Electric Corporation, and Delta Power Solutions.
UPS Market - Overview
This comprehensive report by Transparency Market Research analyzes and forecasts the UPS market at the global and regional level. The report provides analysis over the period 2016–2026, wherein 2018 to 2026 is the forecast period and the base year is 2017. An in-depth and unbiased market assessment has been made to offer readers in-depth and accurate analysis. The report highlights all the major trends and services playing a key role in the growth of the UPS market during 2018 - 2026. It also focuses on market drivers, restraining factors, and opportunities of the UPS market during the said period. The study provides a complete perspective about the UPS market's growth throughout the research study in terms of value (in US$ Mn and Thousand Units) across various geographies, including Asia Pacific, South America, North America, Middle East & Africa (MEA), and Europe.
The report includes a detailed value chain analysis, which is focused on providing a widespread view of the global UPS market. Porter's Five Forces analysis is also provided in the report to understand the competitive scenario in the global UPS market. The study incorporates market attractiveness analysis, wherein the market segments for type, kVA range, and application are benchmarked based on their market size, growth rate, and attractiveness in terms of opportunity. In order to give a complete analysis of the overall competitive scenario in the UPS market, every geographic region mentioned in the report is provided with attractiveness analysis.
A market overview chapter in the UPS market report explains the market trends and dynamics that include the market drivers, restraining factors, and opportunities for the current and future UPS market. A market outlook analysis has also been provided globally in the report. Additionally, the report also provides analysis of different business strategies being adopted by the market leaders of the UPS market. The market introduction chapter helps in gaining an idea of different trends and services related to UPS along with their devices.
Global UPS Market: Scope of the Report
The study provides a decisive view on the global UPS market by segmenting the market into type, kVA range, and application. The report provides a detailed breakdown of the UPS market region-wise and categorizes it at various levels, thus providing valuable insights at micro and macro levels.
The report further highlights the competitive scenario within the UPS market, thus ranking all the major players according to key recent developments and their geographic presence. The insights for the UPS market are the result of our extensive primary interviews, secondary research, and in-house expert panel reviews. These market estimates have been analyzed by considering the impact of different economic, political, social, legal, and technological factors.
On the basis of country, the North America market is bifurcated into Canada, the U.S., and Rest of North America. Furthermore, the Europe market is analyzed across Italy, France, Germany, U.K., and Rest of Europe. The APAC UPS market is also segmented at country level which includes China, Japan, India, South Korea, and Rest of Asia Pacific. Middle East &Africa region covers the GCC, South Africa, and Rest of Middle East & Africa. Similarly, South America region includes Brazil and Rest of South America. This report provides all the strategic information required to understand the UPS market along with its devices and application. Also, the report provides insights related to the components and different applications according to the various geographical regions mentioned above.
Global UPS Market: Research Methodology
The research methodology is a perfect combination of primary research, secondary research and expert panel reviews. Secondary sources include annual reports, company websites, SEC filings and investor presentations, national government documents, internal and external proprietary databases, statistical databases, relevant patent and regulatory databases, market reports, government publications, statistical databases, etc.
Primary research involves telephonic interviews, e-mail interactions, and face-to-face interviews for detailed and unbiased reviews on the UPS market, across geographies. Primary interviews are usually conducted on an ongoing basis with industry experts and participants in order to get latest market insights and validate the existing data and analysis. Primary interviews offer new and fresh information on important factors such as market trends, market size, competitive landscape, growth trends, etc. These factors help to validate and strengthen secondary research findings. Moreover, the data collected and analyzed from secondary and primary research is again discussed and examined by our expert panel.
Global UPS Market: Competitive Dynamics
The research study includes profiles of leading companies operating in the global UPS market. Market players have been profiled in terms of attributes such as company overview, financial overview, business strategies, and recent developments. The key players profiled in the global UPS market includes Schneider Electric SE, Eaton Corporation Plc., Emerson Electric Company, Uninterruptible Power Supplies Ltd., Legrand, Vertiv Co., ABB Ltd., Luminous Power Technologies, Mitsubishi Electric Corporation, and Delta Power Solutions. Companies are focusing on expanding their business through strategic acquisitions and partnerships with several end-use industries.
The global UPS market has been segmented as follows:
Global UPS Market
By Type

Online
Offline
Line Interactive

By KVA Range

Less than 5 kVA
1-20 kVA
1-60 kVA
1-200 kVA
Above 200 kVA

By Application

Data Centre & Facility UPS
Industrial UPS
Marine UPS
Network, Server & Storage UPS
PC, Workstation & home UPS
Others

By Geography

North America

U.S.
Canada
Mexico
Rest of North America

Europe

U.K
Germany
France
Rest of Europe

Asia Pacific

Japan
India
China
South Korea
Rest of APAC

Middle East &Africa (MEA)

GCC
South Africa
Rest of Middle East & Africa

South America

Brazil
Rest of South America
Custom Market Research Services
TMR offers custom market research services that help clients to get information on their business scenario required where syndicated solutions are not enough.
REQUEST CUSTOMIZATION