Underground Mining Market
Underground Mining Market (Equipment: Drilling Equipment, Loaders & Trucks, Ventilation Systems, Conveyor Systems, Rock Reinforcement Systems, and Others; Method: Supported [Cut-and-Fill Stoping, Stull Stoping, and Square Set Stoping], Unsupported [Room-and-Pillar, Shrinkage Stoping, and Sublevel Stoping], and Caving [Longwall Mining, Sublevel Caving, and Block Caving]; Operator: Contract Mining and Owner Mining) - Global Industry Analysis, Size, Share, Growth, Trends, and Forecast, 2019 - 2027
Energy & Natural Resources
TMRGL2372
2019-11-18
386

Pages
Automation in Drilling Equipment Translate into Opportunities for Stakeholders in Underground Mining Ecosystem
Innovations in drilling equipment are at the core of operational targets for stakeholders in the underground mining value chain. Technology companies are developing new rock drills for underground rigs that offer better energy efficiency and increased durability. Drilling equipment currently accounts for the highest revenue amongst all equipment in the underground mining market, and is predicted to dominate the market throughout the forecast period. Drilling equipment is projected to be valued at a profitable revenue of ~US$ 7 billion by 2027, in the underground mining market.
Due to the potential of exponential growth in drilling equipment, companies in the underground mining landscape are partnering to deliver blast automation. For instance, in November 2019, Orica - an Australian provider of commercial explosives and blast systems, announced A collaboration with Epiroc - a Swedish manufacturer of mining equipment. This collaboration was made to deliver WebGen™ - a wireless initiating system that offers insights on the automation of drill and blast operations. Companies in the underground mining market are increasing their efficiency in the development of automated equipment. They are customizing products by automating functions such as adding drill rods, and incorporating changing drill bits in their equipment. They are also developing smart connected machines that are programmed to complete tasks, such as executing a precise drilling sequence.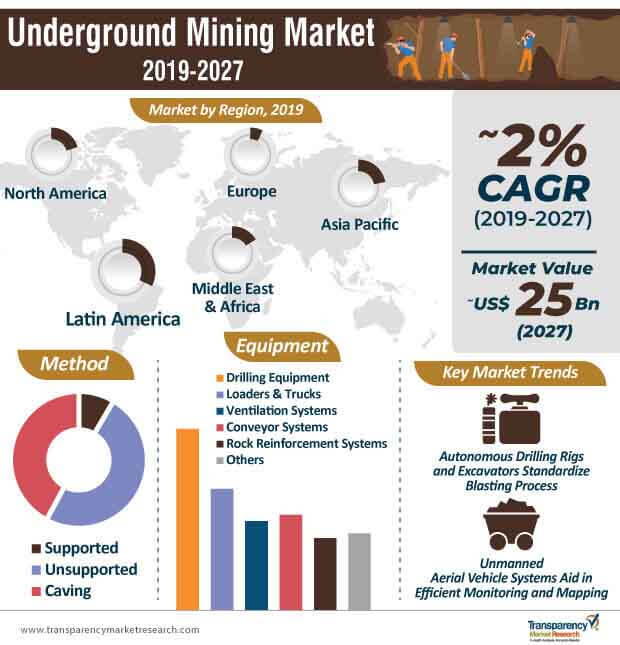 To gauge the scope of customization in our reports Ask for a Sample
Drone Technology & 3D Printing Deliver Accuracy for Challenging Operations
Drones, AKA, unmanned aerial vehicle systems (UAV or UAS), are being increasingly used by mining operators for the efficient maintenance, monitoring, and mapping of site projects. Companies in the underground mining space are building autonomous drones that are capable of determining the suitability of underground areas, so as to ensure safety and accuracy. For instance, in December 2018, Australian technology start-up Emesent raised US$ 3.5 million in venture capital with CSIRO - an Australian federal government agency responsible for scientific research, to launch Hovermap. This technology automates the collection of valuable data, and helps stakeholders in the landscape to safely inspect the inaccessible areas of underground mines.
Get an idea about the offerings of our report from Report Brochure
Innovations in drones have led to the introduction of 3D printing and mapping in the underground mining market. Large and specialized equipment is susceptible to downtime due to malfunction. Hence, companies are adopting 3D printing as a solution to fast-track the procedure of building specialized parts onsite. 3D printing serves as a cost-efficient solution for operators in the underground mining market, since the technique helps reduce inventory costs by enabling operators to print parts as per requirement. On the other hand, 3D mapping offers a high degree of detail and accuracy with the help of the data collected by drones.
Investments in High-tech Equipment Helps Operators Lower Costs and Increase Safety
Certain challenges such as safety issues, rising operational costs, and fluctuation in commodity prices are a great concern for stakeholders in the underground mining supply chain. These obstacles explain the sluggish growth of the underground mining market, which is projected to account for a ~2% CAGR during the forecast period. In countries such as Australia, advertised wages for mining workers have significantly escalated upward in the past few years. Reason being, mines today are more complex and require skilled labor to execute challenging projects. Since older mines are reaching the end of their lifecycle, companies in the underground mining market are delving deeper into new mines, only to discover inferior-quality ores.
To overcome these obstacles, operators in the underground mining landscape are streamlining their production activities with the help of advanced technological innovations. They are increasingly investing in mining simulators that serve as an effective and safe option to train workers and educate them about the various uses of mining equipment. These simulators are based on software programs to train workers on equipment operation. Since drilling and blasting are some of the life-threatening processes of mining, operators in the underground mining market are investing in underground excavators. Thus, investing in high-tech equipment help companies lower operational costs and increase the safety of workers.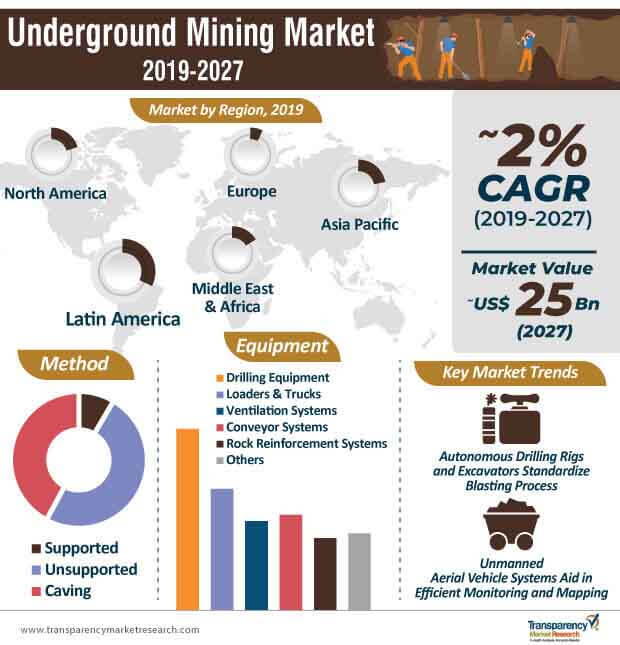 Looking for Regional Analysis or Competitive Landscape in Underground Mining Market, ask for a customized report
Analysts' Viewpoint
Automation and information management have become the forefront for companies in the underground mining market. They should increase focus on data-driven decision-making to increase productivity with the adoption of software to collect and analyze operational data. Driverless vehicles and robots are anticipated to replace much of the labor force to alleviate the issue of safety.

However, the unavailability of skilled workers has created barriers in implementing the digitization of projects. To overcome this, companies should invest in mining simulators and provide training programs to make workers industry-ready. They should embrace the use of automated machines and connected equipment to gain added success in the market space.
Underground Mining
Underground mines are used to exploit high grade, deep ore bodies. However, there is no limiting grade above which underground mining is carried out, nor is there a limiting depth below which underground mining is always done. It depends on the mining method used.
Rapid Industrialization in Developing Nations Driving Underground Mining Market
Manufacturing and service industries in developing countries such as India, China, Vietnam, Indonesia, and Brazil have been expanding since the last few years. Construction and shipbuilding industries in Asia Pacific are expanding at a rapid pace, due to the large number of projects underway. This is anticipated to fuel the demand for metals and minerals. Increase in the disposable income of consumers and rise in the demand for durable goods such as automobiles and household equipment with high mineral or metal content are expected to boost the underground mining market.
Several international developers plan to establish their businesses through FDI incentive schemes in developing economies. This is estimated to indirectly boost the economies of these particular country and propel industrialization. Rise in industrialization is anticipated to augment the growth of the underground mining market, primarily due to the increase in the demand for metal products.
Growth in the production of electric vehicles in Europe and the U.S. is also driving the underground mining market. Furthermore, rise in the demand for coal in Eastern Europe and construction of new coal-based power plants in Poland, Greece, and the Balkan regions are other factors boosting the underground mining market in the region.
Implementation of IoT in Mining Provides Opportunities to Underground Mining Market
The implementation of IoT in the underground mining market provides lucrative opportunities to companies to increase their productivity. IoT can also be applied in unmanned vehicles. Driverless mine vehicles operate autonomously. These GPS-powered vehicles can fully interact with each other to minimize delays and fuel costs. IoT can be utilized for predictive maintenance, as predictive maintenance technologies help determine precisely when an equipment requires maintenance. Predictive maintenance can also reduce downtime by preventing the untimely breakdown of any crucial equipment during the operation cycle. Combining analytics with inventory management enables companies to ensure the timely and right stock of inventory, thereby improving their inventory management.
The implementation of technologies such as cloud-based logistics and load-sharing platforms can enable coal mining companies to optimize their supply chains. Additionally, companies can use digital tools to execute and manage their sales contracts, determine prices in real-time, and manage inventories and product flows in ways that control risks and optimize costs. Thus, the implementation of IoT in mining activities is expected to offer lucrative opportunities to the underground mining market.
Expansions, Acquisitions, and New Contracts in Underground Mining Market
In September 2018, Thiess, a subsidiary of CIMIC Group, bagged a contract worth US$ 134.94 Mn from BHP Nickel West. According to the contract, Thiess will provide underground mining services and equipment to support Leinster Underground Mine's lateral development and ore production for a term of at least two years.
In August 2018, African Underground Mining Services (AUMS) received a mining contract worth US$ 160 Mn from Roxgold, a Canada-based gold mining company. As per the contract, AUMS will offer underground mining services for Zone 55 in the Yaramoko gold mine and Bagassi South underground mine.
Latin America Prominent Underground Mining Market
Latin America dominated the global underground mining market in 2018. Brazil is one of the largest producers of niobium, bauxite, and tin, and the second-largest producer of iron ore and manganese in the world.
Brazil is expected to be a highly attractive country in the underground mining market in Latin America during the forecast period. More than 8,000 companies operate in the mining industry in Brazil. Among these, Vale S.A. is the leading player; it accounts for almost 80% share of the total mining sales in the country.
The underground mining market in Asia Pacific is estimated to expand at a substantial pace during the forecast period. China has rich reserves of mineral resources. All the known minerals in the world are available in the country. Investments in the geological exploration of non-oil and gas minerals stood at ~US$ 3 Bn in China in 2017.
Australia is another major country of the underground mining market in Asia Pacific. It is among the top five producers of gold, iron ore, lead, zinc, and nickel in the world. It also has the largest uranium and fourth-largest black coal resources in the world.
The underground mining market in Europe is projected to expand at a stagnant pace during the forecast period.
Highly Competitive Underground Mining Market with Dominance of Top Players
The global underground mining market is highly fragmented, with the presence of a large number of local, regional, and global players.
Key players operating in the global underground mining market are

BHP
Rio Tinto
Glencore
Vale S.A.
Alcoa Corporation
Coal India Ltd
Anglo American Plc
Barminco
CIMIC Group Limited
OZ Minerals
The Redpath Group
Thyssen Mining
China Shenhua Energy Company Limited
Norilsk Nickel Group
Implats Platinum Limited
Amur Minerals Corporation
GBF Underground Mining Company
Freeport-McMoRan.
Underground Mining Market: Scope of the Report
TMR's recent publication on the underground mining market provides audiences with an overall market outlook, with the help of comprehensive assessment of the global market scenario. TMR's study on the underground mining market analyzes the industry with respect to the historical and current market scenario, which offers a forecast for the period of 2019 to 2027.
Report readers are able to make important decisions pertaining to their business with a wealth of information and exclusive underground mining market insights enclosed in the study. The underground mining market report also provides in-depth understanding of the key industry trends and developments made by players in the underground mining market. This TMR report is divided into different sections that allow readers to gain an understanding of the underground mining market.
Key Queries Addressed in the Report
How much investment is expected to be made in the underground mining market by the end of the forecast period?
Which type of underground mining method is likely to be more lucrative by 2027?
What are the key growth indicators and market dynamics that are expected to drive the underground mining market in the next nine years?
Which regions are anticipated to provide scope of opportunities for underground mining market competitors?
What are the essential strategies incorporated by key underground mining market players in an attempt to expand their market presence?
The first section in TMR's report on the underground mining market begins with a premise that includes the report scope, market segmentation, and research highlights. Following this is the executive summary that emphasizes the underground mining market aspects covered in the study. This section provides a brief understanding of the market elements, and enables readers to understand the aspects covered in the study. The report also includes the market dynamics that offer an understanding of the market drivers, restraints, and opportunities.
The TMR study on the underground mining market offers an assessment of the geographical landscape of the market. Regional study helps market competitors make important decisions pertaining to their business. Individualized, country-wise, and segment-wise analysis pertaining to individual regions helps readers of the underground mining market report to decipher the potential of the market in various geographies. Supported by year-on-year growth projections and global value share, this section is a vital part of the report.
The study on the underground mining market offers a holistic competitive value judgment, with the details of leading and emerging market players in the landscape. The dashboard view of the competitors in the underground mining market report allows readers to understand the business and strategies implemented by key players, along with their performance in the market.
Research Methodology
The TMR report on the underground mining market is based on detailed estimation of the market, with the inclusion of comprehensive primary and secondary research inputs. Detailed investigation of the underground mining market in terms of competitive scenario is supported by an individual-level examination of different avenues related to the industry. Also, an analysis of the historical and current global market for underground mining focuses on key market segments, major regions, market drivers, and other qualitative inputs, which helps TMR's analysts derive crucial predictions and forecast analysis of the underground mining market.
Underground Mining Market: Segmentation
Equipment

Drilling Equipment

Loaders & Trucks

Ventilation Systems

Conveyor Systems

Rock Reinforcement Systems

Others

Method

Supported

Cut-and-Fill Stoping
Stull Stoping
Square Set Stoping

Unsupported

Room-and-Pillar
Shrinkage Stoping
Sublevel Stoping

Caving

Longwall Mining
Sublevel Caving
Block Caving

Operator

Contract Mining

Owner Mining

Region

North America

Latin America

Asia Pacific

Europe

Middle East & Africa
Custom Market Research Services
TMR offers custom market research services that help clients to get information on their business scenario required where syndicated solutions are not enough.
REQUEST CUSTOMIZATION