Global Translucent films market: A historical analysis
Translucent films have matte surface finish due to which it provides uniform color in reflected as well as transmitted light which is considered as one of the prominent reasons due to which translucent films are used in graphic films. Architectural graphics, directional signage, outdoor advertising, backlit signage are some of the most prominent applications of the translucent films. Big brand owners prefer the publicity of their goods through outdoor advertising, which is considered as one of the reasons for boosting the market of the global translucent films market. The increase in demand for ready to eat foods and processed foods is the major factor that is driving the market of the global translucent films market. On the basis of material translucent films market has been segmented into PET, PP, PE, PS and PVC. Screen printing, cut graphics and thermoforming are some of the major application of translucent films. This has led to rise in the sale of the translucent films market
Global Translucent Films Market: Company and Industry Level Trends
Company Name: 3M Company
The company is focusing on innovations which also includes new launches in the field of film market to attract more customers by addressing the differential needs of the customers
3M spends more than 5% of its sale on research and development to improve its product offerings. The company has 8,300 researchers and research offices in 36 countries across the world.
Global Translucent Films Market: Market Dynamics
Translucent films are extensively used in packaging and printing applications. Translucent films are widely used as decorative films, which includes home interior, interior of private jets and vehicles decoration, by creating interior graphics, or using it as a surface protection film. Translucent films are prominently used as privacy films at various establishments including hotels, hospitals, restaurants, schools, and colleges among others. The institutional market for translucent films is expected to create considerable market demand, during the forecast period. Manufacturers and suppliers of translucent films incorporate several added features such as color fastness, customization option for textures, fire retardant films, and clean wiping, among others. Value-added effects are incorporated in translucent films to cater to various client requirements. Apart from value-added features, manufacturers also incorporate characteristics such as resistance to heat, resistance to chemicals, etc. Translucent films incorporated with weather resistance features are extensively used for outdoor signage applications. The global market for translucent films is expected to witness new product development activities targeted to cater extensive end-use industries. Innovation and new product development activities by manufacturers of translucent films are expected to generate considerable market opportunities during the forecast period, 2018-2026.
Global Translucent Films Market: Segmentation
Pricing for this market has been captured on the basis of thickness type
On the basis of material, the global translucent films market has been segmented as:
Polyethylene terephthalate (PET)
Polyethylene (PE)
Polypropylene (PP)
Polystyrene (PS)
Others (Poly Vinyl Chloride (PVC), Polyamide (Nylon)
On the basis of thickness type, the global translucent films market has been segmented as:
Up to 1 mil
1 to 2 mil
Above 2 mil
On the basis of application, the global translucent films market has been segmented as:
Printing
Packaging
LED Lighting
Labelling
On the basis of end use industry, the global translucent films market has been segmented as:
Food & Beverage Industry
Pharmaceutical Industry
Personal Care and Cosmetics Industry
Others
Exhibit- 1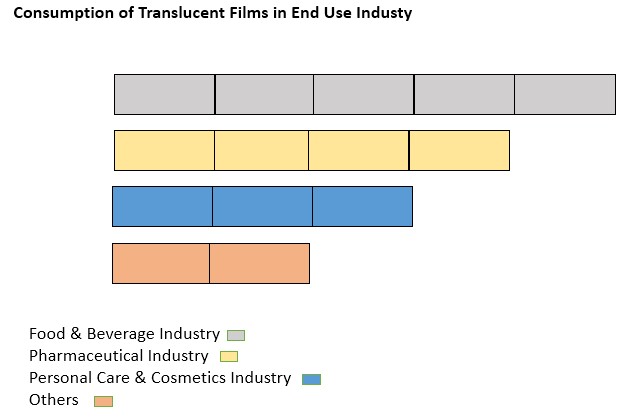 Global Translucent Films Market: Key Players
Some key players that currently operate in translucent films market across the globe can be segmented into three tiers based on their revenue as follows:
Tier -1 (includes market leader's players with revenue of more than 2 Bn)
Tier-2 (includes market players with revenue between 5 Mn – 500 Mn)

Hexis S.A.
Cosmo Films Limited
Grimco, Inc
Marvel Vinyls Limited
Tier-3 (includes market players with revenue between less than 5 Mn)
Exhibit- 2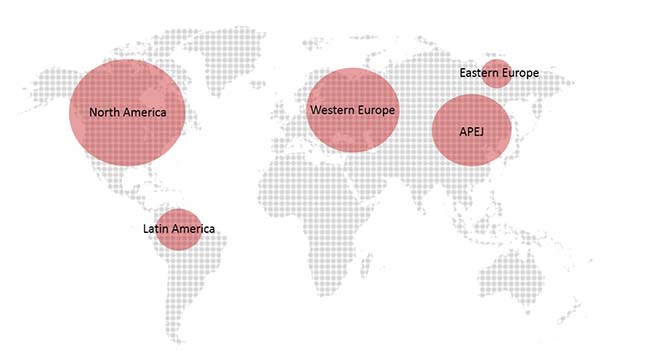 Exhibit-2 shows production cluster by regions, where in size of the cluster represents production volume
Key Product Launches:
On 22 April Amcor limited launched new silicon oxide coated translucent films - AmLite Ultra pack which provides barrier to oxygen transmission that is 30% better than a standard aluminum laminate formation. This enables reduction in the weight of films in the flexible format packs, there by reducing the weight by 21% and overall carbon footprint by 40%.
In August, 2017 Ulfex launched the film for candy packaging. It consists of bi-axially oriented polyethylene terephthalate (BOPET) film which consists of low capacity, gloss white anti – static twist wrap polyester film.
This intelligence report by TMR is the outcome of intense study and rigorous assessment of various dynamics shaping the growth of the market. TMR nurtures a close-knit team of analysts, strategists, and industry experts who offer clients tools, methodologies, and frameworks to make smarter decisions. Our objective, insights, and actionable analytics provide CXOs and executives to advance their mission-critical priorities with confidence.
The scrutiny of the various forces impacting the dynamics of the market, and key and associated industries, guides enterprises in understanding various consumer propositions. Our clients leverage these insights and perspectives to enhance customer experience in the fast-paced business environment.
All our insights and perspectives are broadly based on 4 Pillars or Stages: ASBC-S, which offer an elaborate and customizable framework for the success of an organization. The essence and the roles of these in organizational successes are highlighted below:
Agenda for CXOs: TMR, through the study, sets the tone for agendas that are pertinent to CEOs, CFOs, CIOs, and other CXO executives of businesses operating in the market. The perspectives help our clients to bridge the gap between agenda and action plan. TMR strives to offer guidance to CXOs to undertake mission-critical activities empowered by various business analysis tools, and boost the performance of the organizations. The perspectives guide you to decide on your own marketing mix that align well with the policies, visions, and mission.
Strategic Frameworks: The study offers how organizations are setting both short-term and long-term strategic plans. Our team of experts collaborate and communicate with you to understand these to make your organizations sustainable and resilient during tough times. The insights help them decide sustainable competitive advantage for each business units.
Benchmarking for Deciding Target Markets and Brand Positioning: The assessments in the study provides a scrutiny of marketing channels and marketing mix. Our various teams work synergistically with you to help identify your actual and potential direct, indirect, and budget competition areas. Additionally, the study helps you decide most effective budgets for various processes and promotional activities. Furthermore, the study guides you to set benchmarks for integrating people and processes with the 4Ps of marketing. Eventually, this will empower you to find out unique propositioning strategies and niches.
Business Composability for Sustainability (C-S): Constant strategy planning for sustainability characterizing our C-S framework in the report has become more relevant than before in the face of disruptions caused by pandemics, recessions, boom and bust cycles, and changing geopolitical scenario. The TMR study offers a high level of customization to help you achieve business composability. Composable enterprises are increasingly gaining the attention of CXOs in order to help them combat market volatility. Our analysts and industry experts help you wade through such uncertainties and guide you to become a smart sustainable business in entirety.
The study presents scrutiny of region-specific consumer and technology trends, including the most recent industry dynamics. These broadly cover but not limited to
North America, South America, and the Americas
Asia Pacific and Japan
Europe
Latin America
Middle East and Africa
The study offers data-driven insights and guidance of several aspects. Some of the more notable questions are:
What are the major recent trends that can influence the product life cycle and the RoI?
Which regulatory trends shape corporate-level, business-level, and functional-level strategies?
Which micromarketing initiatives of leading players will bring in investments?
What can be the best framework and tools for PESTLE analysis?
Which regions will witness rise in new opportunities?
Which are the game-changing technologies being used to capture new revenue streams in the near future?
Which operational and tactical frameworks are being adopted by various players in gaining customer loyalty?
What is the current and expected intensity of competition the market in the near future?
Disclaimer: This market research study is an ongoing effort and extreme care has been taken to maintain the highest levels of accuracy at all stages. However, in the light of the rapidly evolving business dynamics, some region-specific or other segment-specific changes may take time to be part of the study.