Texturized Butter Market
Surface butter furnishes consistent execution with standard surface in the creation of food items. It is handled with the physical and substance measures which restrict the dairy fat. Surface butter is customized for overlaid, sheeted and cake batter. It is generally utilized in the French cakes and developing utilization of pastry kitchen items upgrades their use in the items. It is utilized in a few applications, for example, eateries and food and refreshments industry among others.
Another significant factor propelling the growth of the global texturized butter market include the increasing number of acute and chronic diseases that propelled the need to adopt healthy lifestyle and eating habits. On the negative side, the strict rules imposed on the use of textured butter for specific food products in specific regions may pose a major challenge to the overall growth of this market. Besides this, the compulsory rule of labeling imposed by concerned authorities adds up to the overall cost of manufacturing and production, thereby causing another hindrance to this market. Nevertheless, the rising popularity and wide adoption of fat-free food products will also boost growth. In addition to this, the latest innovations in the field of food and beverage and the adoption of non-fat or fat-free butter and texturized butter will help promote growth.
Texturized Butter Market Outlook
Consumption of dairy products across the globe has been witnessing a significant increase over the last few years fueled by their immense nutritional content. As per data revealed by Food and Agricultural Organization (FAO), approximately 150 million households across the globe are engaged in the production of milk. Butter is a dairy product composed of 80% of milk fat while texturized butter is a technology butter which is produced through a mechanical process such as scraped surface exchanger and other in order to obtain perfect crystallization and texture required for multiple applications. The use of texturized butter has been expanding at a considerable growth rate owing to its authenticated and traditional taste. Texturized butter is known to be an effective alternative in comparison to the winter butter in terms of overall production performance in delivering effective texture and taste. The global texturized butter market is expected to experience considerable growth owing to its expanding application in the bakery industry.
Texturized Butter Market: Reasons for Covering this Title
Bakery product manufacturers today are looking or ingredients which meet their custom requirements of desired smoothness, consistence, texture, flavor and other characteristics thus, leading to increasing number of manufacturers to look for alternative options to the traditional butter. Texturized butter meets all the desired need of individual by offering perfect crystallization. Furthermore, growing consumer's perception towards "naturalness" and "organic" has resulted in increasing consumption of texturized butter for specific needs. Texturized butter is the ideal choice of butter and is specially manufactured for sheeted, laminated and puff pastry dough's due to its smooth and homogenous texture thus offering good dough consistency and does not sticks while laminating. Demand for texturized butter from developing countries such as U.S., Germany, Spain, France, U.K., Russia and others is expected to boost the revenue generation in the global market texturized butter in the near future. Growing demand for premium butter products coupled with rising disposable income has pushed consumers across the globe to spend more on food products thus contributing towards the market for texturized butter globally. Furthermore, the global texturized butter market is also benefited due to its excellent plasticity, homogenous distribution, and perfect impermeability between layers while sheeting/laminating.
Global Texturized Butter: Market Segmentation
On the basis of nature, the global texturized butter market has been segmented as –
Natural/Organic Texturized Butter
Conventional Texturized Butter
On the basis of product type, the global texturized butter market has been segmented as –
Salted Texturized Butter
Unsalted Texturized Butter
On the basis of end use, the global texturized butter market has been segmented as –
Food and Beverages Industry

Croissants
Cakes & Pastries
Cookies
Snacks and other prepared food
Others

Hotels/Restaurants/Cafes (HoReCa)
Household (Retail)
On the basis of distribution channel, the global texturized butter market has been segmented as –
Direct
Indirect

Store-based Retaining

Hypermarket/Supermarket
Convenience Stores
Departmental Stores
Specialty Outlets
Others

Online

Global Texturized Butter Market: Key Players
Some of the key players operating in the global Texturized Butter market are Flechard SA, Uelzena Group, LacPatrick Dairies (ROI) Limited, Gourmand S.A., Royal VIV Buisman, Ballyrashane Creamery, LACTALIS Ingredients, Middledale Foods, PIERMEN B.V., Michigan Milk Producers Association, Kriemhild Dairy Farms, LLC among others. Growing manufacturer's effort to launch new products in the market place as per customers need is expected to drive the market for texturized butter in the near future.
Key Developments
In 2015, Ballyrashane Creamery and Town of Monaghan creamery merged thus, creating Northern Ireland's second biggest dairy co-op called LacPatrick. LacPatrick is engaged in prothe duction of milk and milk products including texturized butter.
In 2014, Ballyrashane Creamery which is an Ireland based co-operative expanded its butter product portfolio by launching new textured butter for application in croissant bakeries and patisseries across Europe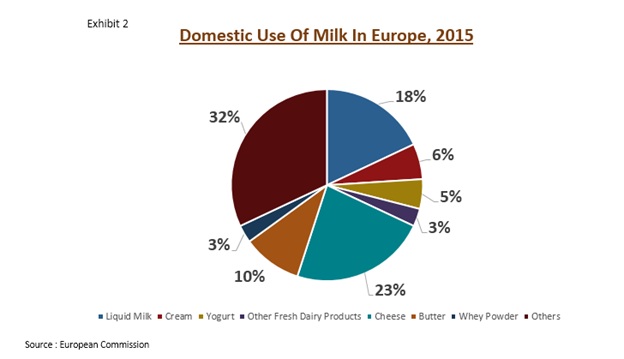 Opportunities for Market Participants
Milk and milk products are gaining immense attention due to their high nutritional value. Markets such as Middle East, North America, and other Asian countries are experiencing significant demand for milk and milk-based products which is driving the consumption of butter hence, the consumption of texturized butter. Furthermore, demand for specific flavors, consistency, texture, firmness for certain industrial application is expected to create the market opportunity for manufacturers to bring such products in the market and hence contribute towards the market growth texturized butter over the forecast period.
This intelligence report by TMR is the outcome of intense study and rigorous assessment of various dynamics shaping the growth of the market. TMR nurtures a close-knit team of analysts, strategists, and industry experts who offer clients tools, methodologies, and frameworks to make smarter decisions. Our objective, insights, and actionable analytics provide CXOs and executives to advance their mission-critical priorities with confidence.
The scrutiny of the various forces impacting the dynamics of the market, and key and associated industries, guides enterprises in understanding various consumer propositions. Our clients leverage these insights and perspectives to enhance customer experience in the fast-paced business environment.
All our insights and perspectives are broadly based on 4 Pillars or Stages: ASBC-S, which offer an elaborate and customizable framework for the success of an organization. The essence and the roles of these in organizational successes are highlighted below:
Agenda for CXOs: TMR, through the study, sets the tone for agendas that are pertinent to CEOs, CFOs, CIOs, and other CXO executives of businesses operating in the market. The perspectives help our clients to bridge the gap between agenda and action plan. TMR strives to offer guidance to CXOs to undertake mission-critical activities empowered by various business analysis tools, and boost the performance of the organizations. The perspectives guide you to decide on your own marketing mix that align well with the policies, visions, and mission.
Strategic Frameworks: The study offers how organizations are setting both short-term and long-term strategic plans. Our team of experts collaborate and communicate with you to understand these to make your organizations sustainable and resilient during tough times. The insights help them decide sustainable competitive advantage for each business units.
Benchmarking for Deciding Target Markets and Brand Positioning: The assessments in the study provides a scrutiny of marketing channels and marketing mix. Our various teams work synergistically with you to help identify your actual and potential direct, indirect, and budget competition areas. Additionally, the study helps you decide most effective budgets for various processes and promotional activities. Furthermore, the study guides you to set benchmarks for integrating people and processes with the 4Ps of marketing. Eventually, this will empower you to find out unique propositioning strategies and niches.
Business Composability for Sustainability (C-S): Constant strategy planning for sustainability characterizing our C-S framework in the report has become more relevant than before in the face of disruptions caused by pandemics, recessions, boom and bust cycles, and changing geopolitical scenario. The TMR study offers a high level of customization to help you achieve business composability. Composable enterprises are increasingly gaining the attention of CXOs in order to help them combat market volatility. Our analysts and industry experts help you wade through such uncertainties and guide you to become a smart sustainable business in entirety.
The study presents scrutiny of region-specific consumer and technology trends, including the most recent industry dynamics. These broadly cover but not limited to
North America, South America, and the Americas
Asia Pacific and Japan
Europe
Latin America
Middle East and Africa
The study offers data-driven insights and guidance of several aspects. Some of the more notable questions are:
What are the major recent trends that can influence the product life cycle and the RoI?
Which regulatory trends shape corporate-level, business-level, and functional-level strategies?
Which micromarketing initiatives of leading players will bring in investments?
What can be the best framework and tools for PESTLE analysis?
Which regions will witness rise in new opportunities?
Which are the game-changing technologies being used to capture new revenue streams in the near future?
Which operational and tactical frameworks are being adopted by various players in gaining customer loyalty?
What is the current and expected intensity of competition the market in the near future?
With a robust experience in creating exceptional market reports, Transparency Market Research has emerged as one of the trusted market research companies among a large number of stakeholders and CXOs. Every report at Transparency Market Research goes through rigorous research activity in every aspect. The researchers at TMR keep a close watch on the market and extract beneficial growth-boosting points. These points help the stakeholders to strategize their business plans accordingly.
TMR researchers conduct exhaustive qualitative and quantitative research. This research involves taking inputs from the experts in the market, focused attention on recent developments, and others. This method of research makes TMR stand out from other market research firms.
Here's how Transparency Market Research helps the stakeholders and CXOs through the reports:
Inculcation and Evaluation of Strategic Collaborations: The TMR researchers analyze recent strategic activities like mergers, acquisitions, partnerships, collaborations, and joint ventures. All the information is compiled and included in the report.
Perfect Market Size Estimations: The report analyzes the demographics, growth potential, and capability of the market through the forecast period. This factor leads to the estimation of the market size and also provides an outline about how the market will retrieve growth during the assessment period.
Investment Research: The report focuses on the ongoing and upcoming investment opportunities across a particular market. These developments make the stakeholders aware of the current investment scenario across the market.
Disclaimer: This market research study is an ongoing effort and extreme care has been taken to maintain the highest levels of accuracy at all stages. However, in the light of the rapidly evolving business dynamics, some region-specific or other segment-specific changes may take time to be part of the study.