Textured Butter Market
Textured Butter Market (Nature: Organic, Conventional; Product: Salted Textured Butter, Unsalted Textured Butter; Distribution Channel: Direct, Indirect (Hypermarkets, Supermarkets, Convenience Stores, Departmental Stores, Specialty Outlets, Others), Online Retail; End Use: Food & Beverage Industry (Croissants, Cakes & Pastries, Cookies, Snacks, Prepared Food, Others), Hotels/ Restaurants/ Cafes (HoReCa), Household (Retail)) - Global Industry Analysis, Size, Share, Growth, Trends, and Forecast, 2019 - 2029
Category :

Food & Beverages

Format :
Textured Butter Gains Popularity as Technological Butter with Nutritional Values
The burgeoning demand for new food products is constantly fueling innovation in the food industry, and this is inducing significant changes in the way industrial food ingredients are manufactured. Textured butter is emerging as an innovative type of butter, as its manufacturing involves more mechanical processes than chemical processes, contrary to the manufacturing of conventional butter types.
Butter is one of the most important ingredients in most food products, and its temperature makes a significant impact on the quality of the end product. Textured butter is witnessing high demand as an apt alternative to winter butter, as it mitigates the texture differences in butter due to the change of seasons. In addition, the rise of the 'health & wellness' wave and growing awareness about textured butter as a rich source of vitamin A, D, and E are expected to boost its sales in the coming future.
The latest study published by Transparency Market Research (TMR) on the textured butter market offers a 360-degree viewpoint of the impacts of the changing trends in the food & beverage sector on the growth of this landscape. The study also analyzes in detail the developments in the textured butter market, and provides actionable insights for market players to make important business-related decisions.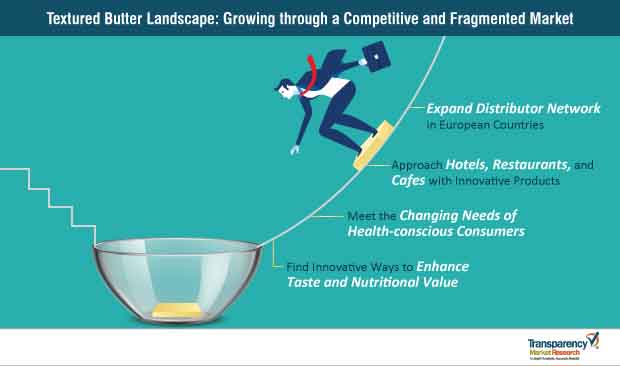 Planning to lay down future strategy? Perfect your plan with our report brochure here
Textured Butter Landscape Reached the ~ US$ 1 Billion Mark in 2018 after Rising from Years of Sluggishness
The textured butter landscape has gained momentum in the past five years, as the market for conventional butter has reached saturation, and the food industry has been voicing the need for new variants of butter that could foster innovation in food products.
After years of sluggish growth, the textured butter market reached ~ US$ 1 billion 2018, recording sales of ~ 173 kilo tons of textured butter, worldwide. The market is expected to continue its upward spiral with growing demand in the food & beverage industry, as food chains and manufacturers are moving towards innovative ingredients to feed the consumer need for new food products.
Changed consumer sentiments towards high-fat and premiumized food ingredients will continue to bolster the growth of the textured butter landscape. Textured butter is gaining popularity among millennial consumers as social media has had a paramount impact on their decision-making behavior while purchasing premiumized food products such as textured butter.
However, strict regulations imposed by regulatory bodies, including the United States Food and Drug Administration (FDA), and stringent labeling requirements will add to the manufacturing cost and time taken by products to reach the market.
Want to know the obstructions to your company's growth in future? Request a PDF sample here
Rise of Premiumization and Preference for Quality in the Food Sector to Bolster Sales
Though consumers are still highly conscious about their health and dietary intake, the trend of low-fat or fat-free food consumption has faded in today's world. High-fat food products are back in demand with the advent of new healthy-eating theories and beliefs, and consumers are on the constant lookout for high-quality food products with rich ingredients. The rise of this new trend that emphasizes the quality of food is one of the primary driving engines for the growth of the textured butter landscape.
Consumers are not only eating high-fat food products, but they are also willing to pay more for them, and this is bolstering the adoption of innovative food ingredients in the food & beverage industry. To capitalize on this trend, food manufacturers are more inclined towards using premiumized ingredients in lieu of using their low-cost variants in their food products. Increasing focus on the origin of raw materials and consumer willingness to pay for the best quality ingredients is expected to bolster the sales of textured butter.
Food & beverage manufacturers accounted for ~ 56% of the global sales of textured butter in 2018, and they will continue to remain the targeted end users in this landscape. Increasing applications of unsalted butter in bakery products will continue to trigger the demand for unsalted textured butter among food & beverage manufacturers, directing an emerging trend in the textured butter market.
Players in the food & beverage industry will remain the target customers in the textured butter market; however, an upsurge in demand in the food service industry will give rise to new trends in the textured butter market, in the coming years. With a mounting number of hotels, restaurants, and cafes spurning up in the food service industry, manufacturers of textured butter are expected to enter new areas to tap into its sales potential this segment.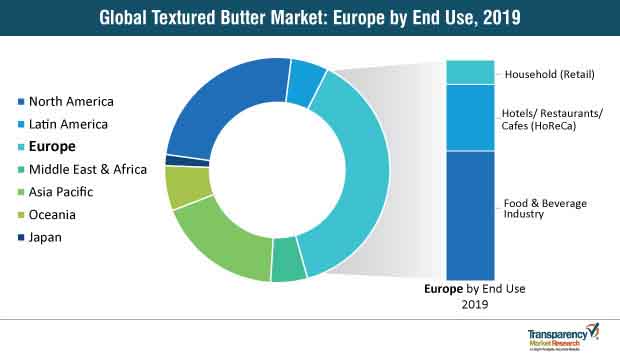 Looking for exclusive market insights from business experts? Request a Custom Report here
Strategic Partnerships with Artisanal Bakeries to Prove Lucrative in Europe
The textured butter landscape is witnessing healthy growth in the European Union (EU), with leading European countries accounting for ~ 38% share of global sales. Increasing growth of the bakery industry in Europe is creating immense sales potential for textured butter in the region, and market players are establishing a strong network of distributors to capitalize on this trend.
With the increasing demand for textured butter in Europe's food & beverage and bakery industries, the next step of growth for local players will be to join forces with local artisanal bakeries in the region. The bakery and café culture is booming in Europe, and adopting strategies to ride on its coattails can prove to be a brilliant strategy to win in Europe's textured butter market in the coming years.
In addition, the health-conscious consumer base is expanding rapidly across the world, especially in European countries, and this will trigger market players to adopt strategies to improve the nutritional value as well as taste of textured butter to target this group of consumers. Manufacturers are likely to adopt creative promotional strategies and launch nuance marketing campaigns to emphasize the need for innovative food ingredients, such as textured butter, and attract the right end users to boost sales.
How Emerging Players have Established Stronghold in Textured Butter Market
The textured butter landscape is moderately fragmented, as small businesses and regional players account for ~ 55% revenue share of the global market. New businesses shaping up in the textured butter landscape include
Flechard SA
FIT Dairy Company
Royal VIV Buisman
Middledale Foods
PIERMEN B.V.
Kriemhild Dairy Farms, LLC
Most of these companies are focusing more on improving their production and sales footprints, rather than diversifying their product portfolios, in order to create volume sales in various product segments.
Apart from expanding their production and distribution facilities across the globe, local businesses in the textured butter market are embracing new manufacturing technologies to bolster business efficiency, ultimately to gain a competitive edge. Obtaining high-quality, technological expertise is becoming a prime strategy for emerging players in the textured butter landscape while competing with large companies. Integrating technologies with their manufacturing models as well as their additional service portfolios can help small players upscale their businesses in the market.
Leading companies and large-scale businesses, such as LACTALIS Ingredient, Michigan Milk Producers Association, Uelzena Group, and Lakeland Dairies, account for one-third revenue share of the textured butter market. The primary focus of market leaders is product innovation, which is triggering heavy investments in research & development. In addition, large companies are also shifting focus on developing countries to consolidate their position in the textured butter market.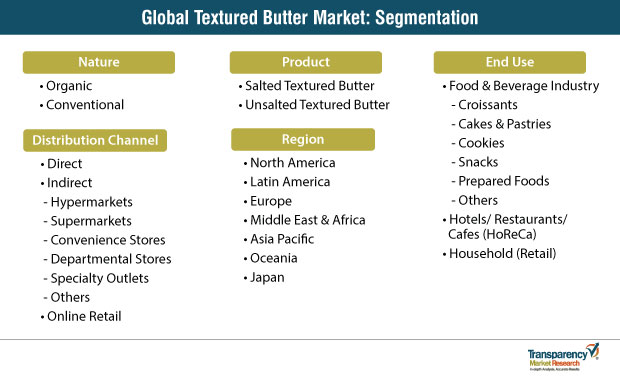 Analysts' Viewpoint

Authors of TMR's study on the textured butter market are optimistic about the positive growth prospects of this landscape, as the demand for premium and high-quality ingredients is on the rise in the food industry. Bakers and confectioners will continue to remain among the target customers for stakeholders in the textured butter market, as butter is an integral ingredient in most bakery products.

Manufacturers in the textured butter market will have to comply with strict regulatory frameworks and clean labeling requirements, and still control their manufacturing costs to maintain competitive prices. In addition, positioning textured butter under the same brand as traditional butter can prove to be a wrong move; manufacturers will have to position textured butter under a premium category to attract the right customers.

The adoption of innovative strategies and technologies to improve texture, nutritional value, and other technical qualities of textured butter can be the winning horse for market players. Apart from this, manufacturers and other stakeholders will have to focus on expanding their distribution networks across the world to capitalize on the increasing demand in developed as well as developing countries, in the foreseeable future.
Holistic Approach towards Health
Consumers are shifting their wellness approach and choosing healthier products instead of looking only for functional ingredients. They are stressing more on natural products and avoiding products that are full of additives and stabilizers, even though these products claim to be low-fat.
Moreover, consumers are not willing to compromise on taste despite following a holistic approach. As a result, they are opting for more natural and low-processed dairy products such as butter, cream, and others.
Increased Investments by Large Players in the Overall Butter Food Business
A large number of companies in the fast food market are focusing on developing and growing their butter business. These companies are increasing their investments in the production of organic butter. It is one of the significant factors driving the growth of the global textured butter market at a rapid pace.
Moreover, companies have become more customer-focused now. There has been an increase in consumer mistrust over the years, as consumers are concerned about the source of the food and what goes into the food product.
Organic labels or certifications on products are featured as crucial additional benefits in most health food launches, and are significantly supporting the growth of the textured butter market at large.
TMR's research finds that, the textured butter market is projected to be valued at ~ US$ 1 Bn in 2019, and is estimated to record ~ 4% Y-o-Y growth by 2029.
The textured butter market is expected to witness major transformation in the near future, due to increasing pollution and contamination, and rise in health-conscious consumers wanting to consume textured butter, due to its various health benefits. All these factors are raising the global demand for the use of organic products in food and beverages.
Relatively High Price of Textured Butter Hindering Market Growth
Price is one of the important constraining factors in the textured butter market. The price of textured butter is comparatively high as compared to conventional ones.
This high difference bounds the scope of the textured butter market only to high-aware consumers or urban affluent population. It is hindering the textured butter market growth, as a large number of consumers cannot afford to buy these products at such a high price.
However, companies, by increasing production and maintaining the demand-supply ratio of textured butter, can reduce the overall expenses in the market, which will ultimately help in the growth of the textured butter market.
Health Benefits of Textured Butter Anticipated to Drive Sales
Textured butter is gaining approval worldwide, credited to expanding applications in food and beverages such as croissants, cakes & pastries, cookies, snacks, and other prepared food items.
Broad research, including medical and clinical trials by independent organizations and ingredient suppliers, coupled with rising awareness about the health benefits of textured butter, are few factors anticipated to drive the sales of textured butter over the forecast period.
Also, textured butter is found to be helpful in making icing for cakes and pastries. The increasing demand for healthy food ingredients in the food and beverages industry has led to the rising preference for textured butter, and avoidance of unhealthy fatty acids and butters containing chemicals.
Intake of sufficient amount of vitamins A, B12, E & K from butter has been shown to increase the efficiency of the muscles.
Also, textured butter is a rich source of vitamin A, D, and E. Nowadays, the number of health-conscious people across all regions is on the rise. These people focus more on exercising and yoga, along with proper diet plans suggested by dieticians. The demand from this section is expected to boost the demand for nutrient-rich products such as textured butter, and subsequently fuel the growth of the textured butter market.
Revival of Homemade Breakfast and Lunch
The trend of homemade breakfast and lunch is being revived, as numerous customers are striving to save money by opting for home-cooked meals instead of picking up meals on-the-go, which is anticipated to drive the textured butter market.
Dairy products are widely consumed during home meals. Moreover, the availability of various flavors of butter with different percentages of fat content is also expected to drive the sales of textured butter products in the near future.
In addition, the airing of various cooking shows has boosted the trend of home baking, which is another factor that is encouraging people to cook their meals by themselves, thus boosting the demand for textured butter and margarine.
Governments of Numerous Countries Promoting Foreign Investments
The governments of various countries are funding new and emerging players in the industry, which is creating investment opportunities for foreign companies. This is expected to provide lucrative opportunities for manufacturers of textured butter and facilitate market growth.
As new players are emerging in the market, healthy competition is likely to be witnessed, which is expected to significantly drive the growth of the textured butter market.
Increasing Adoption of Additive-free, Chemical-free, Non-GMO, and Organic Products
Awareness among millennials about the adverse effects of food additives, antibiotics, etc., on health, is growing. Millennials are key consumers that are demanding organic products, as they purchase more natural as well as organic products as compared to the other segments.

For instance, according to E.U Census Bureau, in 2015, the population of millennials exceeded that of baby boomers, thus making them an important demographic for key players to cater to their demands by analyzing their buying behavior.
Textured Butter Market: Key Players
Key players operating in the textured butter market, as profiled in the study, include
Flechard SA
Uelzena Group
Royal VIV Buisman
Lactalis Ingredients SNC
Middledale Foods
PIERMEN B.V.
Michigan Milk Producers Association
Kriemhild Dairy Farms, LLC
FIT, Dairy Expert
Lakeland Dairies.
Transparency Market Research (TMR) has published a research report on the textured butter market, which offers an overview of the growth of the market. TMR's study provides readers with a detailed explanation on the market dynamics, including the trends and avenues of growth for stakeholders in the market through 2019-2029. The study offers complete analysis of various market dynamics that are influencing the growth of the textured butter market. It also offers accurate qualitative as well as quantitative insights on the future growth of the market.
The study includes information about factors that are influencing the expansion of the textured butter industry, including world GDP indicators and other macro and microeconomic factors that are driving or impeding market growth. A detailed analysis on the demand for as well as pricing of textured butter has also been presented in a comprehensive manner in the TMR study.
Information featured in the study on the textured butter market can help stakeholders, including manufacturers, retailers, suppliers, and distributors, adopt appropriate strategies. Readers can also find an assessment on how the demand for textured butter is changing trends across various end-use industries, in TMR's study. The study also offers important information about the global as well as regional markets for textured butter, which can help decision-makers in the market build important strategies in the coming years.
Important Questions Answered in TMR's Textured Butter Market Report
What are the risks of investing in textured butter markets in developing countries?
Which strategies proved successful for leading players in the textured butter landscape to gain a competitive edge?
Which geographical regions will prove to be the most lucrative for textured butter providers in the coming years?
How are the recent trends in the food & beverage industry impacting the growth of the textured butter landscape?
What are the critical challenges faced by manufacturers in the textured butter market?
Research Methodology
A robust and unique research methodology is implemented by authors of TMR's study on the textured butter market to reach conclusions about the growth of the landscape. Market-related statistics and data, which are validated by several resources - both, secondary and primary resources - have helped analysts come up with accurate insights on how the textured butter market will grow during the forecast period.
Secondary resources that have played an important role in the production of this report consist of various white papers, government statistics, regulations, and research papers that shed light on the sales potential for textured butter. Primary resources that have contributed to the production of this study include discussions with key opinion leaders, enterprise size expert inputs, and data triangulation.
Interviews were conducted by analysts with brand managers of market players in the supply chain of the textured butter market, and their respective c-level executives. Industry experts and investors were also approached to collect industry-validated information about the textured butter market. Primary as well as secondary resources provide exclusive information about the market, which acts as a mark of reliability and validation from textured butter market players, and makes TMR's estimates on the future prospects of the textured butter market more reliable and accurate.
Segmentation of the Textured Butter Market
TMR's study on the textured butter market has been segmented into five categories - nature, product, distribution channel, end use, and region. Information featured in the study can help readers understand the growth prospects of the textured butter market based on the aforementioned segments.
Nature

Organic

Conventional

Product

Salted Textured Butter

Unsalted Textured Butter

Distribution Channel

Direct

Indirect

Hypermarkets
Supermarkets
Convenience Stores
Departmental Stores
Specialty Outlets
Others

Online Retail

End Use

Food & Beverage Industry

Croissants
Cakes & Pastries
Cookies
Snacks
Prepared Food
Others

Hotels/ Restaurants/ Cafes (HoReCa)

Household (Retail)

Region

North America

Latin America

Europe

Middle East & Africa

Asia Pacific

Oceania

Japan
Custom Market Research Services
TMR offers custom market research services that help clients to get information on their business scenario required where syndicated solutions are not enough.
REQUEST CUSTOMIZATION