Textile Enzymes Market
Textile Enzymes Market (Type - Cellulase, Amylase, Catalase, Pectinase, Laccase; Application - Bio-polishing, Desizing, Enzymatic Bleaching, Bioscouring) - Global Industry Analysis, Size, Share, Growth, Trends, and Forecast 2018 - 2026
Category :

Chemicals & Materials

Format :
Textile Enzymes Market: Overview
Enzymes find extensive usage in textile processing, primarily for desizing and bio-polishing of various types of fabrics including cotton-based ones. They have gained substantial traction on account of their non-toxic and eco-friendly nature. These enzymes offer high efficiency and specific action, making them better substitutes than most strong acids, bases, and oxidizing agents used for textile processing. Changing fashion fads and rising disposable incomes of young adults across the world are trends driving the expansion of the textile enzymes market.
The increasing focus toward sustainable textile processing in textile mills and garment laundries is fueling the strides of the market. Advances made in jeans desizing and synthetic fabric finishing will shape the evolution trajectory over the next few years. Industry players are focused on reducing the overall cost of production of textile enzymes in order to bolster their uptake. Furthermore, growing impetus by governments toward low-pollution textile processing in emerging economies will open new avenues in the global textile enzymes market.
The global textile enzymes market stood at US$201.5 million in 2017 and is projected to clock a CAGR of 4.0% during 2018–2026.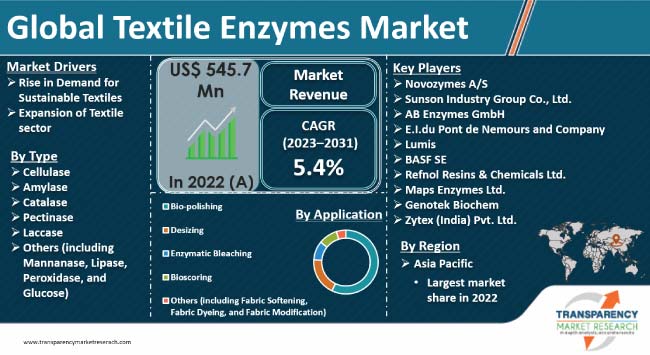 Focus on improving Fabric Appearance and Feel bolsters application of Textile Enzymes in Bio-polishing
Textile enzymes have various applications such as desizing, bio-polishing, enzymatic bleaching, and bioscouring. The segments also consist of an others category that includes fabric softening, fabric dyeing, and fiber modification. Of these, bio-polishing presently holds the major share in the global textile enzymes market. The process has been extensively used for enhancing fabric appearance, reducing pilling, and softening cellulose-based fabrics.
Meanwhile, the use of textile enzymes for desizing application is also prominent. The use is bolstered by growing popularity of lightweight denims and soft fabrics among customers worldwide.
Based on type, the global textile enzymes market is segmented into cellulase, amylase, catalase, pectinase, and laccase, including a category of others. The others include glucose, mannanase, lipase, and peroxidase. Of all the segments, cellulase led the global market in 2017, vis-à-vis consumption. The growth is fueled by the increasing trend of fabrics with a markedly smooth and glossier appearance in various countries across the world. In the same year, the segment was trailed by the amylase enzyme type. The demand for this is driven by its use in desizing denims and various other apparels.
Changing Buying Behaviors of Consumers make Asia Pacific increasingly Lucrative
Regionally, the global textile enzymes market is segmented into North America, Asia Pacific, Latin America, Europe, and the Middle East and Africa. Vis-à-vis demand, Asia Pacific contributed the major share in the global market in 2017. The demand has been fueled by attractive strides in the regional textile sector over the past few years. This is compounded by constantly changing buying behaviors of consumers in the developing countries. Further, several globally prominent textile manufacturers have been shifting their production facilities to the region.
Developed regions such as Europe and North America are expected to expand at moderate pace. Particularly, the Europe textile enzymes market is fragmented, especially in countries of Germany, the U.K., France, the Netherlands, and Italy. However, regulations pertaining to the use of chemicals in textile processing are getting stricter in various parts of Europe, thereby hampering the regional prospects.
On the other hand, the demand for textile enzymes in North America is likely to rise at a modest pace, except in the U.S. where it will grow at attractive rate. Meanwhile, the markets of the Middle East and Africa and Latin America will rise an increasingly lucrative pace, and hence will play crucial role in contributing global revenues.
Textile Enzymes Market to Observe Growth in Rising Demand for Use in Multiple Applications
Enzymes find extensive use in the textile industry and are estimated to gain traction in the industrial enzymology sector. These enzymes find use in the form of laccase, catalase, and amylases in the textile industry. They are used for the purpose of degradation of lignin, removal of starch, bleaching of textiles, and degradation of excess of hydrogen peroxide. These enzymes are environment friendly and non-toxic, which is why it is gaining wide recognition across the globe. These factors are likely to support development of the global textile enzymes market in the years to come.
Increasing Demand for Low Pollution Textile Processing Techniques to Boost Market Growth
There has been increased demand for environment-friendly as well as non-toxic products in the textile processing industry. Growing concern over environment and the adverse effects of various industrial activities on the environment is likely to widen scope if the global textile enzymes market in the forthcoming years. Besides, there has been a paradigm shift in the designing of textiles has been witnessed along with introduction of various new techniques of fabric finishing is estimated to support expansion of the global textile enzymes market in the near future. In addition, several countries have emerged as champions of techniques of low pollution textile processing, which is likely to augur well for the market.
There has been an increased requirement of water saving along with the rising need for process efficiency and product improvement. The rising demand for reduced environmental dilapidation is likely to trigger development of the global textile enzymes market in the near future.
The ongoing pandemic situation has resulted in the reduced demand for these enzymes in the textile industry. Covid-19 and its new variant, B.1.1.7 has wreaked havoc across the world, forcing governments to impose lockdowns, which has adversely affected several industries across the globe. Manufacturing activities in the textile has also come to a standstill as the infection spreads rapidly worldwide. It is estimated that with the invention of a vaccine or an effective drug, the market will observe growth in the post pandemic era.
Textile Enzymes Market - Overview
This report analyzes and forecasts the market for textile enzymes at the global and regional levels. The market has been forecast in terms of volume (tons) and value (US$ Mn) from 2018 to 2026. The study includes drivers and restraints of the global market. It also covers the anticipated impact of these drivers and restraints on the demand for textile enzymes during the forecast period. The report also highlights growth opportunities in the global textile enzymes market.
The report comprises detailed value chain analysis, which provides a comprehensive view of the global textile enzymes market. The Porter's Five Forces model has also been included to help understand the competition landscape of the market. The study encompasses market attractiveness analysis, wherein thickness, packaging type, and end-use segments have been benchmarked based on market size, growth rate, and general attractiveness.
The study provides a decisive view of the global textile enzymes market by segmenting it in terms of type and application. These segments have been analyzed based on the present and future trends. Regional segmentation includes the current and projected demand for textile enzymes in North America, Europe, Asia Pacific, Latin America, and Middle East & Africa. The report also covers the demand for textile enzymes in individual type and application segments across all regions. Key players operating in the global textile enzymes market are Novozymes A/S, Sunson Industry Group Co., Ltd., Lumis, AB Enzymes, E.I.du Pont de Nemours and Company, BASF SE, Refnol Resins & Chemicals Ltd., Maps Enzymes Ltd., Genotek Biochem, Zytex (India) Pvt. Ltd, and Koninklijke DSM N.V. Market players have been profiled in terms of company overview, financial overview, business strategies, and recent developments.
The report provides size (in terms of volume and value) of the textile enzymes market for the base year 2017 and the forecast between 2018 and 2026. Market numbers have been estimated based on type and application segments of the market. Market size and forecast for each major type and application segment have been provided for the global and regional markets.
In-depth interviews and discussions have been conducted with a number of key market participants and opinion leaders to compile this research report. Primary research represents a bulk of research efforts, supplemented by extensive secondary research. Annual reports, press releases, and relevant documents of key players operating in various end-use industries have been reviewed for competition analysis and market understanding. Secondary research also includes search of recent trends, trade publications, technical writing, Internet sources, and statistical data from government websites, trade associations, and agencies. This has proved to be a reliable, effective, and successful approach for obtaining precise market data, capturing market participants' insights, and recognizing growth opportunities.
Key Takeaways
Extensive analysis of the global textile enzymes market trends from 2018 to 2026 to identify growth opportunities and analyze market developments
List of key developments made by major players in the global textile enzymes market
List of key factors useful for building a roadmap of upcoming opportunities in the textile enzymes market at the global, regional, and country levels
Insights into growth opportunities for various stakeholders in the market value chain and detailed competition landscape of key players in the market to help understand the competition level
Porters' Five Forces Analysis highlights the potency of buyers and suppliers and enable stakeholders to make profit-oriented business decisions
Type

Cellulase
Amylase
Catalase
Pectinase
Laccase
Others (including Mannanase, Lipase, Peroxidase, and Glucose)

Application

Bio-polishing
Desizing
Enzymatic Bleaching
Bioscouring
Others (including Fabric Softening, Fabric Dyeing, and Fiber Modification)

Region

North America
Europe

U.K.
Germany
Italy
Rest of Europe

Asia Pacific

China
Bangladesh
India
ASEAN
Rest of Asia Pacific

Latin America

Brazil
Mexico
Rest of Latin America

Middle East & Africa

GCC
Turkey
Rest of Middle East & Africa
Custom Market Research Services
TMR offers custom market research services that help clients to get information on their business scenario required where syndicated solutions are not enough.
REQUEST CUSTOMIZATION